Could Cleveland Indians Be Gearing Up for a Dark-Horse Playoff Run?
Use your ← → (arrow) keys to browse more stories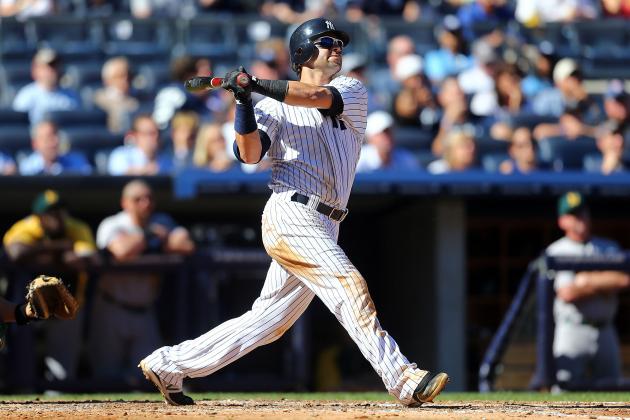 Jim McIsaac/Getty Images

To put it bluntly, signing Nick Swisher doesn't make the Cleveland Indians a contender for the American League Central.
In what has been quite the role reversal, the Indians spent money as a result of the New York Yankees' frugality. The Tribe signed the right fielder to a four-year, $56 million contract, with a vesting option for a fifth year, which would cost an additional $14 million.
The signing followed what has been a relatively active offseason for the Indians.
They shipped out outfielder Shin-Soo Choo, infielder Jason Donald, reliever Tony Sipp and first baseman Lars Anderson in a three-team trade involving the Cincinnati Reds and Arizona Diamondbacks.
Cleveland in turn received outfielder Drew Stubbs and a highly touted pitching prospect, Trevor Bauer, in addition to two veteran relievers.
Indians fans should be elated with the trade. Trading Choo was the only move the team could make, as he was never going to sign an extension after the 2013 season. The team was able to get a trade haul that more than makes the move worth it.
The Tribe has also signed veteran third/first baseman Mark Reynolds and pitcher Scott Kazmir. They're moves that fly under the radar, but it's signings like these that could provide huge rewards for small-market teams like the Indians.
There was also the hiring of manager Terry Francona, who won two World Series titles with the Boston Red Sox.
It's great that the Dolans are finally showing some impetus to put together a winner, but these moves don't make the Indians good enough to win the division.
Some might argue the Baltimore Orioles and Oakland A's were in similar positions before making runs to the playoffs.
However, their situations aren't exactly blueprints for the Indians.
The Orioles' season was the kind of anomaly about which you can't do anything but shrug your shoulders at their success. Sometimes everything goes right, and it did last year for Baltimore.
That kind of performance doesn't happen every season, so to count on it to happen for Cleveland would be a bit far-fetched.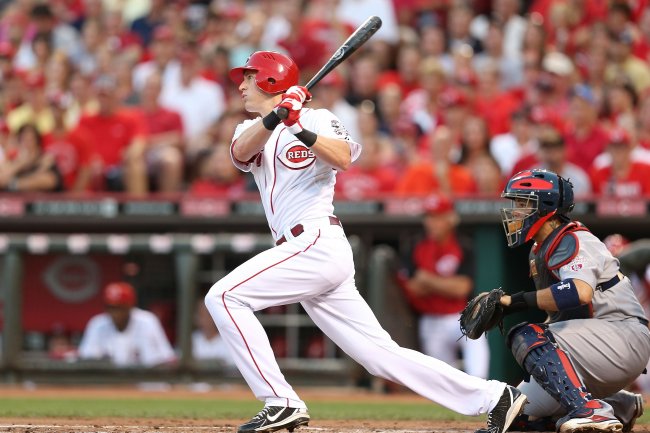 Andy Lyons/Getty Images
Then there's Oakland. Quite frankly, in a way, anything the A's do shouldn't be a surprise anymore, considering the ability of general manager Billy Beane. He simply knows how to put together a winning baseball team.
Indians general manager Chris Antonetti doesn't have that kind of track record, thus he doesn't earn the kind of faith that Beane does from fans.
Signing Swisher was most likely made to appease a fanbase so jaded by an organization that appeared to have no blueprint in place in order to build a winner.
This isn't always a bad thing. You don't want owners to simply stop trying to make a winner and pocket the revenue sharing or whatever the sporting equivalent, like Donald Sterling has often done with the Los Angeles Clippers.
On the other hand, the Swisher move is a move made with the view of winning in the short term, possibly at the expense of the long term.
Without a doubt, he's a good player. However, Swisher is the ideal signing for a team that is already a contender and needs one or two more pieces to put them over the top.
He's averaged 28 home runs and 90 RBI over nine years in the majors. On the other hand, he's also a career .256 hitter who's made one All-Star team.
Now a team that has averaged 72 wins over the past five years is going to pay him $14 million a year until he's 36 years old, maybe 37.
Some may see criticism of signing Swisher coming as the result of the perpetually unhappy and ungrateful fan.
You lambaste ownership for spending money. Then when the owner actually ponies up the dough, you continue to castigate him.
However, there's a difference between spending smartly and spending just for the sake of spending.
Are the Cleveland Indians AL Central Contenders After Their Offseason Moves
The Dolans could announce that the organization has traded for Alex Rodriguez and will pick up the remaining $114 million remaining on his contract. It would be spending money, but it would cripple the team financially.
Terry Pluto wrote a book called Dealing in 2006. It focused on the Indians trying to rebuild a winner and how it was going to be done.
In Dealing, Pluto made the argument that if Cleveland had re-signed Jim Thome in 2003, it would have put the organization into such a financial hole it couldn't possibly produce a competitive team.
What the author wrote proved prophetic as the Indians built one of the best minor league systems in MLB and finished one game away from the World Series.
Now Swisher's deal is nowhere near as much money as Thome's would have been, but it's quite a bit of money for a franchise like the Indians to dole out to one player, especially considering the team is coming off a 68-win season.
At this stage, fans shouldn't be banking on ownership to continue spending money this offseason. The Dolans simply don't have the track record of going much over $70 on payroll.
Along with Swisher, he joins the other major offseason additions of Reynolds and Stubbs. Reynolds is a career .235 hitter, and Stubbs is slightly higher at .241. The two also own four of the top five spots in the record book for most strikeouts in a season.
This should be a concern considering the Indians as a team averaged only .251, good for 18th in the league.
Although they have signed Kazmir, the starting rotation has remained largely untouched. That's a huge concern when you consider the best pitcher on the staff is either Justin Masterson and Zach McAllister.
The Indians are far from a contending team.