New York Mets: 5 Make or Break Players for the Club in 2013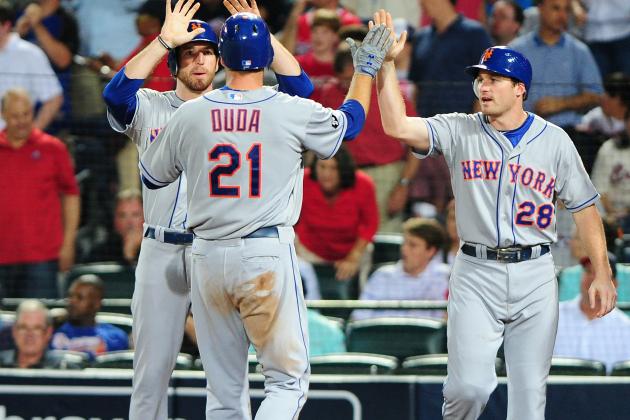 Scott Cunningham/Getty Images

"When you have no expectations, you'll never be disappointed." Those were the words of Vince Vaughn during his role as Peter LaFleur in the movie Dodgeball.
So, if the New York Mets enter the 2013 season with the intention of being mediocre while waiting until their bevy of talented prospects are ready to contribute, then the season will be the fifth consecutive sub-.500 campaign to begin the Citi Field era.
If they use the 2012 Oakland Athletics as a blueprint, however, they can be a surprise contender in 2013.
There are a number of players that under-performed for the Mets last season, and they can significantly improve the team next year if they play up to their talent level.
Here are five players that will determine whether the Mets will battling with the Miami Marlins for last place next season or if they will be fighting with the Washington Nationals for first place in the NL East.
Begin Slideshow

»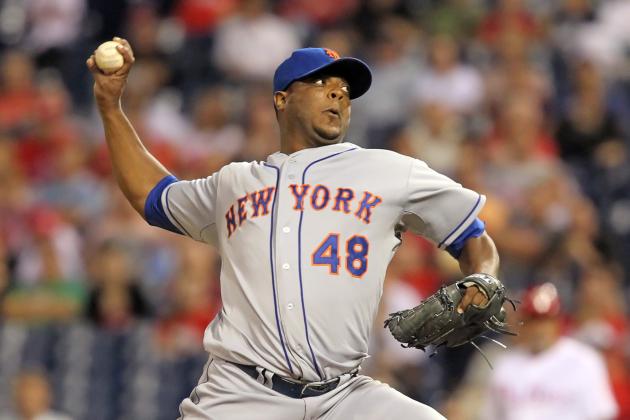 Hunter Martin/Getty Images

Not many people were in favor of Sandy Alderson's decision to grant free agent reliever Frank Francisco with a two-year deal worth $12 million last offseason.
In addition to having once thrown a chair at a woman in the stands, he also struggles with his control at times and refuses to throw the ball to bases.
That doesn't seem like a recipe for success in the late-innings, especially in New York. Nevertheless, Alderson rolled the dice.
After his dismal 2012 performance, in which he allowed 1.61 base runners per inning and 5.53 runs per nine innings, it is hard to imagine Terry Collins having much confidence in handing him the ball with any type of lead in 2013.
I would personally demote him to seventh inning duty while acquiring a true closer, such as Matt Capps, and making Bobby Parnell the set up man. But there is no indication of that happening any time soon.
With that being the case, Francisco's performance is extremely important in 2013.
They cannot afford to have him meltdown in the ninth inning in Miami or any other place for that matter.
To be fair, he has had success in the past, even in the difficult AL East. I just happen to think that his control has eroded since that time period, and he is not nearly as efficient with his fastball as he was in 2009, when he posted a K/BB ratio of 3.8.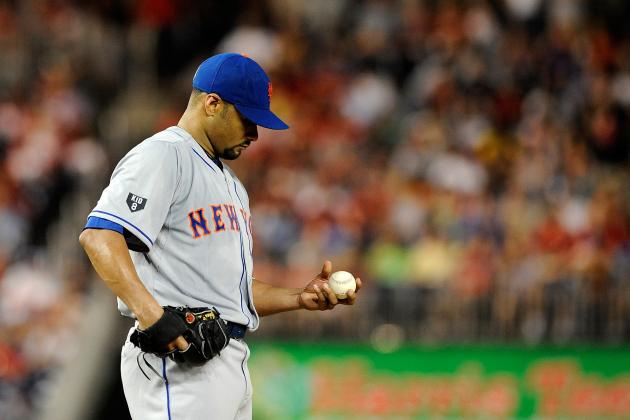 Patrick McDermott/Getty Images

With the departure of reigning NL Cy Young winner R.A. Dickey, the Mets will rely heavily on a 34-year-old coming off a bevy of injuries throughout the past four seasons.
Nobody will ever question the work ethic and tenacity of the two-time AL Cy Young winner Johan Santana.
After all, when he is healthy, he is still among the best pitchers in baseball. Unfortunately, "healthy" is the operative word in that statement, and he has been at full strength very rarely since his last full season in 2008, when he finished third in the NL Cy Young voting with a 166 ERA+.
Last season, the Venezuelan native appeared to be defying medical odds when he returned from surgery to repair a torn anterior capsule in his left shoulder and became one of the most dominant pitchers in the NL.
On June 1, he recorded the first no-hitter in franchise history in an 8-0 victory over the St. Louis Cardinals.
As late as June 30, he had a 6-4 record with a 3.00 ERA after his dominating victory over the Los Angeles Dodgers.
After that point, he wasn't just ineffective, and it was painful to watch.
In his final five starts—all losses—he allowed 33 runs in only 19 innings.
Granted, much of that had to do with the various injuries that he battled, but he has become increasingly fragile and the Mets need him to be his vintage self if they are to compete in the wake of Dickey's departure.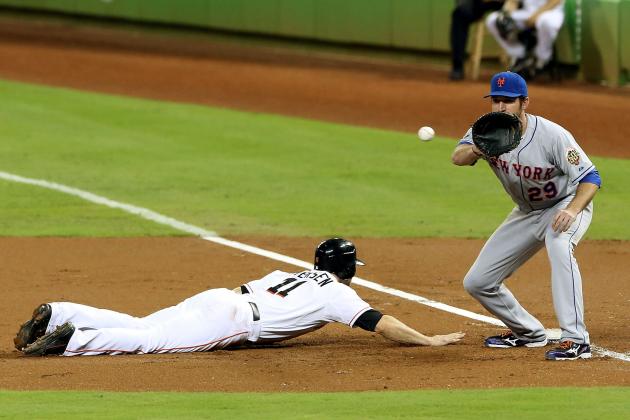 Marc Serota/Getty Images

It's not that Ike Davis simply had a poor first half of the season—rather, it was putrid.
He still managed to knock 32 home runs and drive in 92 RBI on the season, though, which are solid numbers for a corner infielder.
The problem was that he was woeful against left-handed pitchers and, of course, he was essentially an automatic out from April to early July.
With the Mets lineup lacking in power to begin with, they can't afford to have Davis be out of the lineup every time there is an established southpaw on the mound.
There are several dominating lefties in the NL—Clayton Kershaw, Aroldis Chapman, Gio Gonzalez, to name only a few—which makes it crippling on the lineup to take out the biggest power threat.
Davis needs to improve on his .560 OPS against lefties in 2012 in order for Terry Collins to have the confidence in him to start, regardless of the opposing pitcher.
Davis is the type of player that can hit 40 home runs and knock in 120 runs if he learns how to put himself into favorable counts and take advantage of mistakes.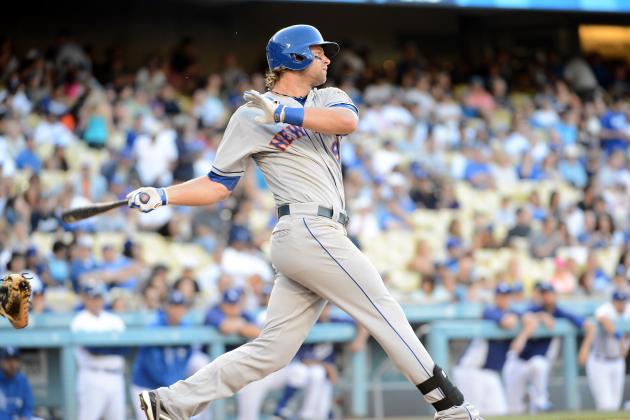 Harry How/Getty Images

In 2012, Kirk Niuwenhuis went from an unknown prospect hoping to make the club out of spring training to an affable spark plug at the top of the order to a guy lurking in obscurity, all in a matter of months.
The 25-year-old native of Santa Monica, Calif. endeared himself to the Citi Field faithful through his hard-nosed mentality, smooth lefty swing and gracious strides in center field.
After a couple months of success, the league eventually caught up to him. The rookie would not stop chasing high fastballs, which ultimately made it impossible to keep him at the top of the order.
He nearly posted a 4:1 K/BB ratio—which is unacceptable at any level—and did not display enough power to justify those figures.
To compound issues, he also suffered an injury to his foot which hampered his development.
In 2013, he must prove that he can cut down on his strikeout totals because he is not a middle of the order hitter.
His defense helps his case to make the team, but he is far from a lock to be the starting center fielder.
In the event that the Mets do not acquire a superior option in the outfield, Nieuwenhuis will be the center fielder, and his performance will be vital to the Mets' season.
He has the tools to be an above-average player, but he must improve across the board.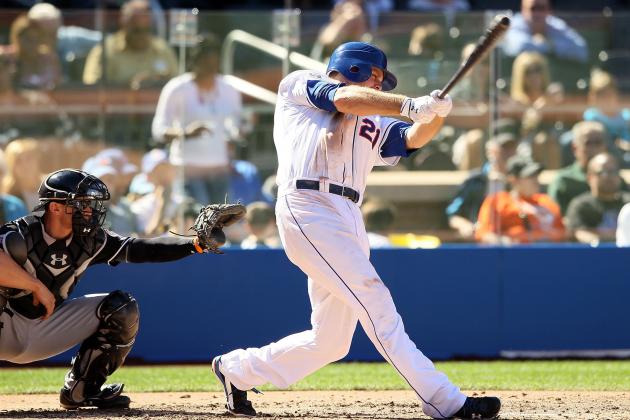 Alex Trautwig/Getty Images

Is Lucas Duda the hitter that posted an .852 OPS in 2011 as a second-year player or is he the hitter that was demoted to Triple-A as a 26-year-old because he struck out 120 times in 401 at bats?
That is precisely what makes him the biggest mystery headed into 2013.
He possesses serious power, which makes him a candidate to hit in the middle of the order. But he is also a one-dimensional player that is dreadful in the field and slow-footed on the base paths.
If Duda can swing the bat the way he did in the first-half of the season then the Mets will have a better outfield than anticipated.
Unfortunately, his second-half was so bad that it is hard to imagine the club being very confident in his ability to handle a full-time job as a corner outfielder.
If Duda can put it all together this season, the Mets will receive a huge boost in terms of power and, ultimately, in wins.
He is the biggest lynchpin for the team heading into 2013.