11 of the Craziest Injuries in MMA History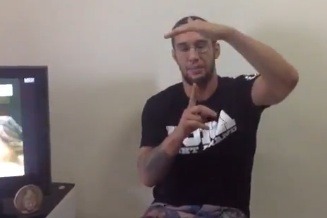 Image via blisstree.com
In a sport where the objective is to either knock off your opponent's head or break his or her limbs, it's not a surprise that injuries come with the territory in mixed martial arts.
While every fighter deals with the usual bumps and bruises inherent in MMA, there are some injuries that are just so insane and sometimes so gruesome that they could make even a hardcore Saw fan cringe. And once in a while, like in the case of TUF alum Ray Elbe, these crazy injuries can unexpectedly occur outside of the cage.
Here are 11 of the craziest MMA-related injuries in the sport's history.
Begin Slideshow

»
One of the craziest MMA-related injuries to occur this year has to be Ray Elbe's bedroom mishap in Malaysia.
While on holiday with his girlfriend earlier this month, the former TUF competitor suffered a "fracture and slight tear in the urinary tube" after an insane sex position attempt ended horrendously with Elbe lying unconscious in a pool of blood.
I'll let Elbe get into all the gory details, which you can see in the video embedded in the slide.
People underestimate the power of the leg kick.
It may not be as spectacular as a head kick KO, but after you eat a couple, boy do they hurt. Just ask Urijah Faber.
During his WEC 48 title fight against Jose Aldo, the Brazilian just tore up "the California Kid's" legs, battering him with leg kicks for the entire 25 minutes. At one point during the fight, Faber's coaches actually had to carry him to his corner because the pain in his leg was too much to walk on.
Check out the video embedded in this slide to see check out the aftermath the day after the fight.
Just brutal...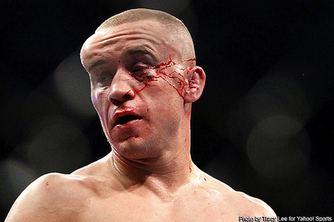 Image via Yahoo! Sports
UFC champ Jose Aldo just has a knack for giving his opponents grotesque injuries.
If Faber's leg wasn't gruesome enough, "Scarface's" desctruction of Mark Hominick's face at UFC 129 may be a bit worse.
While the Canadian put up a pretty good fight against Aldo, he couldn't stop the champ from pounding away at his head, causing a massive hematoma right above Hominick's left eyebrow. The bulge got so large that it looked like another head was going to pop out of his forehead.
After these two crazy injuries, I think it's safe to say that striking with the champ may be a bad idea.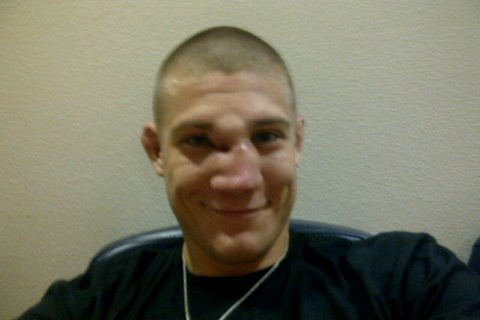 Photo via twitter.com/kidmcgillivray
Sticking with the facial reconstruction theme, former TUF contestant Ryan McGillivray's broken nose may be the worst broken nose in MMA history.
Funny enough, this injury didn't even occur during a fight; McGillivray sustained the mangled nose after eating a knee during training.
With so many fighters getting hurt this year, it's training injuries like this that give Dana White nightmares.
I hate leg injuries, especially when it comes to the breaking of small joints.
Every time I see a guy like Rousimar Palhares or another leg lock specialist just utterly destroy their opponents with heel hooks or knee bars, I just cringe.
While this wasn't a submission per se, Windy Tomomi's dislocated ankle in 2007 against Rosi Sexton has to be one of the most gruesome leg injuries in women's MMA history, which, if you dare, is available for viewing in the video in this slide.
Tomomi's face just says it all...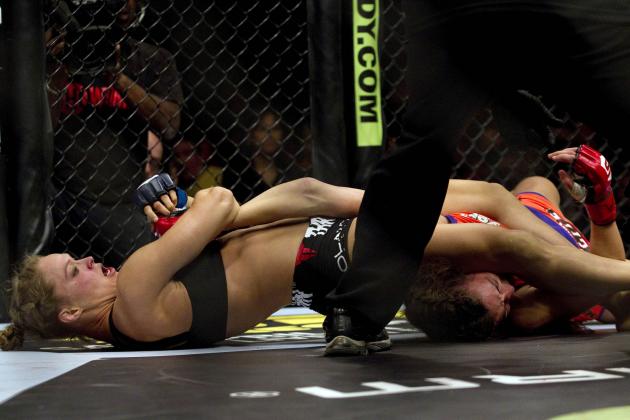 Greg Bartram-USA TODAY Sports

Knowing that Ronda Rousey has arm-barred each of her professional and amateur opponents, you'd think that former Strikeforce champ Meisha Tate would know better than to not tap to the vicious submission once the Olympic judoka locked in the move during their huge title fight earlier this year.
However, a headstrong Tate went against her better judgement and decided to keep going until "Rowdy" literally forced "Cupcake's" arm to face the opposite direction.
Next time Tate, just tap!
Years before Ronda Rousey was breaking girls' arms inside the cage, "the Gracie Hunter" Kazushi Sakuraba was doing the exact same thing to the famed Gracie clan.
One of his most brutal finishes has to be his technical submission win over jujitsu and MMA legend Renzo Gracie at Pride 10. Refusing to tap, Renzo watched in horror as the Japanese star broke his arm with a vicious kimura.
Wanting to uphold the Gracie name, Renzo's unwillingness to tap is both admirable and slightly insane.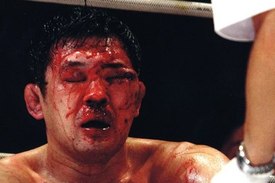 Unfortunately for the legendary Sakuraba, he's taken as many beatings as he's handed out.
While nearly losing his ear to Marius Zaromskis in 2010 may have been one of his more brutal injuries in recent years, his loss to Ricardo Arona definitely takes the cake as "the Gracie Hunter's" all-time worst beatdown.
Taking on the Brazilian during the Pride Middleweight Grand Prix in 2005, Sakuraba's face became severely bloody and swollen after eating a ton of knee strikes to the head while in the downed position, forcing his corner to call an end to the fight during the second round.
While I love soccer kicks and all the old Pride rules, seeing mangled faces like this makes me sort of glad that they aren't allowed in the UFC.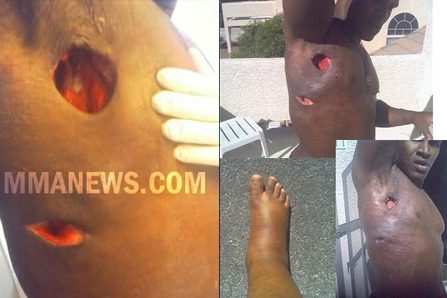 Image via Middle Easy
To everybody reading this that trains in BJJ or MMA, please, please, please take a shower and wash your gear immediately after you train—every single time.
Nobody ever thinks that they are going to get a staph infection until it happens, so if you need any motivation, just look at the myriad of holes it opened up on Kevin Randleman's body.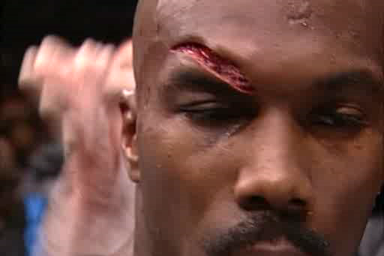 Image via Sherdog.net
This is an old one, but every time I see Marvin Eastman's cut eyebrow after his fight with Vitor Belfort at UFC 43, it makes me cringe.
The former UFC vet looks like he got cut by a samurai sword, but really it was just a combination of knees, elbows and punches that did the trick.
Remind me never to get on Belfort's bad side...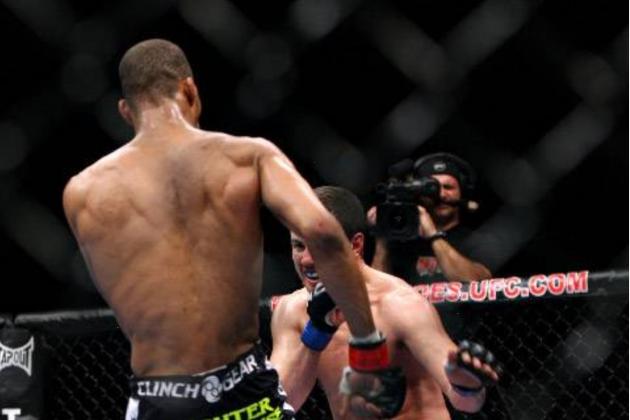 Image via Fight! Magazine
Like I said, I hate leg injuries, and Corey Hill's shattered leg against Dale Hartt has to be the most gruesome one in MMA history.
Things were looking good for Hill following a solid first round during their 2008 fight; however, in the second frame, Hill absolutely destroyed his leg after Hartt checked his leg kick, causing him to fall to the canvas as commentator Joe Rogan screamed his head off for the ref to stop the fight.
Luckily, Hill made a full recovery after more than a year away from the cage, but he will forever live in MMA infamy for this brutal and insane leg injury.
Be sure to like me on Facebook or follow @MattJuulMMA