New York Knicks: 5 Things Amar'e Stoudemire Brings to the Table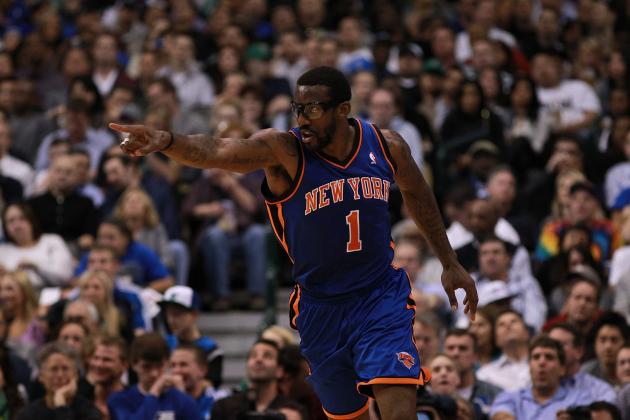 Ronald Martinez/Getty Images

Everything has been great for the New York Knicks so far this season, who are off to a surprising start and are currently in second place in the Eastern Conference.
The Knicks have established themselves as a serious contender to win the East this season, and many people will attribute that to their many offseason moves.
What many people around the NBA have forgotten about, and what has some Knicks fans worried that their excellent start may soon become a waste, is the return of forward Amar'e Stoudemire.
Stoudemire is set to return to the Knicks lineup from his knee injury very soon, the knee injury that has sidelined him all season.
Many people have expressed their concern about what Amar'e's return will do to the team chemistry the Knicks currently have, and think the six-time All-Star will bring the team down.
While many people are concerned, and it may be for good reason, there are also some reasons that Knicks fans should be excited for Stoudemire to return to the court.
Here are five elements that Amar'e Stoudemire adds to the New York Knicks team.
Begin Slideshow

»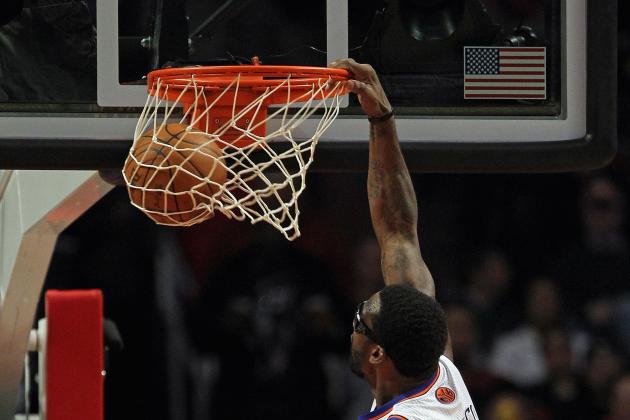 Jonathan Daniel/Getty Images

Scoring was not a huge issue for the Knicks early on in the season, but as the season starts to progress it is obvious that the Knicks need some improvement.
The Knicks have relied heavily on the three-point ball so far this year, and while it has won them games, it may not win them championships.
It is no secret that the Knicks offense revolves around Carmelo Anthony, but adding Amar'e Stoudemire back into the equation gives the Knicks a nice inside scoring option that can open up the floor.
The only big man that has put up scoring numbers for the Knicks this season is Tyson Chandler, who is averaging 12.6 PPG. The rest of the scoring has come from the perimeter, and while that isn't a huge deal, having a career 21.6 PPG player in the frontcourt certainly doesn't hurt.
After observing from the sidelines all season to this point, Knicks fans are hoping that Amar'e has been paying attention and will know his role on this team. While it may not be scoring 21.6 PPG, he will definitely be able to contribute and take some of the pressure off Carmelo Anthony.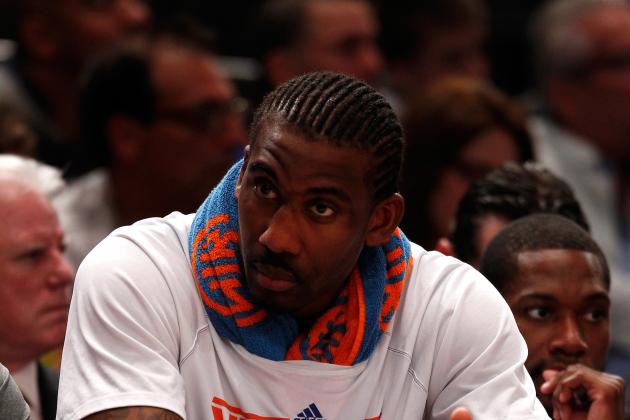 Jeff Zelevansky/Getty Images

A key component for every serious competitor in the NBA is a solid bench.
While the Knicks bench has been contributing at a high level this season, led by J.R. Smith who is averaging 15.3 PPG, the addition of Amar'e Stoudemire only makes it better.
Amar'e has said publicly that he is willing to come off the bench for the Knicks (via Ian Begley of ESPN.com), and if he returns to half the form he was at in his prime, this makes the Knicks a whole lot deeper.
Although many people are upset that a player on a max contract is not even in the starting lineup, this may be just the thing the Knicks need to succeed.
Stoudemire did not perform like people thought he would last season in New York, but even the numbers he put up last season are far better than the average bench player.
Even if Stoudemire can eventually work his way back into the starting lineup, that just puts a current Knicks starter onto the bench, meaning the Knicks could potentially be one of the deepest teams in the NBA.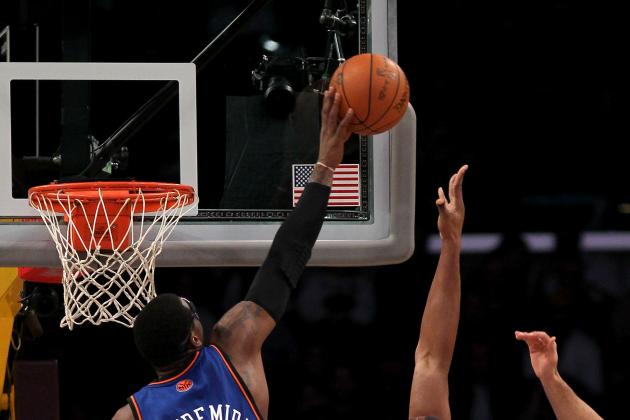 Stephen Dunn/Getty Images

One of the few things that the Knicks have been lacking early on this season is size.
The Knicks currently have either Carmelo Anthony starting at the power forward position, or Kurt Thomas starting at power forward this year.
While Carmelo has excelled in the power forward position this season, the Knicks clearly need help in their frontcourt.
Besides Tyson Chandler, the Knicks other big men are currently Kurt Thomas, Rasheed Wallace and Marcus Camby; who are all at least 38 years old.
Even if Amar'e Stoudemire cannot return to his old form, he is at the very least a big body that can help the Knicks out on both sides of the court.
Stoudemire has always been known to be a lackadaisical defender, but if he can put forth any amount of effort on defense, that can be a big upgrade for New York.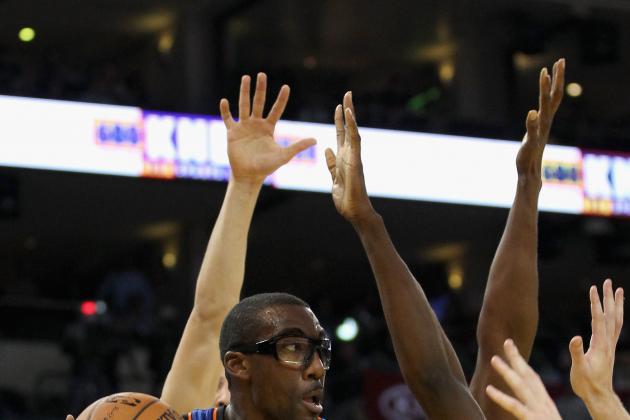 Ezra Shaw/Getty Images

Amar'e Stoudemire may not be the feared scorer that he was a few seasons ago in the NBA, but he did average 25.3 PPG just two seasons ago.
Aside from Carmelo Anthony, the scoring for the Knicks has been fairly spread out so far this season.
Putting Amar'e Stoudemire back on the floor will do a lot more for the Knicks offense than people think.
Coming off of a serious knee injury, he may not be able to score like he was once able too, but if he can prove early on that he can still hit his mid-range jumpers and take defenders to the rim, the Knicks offense can be scary.
Don't expect Amar'e to average over 20.0 PPG this season, but he will contribute offensively while getting other players open shots.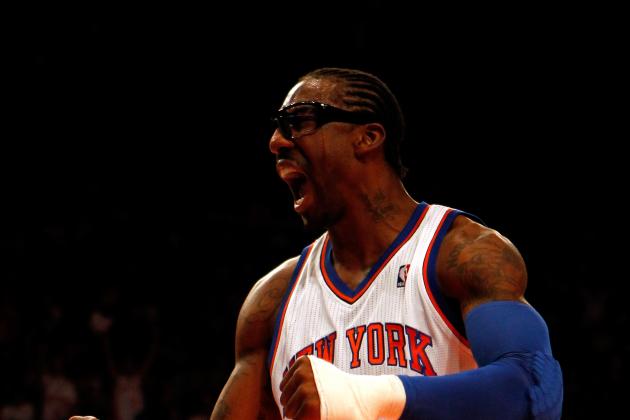 Jeff Zelevansky/Getty Images

This may seem insignificant, since the New York Knicks are currently the oldest team in the NBA, but A'mare brings the Knicks a good amount of experience.
Stoudemire has been to the playoffs seven times in his career, and has been very effective in just about every one.
Excluding last season, Stoudemire has always been a big presence in the NBA Playoffs, and has been to two conference finals with the Phoenix Suns.
For his career, Stoudmire has averaged 22.9 PPG and 8.9 RPG in the playoffs.
While experience may not seem like a big deal to Knicks fans now, it is always a good thing to have come May and June.