Pittsburgh Steelers: 5 Lessons from Loss to Bengals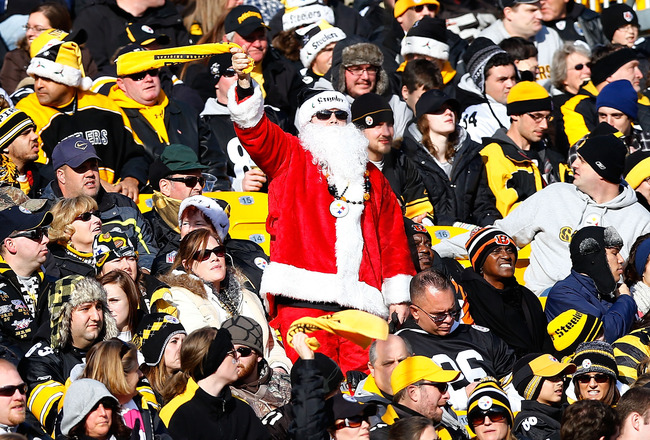 Jared Wickerham/Getty Images
The Pittsburgh Steelers find themselves mired in what can only be described as a horrible losing streak as they approach the end of the 2012 season.
They have won only one game in the last six, and that was when third-string QB Charlie Batch found a way to beat the Baltimore Ravens on the road in Week 13, three weeks ago.
With the loss on Sunday to the Cincinnati Bengals, the Steelers lost all around.
They were eliminated from the playoffs, and they clinched a non-winning season, only their third such in the last 20 years.
It seems like only yesterday that they were 6-3 and looked to be walking into a playoff spot, if not contending for the division title. Funny how going 1-5 can change the dynamic of a season so quickly.
So, as they look ahead to a completely meaningless game against the Cleveland Browns to end their year, let's have a look at what happened on Sunday.
Lesson 1: In Football, as with Most Things, Timing Is Everything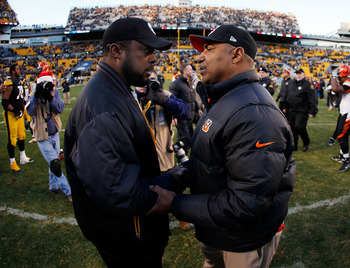 Gregory Shamus/Getty Images
I'm aware that he has been playing and coaching football for his entire life, but I often wonder if Mike Tomlin understands the game doesn't have to be as complicated as he seems to make it.
One of the keys to being a good coach is knowing when to go for something and knowing when to take what you are given.
In the game today, there were a few calls I questioned, and I have to wonder about the play-calling in general.
For example, on the first play of the second half, Cortez Allen stepped in front of an Andy Dalton pass and picked it off, setting up the Steelers on the Bengals' 32-yard line. The running game had been pretty good most of the game, but only managed three yards on the first two downs. Instead of keeping a threat of the running game on the field, the Steelers went with an empty backfield, and Ben Roethlisberger was sacked for a for an eight-yard loss.
That sack pushed them out of field-goal range. Why would they not at least keep a running back on the field to keep the defense honest and have to at least respect the run? With an empty backfield and Roethlisberger in the shotgun, everyone in or around Heinz Field had to know a pass play was coming.
Later on, from a single yard closer to the end zone, head coach Mike Tomlin opted to try a 56-yard field goal which was about two yards short. Interesting that the red line they had on the screen indicating where the Steelers had to get to in order to have a realistic shot at a field goal was about two yards closer than where they kicked.
And then, with the game tied and 44 seconds left, why would the Steelers even bother running plays from their 11-yard line? Granted, they picked up 18 yards on first down, but two plays later, Ben threw his second horrible interception of the game, the it was over.
I think it would have been better to take a knee there and play for overtime. The Steelers defense was playing extremely well, and I liked the team's chances to have won in overtime.
Like Kenny Rogers famously said, "You've got to know when to hold 'em, know when to fold 'em."
Sometimes, it seems like Mike Tomlin still doesn't know when to do either.
Lesson 2: Mistakes Decide Football Games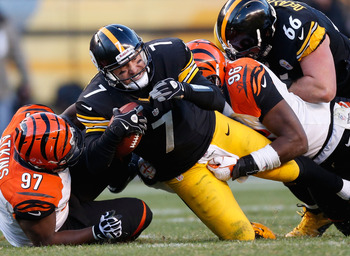 Gregory Shamus/Getty Images
Actually, the key to winning football games is limiting your mistakes while capitalizing on your opponent's miscues.
The most telling stat of this game: Both teams committed three turnovers. The Bengals converted two of those (both Roethlisberger interceptions) to 10 points. The Steelers scored exactly zero points off Bengals turnovers.
In fact, the Steelers went three-and-out after two of those turnovers.
That is not what Super Bowl-caliber teams do. A team that can win the Super Bowl will convert those turnovers into points.
After watching this defense fail to create turnovers for most of the year (Pittsburgh came into this game ranked 28th in takeaways on the year), to watch them create turnovers and then watch the offense not be able to do anything with them was disheartening.
On top of that, watching Roethlisberger throw two atrocious passes for picks, including one that was returned for a touchdown, was truly maddening.
While I do not believe any one play causes a team to win or lose, a strong case could be made that Ben cost the Steelers this game, as well as the Dallas game.
In fact, can we honestly say that he has been himself since his return from injury after their last win in Baltimore? He has thrown as many interceptions, four, in the last three games as he did in the first 10 games. And he has been sacked 10 times in the last three games, after having been sacked only 18 times in the first 10.
Plus, his completion percentage over the last three games is down by 11.5 percentage points over the first 10 games.
All of this begs the question: What is wrong with Ben Roethlisberger and this offense?
Lesson 3: Laces Out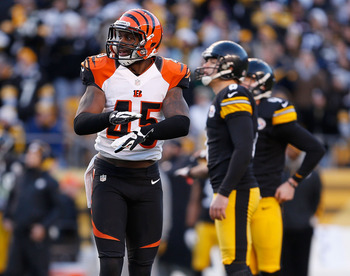 Gregory Shamus/Getty Images
There's no way I can say it cost them the game because we simply don't know how the game would have played out, but from the Bengals' 6-yard line, the Steelers botched what should have been a chip-shot field goal.
The snap was not good. The holder, punter Drew Butler, couldn't spin the ball to get the laces out of the way, and kicker Shawn Suisham yanked it badly, missing wide left.
You can forgive the 56-yarder that Suisham would miss later in the game. Those are simply not made at Heinz Field, but to completely mess up what was little more than an extra point is nearly inexcusable.
I don't think the Steelers have to worry that Suisham is going to end up as a murderous, kidnapping cross-dresser based on this one kick, but it is very representative of this team's struggles to focus on the job on hand.
Far too often have we seen either lapses in concentration (see Antonio Brown misplaying a punt against Dallas) or execution (eight turnovers in Cleveland) cost this team games.
This is a hallmark of teams that draft early, not teams that hold the Lombardi Trophy.
Lesson 4: The Defense Played About as Well as Can Be Expected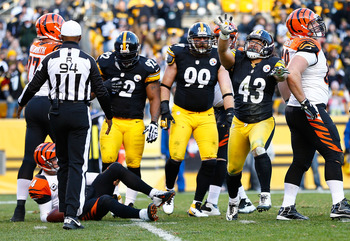 Jared Wickerham/Getty Images
Cincinnati may not be the passing team that New England and Denver are, but it is no slouch. It was ranked 17th in passing yards per game going into Sunday.
It was, however, a decent rushing team, ranking 11th in rushing yards per game with 110.3 yards per game.
All the Steelers defense did was limit that quite potent rushing attack to 14 yards. You read that right. The Cincinnati Bengals had 14 yards on the ground on Sunday. Their longest run of the day was four yards.
They averaged less than a yard per carry.
They forced three turnovers, had six sacks and allowed six points. Both of those field-goal drives began in Steelers territory, so it's not like the Bengals had long, sustained drives against the Steelers.
Plus, they held the Bengals to 4-for-15 on third downs.
Troy Polamalu looked like the player he was when he won Defensive Player of the Year two years ago, making plays in the offensive backfield and flying around as if his considerable hair was on fire.
Overall, it was a remarkable performance by a defense that has been ranked No. 1 all year.
If I played on defense on this team, I know I would be very bitter that perhaps its best effort of the year had been wasted because the Steelers offense couldn't figure out a way to score when the defense handed it the ball on a silver platter.
Lesson 5: It's Not Too Early to Think About the Draft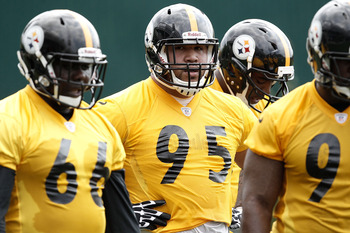 Jared Wickerham/Getty Images
It's hard to know where the Steelers need help.
As an astute reader of my last column pointed out, the Steelers spent most of this year playing musical chairs on the offensive line. Their first two picks of the 2012 draft, David DeCastro and Mike Adams, spent time on the sideline with injuries.
That being said, if they progress they way they should and can manage to stay healthy, the Steelers are very young on the offensive line. DeCastro, Adams and Kelvin Beachum were all drafted in 2012. Center Maurkice Pouncey is only in his fourth year this year.
The running backs would seem to be set too. Rashard Mendenhall played well against the Bengals on Sunday, but seems to find himself in the doghouse often. Jonathan Dwyer and Isaac Redman are both bruising, between-the-tackles backs, while Chris Rainey and Baron Batch are speedy around the outside.
On defense, the secondary seems to be getting younger and better. Ryan Clark has emerged as very good free safety, a compliment to the remarkable Troy Polamalu (when he is healthy). On the corners, the return of Ike Taylor from injury should be a help Keenan Lewis, Will Allen and Cortez Allen continue to improve.
So, it would seem the Steelers could use help along the defensive line, where Casey Hampton is showing his age. And at linebacker, where James Harrison is a shadow of himself, and LaMarr Woodley and Lawrence Timmons can never seem to both have a great game in any one game.
This game against the Bengals is a perfect illustration of this last point. Timmons led the Steelers with eight tackles and two sacks, while Woodley had a single tackle. Imagine what this defense could do if both of these guys had good games at the same time!
I think the Steelers need to address the receiving corps, as well. Whether he deserves it or not, Mike Wallace will not get the contract he wants from the Steelers and will most likely be gone via free agency.
Jericho Cotchery and Plaxico Burress are long in the tooth and do not the answer the Steelers' need.
I also happen to think the Steelers might need to think about using a middle-round pick on Ben Roethlisberger's eventual replacement. Byron Leftwich and Charlie Batch are to old to be relied upon, and Roethlisberger takes too much punishment to not have a high-quality backup.
Keep Reading

Pittsburgh Steelers: Like this team?