The Funniest Pics and GIFs of NFL Week 16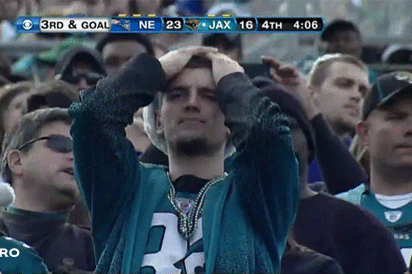 From @CJZero
For some lucky fans, their NFL teams were playing for real stakes during Week 16. Playoff spots and home-field advantage occupied their thoughts while their teams occupied the field.
For an even smaller sample size of fans, they were battling out for fantasy football glory and possibly a tidy sum of money.
For the rest of us, we watched because it's what we do. We can't help it. For those sad souls, we've lined up the funniest gifs and pics from Week 16.
Enjoy!
Begin Slideshow

»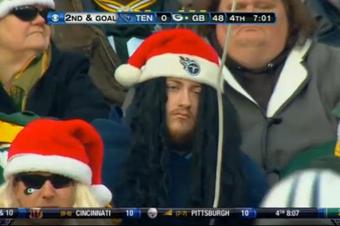 This Tennessee Titans fan looks just like one of those sad puppies on the Sarah McLachlan commercials. You just want to give him a hug and tell him everything will be alright.
Let's hope this visit to Lambeau Field wasn't a seemingly-cool-but-actually-cruel Christmas present. The Green Bay Packers dispatched the Titans by a score of 55-7.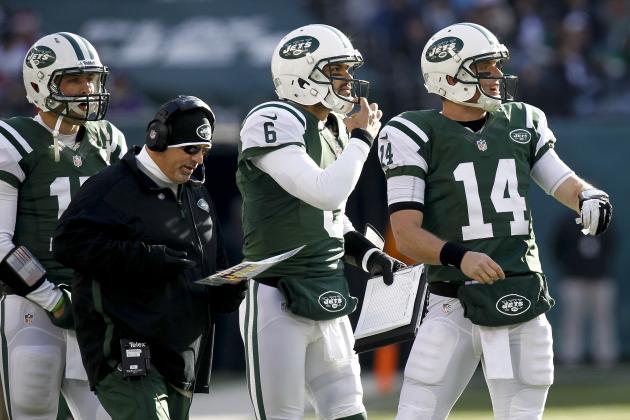 Jeff Zelevansky/Getty Images

Greg McElroy is funny. I assume this "tackle attempt" was an attempt at humor and nothing more.
If not, then this is McElroy diving to stop Corey Lynch after an interception.
We shouldn't really expect much more out of a Jets quarterback at this point. They have a first-round pick that sits on the bench and another that doesn't even want to be a part of the team.
So instead of vilifying his poor effort, we should praise him for even "trying."
I'm trying, Jets fans. I really am.
Yikes.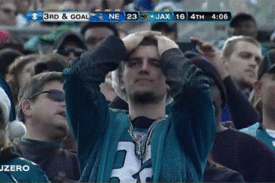 This guy is certainly wondering what the reason for the season is. Here's guessing he won't find it in Jacksonville as the Jaguars weren't able to pull it out against the New England Patriots.
Much like Chad Henne's brief explosion, the Jags kept things close and interesting. They were shutting down an offense that notched 28 straight points against one of the best defenses in the league last week.
But it wasn't meant to be. Much like the Jaguars' season.
It's okay, man. Tim Tebow is on his way!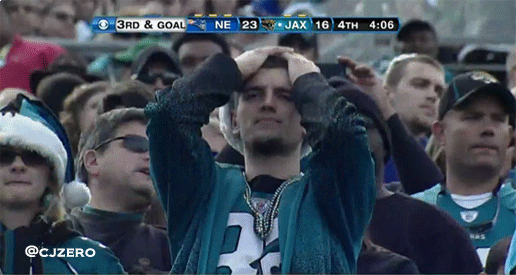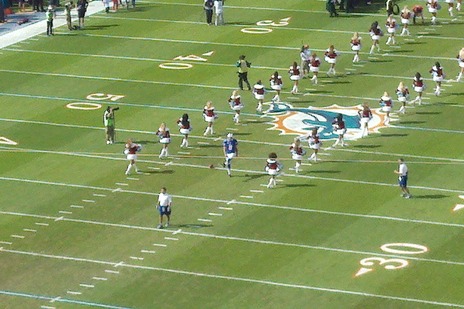 The Buffalo Bills lost to the Miami Dolphins. Anyone who saw this picture beforehand should have seen it coming.
As the old adage goes, the team is only as focused as the kicker. It's a natural leadership position.
Obviously, Rian Lindell did not have his head in the game.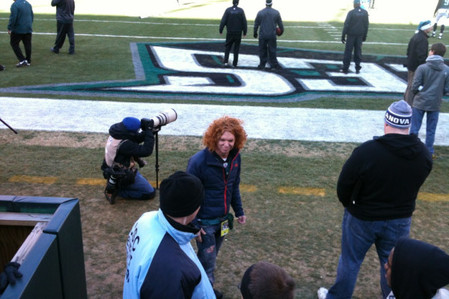 The Philadelphia Eagles have endured a trying season. Thus, in an effort to reach out to the fans, the Eagles invited Carrot Top since celebrities create buzz and excitement.
I haven't confirmed any of this. However, would you be surprised?
From @CJZero
Anytime you get pounded by Joe Flacco, you're going to make a face. Luckily, Tom Coughlin and Ahmad Bradshaw didn't disappoint.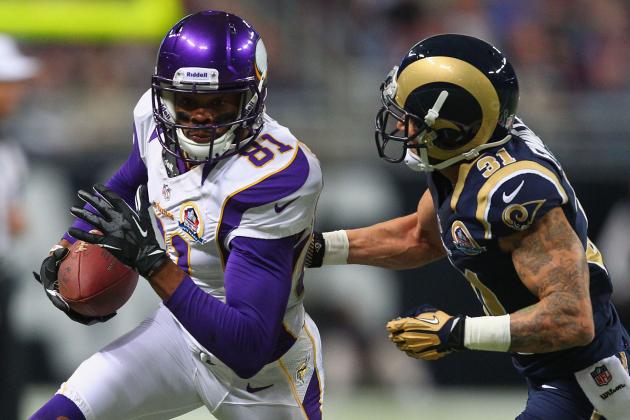 Dilip Vishwanat/Getty Images
From @CJZero
I love me some football. You love you some football.
Apparently, so does Jerome Simpson. A lot.
But who can blame him?
His Minnesota Vikings took care of business against the Houston Texans. Think about it. His struggling-to-make-the-playoffs squad walked into the No. 1 seed of the AFC's house and dismissed them handily.
So go ahead, Mr. Simpson. Let your freak flag fly.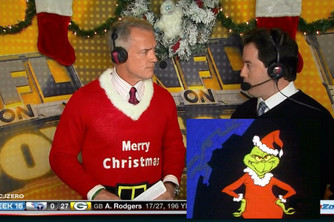 From @CJZero
I'd make a joke about Moose Johnston's wife or girlfriend dressing him, but there is just no way a lady would let him out of the house in this.
Lost a bet? Perhaps.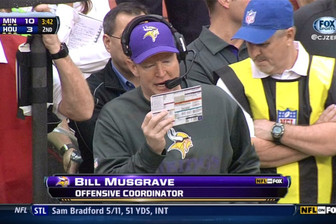 From @CJZero
When your quarterback is Christian Ponder, you cut down the play list. Thus, the Minnesota Vikings have run Adrian Peterson right, run Adrian Peterson left and Ponder get sacked.
Additionally, the Vikings have taken the initiative in the fight against pollution by cutting down on unnecessary paper consumption. Bravo!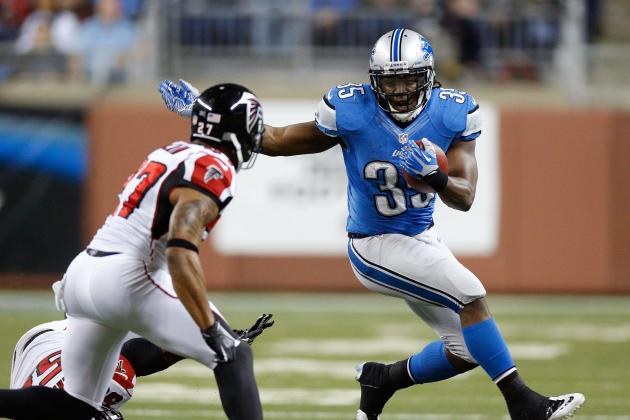 Gregory Shamus/Getty Images
From @CLZero
The Detroit Lions have struggled on defense to make the plays that matter most. Timely tackles and quarterback pressures have become a lost remnant of 2011.
The Lions offense has been pretty solid all season. They are among the league leaders in yards, but have shot themselves in the foot when it comes to turnovers.
However, the defense has given games away with poor play. It allowed Andrew Luck to march down the field twice in the closing minutes to allow the Indianapolis Colts to skip town with a victory.
Naturally, a lot of fans blame defensive coordinator Gunther Cunningham. And so does Joique Bell.