How Orioles Rotation Stacks Up Against Other AL East Teams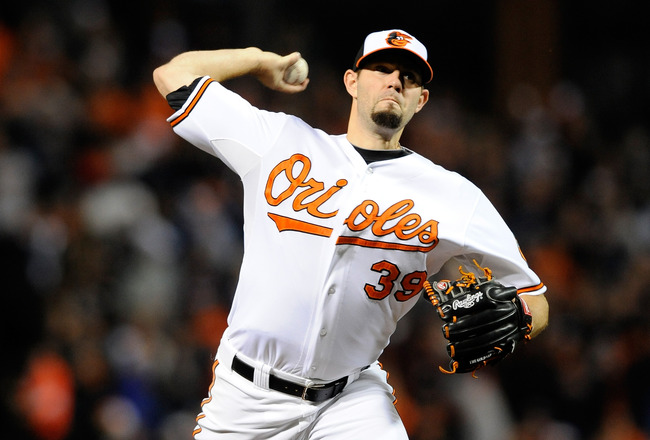 Patrick McDermott/Getty Images
An exciting new reality lies beneath the recent shock-and-awe offseason campaign unleashed by the now glitz-and-glamour Toronto Blue Jays. This reality is that the AL East has become a banyan of dynamic starting pitching unlike any other MLB division.
Collectively, rotations in the AL East are ripe with a healthy mixture of youth, ironclad talent and battle-tested experience. The same also boasts a nice combo of crafty aces, dominant fireballers and left and right-handed workhorses.
Consequently, more than any time in recent history the AL East is truly an intriguing force. This division is driven by tangible statistics and intangible traits that make it nearly impossible to predict what team will be crowned AL East champion in 2013.
Perhaps the most enigmatic rotation in the AL East is the Baltimore Orioles. Fresh from a 93-69 record (and first postseason berth in 15 years) in 2012, Baltimore looks to concrete a rotation that can be described as a patchwork of unproven journeymen.
This slideshow reveals how the Orioles' rotation stacks up against the rest of the teams in the AL East.
Note: Analysis of rotations includes a look at collective talent, depth, experience and flexibility. Analysis also incorporates stability and skill at the catcher position (because a great catcher can help transform a rotation).
Best Rotation: New York Yankees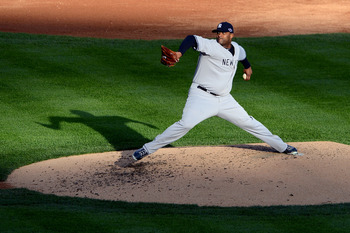 Jason Miller/Getty Images
When healthy, the New York Yankees own the best rotation in the AL East. Though an aging force, this rotation features arguably the best one-two punch in the division in CC Sabathia and Huroki Kuroda.
It also features Andy Pettitte, who, while well into the twilight of his career, provides the Yankees a wealth of experience.
Rounding out the Yankee's rotation is Phil Hughes and Ivan Nova. If Hughes is finally able to master his off speed stuff like he did at times late last year, the Yankees will reap benefits.
Nova is also a fine talent (career 29-14 with a 4.38 ERA), but still has ways to go before he is considered an ace pitcher.
These five pitchers combined, the Yankees have a collection of battle-tested war horses other rotations in the AL East do not.
Adding depth to the Yankees rotation is David Phelps who may compete for a spot in the rotation in '13.
Fighting in the wings are prospects Manny Banuelos, Dellin Betances, Brett Marshall and Shaeffer Hall.
Second Best Rotation: Tampa Bay Rays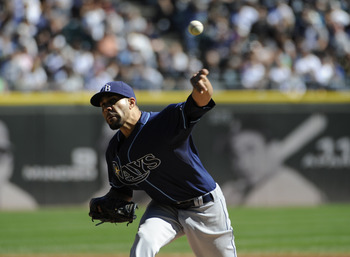 David Banks/Getty Images
The Rays had the best rotation in the AL East prior to its team trading James Shields and Wade Davis to the Kansas City Royals earlier this month.
But looking big picture, the Rays have proven once again to be an assembly line of young and talented hurlers.
While Minor League Player of the Year Wil Myers stole the show in this trade, the Rays quietly acquired two young pitchers (Mike Montgomery and Jake Odorizzi) that may join David Price, Jeremy Hellickson and Matt Moore in this team's already potent rotation one day.
And lest fans not forget the Rays also feature a terrific fourth starter in Alex Cobb.
This Rays also boast another potential star in prospect hurler Chris Archer, who the Rays acquired from the Chicago Cubs last year in exchange for Matt Garza.
Meantime, the Rays round out their rotation with very capable right-hander Jeff Niemann. Entering his fifth year in the big leagues, Niemann is a career 40-26 with a 4.08 ERA and 1.29 WHIP.
It this combination of youth, talent and skill that gives the rays the brightest collective future of any of the rotations in the AL East.
But unlike other teams in the AL East, the Rays lack of offense creates pressure on this rotation to fire on all cylinders every night.
Yet if there is any team in the AL East with the tools to do this it is the Rays.
Third Best Rotation: Boston Red Sox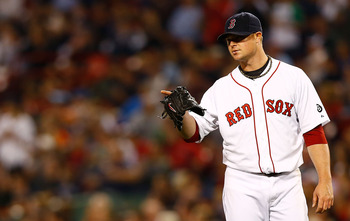 Jared Wickerham/Getty Images
This is where analysis gets tricky.
Boston's rotation is one of the most unpredictable rotations in the big leagues.
It features all-stars Jon Lester and Clay Buchholz and a rising star in left-hander Felix Doubront. This rotation also has a sharp veteran in John Lackey.
Yet things miserably fell apart for these guys last year, for reasons that are not expected to rear their ugly heads again in 2013.
With the recent signing of Ryan Dempster, the Sox should find rejuvenation and a chip on its shoulder in 2013. If there is any ball club that can bounce back from a rough past season, it is this team.
The problem Boston runs into is depth in its rotation. If one or more of Boston's starters gets injured, it will have a tough time finding an equally talented replacement.
Now the BoSox do have Franklin Morales as a stop-gap. They also have hot prospects Matt Barnes and Allen Webster waiting in the wings.
Still, none of these pitchers comes close to the skill set Boston's starting five possess.
This is why it is imperative Boston stay healthy.
Fourth Best Rotation: Baltimore Orioles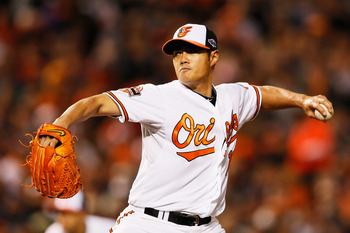 Rob Carr/Getty Images
The Baltimore Orioles represent everything that is crazy about the AL East in 2013.
On paper, the bird's depth chart looks like a laundry list of unproven pitchers.
But sometimes paper is just that…paper.
In reality, the Orioles have both talent and depth in its rotation that has not yet been fully tapped. This team also has the ability to shift starters back and forth between the rotation and the bullpen. This fact alone makes this team dangerous.
In its rotation, Baltimore has a good one-two punch in Jason Hammel and Wei-Yin Chen. When healthy, Hammel is a workhorse that can put Baltimore on its back. When not healthy, Chen has proven he can put the Orioles on his back until Hammel returns.
And very slowly, the third-through-fifth spots in Baltimore's rotation are beginning to solidify itself.
Third in the Orioles rotation is Chris Tillman. Entering 2012 Tillman had great stuff but struggled with his confidence. But after being called up on July 4 to pitch against the Seattle Mariners, Tillman went on a rampage. On the season, Tillman went 9-3 with a 2.93 ERA and 1.05 WHIP.
It is difficult to see Orioles making the postseason last season without Tillman's arm.
In the fourth spot is Miguel Gonzalez.
A relative unknown going into the 2012 season, Gonzalez came up huge for the Orioles, just when this team needed a pitcher to stop the bleeding, Gonzalez pitched a 9-4 record with a 3.25 ERA.
While Tillman and Gonzalez look to solidify themselves in the Orioles rotation, a very intriguing fight for the fifth spot will take shape come spring training.
Up-and-down lefty Brian Matusz will compete with Baltimore native Steve Johnson (4-0 with a 2.11 ERA in 2012), Jake Arrieta and Zach Britton for this spot.
Then there is phenom prospect Dylan Bundy. This stud right-hander is expected to put plenty of heat on more seasoned pitchers on the Orioles.
Regardless of who breaks camp in Baltimore's rotation, the thing that makes the Orioles a dark horse in the AL East, is this team's ability to shift starters to the bullpen with success.
Matusz, Arrieta and Tommy Hunter for example, all moved to the pen after struggling in the rotation last season. All three men went on to play significant roles in Baltimore's run to the playoffs and in the postseason as well.
It is this depth, talent and flexibility that makes the Orioles the biggest enigma in the race for the AL East pennant in 2013.
Still, starters in the three-through-five spots need to repeat their output of 2012 to enable the Orioles to be a top-tier rotation in the AL East.
If not, the Orioles may struggle. Sounds Armageddon. But in this now star-studded division, there is very little room for long losing streaks.
Fifth Best Rotation: Toronto Blue Jays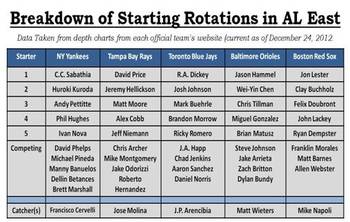 Breakdown of Starting Rotations in AL East
Splish, splash and before fans could blink the Blue Jays acquired NL Cy Young winner R.A. Dickey, young Josh Johnson and burly Mark Buehrle.
In doing so, Toronto not only bolstered a rotation that also includes Brandon Morrow and Ricky Romero, but it also threw a gigantic wrench into the AL East.
Regardless, Toronto's rotation is listed fifth for two simple reasons.
First, the Blue Jays' rotation needs time to gel. Dickey and Johnson need time to adjust to the home run clobbering AL East. Buehrle does as well, but not to the level Dickey and Johnson do.
But with a Toronto offense that has some serious pop in its lineup, Dickey and Co. do not have to deal with the same heat to pitch perfect as guys in the Rays' rotation do.
Second, Toronto's rotation lacks depth. Of the five teams in the AL East, Toronto has the least depth. The Blue Jays do have J.A. Happ who will compete with Romero for the fifth spot in 2013. Rookie right-hander Chad Jenkins will also compete.
But in order to win the AL East, this rotation needs to stay healthy.
Despite this lack of depth, Toronto fares to be right in the mix of the AL East race starting on Opening Day 2013.
Keep Reading

Baltimore Orioles: Like this team?