Chargers vs. Jets: New York's Biggest Winners and Losers from Week 16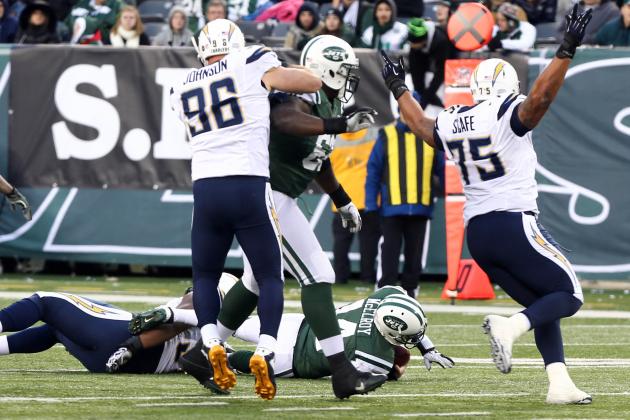 USA TODAY Sports

For the first time since 2007, the New York Jets are guaranteed to have a losing record after losing their ninth game to the San Diego Chargers.
Greg McElroy was brought back down to earth in his starting debut, taking a stunning 11 sacks in the loss. He looked overmatched and did not look to be a long-term NFL starter.
Here are the winners and losers from Week 16.
Begin Slideshow

»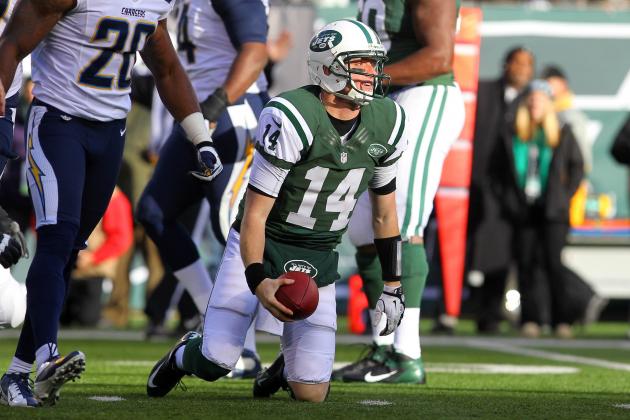 Ed Mulholland-USA TODAY Sports

Any positive vibes surrounding McElroy before the game have evaporated.
He was sacked more times (11) than passes he completed (nine). He did not trust what he was seeing and started to look at the pressure rather than keeping his eyes downfield.
Most importantly, he started to turn the ball over when asked to make plays.
It is now clear that McElroy is not starting material. He has the capacity to come in for a few plays in the middle of a game, but that's about it.
Rex did say that McElroy would be the starter next week, which is ultimately the right move.
Going back to Sanchez accomplishes nothing, and Tebow's career is all but over in New York. The Jets can at least find out if they have a competent backup on their team.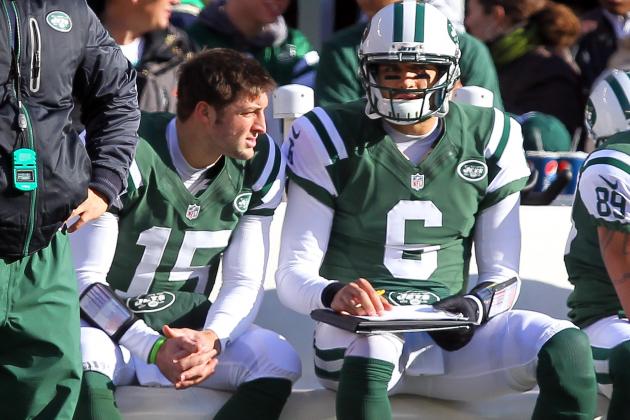 Ed Mulholland-USA TODAY Sports

Sanchez is a winner for two reasons.
For one, he did not have to get beat down by a Chargers defense that sacked McElroy 11 times, and he does not have to hear his name blasted for another week.
More importantly, McElroy's ineptitude proves that Sanchez was not the only problem on offense. Even McElroy, known for being a smart game manager, turned the ball over.
Sanchez may never start again in New York, but this game at least opens up the discussion that perhaps Sanchez received too much criticism for an offense with plenty of holes.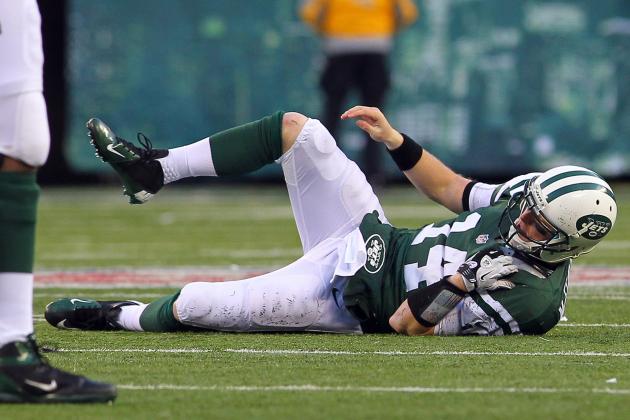 Ed Mulholland-USA TODAY Sports

Yes, many of Greg McElroy's 11 sacks were because he held on to the ball for too long, but that is simply an unacceptable number for any NFL team.
Taking sacks to avoid turnovers is one thing, but there comes a point where you need to start making plays and taking some chances.
This season, the line has struggled in blitz pickup, but they were also getting beat in individual matchups. McElroy's indecision and inability to step up in the pocket and avoid the rush only exacerbated the situation.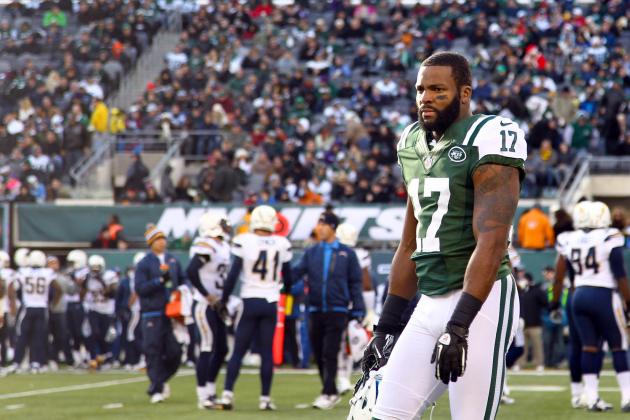 USA TODAY Sports

Edwards did not put up big numbers, but he competed hard and is clearly the best skill position player on the team. He also drew a pass interference call to set up the Jets' first touchdown.
The more you watch him, the more you have to wonder why the Jets never tried to retain him after the 2010 season.
Edwards would love to stay in New York after the season, but the Jets tight salary cap situation will make it difficult for him to stay, unless he is willing to take something close to the minimum.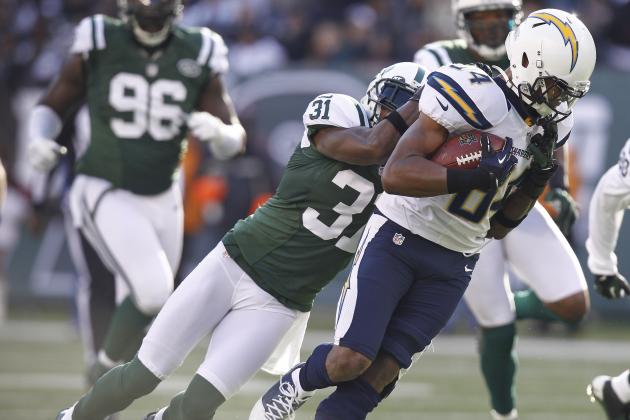 Jeff Zelevansky/Getty Images

Cromartie has had a terrific season and did not necessarily have a bad game overall, but he badly misjudged a hanging pass from Philip Rivers that gave the Chargers their go-ahead touchdown.
The play was reminiscent of the touchdown he gave up to Mike Wallace back in Week 2. He had good coverage, but he did a terrible job tracking the ball and let it go over his head.
Cromartie is a very good player, but he struggles at times to locate the ball when he goes back to look for it.
To make it worse, he gave up the touchdown that wound up helping his former team beat him.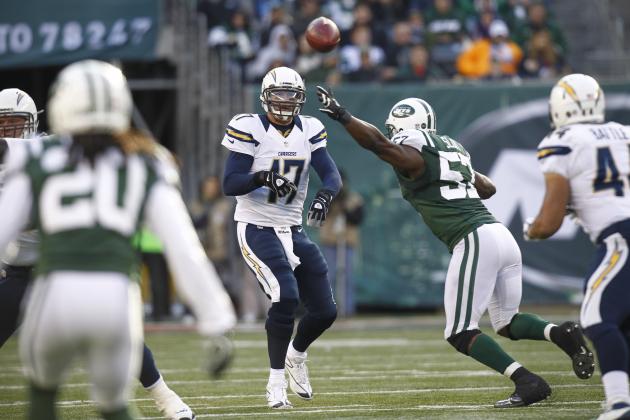 Jeff Zelevansky/Getty Images

It has become popular among some media members to bash Bart Scott, but he has been arguably the best linebacker on the Jets this season.
He was terrific against the run, recording five tackles. He had a terrific sack on Phillip Rivers.
He looked fast and moved as well as he had in a long time.
It will be difficult to retain Scott at his current salary because of the Jets tight cap situation, but he is making a strong case to be brought back at a lower rate with his play.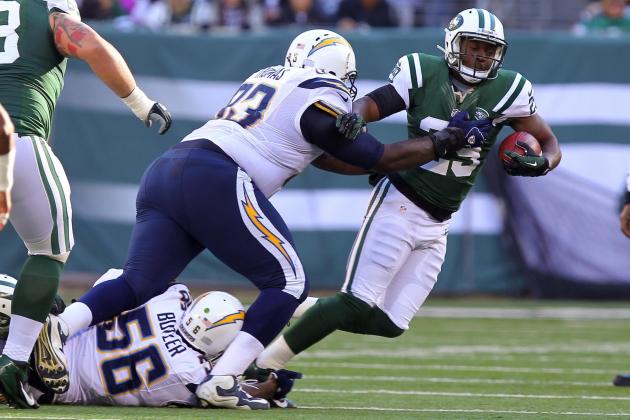 Ed Mulholland-USA TODAY Sports

After looking like a possible starter over the last few weeks, Powell was almost completely removed from the game plan in favor of Shonn Greene.
He had just three carries for negative-three yards.
Shonn Greene had a decent game in his own right, but it was a bit surprising to see him contribute so little in a game where he should have more rushing attempts with an inexperienced quarterback behind center.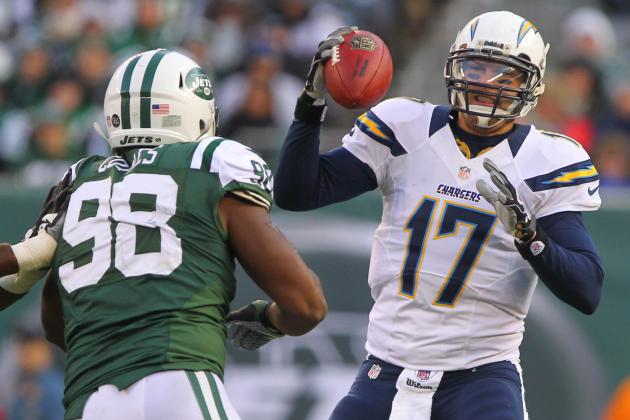 Ed Mulholland-USA TODAY Sports

The more he plays, the more plays he makes.
Coples had another big day with 1.5 sacks and three tackles.
The only negative play he had was when he grabbed Philip Rivers' facemask (although the penalty was mistakenly called on Muhammad Wilkerson).
Mike DeVito is free agent after the season, and the Jets cap situation will make it difficult to retain him. With Coples playing as well as he is, especially as a pass-rusher, letting DeVito walk will be much easier to do.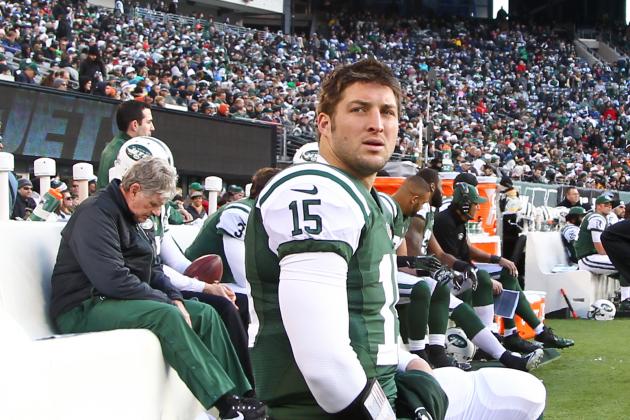 USA TODAY Sports

Despite being active, Tebow did not get a single snap on offense or special teams. He watched the entire game as Greg McElroy took 11 sacks on the way to a loss.
It was certainly a humbling moment for a player who was in the playoffs a year ago.
It is unclear as to why Tebow was even active when he did not play a single snap, but Dan Leberfield offered one explanation:
You have to wonder if Rex activating Tebow, and not playing him, was punishment for all the distracting leaks from his camp this week. #jags
— Dan Leberfeld (@jetswhispers) December 23, 2012
To add insult to injury, Rex named McElroy the starter for next week in his post-game press conference.
We'll never know whether that is true or not, but there is no way Tebow is pleased with how things have gone in his stint with the Jets.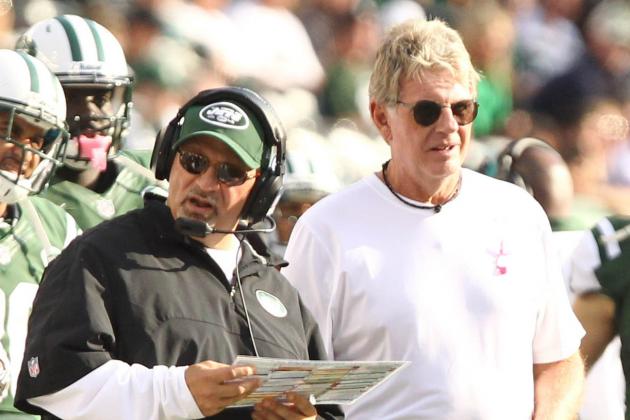 Debby Wong-USA TODAY Sports

Another week, another special teams gaffe by Mike Westhoff's once-proud unit.
The Chargers were able to get a punt return for a touchdown thanks to some poor Jets' tackling and lane discipline.
With the season virtually over, these gaffes hardly matter to a coach who announced his retirement last year, but I'm sure he would have liked to go out with a more memorable season. The way his unit has played, the Jets may not miss him as much as they thought they would.