San Francisco 49ers vs. Seattle Seahawks: Live Score, Highlights and Analysis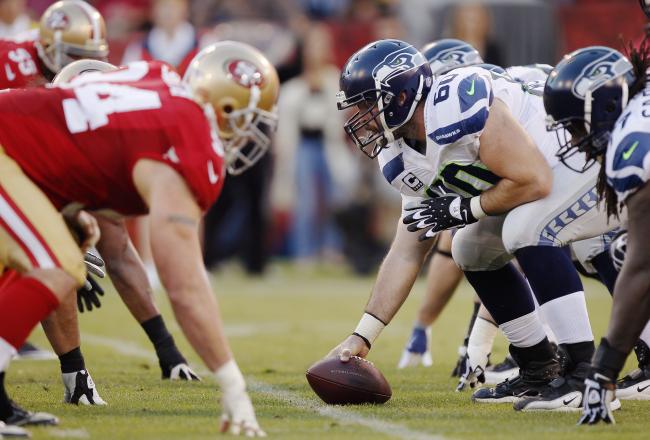 Brian Bahr/Getty Images
49ers vs. Seahawks. That has a nice ring to it, like Ali vs. Frazier, Louis vs. Schmeling, communism vs. capitalism, Joan Crawford vs. Bette Davis or George vs. Martha.
Two or three years ago this matchup would have been an afterthought, a clear example of the inferiority of the NFC West. Not anymore.
When these two teams collide Sunday night on NBC at 5:20 PST, the impact will be measured by Richter scales as far away as Ittoqqortoormiit or the Solomon Islands. This is a heavyweight matchup of the highest degree and marks the biggest game ever in the short history of this budding rivalry.
The league's best two defenses square off against perhaps the two most physical runners in the NFL. Two of the best young quarterbacks in the league will be looking to outduel each other while another chapter in the Harbaugh/Carroll rivalry unfolds. This isn't going to be a football game; this is going to be a knife fight in a telephone booth between two rabies-infested wolverines.
The 49ers have already locked up a playoff spot, but nothing else. Seattle hasn't locked up anything yet, but a victory would clinch at least a wild-card berth and give them a chance to still win the division.
The 49ers are looking to strengthen their grip on the second seed in the playoffs and a first-round bye while the Seahawks are looking to build even more momentum for the playoffs with another lopsided victory. This could very well be a preview of the NFC Championship Game this January as well. This is what football in December is all about.
The weather forecast in Seattle calls for a 60 percent chance of rain with light winds from the southeast and a temperature dipping into the 30s by the 5:20 pm (Pacific Standard Time) kickoff.
The median blood-alcohol level of the crowd will be about .25 and the stadium will be rocking louder than a Led Zeppelin concert.
Make sure your prescriptions are filled, stock up on canned goods and candles, verify your blood type, warm up your defibrillators and board your windows because this is going to be a doozy.
Cris Collinsworth made an excellent point just now. After jumping out to a 31-3 lead against New England they've been outscored by about 60 points since that point.
Touchdown pass to Delanie Walker to make the score 42-13. In light of Vernon Davis' injury, combined with his utter lack of chemistry with Kaepernick and Kaepernick's apparent good chemistry with Delanie Walker, it might behoove the 49ers to try to resign Walker this offseason.
Most of the speculation up to this point has been that Walker will command starting tight end money this offseason and the 49ers won't be willing to pay that kind of cash to the presumed second option at the tight end position. At this point though, he looks like the better option at tight end for the 49ers. His physical talent has never been in question and he really doesn't represent a very significant downgrade from Davis in that department. In my opinion, Walker has the better hands by far and they are both excellent blockers. Who knows what happens this offseason, but I can guarantee one thing: if things turn ugly for San Francisco in the postseason there is going to be some serious changes this offseason.
I don't see Jed York overreacting in classic Eddie DeBartolo fashion if they don't make the Super Bowl, but he might come close.
Congratulations Seattle. I'm going to bed.
42-6 with three minutes left in the game. It's almost over 49ers fans. Booze sales are going to go through the roof in the Pacific Northwest tonight.
Russell Wilson might be the Rookie of the Year, but more than that, he looks like he could be the first rookie quarterback to win the Super Bowl if he plays with the sort of poise and accuracy with the ball that he's shown tonight. He looks like Drew Brees with Steve Young's running ability right now.
One of the things I have really focused on in some of my recent articles about the NFL draft is the need for added depth and size along the defensive line for the 49ers. Tonight is a perfect example of why. With the increase in the usage of the read-option and the inevitable further influx of quarterbacks who can run, it is beyond paramount for them to be able to rotate in linemen to stay fresh. Russell Wilson has made the 49ers front seven chase him all over the field, the defense played more than 90 snaps last week in New England, and it is all on tape now.
The defensive line has been manhandled tonight, pure and simple. Losing Justin Smith really should not have been the huge handicap that it apparently is right now. But the fact is that it has handicapped the 49ers; not only are they forced to use the same three or four linemen for every single defensive snap (remember, these are typically not guys built for endurance) but when they begin to wear down, the effect extends to the rest of the front seven. Aldon Smith apparently relies on Justin Smith for success more than even the most skeptical of analysts have believed. Patrick Willis and NaVorro Bowman are still the best middle linebackers in the game, but like in any 3-4 defense, they become mere mortals when offensive guards can run at them unmolested.
What else is there to say at this point?
Kaepernick has taken a serious step backwards tonight. He just threw a pretty boneheaded pick in the end zone to Richard Sherman, who should probably not even be playing in tonight's game anyways. Sherman claims that his urine sample was tainted by the cup used to hold it, which is ridiculous. Last time I checked, amphetamines don't line plastic cups. But it's a moot point because as big an impact as he's had in this game, Seattle has so thoroughly outplayed San Francisco that they could probably have stuck tony Dungy out there at cornerback and won tonight.
Touchdown catch by Doug Baldwin makes it 35-6 after the ensuing point-after. The 49ers will need to put about 150 points on the board next week against Arizona to even begin washing the sour taste out of their mouths after this game.
Mario Manningham was carted off to the locker room and has been declared out for the rest of the game. The way he immediately dropped the ball and grabbed at his knee, he doesn't look likely to return until next season. It's hard to believe that the 49ers are going from proverbial Super Bowl favorites to, most likely, lucky to win a single playoff game. And there's still more than 5 minutes left in the third quarter.
Everything has gone right for the Seahawks tonight, but they've forced the issue tonight as well. Tonight's game is more than just a loss on the scoreboard for the 49ers. This is demoralizing, like walking in on your wife with another man and getting your ass kicked by her and not him.
Carlos Rogers just plain dropped an easy interception on a pass from Sidney Rice. Or was it Golden Tate? Does it matter? The way this game is going, and given the history between Harbaugh and Carroll, there's going to be more of that sort of trickery as this game gets further and further out of hand.
Much has been said about the aggressive hand-checking that the Seattle cornerbacks are "allowed" to get away with, but you know what? If they're getting away with it then why don't other teams' cornerbacks do the same thing? If one team can get away with it there's no reason why others can't.
Just when the 49ers looked like they had some momentum everything has gone wrong for them on one play. Manningham looks like he injured his knee on a reception deep inside Seattle territory after a couple of nice pass completions from Kaepernick, and Manningham turned the ball over on top of everything else.
San Francisco fans better be ready for playoff football a week earlier than they were expecting, because unless Minnesota can upset Green Bay next week, it doesn't look like they'll be getting any first-round bye.
Russell Wilson's scrambling ability really is reminiscent of Fran Tarkenton. I'm too young to have seen Tarkenton play, but I've seen enough highlights of his to understand the style.
The 49ers forced a punt to start the third quarter and if they are to have any chance at all in this game they need to score on this possession. Not only do they need to score, they need to score in a way that gives them some real confidence. No fluky plays, no fortunate Seattle penalties. The 49ers need to come out and exert their will upon Seattle to build some semblance of momentum.
Tonight's game should really put the rest of the NFC on notice when it comes to Seattle. There's been a lot of talk this time of year, as there always is, about how important it is to be playing well in December and going into the playoffs. The hot team the last 5 years or so has been the team to make it to the Super Bowl and no team is hotter than Seattle. In fact, it could be argued that no team has been this hot this late in the season, period.
Harbaugh sent Akers out for a 50+ yard field goal with less than a minute left in the first half on 4th-and-23. The 49ers need touchdowns, not field goals, but I like that decision. The 49ers are already in the playoffs regardless of what happens tonight and Harbaugh knows that they'll need Akers to have some confidence in January. I think nailing that kick to make it 28-6 was a chance for him to gain some confidence. There is little else for 49ers fans to hang their hats on at this point.
I compared this matchup to Ali vs. Frazier at the outset of this blog, but at this point it's more like Ali vs. some random transient yanked off the street and thrown into the ring with him.
Touchdown pass to Anthony McCoy just in front of the two-minute warning to make it 28-3 Seattle. That probably puts the fork in the 49ers for tonight. At this point San Francisco can only hope to escape the game without any more injuries to key players. They are not the better team tonight and may not be the better team, period.
Seattle has looked like the far superior team, but if they cannot score on their current possession they might give the 49ers just enough momentum to get back into the game. 21-3 is not an insurmountable lead by any means, but the way Seattle is playing it's going to take a lot of bad luck for them to blow this game.
San Francisco cornerback Tarell Brown was carried off the field with nine minutes left in the second quarter. He was holding his right knee and if he cannot return that is a huge blow for the 49ers.
RG3 and Andrew Luck have nothing on Russell Wilson. His lack of height clearly isn't an issue and he looks like a veteran presence despite being a rookie. HIs pocket awareness and scrambling ability are as good as anyone's in the league right now.
21-3 Seattle at this point. David Akers' field goal halfway through the 2nd quarter, on the heels of Patrick Willis' interception, is about the only good thing that has happened thus far for San Francisco. For all the talk of how calm, cool and collected Kaepernick has appeared when faced with adversity this season, he looks rattled beyond belief right now.
Justin Smith is a huge loss for the 49ers, but this game is out of hand for more than just that reason. Sloppy play, an inability to get the play into the huddle on time, lack of physicality and a lack of depth along the defensive front is really dooming the 49ers. But this just isn't the result of San Francisco playing poorly. Seattle is punching them in the mouth, holding their heads under water and stomping on their feet.
Second delay of game penalty on Kaepernick and with just under 14 minutes in the second quarter things are starting to spiral out of control for San Francisco. It looks like the quarterback controversy in San Francisco is going to regain some momentum after tonight's game, barring some sort of miracle comeback that the 49ers look incapable of mounting.
Seattle showed up tonight and will probably jump to the top of the NFL Power Rankings after this game. At this point it wouldn't surprise me to see Alex Smith make an appearance. The only positive the 49ers can take from this game at this point is that they still win the division if they win next week against Arizona.
Vernon Davis has been taken to the locker room, and based on how rapidly he was blinking his eyes he doesn't look likely to return.
14:19 left in the second quarter and.....WOW! A blocked field goal attempt makes the score 21-0 Seattle and the route is on.
Wow. Vernon Davis was just leveled and the play was indicative of how things are really going in Seattle's favor. If Davis hangs onto the ball the 49ers get the ball down inside the 10-yard line. But the penalty yardage instead of the catch actually ends up costing the 49ers several yards. Seattle looks like the more physical team tonight and that is something that is not normally said about the 49ers.
So far, it looks like just one team showed up to play smash-mouth football and that team is Seattle. It's early still, but they look to be playing at a different speed than the 49ers right now.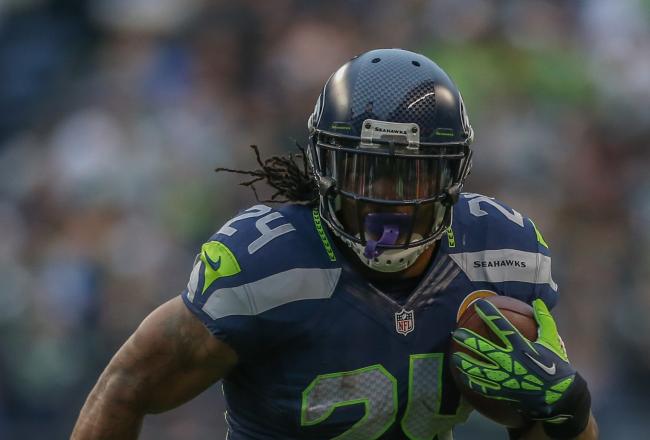 After a 49ers 3-and-out, Marshawn Lynch and the Seahawks take immediate advantage of good field position. Lynch's 24-yard TD run puts Seattle on the board in a way-too-easy series of events that can't make SF fans happy. 7-0 Seattle.
Looks like the weather isn't as bad as it was in New England last week after all. Temperatures in the mid-40s and just a light drizzle right now. Sam Adams is firing up the crowd and they sound loud.
LaMichael James is in returning kickoffs. It will be interesting to see what San Francisco does on punt returns after Ted Ginn's near-disastrous night last week.
This article is
What is the duplicate article?
Why is this article offensive?
Where is this article plagiarized from?
Why is this article poorly edited?

San Francisco 49ers: Like this team?