For the Cincinnati Bengals, the playoffs start this Sunday when they travel to Pittsburgh to face their rival Steelers, the only team standing between them and a postseason berth. Of course, the Steelers are also aware of the gravity of the situation this week and will also be approaching this contest with the same sense of urgency.
Despite the Bengals beating a higher caliber of opponents than they did last season, when they also reached the playoffs, there are still questions circling them about their ability to pull off a postseason win, especially with a second-year quarterback at the helm of the offense. The Bengals can certainly quiet many critics with a win over the Steelers on Sunday, as well as potentially set themselves up for an AFC North championship rather than simply a wild-card berth.
The Steelers, after all, are on a two-game losing streak, reversing course from their relatively-dominant first 10 weeks of the season. There are weaknesses the Bengals can certainly take advantage of, but they must also remember the Steelers are a dangerous team, one quite familiar with the high pressure of this present situation. So how do they do it? Let's take a look.
Green and Green-Ellis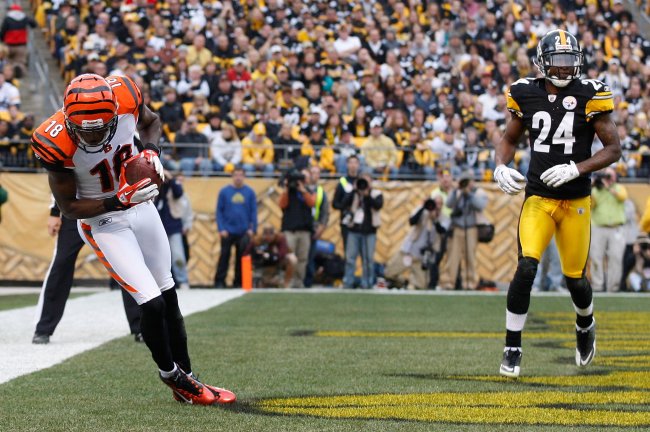 Jared Wickerham/Getty Images
The Bengals' offensive attack needs to be two-pronged, based on both the run game behind BenJarvus Green-Ellis and the passing game, led by receiver A.J. Green. As of the past few weeks, Green hasn't been as explosive, with him well under cover by opposing secondaries and his quarterback, Andy Dalton, suffering a setback in his accuracy.
In Week 14, Green caught three of eight passes thrown his way, for a total of 44 yards, while in Week 15, he was targeted 10 times, with six catches for 57 yards and a score. Those are among Green's lowest yardage totals on the season, and numbers like that won't be enough to defeat the Steelers on Sunday.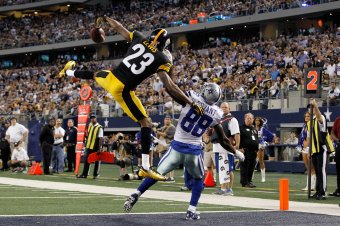 Tom Pennington/Getty Images
However, it's looking as though Green will be set up for greater success, because the Steelers are dealing with crucial injuries at cornerback. Ike Taylor will miss yet another game with his foot and ankle injuries, and fellow starter Keenan Lewis, who suffered a hip injury last week and hurt his knee in practice this week, is likely to play, but he won't be at 100 percent health.
Though the Steelers are statistically still the top-ranked pass defense in the league in terms of yards allowed, with 180.6 yards on average, that number has jumped to 235.3 in their past three games and 328.1 last week against the Dallas Cowboys. Not having Taylor on the field has hurt them incredibly, and Lewis' injury means that Green may not be paired up with him throughout all four quarters. Cortez Allen will thus also be tasked with stopping Green, which is a significant downgrade.
When the Steelers and Bengals first met this season, Green was held to only one eight-yard touchdown catch in his six targets. Considering the battered Steelers secondary, he should have a better game this week, especially with the run game opening up deep passing.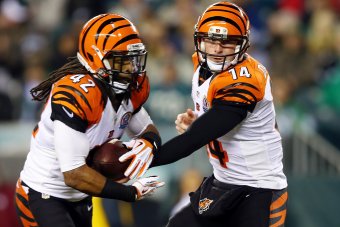 Elsa/Getty Images
Green-Ellis has become one of the NFL's most effective backs in the latter part of the season, with no fewer than 89 rushing yards in a game since Week 11. Though the Steelers are also a top-five defense against the run, and have remained consistently so even with the dip in their pass defense, Green-Ellis will still be extremely important to Cincinnati's offensive plans on Sunday.
Good running leads to good passing thanks to the play-action. If Green-Ellis can continue his productive streak this week, he'll open things up for Dalton, allowing Dalton to take advantage of the matchups against Green. It also prevents the Bengals from being one-dimensional (as they appeared when the Bengals and Steelers first met, with Green-Ellis gaining just 69 yards on his 18 rushes) and eats time off the clock.
Dalton isn't the best play-action quarterback in the league at present, with 81 play-action pass attempts and 44 completions, for a 54.3 percent completion rate (compared to 64.1 on non-play action passes) with four touchdowns and two interceptions coming from it. However, it will be an invaluable strategy against the Steelers on Sunday. The balance between the run and the pass makes both components of the offense more effective and is a way to keep Pittsburgh's defense guessing.
The Pass Rush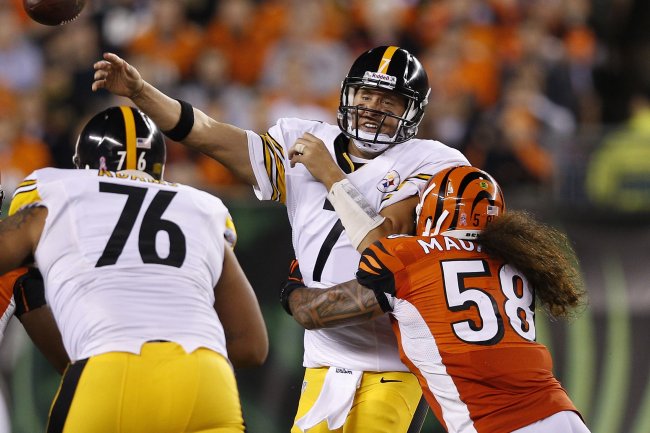 Joe Robbins/Getty Images
The Bengals defense is best known for being one of the better pass-rushing groups in the league, and it will play a huge part in their attempts to keep Steelers quarterback Ben Roethlisberger from successfully connecting with his dangerous receiving corps this Sunday.
So far this season, the Bengals have sacked opposing quarterbacks 43 times, making them tops in the league. Though Roethlisberger has been better protected this season than in the past, having been sacked just 24 times (though he did miss three games due to injury), the protection isn't as good as it was earlier in the year. He was taken down by the Cowboys four times last week—and they're nowhere near as good at rushing the passer as the Bengals.
Getting to Roethlisberger serves two major purposes: The first is obvious—killing drives and getting the Steelers off the field, but the secondary effect of this is even more beneficial to the Bengals—taking tight end Heath Miller out of the passing game.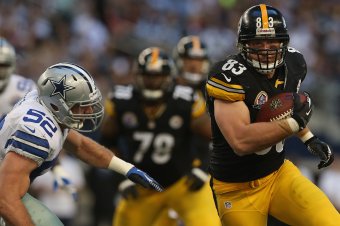 Ronald Martinez/Getty Images
Last week, Miller caught all six of the first-half passes thrown his way, for 85 yards and a touchdown. However, in the second half, Dallas' defense adjusted to the Steelers' protection, which forced Pittsburgh to move Miller into a bigger pass-protecting role, and as a result, he had only one additional catch (on one target).
Stopping Miller is the biggest key to stopping the Steelers this year—though receivers Antonio Brown and Mike Wallace are the greater scoring and big-yardage threats, Miller is the first-down machine, the one who keeps drives going. He's a safety valve in what has become a more conservative, high-percentage-driven passing offense with Todd Haley as coordinator.
There is no one to take Miller's place when it comes to reliability and playmaking, so the more the Bengals can bring pressure to Roethlisberger, the less of a factor the dangerous tight end becomes. The fewer passes that Miller catches, the higher the likelihood Steelers drives stall out. And if that pass rush also results in sacks, that's just icing on the cake.