12 Reasons Red Sox Fans Should Both Love and Hate Boston's Offseason Moves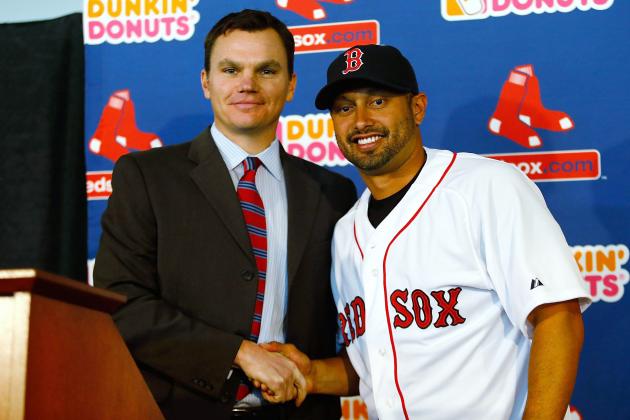 Jared Wickerham/Getty Images
How do you feel about Ben Cherington's moves this offseason?
The Red Sox have been very active this offseason—maybe more active than all the other teams in baseball.
After unloading hefty salaries in the blockbuster trade with the Dodgers this past August, the Red Sox had major cap room and serious positional needs.
The team has added seven free agents, covering several different positions, and a new manager since its season ended on Oct. 3.
The seven new Red Sox players' salaries for the 2013 season add up to $61.1 million. But, that's not all the cash they've handed over this offseason.
The new additions filled the major positional voids, but were they the most valuable options for the team?
The following slides will reveal the six reasons to love and the six reasons to hate Boston's offseason moves thus far.
Begin Slideshow

»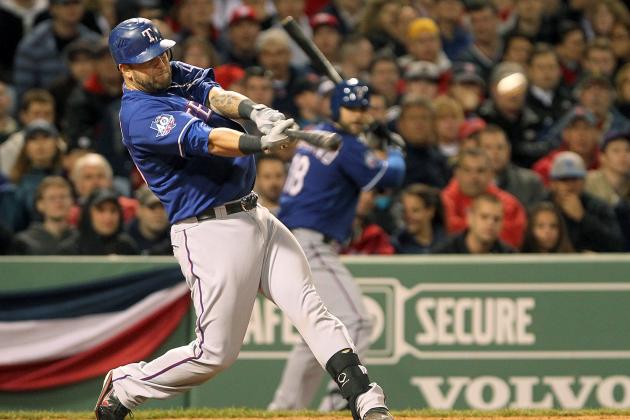 Jim Rogash/Getty Images
Pending his contract negotiations, Mike Napoli will fill the much needed void at first base.
After losing first baseman Adrian Gonzalez, starting pitcher Josh Beckett and outfielder Carl Crawford to the Dodgers, outfielder Cody Ross and starting pitcher Daisuke Matsuzaka to free agency, the Red Sox had several major positions to fill.
Pending the adjusted contract negotiations, Mike Napoli will be at first base until 2015 for $13 million per year. The former Ranger has a career .306 average and .710 slugging percentage with seven homers and 17 RBI in 19 games at Fenway Park.
The Red Sox did not exactly add an ace, but the team filled the final spot in the rotation by signing Ryan Dempster to a two-year, $26.5 million contract. The other former Ranger posted a 12-8 record, 3.38 ERA and 1.20 WHIP in 2012.
Jonny Gomes was the first outfielder the Red Sox added for a two-year, $10 million deal. The dead-pull hitter finished with a .299 average, .413 OBP and .561 SLG versus left-handed pitching last season.
Shane Victorino is the second outfielder to join the Red Sox, signing for a three-year, $39 million deal, like Napoli did. The three-time Gold Glove Award winner also hit well against southpaws last season, batting .323 and slugging .518.
On top of those four signings, Cherington added depth at shortstop with Stephen Drew (one year, $9.5 million), relief pitching with Koji Uehara (one year, $4.25 million) and catcher with David Ross (two years, $6.2 million).
None were the flashiest players on the market, but Cherington filled every hole in the roster while adding depth this offseason.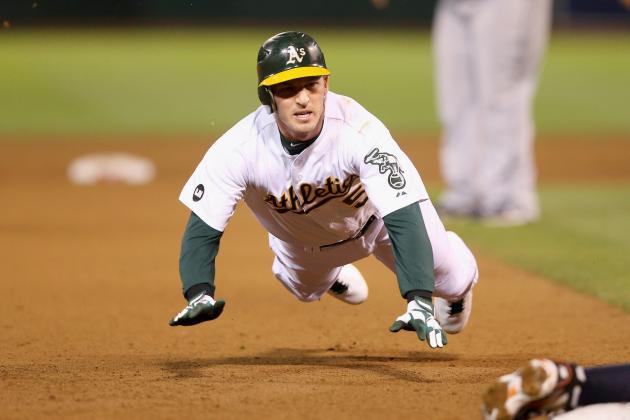 Ezra Shaw/Getty Images
Like the six other free agent additions, Stephen Drew came to the Red Sox on a short-term deal.
Not one of the seven new players signed a contract for greater than three years. Two signed three-year deals, three signed two-year deals and two signed one-year deals.
Given that, all seven of the players will likely be free agents after the 2015 season.
The short-term deals enable the Red Sox to have a very open future and further active offseasons.
After the 2013 season, $13.75 million will be freed up just from Drew and Uehara alone.
After the 2014 season, $21.35 million will be freed up from Dempster, Gomes and Ross.
And after the 2015 season, $26 million will be freed up just from Victorino and Napoli.
Unlike what the team did with Gonzalez and Crawford, who both signed for seven-year deals through 2018, the Red Sox made short-term deals this offseason and will have no long-term commitments.
Can't hate Cherington for adding players that will likely be gone in a few years.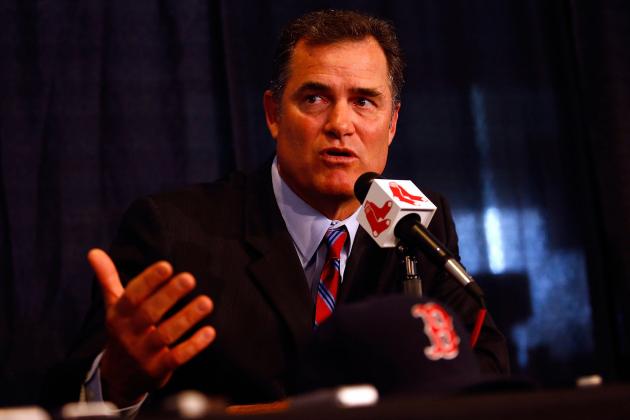 Jared Wickerham/Getty Images
In Farrell, we trust. He could save the starting rotation.
Adding John Farrell could be the most underrated move the Red Sox made this offseason.
The biggest improvement the Red Sox needed to make this offseason was not add players via free agency, but have its own players improve.
Farrell will help do that.
While the new manager was the team's former pitching coach, the Red Sox starting pitchers thrived.
And last season, the Red Sox starting pitching was among the league's worst.
The Red Sox starting pitching ranked near the bottom of the league in several major categories in 2012: 23rd in wins (48), 23rd in innings pitched (928.1), 25th in WHIP (1.42), 26th in BAA (.272) 27th in ERA (5.19) and last in shutouts (4).
On top of that, the staff also ranked near the top of the league in several other major categories: first in earned runs (535), fourth in walks (336), fourth in home runs allowed (135) and sixth in losses (72).
Jon Lester had the worst season of his career in 2012. But from 2008 to 2010 working with Farrell, the former ace averaged approximately a 17-8 record with a 3.29 ERA, 1.24 WHIP and 200.7 strikeouts per season.
Clay Buchholz also thrived with Farrell. In 2010, his last season with the former pitching coach, Buchholz posted a 17-7 record with a 2.33 ERA, 1.20 WHIP and .226 opposing average.
If Farrell can help both Lester and Buchholz pitch like aces again, the Red Sox starting rotation won't rank in the bottom of the league again.
Farrell is a lot more likeable than Valentine and will be a major upgrade in the clubhouse. So are the next two outgoing additions this offseason.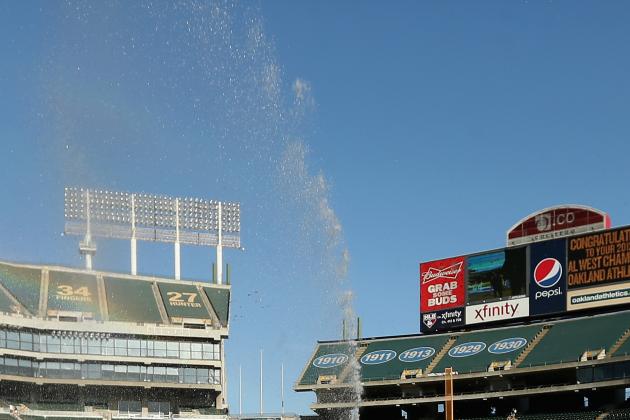 Ezra Shaw/Getty Images
Jonny Gomes says he's ready to be "the foundation" that helps the Red Sox bounce back.
Dumping Bobby Valentine will certainly improve morale and benefit clubhouse leaders Dustin Pedroia and David Ortiz.
But, the Red Sox also added two players who could be clubhouse favorites and boosters.
Jonny Gomes and Shane Victorino will be major upgrades over the departures of two difficult personalities—Bobby Valentine and Josh Beckett.
Gomes may be the less expensive and skilled signing of the two, but he has "a really good reputation" in the clubhouse.
"We did a lot of work on him and he's developed a really good reputation as a leader in the clubhouse," Cherington said of the new outfielder, according to The Boston Globe. "(He's) a guy that can mentor young players and be a big influence."
Gomes also recognizes his role with the team. He's not a potential superstar like Crawford was, but he's "the foundation."
"How does a big machine run? A big machine runs with a lot of grease. You get a tall building with all kinds of fancy windows," he said in the same article on Boston.com. "It's that foundation that keeps that building up. I always say I represent the grease that runs the machine, not the machine. I represent the foundation, not the star at the top."
The Red Sox will need Gomes to be that foundation, after losing 93 games in 2012.
Victorino is also focused on trying to turn around the team, and he will try to do so by being "fun" and "loud."
"If there's one thing you're going to get with me, you're going to get me. I'm going to be fun," Victorino said in his press conference, according to MLB.com. "I'm going to be loud. I'm going to talk a lot, as you can tell from this press conference. You're going to get what you get."
The Hawaii native played eight seasons in Philadelphia, so he is already used to a tough, critical sports town and home crowd. Being a Phillies fan favorite, he should be popular among Red Sox fans, as well.
Adding Gomes and Victorino is one step closer for the Red Sox to being "idiots" once again—the same type of clubhouse guys that ended the curse.
Elsa/Getty Images
Jacoby Ellsbury is still with the Red Sox and is poised to have a huge contract year.
Jacoby Ellsbury enters his contract year. Having Scott Boras as his agent should also make it more difficult for the Red Sox to retain him after the 2013 season.
It was almost difficult for the team to hold onto him before the 2013 started.
Despite Cherington repeatedly saying the team wasn't trading Ellsbury, there were rumors about the young center fielder heading to the Phillies for Cliff Lee or elsewhere for an ace.
However, the signing of Dempster and addition of a fifth starter ended those talks.
Ellsbury may not be with the team after 2013, but the Red Sox would certainly love to have their elite center fielder in his contract year this upcoming season.
The 2011 Gold Glove Award winner and Silver Slugger Award winner missed more than half of the 2012 season with a shoulder injury. He batted just .271 and slugged .307 last season.
But when he was healthy in the 2011 season, the MVP runner-up hit .321 and slugged .552 with 46 doubles, 32 home runs, 105 runs batted in and 39 stolen bases. The Red Sox should expect numbers close to that from the Scott Boras client in his contract year.
On top of keeping Ellsbury, the Red Sox held onto their top prospects.
Not only did the team preserve its future by signing free agents to only short-term deals, but it also did not trade away its best young players.
Xander Bogaerts, Jackie Bradley Jr., Will Middlebrooks and many other potential, future stars are still in the system. Jacoby Ellsbury is still in the system, as well.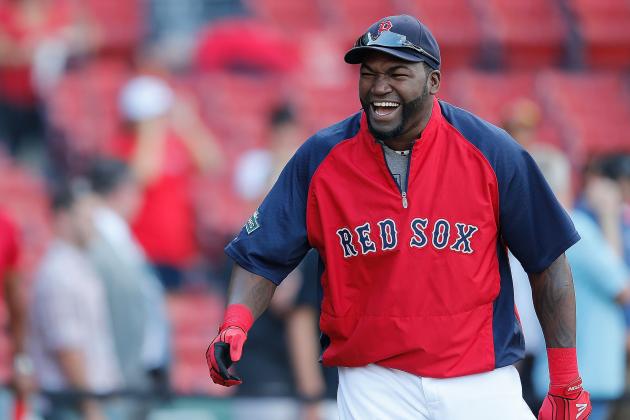 Jim Rogash/Getty Images
The Red Sox could not afford to let David Ortiz go.
Keeping the team's heart and soul was arguably the most important, obvious move the Red Sox had to make this offseason.
David Ortiz is a fan favorite, playoff hero, clutch slugger, the best designated hitter in the league and arguably the greatest designated hitter of all time. He currently holds the MLB record for home runs (353) and runs batted in (1,149) by a DH.
Big Papi is very valuable to the team with his bat, hitting .318 and slugging .611 with 26 doubles, 23 homers, 60 RBI and a .415 OBP over 90 games in 2012.
Ortiz is a major clubhouse leader and personality. If it's not Pedroia, Ortiz is the most popular Sox player in Boston, and he probably sells more jerseys than any other Red Sox player.
He's incredibly valuable at the plate, in the clubhouse and in the city. Keeping Ortiz was a very important move the Red Sox made this offseason.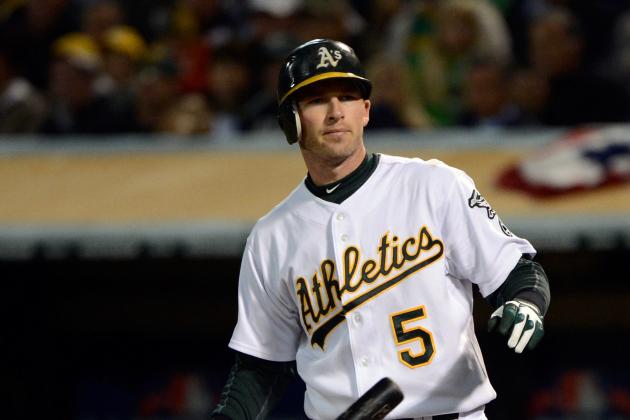 Thearon W. Henderson/Getty Images
Stephen Drew is one of the several recent additions who did not hit well in 2012.
Cherington filled the positional voids this offseason, but he added recently struggling hitters.
Of the five offensive players added, Gomes had the best batting average in 2012, hitting just .262.
Of the five offensive players added, Gomes also had the highest slugging percentage in 2012, slugging .491.
Gomes also had the highest on-base percentage (.377) in 2012.
Last season, none of the five hit greater than .300. None of the five slugged greater than .500. None hit more than 25 home runs. None drove in more than 60 runs batted in.
The five total will cost $43.6 million in 2013, and more than 80 percent of that is invested in Victorino, Napoli and Drew.
Victorino hit .255 and slugged .383 with a .321 OBP and just 47 extra-base hits in 2012. He averaged exactly 10 more extra-base hits (57 total) in each of the previous four seasons. He also posted a career high in strikeouts (80) and career low in OPS (.704) in 2012.
Napoli hit just .227 and slugged .469 with a .343 OBP and only 35 extra-base hits in 2012. In just five more total games in 2011, he hit 20 more extra base hits, 16 more doubles and six more homers. He also drove in 19 fewer RBI in 2012.
Drew hit not far from the "Mendoza Line" (.223) and slugged a low .348 with seven homers and 28 RBI in 2012. In the past two seasons, the shortstop has played a total of just 165 games.
The costs of Gomes and Ross for their recent production make sense, combining for just $8.1 million in 2013, but the other three ($35.5 million) don't for their recent struggles.
The Red Sox filled their positional voids this offseason, but none of the additions have recently thrived.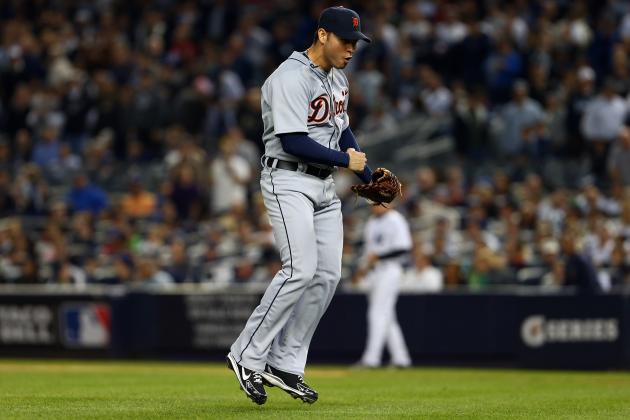 Alex Trautwig/Getty Images
Anibal Sanchez is one of the big-time players the Red Sox missed out on this offseason.
The Red Sox had enough money this offseason to sign both the best free-agent hitter in Josh Hamilton and the best free-agent pitcher in Zack Greinke.
The two were both very expensive signings for about $25 million per year, but investing that much money over a long span scared the Red Sox away.
However, the Red Sox did not have to invest more than $100 million in one player to find a star.
Anibal Sanchez signed a five-year, $80 million deal with the Tigers. He cost almost $9 million less per year than Greinke, and the two have statistically been very similar over the last three years. In fact, Sanchez has a better WAR and ERA than Greinke since 2010.
The Red Sox passed on signing the big-game pitcher who thrived in the 2012 playoffs, throwing a scoreless gem in Yankee Stadium and posting a 1.77 ERA and 0.98 WHIP over the three starts. Instead, the Red Sox signed Dempster, who posted a 3-6 record with a 4.65 ERA against teams with a .500 or better record last season.
The Red Sox also missed out on starting pitcher Brandon McCarthy. He made only 18 starts and pitched 111.0 innings in 2012, but he fit the right criteria for free agents this offseason—short-term.
McCarthy signed a two-year, $15.5 million contract with the Diamondbacks this offseason. The D-Backs are paying less than $8 million for a potential ace at the front of their rotation.
In 2012, McCarthy had an 8-6 record with a 3.24 ERA and 1.25 WHIP. Prior to his first DL stint in June, the right-hander had a 6-3 record with a 2.54 ERA. Also, in four starts versus AL East teams last seasons—against Boston twice, Baltimore and Tampa Bay—he was perfect with a 4-0 record, 2.33 ERA and 1.11 WHIP.
Instead of taking the risk with McCarthy, the Red Sox paid an extra $11 million over the next two years and took the risk with Dempster.
In fairness to not signing Hamilton and signing Napoli, the outfield and first basemen free-agent class was thin this offseason, but the Red Sox still missed out on several starting pitchers and will have Dempster and Lackey anchoring the rotation.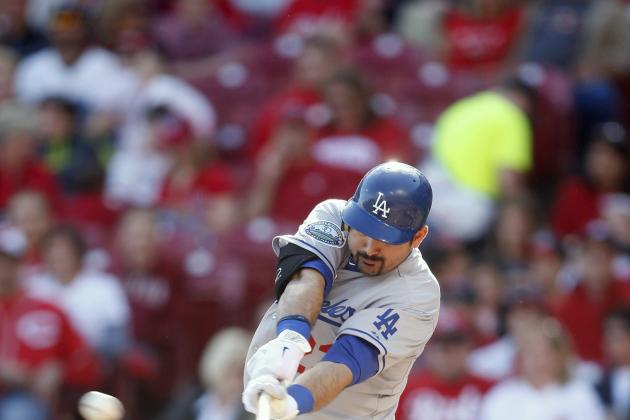 John Grieshop/Getty Images
The Red Sox still owe $11.7 million after shipping Adrian Gonzalez and others to Los Angeles.
The Red Sox dumped $250.8 million in salary through 2018 with the blockbuster trade with the Dodgers in August this past year.
Yet, the team still has to send the Dodgers money to complete the trade.
The Red Sox sent $3.9 million and have to send $11.7 million over the next three years to the Dodgers, according to the Associated Press, via Yahoo! Sports.
It's not a significant amount per year, but it's still several million dollars per year off the payroll.
Just think, Ross cost less than that in 2012, and he was a major impact.
Crawford, Gonzalez and Beckett are gone, and so is $11.7 million in payroll.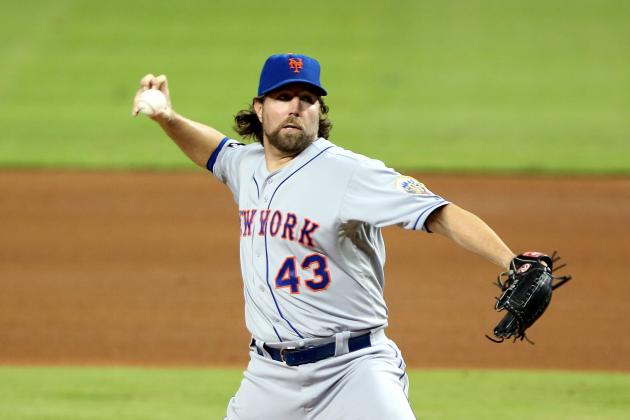 Marc Serota/Getty Images
2012 NL Cy Young winner R.A. Dickey is one of several major additions by Toronto this offseason.
After freeing up about $68 million after the blockbuster trade and Dice-K's contract, you would think the Red Sox would make the biggest and flashiest moves this offseason in the league—let alone in the AL East.
However, the seven Red Sox free-agent signings have been blown away by Toronto's moves this offseason.
The Blue Jays traded for 2012 NL Cy Young winner R.A. Dickey, signed 2012 All-Star game MVP Melky Cabrera, traded for elite shortstop Jose Reyes and traded for two very good starting pitchers in Josh Johnson and Mark Buehrle.
Toronto led Boston by only four games in 2012, but the team could have extended their future lead in the standings by loading their offense and pitching this offseason.
Instead of signing major free agents, the Red Sox resorted to short-term deals with good free agents.
Instead of remaining a below-.500 team, the Blue Jays revamped their lineup, traded away prospects and expanded their payroll.
With the Blue Jays on the rise, the Red Sox could be in the basement of the AL East again.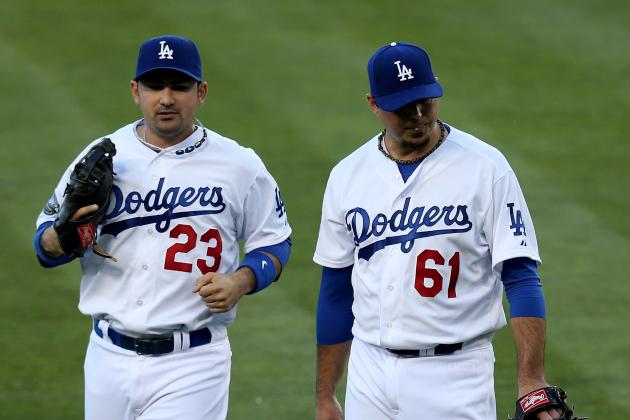 Stephen Dunn/Getty Images
The Red Sox didn't exactly replace Adrian Gonzalez and Josh Beckett with star players.
The Red Sox likely won't lose 93 games again in 2013.
However, on paper, its roster may be worse than it was at the start of 2012.
The Red Sox did not replace Crawford with a stud, but a similar type of player who will cost $8 million less per year.
Victorino had arguably the worst season of his career in 2012 and is in decline, and Gomes also played just 99 games last season. Crawford struggled and was frequently injured the last two seasons with the Red Sox, but he's one of the best outfielders in the league when he's healthy.
The Red Sox did not replace Beckett with a potential ace, but with a No. 3 starter who costs almost $4 million less and struggled in his short tenure in the AL in 2012.
Dempster thrived as an NL pitcher with the Cubs, but wasn't so great with the contending Rangers. Beckett is three years younger and just $3.5 million more expensive than the new addition.
But, he still shows flashes of being an ace. After leaving the Red Sox, he posted a 2.93 ERA and a 2.65 ERA in September with the Dodgers. Beckett is also just one year removed from posting a 2.89 ERA, 1.03 WHIP and .211 BAA in 2011.
And, the Red Sox did not replace Gonzalez with a star slugger, for the free-agent class was thin on first basemen, but Napoli, who costs $8 million less and will also pepper the Green Monster.
Gonzalez is a Gold Glove fielder and one of the best hitters in the league when healthy (and not amidst a Red Sox collapse).
The three new additions save the team almost $20 million, but the Red Sox filled half of that difference by adding shortstop Drew for $9.5 million. Drew struggled in 2012 and will cost the team $8 million more than Aviles did. Aviles had a greater average and slugging percentage than Drew did in 2012.
On top of that, Gomes is replacing Ross for $2 million more. Ross crushed the ball at Fenway Park and played 31 more games and hit better against lefties than Gomes did in 2012.
You can make the argument either way, but for now, the Red Sox will try to contend with its new players, which are inferior to last year's.
That is, if they can contend.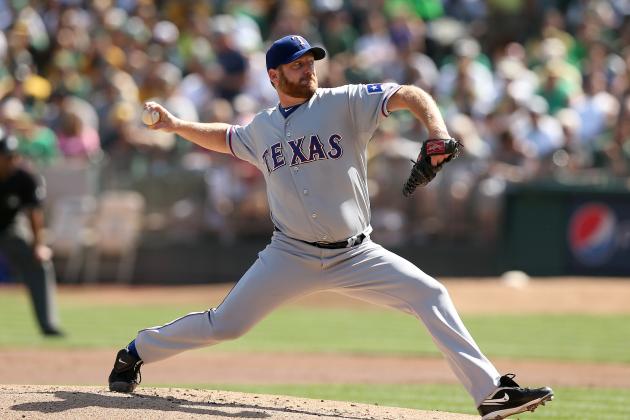 Ezra Shaw/Getty Images
It will be very difficult for Ryan Dempster and the Red Sox to thrive in the AL East.
The Red Sox will enter the 2013 season with an above-average lineup.
Top to bottom, there's really no serious hole with Gomes, Ellsbury, Victorino, Middlebrooks, Drew, Pedroia, Napoli, Ortiz and Saltalamacchia.
But, the returns of Ortiz and Middlebrooks from injury could still be their biggest additions to the offense, despite the new faces and major signings.
On the other hand, the rotation could be terrible again.
If the same pitchers put up similar numbers to what they did in 2012, and John Lackey pitches like he's been with the team, the Red Sox will be at the basement of the AL East again.
The hopeful comebacks of Lester and Buchholz will be bigger contributions than the return of Lackey and addition of Dempster. The two will be working with Farrell again.
If the two former aces can regain their form and 24-year-old Felix Doubront improves, the three can overshadow the possible struggles of Dempster and Lackey. The rotation can still be above average.
In Buster Olney's first offseason power rankings, the Red Sox did not even crack the top 10. But, the Blue Jays did, who were more aggressive this offseason. The Tigers, Athletics and Yankees were the other AL teams to make the list.
For the Red Sox to be the fifth-best AL team and make the playoffs, they have to contend for the final spot against the loaded Rays pitching staff, the pesky Orioles, the loaded Angels offense, the well-rounded Rangers and others.
The Red Sox should be a .500 team, but given their 2013 roster, they likely won't sneak into the playoffs, especially while playing in the AL East.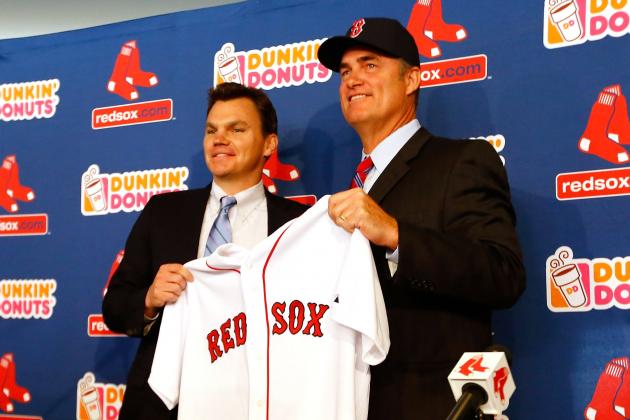 Jared Wickerham/Getty Images
Ben Cherington seems to be pleased with his offseason moves. But, are you?
So, do you love or hate the Red Sox' offseason moves?
The team filled its needs, but did not add any star players.
The team added short-term players, instead of taking chances on long-term elite players.
The Red Sox have spent $134,450,000 this offseason and will pay $61.1 million to its new players in 2013.
And, replacing Bobby Valentine with a pitching-minded manager will certainly help the Red Sox be better than it was in 2012.
So, what do you think about the Red Sox' moves this offseason? Do you love them? Do you hate them? Are you on the fence? Feel free to leave comments below.