Colts vs. Chiefs: Indianapolis Looks to Make History in Kansas City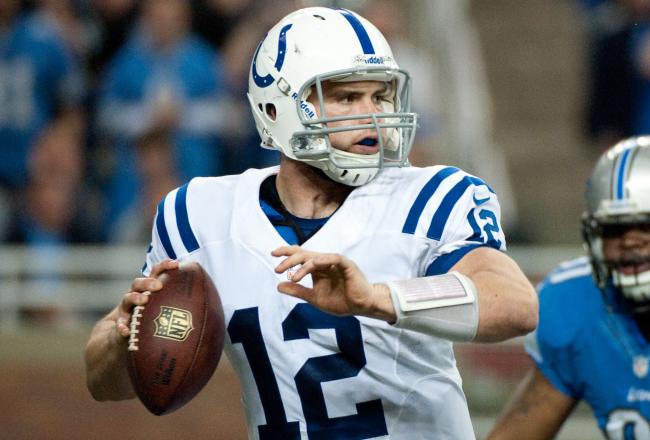 As long as Luck finishes the game, Indy will be fine.
Tim Fuller-USA TODAY Sports
The Indianapolis Colts are just one win away from the playoffs.
They hope to get it at Arrowhead Stadium where they'll take on the moribund Kansas City Chiefs.
Here's everything you need to know about the matchup.

What It Means
The Colts can tie up the fifth seed in the AFC with a victory. They probably make the playoffs even if they lose, but a win guarantees them another 10-victory campaign and secures a 4-4 road record.
Given where the team was expected to finish, that's downright remarkable.
The Chiefs are in the running for the first overall pick in the 2013 draft. They are tied with Jacksonville Jaguars for the spot and would currently secure it based on tiebreakers.
A win would likely cost them the first pick.
Stat That Matters
The Chiefs average just 13.9 points a game on the year.
They've only surpassed the two-touchdown mark six times on the season, and they've only done it twice in the previous 10 games.
They've scored fewer than 10 points in four of their last five ball games.
Biggest Advantage for the Colts
Brady Quinn is starting for Kansas City.
That's really all you need to know about this game.
Quinn has battled sore ribs, but is expected to get the call against Indianapolis.
While playing Ricky Stanzi would have been nice for the Colts too, Quinn should be easy picking for the Indy defense.
He's averaging under six yards a pass. He's thrown three times as many picks as touchdowns. He takes a sack on more than nine percent of his dropbacks.
He's basically Blaine Gabbert's twin brother.
Advantages don't come any bigger than that.
Biggest Advantage for the Chiefs
Dwayne Bowe isn't exactly Andre Johnson, but he should be a formidable target for the Colts' secondary to control.
Bowe is big and physical at 221 lbs., and Vontae Davis will likely have a difficult time covering him, because Davis struggles to cover most every receiver he faces. Quarterbacks targeting Davis are 35-of-46 for 443 yards with a passer rating of 127.4 on the year.
The bad news for the Chiefs is that Quinn will be the guy throwing to Bowe.
Oh yeah, and Bowe is on IR. So there's that.
So basically, the Chiefs have no advantages at all.
That's what you get from the worst team in the league.
Best Video Only Tangentially Related to the Game
The 2012 Colts remind me of the 1995 Colts in so many ways.
Indianapolis Will Win If...
...they put up points.
The Chiefs have a bad, but not abysmal defense. Justin Houston and Tamba Hali have 18 sacks between them, so if the Indy line lets them tee off on Andrew Luck, turnovers will follow.
Still, the Colts should be able to just flat outscore Kansas City. Indy will look to play uptempo and force the Chiefs to match them drive for drive.
There's not much chance they can.
Kansas City Will Win If...
...Luck gets knocked out of the game.
Essentially, their hopes for winning rest on Hali and Houston actually physically injuring Luck.
It's possible that if the weather is particularly bad and the game becomes a low-scoring affair where one play can swing the outcome that Kansas City catches a break and wins.
Other than that, the Chiefs look like a team that has been devastated by tragedy and beat down by the league. They are just looking to get this season over with as quickly as possible.
Outlook
If the Colts really are a quality football team, this is a game they'll control from start to finish.
This should be similar to the Jacksonville game in Jacksonville earlier in the year. Indy will control the pace of play and should coast into the postseason.
This is a good test for the Colts and would provide a confidence boost for an offense that has struggled in recent weeks.
Colts 24 Chiefs 13
This article is
What is the duplicate article?
Why is this article offensive?
Where is this article plagiarized from?
Why is this article poorly edited?