Arsenal vs. Bayern Munich: 5 Key Battles to Look Forward to in Champions League
Scott Heavey/Getty Images

Arsenal might not have gotten the ideal draw in the Champions League Round of 16, but their matchup with Bayern Munich will certainly be an interesting one.
On the surface, this would appear to be a rather lopsided tie: Bayern currently lead the Bundesliga by nine points over Bayer Leverkusen and are 12 ahead of two-time defending champion Borussia Dortmund.
Arsenal, meanwhile, are still struggling to sputter their way into some decent form. Arsene Wenger's side seems to always take one step forward and seven steps back, convincingly beating West Brom before capitulating to League Two side Bradford City.
Nevertheless, this is a pairing of two top European sides, each capable of beating the other one a given day. Let's examine at five of the best matchups to look out for.
Begin Slideshow

»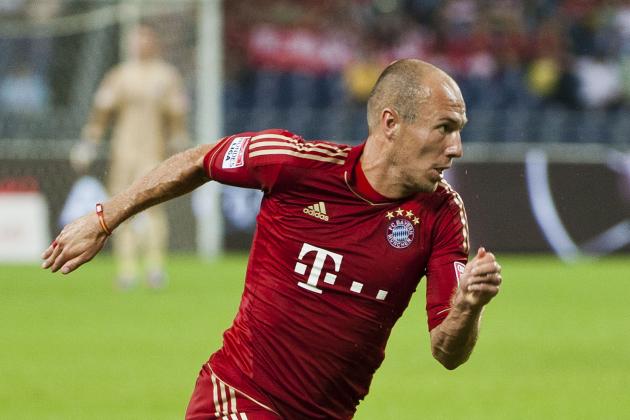 Victor Fraile/Getty Images

Arjen Robben is a curious sort of player. "Glass Bones," as he is sometimes called, always plays on the right wing despite his left-footedness, cutting inside to work the ball onto his dominant foot.
The odd thing about Robben, though, is that he executes the same exact move every time he gets on the ball and yet left-backs always seem to give him the space he needs to work.
Surely the Dutchman is not so good that he can make every defender look so foolish. So the burden of keeping him in check will fall to Kieran Gibbs, Arsenal's automatic first-choice left-back.
It will be interesting to see how Gibbs and assistant manager Steve Bould try to defend Robben. While Gibbs has improved dramatically this season, he still needs to work on the defensive part of his game.
If he cannot hold Robben down all game, Bayern will run rampant down that side.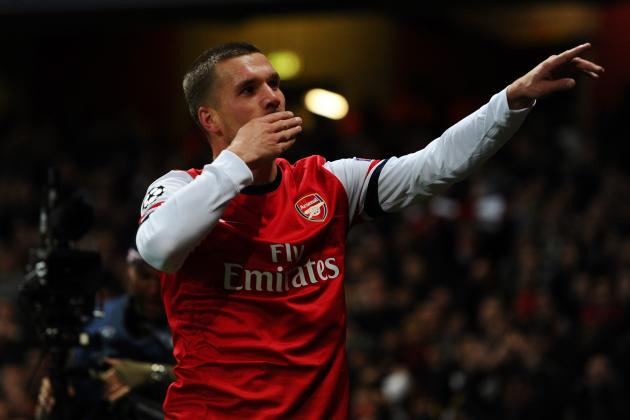 Mike Hewitt/Getty Images

Lukas Podolski is certainly not Arsenal's best forward, but he will be facing arguably the best right-back in the world, Philipp Lahm, twice.
But it's not like the two don't know each other. Podolski spent an unfruitful part of his career at Bayern Munich from 2006 to 2009, and each player probably knows the tendencies of the other.
Moreover, Podolski and Lahm have been longtime national teammates, and the former probably faces the latter routinely while training for Germany manager Joachim Low.
While Lahm is the better bet to win this matchup, there is no Arsenal player better suited to square off against Bayern's captain than Podolski.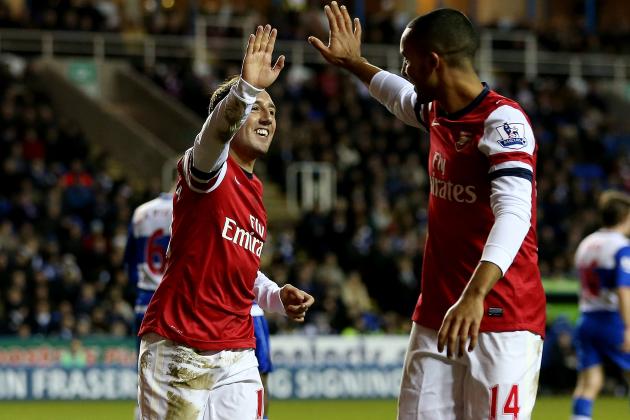 Scott Heavey/Getty Images

This second matchup between national teammates has the potential to be even better because it will largely determine who controls the match.
Arsenal certainly have other outlets through which they can produce chances, but there is no doubting that Santi Cazorla is the main attacking cog. His often brilliant play is unmatched by the extremely talented men around him, and when he plays well, so does Arsenal.
Oh, and he just scored his first hat-trick against Reading on Monday.
Javi Martinez will have to shut his countryman down. He has been a stalwart at the heart of Bayern Munich's midfield this season and is well on his way to repaying the princely sum of $50 million that they shelled out for him.
If Cazorla wins, Bayern's defense better be alert for the duration. If Martinez wins, Arsenal will struggle to create good chances.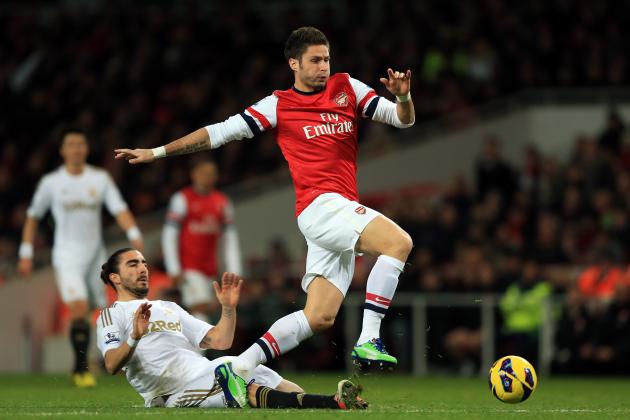 Richard Heathcote/Getty Images

Presumably, Olivier Giroud will be preferred at striker to the rather unaccomplished Theo Walcott, so it will be the Frenchman's task to lead the line in two of the toughest fixtures of his life.
And he's absolutely capable of doing so.
Giroud's physique and intelligent movement are potent enough to make any central defender quake in his boots. But the main problem is getting the ball past that last man.
But for Iker Casillas, Manuel Neuer is probably the best goalkeeper in the world, and the Spaniard's supremacy is arguable. Neuer's imposing 6'4" frame fills up the goal, and his outstanding reflexes allow him to stop even well-placed shots.
Giroud enjoys shooting from distance, and he might be forced to against such a good team. But if Neuer's at his best, none of those shots are going in unless they're truly exceptional.
Victor Fraile/Getty Images

If you're looking for a typical "clash of the titans," this is it. Bayern Munich's imposing 6'2" striker against Arsenal's monstrous 6'6" center-back.
A recurring theme here is that Mario Gomez and Per Mertesacker are compatriots and have experience with the German national team. Both have faced each other in the past, mainly when the latter was with Werder Bremen.
Bayern are not Stoke City—in other words, don't expect Bastian Schweinsteiger to lump long balls into Arsenal's box so that Gomez can knock one down for Franck Ribery.
But if Gomez is able to have his way with Arsenal's defense, the Gunners will be in for a long couple games. Thomas Vermaelen does not have the physical stature to deal with him effectively, so the burden will be on Mertesacker.
Hold down the fort, and Arsenal just might have a fighting chance of pulling off something unexpected.