Russell Athletic Bowl 2012: 3 Reasons Why the Hokies Will Defeat Rutgers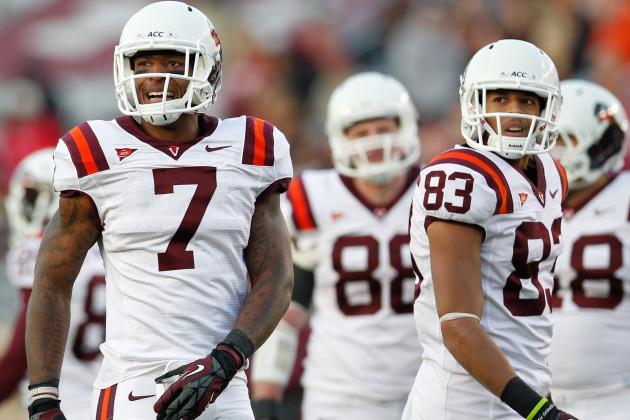 Greg M. Cooper-USA TODAY Sports

With the Russell Athletic Bowl just one week away, the Virginia Tech Hokies look to avoid their first losing season in 20 years.
At 6-6, the Hokies play a Rutgers team that finished 9-3 on the season.
While the Hokies won their last two games, the Scarlet Knights lost their last two. So while it isn't a large sample, the Hokies would seemingly be riding a more positive wave of momentum.
Both teams enter the Russell Athletic Bowl playing stingy defense. The Scarlet Knights only give up 14 points per game while the Hokies allow 23.
This game will be close to the end. Don't be surprised if turnovers play a large role in the outcome. Virginia Tech's Logan Thomas and Gary Nova of Rutgers have combined for 29 interceptions in 24 games.
Here are three reasons why the Hokies will reign supreme in the 2012 Russell Athletic Bowl.
Begin Slideshow

»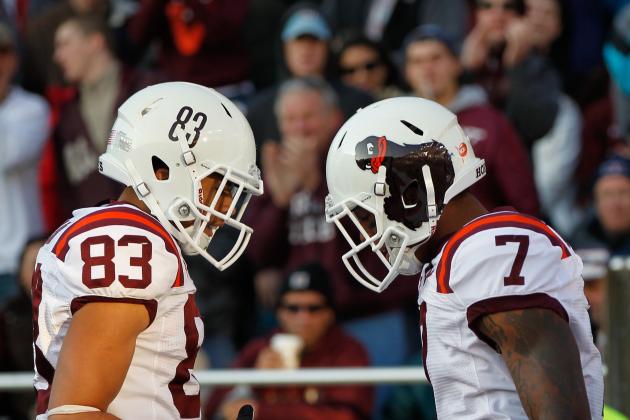 Greg M. Cooper-USA TODAY Sports

Virginia Tech's struggles on offense in 2012 have been well-chronicled.
However, the Hokies do have several players on offense capable of making a big play at any time. Senior wide receivers Marcus Davis, Corey Fuller and Dyrell Roberts have all been big-play guys at one time or another.
Even though he struggled catching the ball at times, Davis almost set the Virginia Tech single-season receiving record for yardage. Fuller was Thomas' most reliable receiver, impressive considering his relative inexperience on the gridiron.
Davis and Fuller combined for 88 receptions and 10 touchdowns. Each averaged 19 yards per catch.
Freshman wide receiver Demitri Knowles flashed impressive speed this season when he got an opportunity. Knowles caught one game-winning touchdown pass while also returning a kickoff for a touchdown in limited snaps.
Freshman tailback J.C. Coleman will get a lot of playing time in this game. Head coach Frank Beamer will want his biggest playmakers on the field in order to finish the season strong. Coleman is the team's most explosive back and is good in the passing game, too.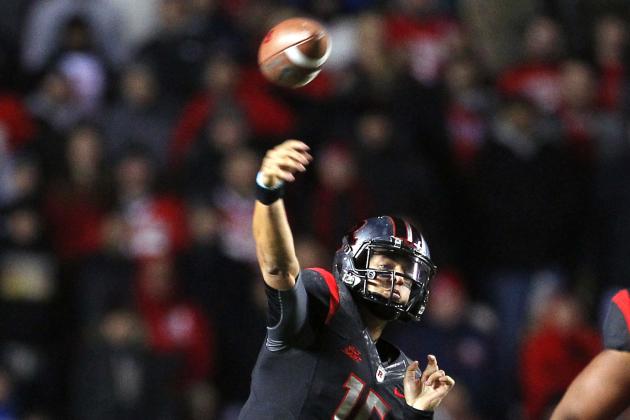 Rich Schultz/Getty Images

Rutgers quarterback Gary Nova has proven he has the ability to beat teams. He has two strong wide receivers in Brandon Coleman and Mark Harrison.
However, Nova has struggled with turnovers even though he is one of the least-pressured quarterbacks in the nation. Nova has been sacked only eight times on the season.
Much of Nova's success through the first nine games was due to the success of sophomore running back Jawan Jamison. Jamison was averaging over 100 yards per game, and the Scarlet Knights were 8-1 before an ankle injury hampered Jamison the last three weeks of the season.
Jamison is the key to Rutgers' success on offense. If he gets going early, the Hokies could be in for a long game.
Virginia Tech defensive coordinator Bud Foster will make it his mission to take Jamison away from the Rutgers offense. He will put extra defenders in the box and make Nova beat him throwing the ball. Foster has often been successful this way, and the Hokies were stout against the run in the second half of the season.
Foster's goal will be to make the Rutgers offense one-dimensional, and if he is successful at that, the Hokies will win this game.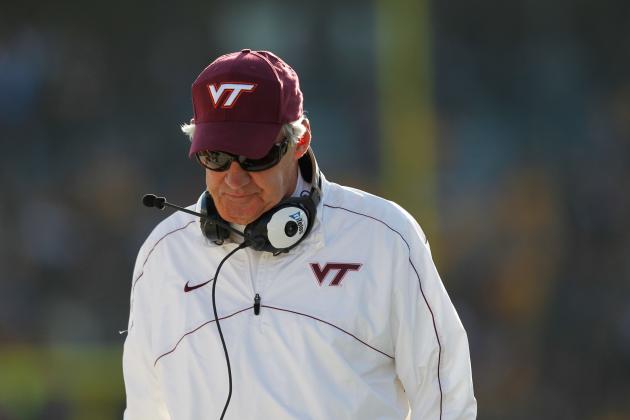 Greg M. Cooper-USA TODAY Sports

OK, sure, the Hokies are 6-6 on the season, and some may wonder what another loss in a meaningless bowl game would mean to the program.
It would mean everything to Beamer.
Beamer takes pride in going to a bowl game for 20 consecutive seasons. He takes even more pride in the program's record in the past 20 years. A loss would drop the Hokies to 6-7 on the season, therefore ensuring their worst record since 1992.
While many around the Virginia Tech program cannot wait to turn the page to 2013, Beamer and this group of seniors want to finish this season strong.
Beamer's 8-11 record in bowl games leaves much to be desired. It would be fair to ask why this season would be any different.
This team has yet to have a standout performance in 2012, but the month-long preparation has given Beamer, Foster and a hungry, talented group of players time to reflect on a disappointing season and going out on a losing note is not an option for this team.