Oregon Football: 5 Recruits Who Will See the Field as Freshmen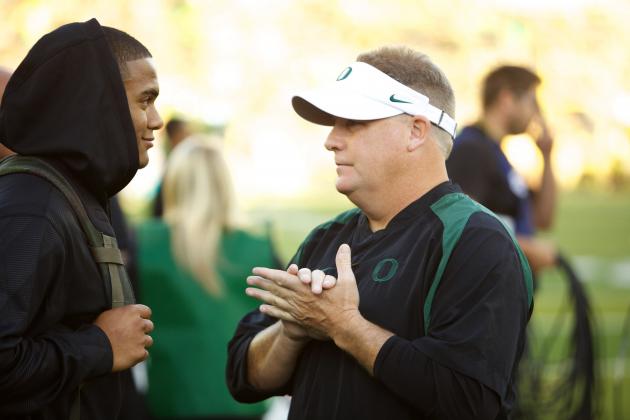 Craig Mitchelldyer/Getty Images
Oregon Coach Chip Kelly talking with RB Thomas Tyner
Despite the enormous impact that youth had on the Oregon football team this past season, more talent will be coming soon and several players will be expected to contribute immediately in 2013.
The Ducks have more depth than ever before, but head coach Chip Kelly has proven that if you're ready to play, you'll see the field. Take WR Bralon Addison, for example. Or De'Anthony Thomas in 2011.
It's not just offensive players, either, as true freshmen DeForest Buckner and Arik Armstead both saw playing time on the defensive line this season.
It's a small recruiting class thus far, with just 12 players committed, but don't be surprised to see Oregon close strong for 2013.
As for now, here are five recruits who will likely see the field as true freshman in the 2013 season.
Note: The Ducks picked up a recent commitment from LB Joe Walker, who has a chance to play next season. But because he's coming from a junior college, he wasn't included on this list.
Begin Slideshow

»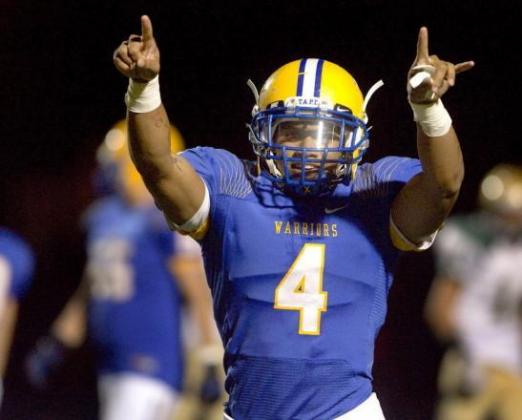 Thomas Tyner
You've probably read all about Thomas Tyner.
About how he came back from an injury-plagued junior season and had a monster senior year, including a legendary performance, in which he rushed for 643 yards and 10 touchdowns in a single game.
Or about how he runs a sub-4.4 40-yard dash.
Or maybe about how excited everybody around the Oregon program seems to be for when Tyner steps foot in Eugene.
The Ducks are loaded with skilled guys, but something tells me that Tyner will find a way onto the field next season. He has breakaway speed to match De'Anthony Thomas, but at 6'0" and 205 pounds, he has the size to shed tackles, as well.
Byron Marshall and Thomas will both get plenty of carries next season, but if Tyner lives up to the hype, look for him to contribute throughout 2013.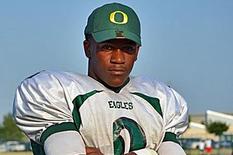 Dontre Wilson in a Ducks hat
Dontre Wilson is the no. 5 athlete of the 2013 class (per ESPN), and he may have the biggest impact out of all the Ducks recruits.
He has elite speed and quickness, which are at the top of Chip Kelly's wish list for his skill position athletes.
Wilson isn't the biggest guy, at 5'10" and 174 pounds, but size has never stopped the Ducks from taking top talent before. Bralon Addison is the same height, but his impact was felt throughout the season in the passing game.
In short, Wilson is simply another dynamic playmaker who could be used in a variety of ways in Kelly's spread attack. Whether it's in the return game, the rushing attack or plays through the air, look for Wilson's name to be called early and often in 2013.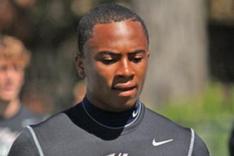 Darren Carrington
Darren Carrington is a name that Duck fans will come to know very soon.
A somewhat underrated receiver, Carrington is as talented as they come and should fit right in with Oregon's offense.
His size, 6'3" and 184 pounds, will give him a chance to win jump balls against defenders, but he isn't slow, either.
As is the key with any player in the Oregon offense, he'll have to be able to block. Without that skill, even the most talented player won't see the field.
But if Carrington can pick up the system early and prove to be a reliable target, he'll definitely see the field in 2013.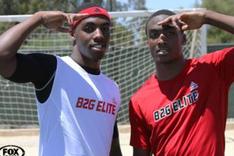 Tyree and Tyrell Robinson
Tyree Robinson, along with his brother Tyrell, committed to the Ducks back in September.
Both are planning on joining the basketball team as well, but their impact—specifically Tyree's—could be felt on the football field right away.
They are listed as athletes, but Tyree was recruited as a safety, where the Ducks may need bodies next season. With John Boyett graduating, Brian Jackson and Avery Patterson will likely be the starting safeties heading into the season.
After that, it may depend on how healthy the Ducks are as the season wears on. But as we saw this past year, anything can happen.
If Tyree can make an impression during fall camp, there's a good chance his number will get called at some point during the season.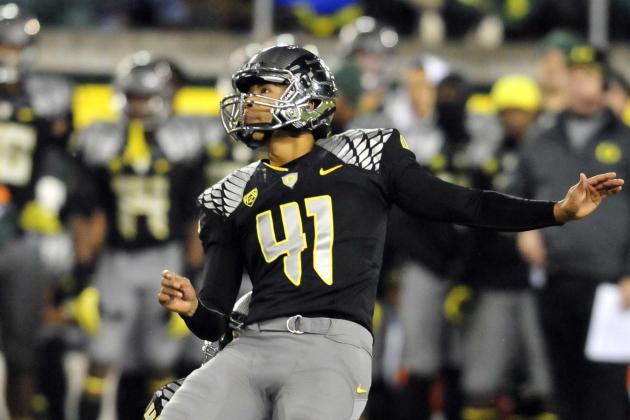 Steve Dykes/Getty Images
Alejandro Maldonado
Matt Wogan is listed as the nation's fourth best kicker, according to ESPN, and his talents are sorely needed in a program that would have played for a national title this season had it not been for two missed field goals.
I'm not going to throw Alejandro Maldonado under the bus because I'd imagine missing those kicks against Stanford hurt him a lot more than any Ducks fan. His failures were not due to a lack of effort.
But he flat out has not gotten the job done in the past couple of seasons.
If Wogan arrives on campus and shows any sort of consistency at all with field goals inside 45 yards, he'll be the starting kicker when the season begins.