BCS Championship 2013: Comparing Notre Dame and Alabama's O-Line and D-Line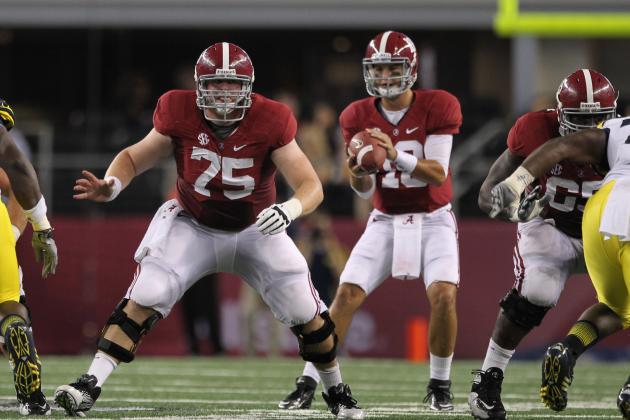 Matthew Emmons-USA TODAY Sports
Barrett Jones (#75) and Chance Warmack (#65) are a pair of first-team All-Americans that anchor a Tide OL that ranks among the nation's best.
The third installment of my weekly series that analyzes the positional matchups for the national title game between Notre Dame and Alabama will focus on the battles in the trenches.
It's not by accident that both the Fighting Irish and Crimson Tide possess dominant units on both the offensive and defensive lines.
Both Nick Saban and Brian Kelly have rosters loaded with skill talent (check out the offensive breakdowns here in part one and part two), but being strong at the point of attack is a major reason why both clubs have made it to this point.
With a pair of All-Americans in Barrett Jones and Chance Warmack leading a powerful offensive line, and an experienced defensive line that helped the Tide finish as the nation's top unit against the run, Alabama has continued its trend of wearing down its opponents up front.
Kelly has a veteran offensive line that paved the way to lead Irish ball-carriers to an average of nearly 5 yards per carry, and his three-man wrecking crew on the defensive line anchored the Irish's outstanding defensive unit all season long.
How do the units for both clubs stack up against one another?
Find out as I go inside the matchup by comparing the offensive and defensive lines for the Crimson Tide and the Fighting Irish.
Begin Slideshow

»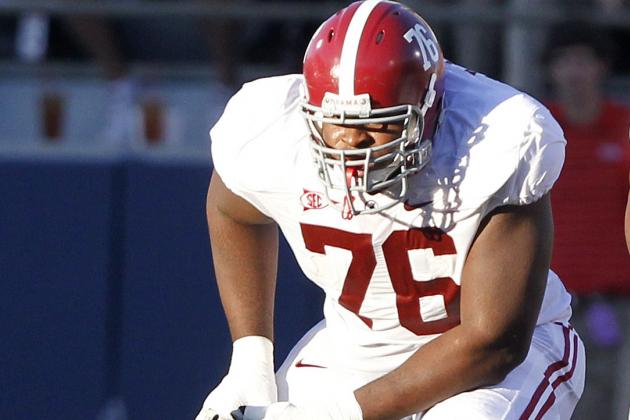 Butch Dill/Getty Images

Right tackle DJ Fluker joined Jones and Warmack as first-team All-SEC selections, giving Alabama three NFL-ready prospects to lead the way for quarterback AJ McCarron and running backs Eddie Lacy and T.J. Yeldon.
The other two members of the starting group—right guard Anthony Steen and left tackle Cyrus Kouandijo—are equally capable forces that help round out what is widely considered to be the nation's top offensive line.
While this group has proven to be solid in pass-blocking, the Tide's offensive line is clearly at its best paving the way for its backfield duo of Lacy and Yeldon—each of whom have reached the 1,000-yard mark this season.
If there is a weakness for this group, it's that is has struggled in pass protection with dynamic edge rushers like Georgia's Jarvis Jones (two sacks), Texas A&M's Damontre Moore (one sack, one quarterback hurry) and Western Kentucky's Quanterus Smith (three sacks, one forced fumble).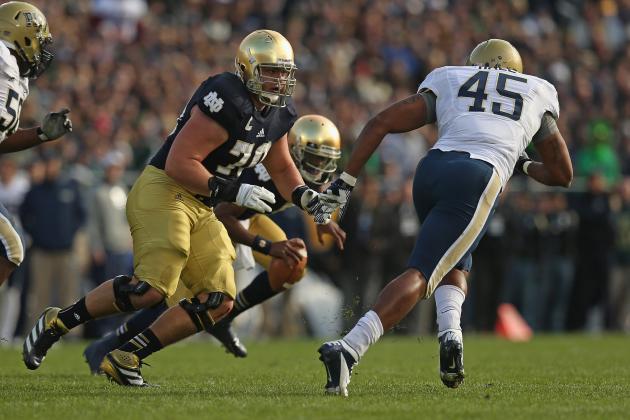 Jonathan Daniel/Getty Images

Notre Dame's offensive line may not have the national recognition of their Tide counterparts, but that group has played a pivotal role in Kelly's offense running significantly smoother this season.
Junior left tackle Zack Martin—a second-team All-American selection by the Walter Camp Football Foundation—is the most heralded member of a unit that helped the Irish average more than 200 yards rushing per game, while allowing only 16 sacks this season.
The remaining four starters up front are all upperclassmen, with fifth-year senior and center Braxston Cave serving as the line's engine.
The Irish's offensive line is balanced and technically sound, but explosive players like Stanford outside linebacker Trent Murphy (1.5 sacks, 10 tackles, three quarterback hurries) and Purdue defensive tackle Kawann Short (two sacks) had success in disrupting their flow on offense this season.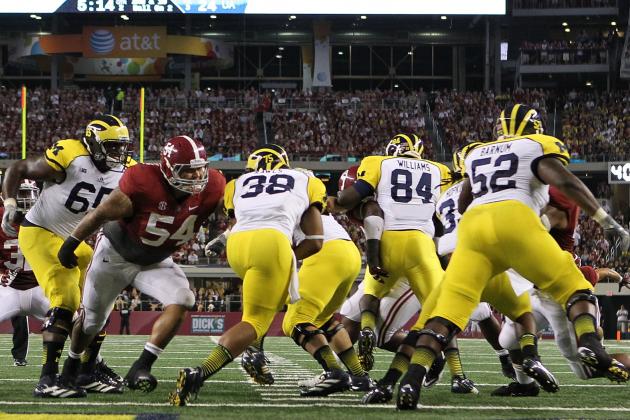 Leon Halip/Getty Images

The clear strength of Alabama's defensive line is plugging gaps and stopping the run.
In fact, no team in the country is better than the Tide in making its opponents one-dimensional—with teams averaging less than three yards per carry and less than 80 yards rushing per game.
Senior defensive tackle Jesse Williams is an immovable force in the middle of Kirby Smart's 3-4 defense.
While Alabama's main objective is to stop the run, the Tide's pass rush is mostly generated by its outside linebackers—with no member of the front three registering more than four sacks this season.
In fairness, the defensive linemen in Alabama's system mainly take up blockers by design, as explained by B/R's Michael Felder.
However, although there are plenty of talented bodies at Saban's disposal, there is not a single dynamic pass-rushing force (like Courtney Upshaw last season) up front capable of taking over a game of this magnitude.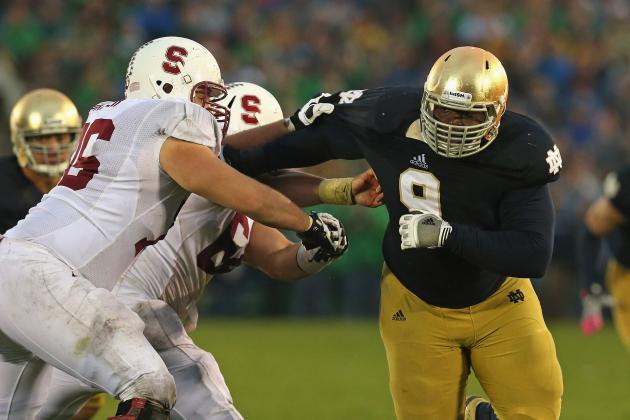 Jonathan Daniel/Getty Images

While Alabama's scheme is predicated on strong linemen that hold the point of attack in an effort to stop the run, 19 of Notre Dame's 33 sacks this season came from the starters in Bob Diaco's three-man front.
Defensive ends Stephon Tuitt (11 sacks) and Kapron Lewis-Moore (six sacks) complement run-stuffing demon and nose guard Louis Nix III (45 tackles, two sacks).
With backup nose guard Kona Schwenke still listed as questionable for the game, having enough fresh bodies at each position could become an issue.
Considering Alabama's offensive line is a unit that prides itself on wearing its opponents down, depth may be a critical factor late in the game.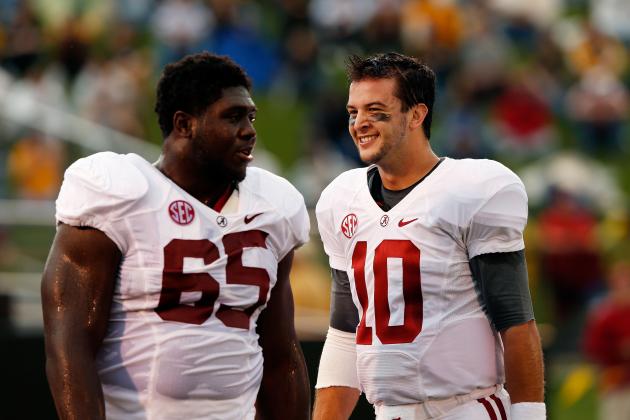 Jamie Squire/Getty Images

Jones has one of the game's most important matchups with Nix (more on that later), but Alabama has an ace up its sleeve with Warmack lining up beside the center.
Warmack—who led the Tide's line with 36 pancake blocks—has arguably been the most consistent blocker for Alabama's star-studded group this season.
With Notre Dame's size up front, Warmack has the ability to help Jones and others with their matchups, and pull around on power runs and get to the second level in the run game (h/t, Michael Felder, B/R).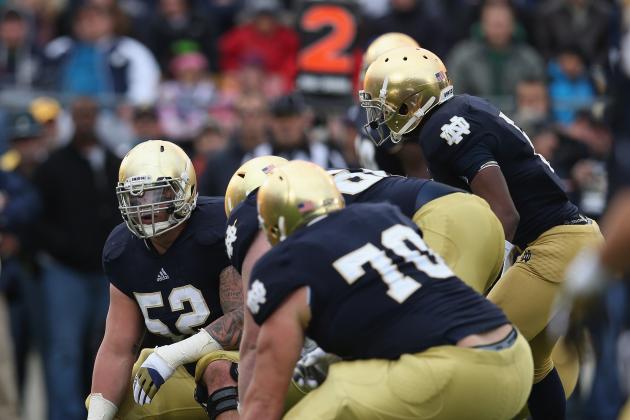 Jonathan Daniel/Getty Images

Given the radical spectrum of changes that have occurred during his five years in South Bend, it is only fitting that the 48th and final game of Cave's career will carry the most importance.
For Notre Dame's offensive line to be successful, Cave will have to be able to lead the way up front by getting a push against an elite nose guard in Williams (more on that later).
Cave has played at a high level all season long, but the Tide's physical defensive line is a different animal compared to any team the Irish have seen in 2012.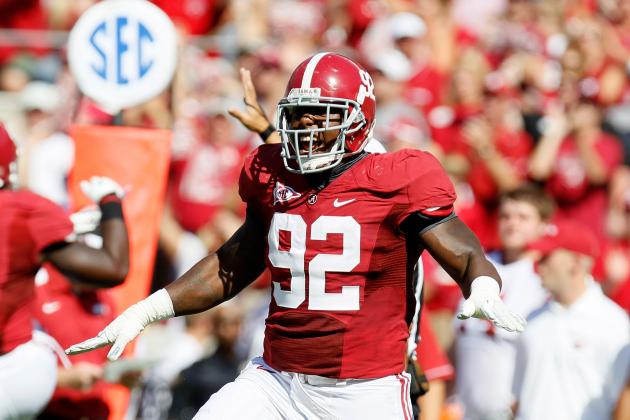 Kevin C. Cox/Getty Images

Williams is the focal point for most opponents, but both defensive ends—Ed Stinson and Damion Square—will play critical roles in trying to slow down an Irish offense that can hurt them in a myriad of ways.
Both ends will be responsible in maintaining their gaps and pushing the pocket while not allowing Irish quarterback Everett Golson to escape to the outside.
Square—one a handful of fifth-year seniors on the Tide's roster—is a player that has previously stepped up against mobile quarterbacks in the past (eight tackles against Texas A&M this season and six tackles in the first meeting against LSU in 2011).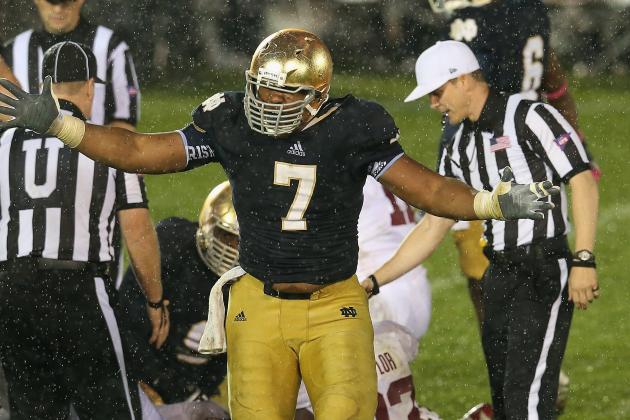 Jonathan Daniel/Getty Images

Tuitt gets the nod as being the most skilled pass-rusher in this game on either roster.
The 6'6", 303-pound sophomore has emerged as one of the nation's best defensive ends after racking up 11 sacks this season.
He has the skills to take over in big games—but in the three games against opponents that are still ranked (Michigan, Stanford and at Oklahoma)—Tuitt recorded only 1.5 sacks in those three contests.
The Irish will need Tuitt to impose his will if the defensive line hopes to seize control of the game within a game in the trenches.
Mike Carter-USA TODAY Sports

Barrett Jones vs. Louis Nix III
As he prepares to cap what is one of the most decorated careers for an offensive lineman in the history of the sport, Jones will face one of the toughest challenges of career by going toe-to-toe with Nix in his final college game.
Nix—a 6'3", 326-pound man-child—will not have it any easier trying to beat Jones (and potentially Warmack and Steen) off the snap.
If Jones and his teammates keep Nix from getting penetration, the backs can get to the second level and create all kinds of issues for the Irish.
If the opposite occurs and Nix proves disruptive, Alabama could find themselves in 3rd-and-longs—which would likely be detrimental to their chances of success.
DJ Fluker / Cyrus Kouandijo vs. Stephon Tuitt
Tuitt is the latest freakish defensive end to test his mettle against the Tide's vaunted offensive line.
As I mentioned above, Alabama (particularly tackles Fluker and Kouandijo) has struggled at times against the elite ends they have faced this season.
If Tuitt's motor is on and he brings his best game, he's the type of talent that can force offenses to make adjustments in an effort to slow him down.
Jesse Williams vs. Braxston Cave
While these two fine players may not get the publicity of their opposing counterparts playing the same positions, their tussle will be equally as important to the outcome of this game.
Just like Nix, Williams will likely be a player that commands double-teams because of his strength and his ability to hold his ground and eat up space.
LSU and Georgia were a pair of teams that found running room against the Tide, and Cave and company will need to find a way to replicate that success for the Irish's offense to have any hopes of having a solid night on the ground.