Another Season, Another Rocky Beginning for Colorado Rockies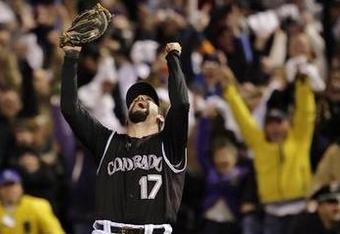 Every team has new hope at the beginning of every season. Most teams need more than hope to make a season successful. The Colorado Rockies happen to be one of those teams.
The Rockies are coming off of an incredibly disappointing season. Last year Colorado's Major League Baseball team went 74-88. That coming after a season in which they had 90 wins and 73 losses (the extra game is counted because of the "play-in" game they played against the San Diego Padres on October 1, 2007).
They finished the 2007 regular season winning 14 of their last 15 games, including an 11-game winning streak. That is no small task for a franchise that until then, could only dream of qualifying for the postseason.
Statistics show that in odd years, the Rockies have done remarkably better than in even years. Since 2001, the Rockies have gone 304-345. In even years since 2002, they have gone 286-362. Clearly the odd years have meant more success for the Rockies.
Clint Hurdle has consistently stated that he likes what he sees out of the Rockies this spring even though the Rockies' record has not shown the kind of success most fans are looking for.
Their record is 10-14-1 through March 25. He has stated that in the situational at-bats, the players have been producing. This is good news, but this has always been a major staple of the Colorado franchise.
The question is will there be pitching this year? It looks like there may be. The acquisition of Jason Marquis is the highlight of the Rockies pitching moves this off-season.
They also acquired Josh Fogg after a dismal season with the Cincinatti Reds last year. The Rockies brought him back to the team because of what they saw in him in 2007. He was one of the leaders who helped carry the team to a World Series appearance.
The Rockies are hoping his veteran influence will help the club.
The Rockies also acquired Huston Street from the A's in the trade involving Matt Holliday. Street has been competing with Manny Corpas this spring for the closer's role.
Thus far, it looks as if Corpas is going to win the spot because he has done a better job dominating opposing teams' hitters. Street has a 7.36 ERA in 7.1 innings pitched whereas Corpas owns a 1.29 ERA in 7.0 innings pitched.
Clearly Corpas should have the job if the regular season were to start tomorrow. However, there are still a few spring games to be played in which everything could change.
Certainly, there is no telling as to what Clint Hurdle is planning on doing with the Rockies pitching staff. There are a few locks in the rotation like Aaron Cook, Ubaldo Jimenez, and Jason Marquis.
Unfortunately for the Rockies, a pitching staff is composed of more than just three starting pitchers.
If the Rockies want to be major contenders every year, they will need to either develop more pitching or search the free-agent market for other pitching. If they don't, they will be stuck in the NL West basement for many years to come.
This article is
What is the duplicate article?
Why is this article offensive?
Where is this article plagiarized from?
Why is this article poorly edited?

Colorado Rockies: Like this team?