Manchester United vs. Real Madrid: 10 Storylines for Huge Champions League Clash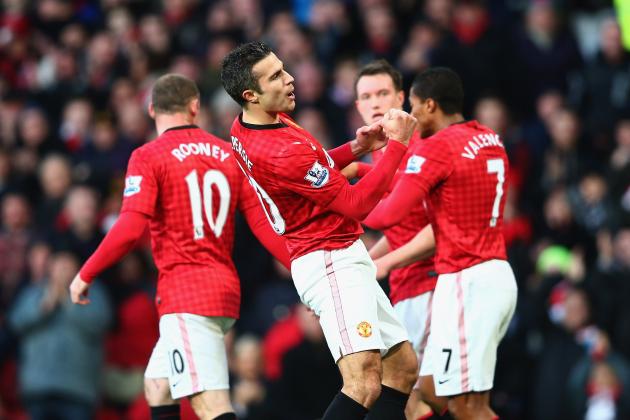 Clive Mason/Getty Images

Manchester United have drawn Real Madrid in the round of 16 for the 2012/13 UEFA Champions League, setting up one of the most incredible matches in recent tournament history.
Two of the biggest clubs—both of which have rich and illustrious histories—are set to do battle for the ultimate prize in European football, with both also desperate to prove themselves as the superior squad.
The stage could not be bigger for this match, and there are bound to be thousands upon thousands of words written over the next few weeks in anticipation.
Read on to see the 10 biggest storylines to watch out for when Manchester United face Real Madrid in the Champions League round of 16.
Begin Slideshow

»
Denis Doyle/Getty Images

We start off with star winger Cristiano Ronaldo, who will be making his return to Old Trafford—the very place that made him a household name in world football.
The Portuguese international is no doubt one of the elite players in the modern game and to see him return to his former club in front of his former fans and manager will be incredibly fascinating, particularly given the pressure he will be under to perform.
The likes of Wayne Rooney, Michael Carrick and Rio Ferdinand—all former teammates of Ronaldo's at United—will no doubt be geared up to stop the 27-year-old.
But will they be able to get the job done against his dazzling skills?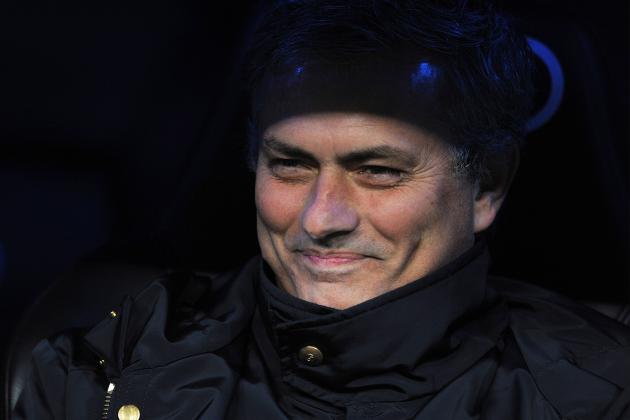 Denis Doyle/Getty Images

Jose Mourinho—also known as The Special One—is, for all his craziness and eccentricity, one of the most tactically smart managers in world football.
The current Real Madrid manager brings so much to the table in terms of experience, creativity and, perhaps most importantly, knowledge of how to win in England that he can be a hard man to read and succeed against at times.
So what will Mourinho conjure up to take advantage of Manchester United's potentially exposed backline and try to contain their dominant attacking unit? Will he grind them out of the game or pressure them from the moment the whistle first blows?
Moreover, will his strong showing against the Red Devils perhaps even land him the managerial role at Old Trafford when Sir Alex Ferguson retires?
What better way to demonstrate your skill set than by dominating the very team that's considering you for the job!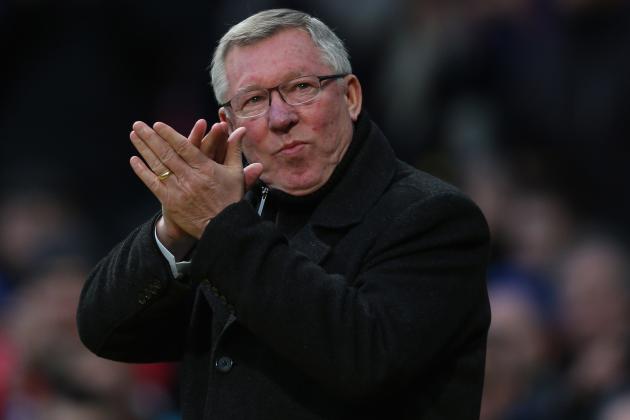 Julian Finney/Getty Images

Whatever Mourinho manages to stir up against Manchester United, be sure that United manager Sir Alex Ferguson will also have something planned for Real Madrid.
The veteran has seen tough Champions League legs before and has faced Mourinho-coached sides numerous times, while also triumphing over strong attacking sides like Real Madrid throughout his managerial career at Old Trafford.
He has fostered success between Robin van Persie and Wayne Rooney by slightly altering the manner in which the Red Devils attack and has allowed United to not be so dependent on their wingers like the squad has in years past.
Ferguson knows how to make adjustments, and he has already shown that he can make a season-altering change for the better.
So what decisions will Fergie throw up here against one of the best attacking teams in the world?
And more importantly, will it lead United to victory?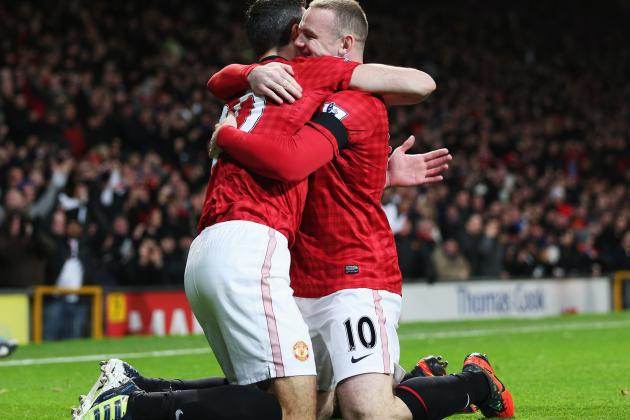 Clive Brunskill/Getty Images

The arrival of Robin van Persie to Old Trafford over the summer transfer window marked a new dawn in Manchester United's attacking unit, as we simply did not know how effective the Dutchman would be alongside the likes of Wayne Rooney and Javier Hernandez.
Now we know.
The 29-year-old Van Persie has already reached double figures for the season in goals scored, whilst Rooney has become one of the most creative strikers in terms of chances created both for himself and for his teammates.
The "nine-and-a-half" role that the pair are playing together is leading to great success, and with the likes of Shinji Kagawa still to return from injury to play alongside Ashley Young and Antonio Valencia in midfield, United's attack will be extremely strong against Real Madrid.
Can the dominance we've seen in the Premier League to date continue against Madrid's defense, or will the Spanish giants find a way to contain the Red Devils' attack?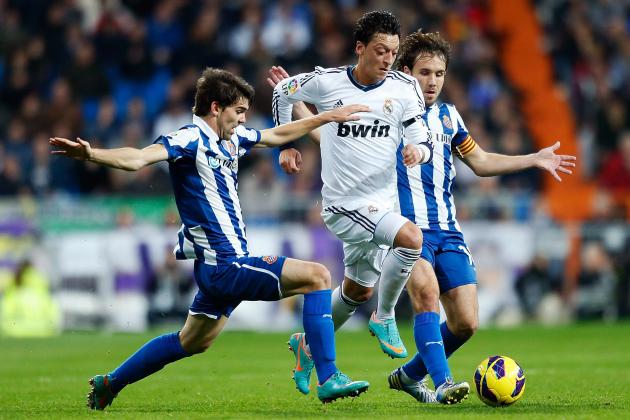 Gonzalo Arroyo Moreno/Getty Images

For all of Manchester United's attacking dominance in the Premier League this season, we must also concede that Real Madrid have one of the strongest attacks in world football.
And it is not just Cristiano Ronaldo who Madrid have to boast about. The likes of Mesut Ozil, Angel Di Maria, Gonzalo Higuaín and Karim Benzema are all world-class players in their own right and, when put on the same team, can be deadly and creatively brilliant.
Los Blancos might trail Barcelona in La Liga by a substantial margin, but in terms of attacking potential, Madrid have still showcased their strength up front.
They currently average three goals per game at home—a number that could well rise against a fragile and exposed defense like United's—and have only been held scoreless in one of their past 21 matches across all competitions.
Will that attacking prowess outshine Manchester United's own dominance up front?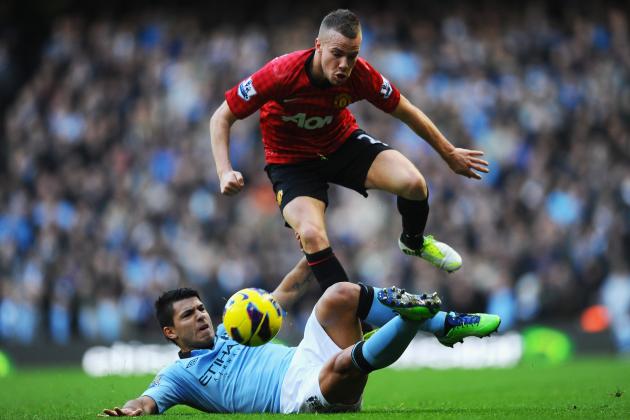 Laurence Griffiths/Getty Images

There is no bigger matchup than the one in the middle of the field between United's Tom Cleverley and Michael Carrick and Real Madrid's Sami Khedira and Xabi Alonso, as both teams vie for control in the center of the pitch.
Both Madrid and United could field different players in the middle for their respective home and away matches, but the four mentioned above are the most likely to take the field, meaning we can already tell how important this matchup is going to be.
Cleverley, in particular, has come a long way this season, and this Champions League tie will no doubt be his toughest fixture in the middle all season. The England international has shown he can be world-class at times—now he needs to succeed when United need him most.
For Madrid, there is no doubting the class of Khedira and Alonso, but Luka Modric, if Mourinho opts for the Croatian international, is highly competent as well. Modric has played against both players recently when he was at Tottenham Hotspur and could be a sneaky selection for Madrid if his form is good heading into the tie.
Either way, the battle for control in midfield will be key in determining which team's attack can get off the ground, which will, in turn, decide the winner of the match.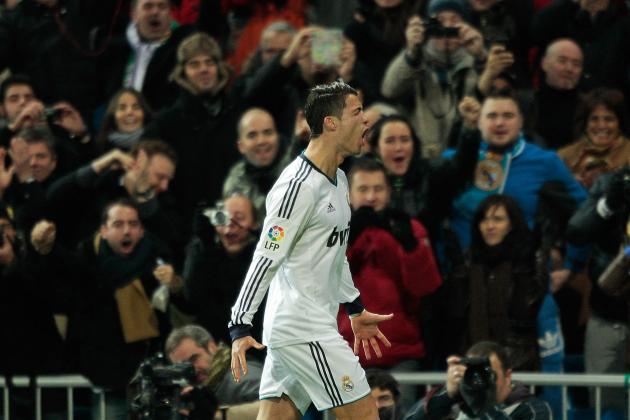 Gonzalo Arroyo Moreno/Getty Images

We know how good Cristiano Ronaldo can be—there is no doubting his ability to turn a game for Madrid with one moment of incredible skill or power.
Thus the man tasked with stopping him for the majority of the match will have his work cut our for him. Consequently, Antonio Valencia will be particularly key in determining United's chances, as will right-back Rafael Da Silva or Phil Jones, if Ferguson opts that way.
Valencia is one of the top wingers in world football—alongside Ronaldo in that category—and has shown that he can be one of the top attackers down the right flank at Old Trafford.
His ability to push Ronaldo back down the pitch by getting wide and forcing him to get back in defense will be huge in containing the Madrid counterattack, while also helping to constrict the width that Ronaldo will use to link up with Ozil in the middle.
Also, don't rule out Valencia as a defensive force either. The Ecuadorian has shown he can play at right-back when needed—showcasing his tackling and interception skills—and will be key in breaking down a Ronaldo-led attack before it can even get off the ground.
Ronaldo will thrive at times in this match, and he will get his attacking chances, but if Valencia can restrict some of them by breaking them down in midfield, then United will have a better chance of keeping out the opportunities Ronaldo does create for himself.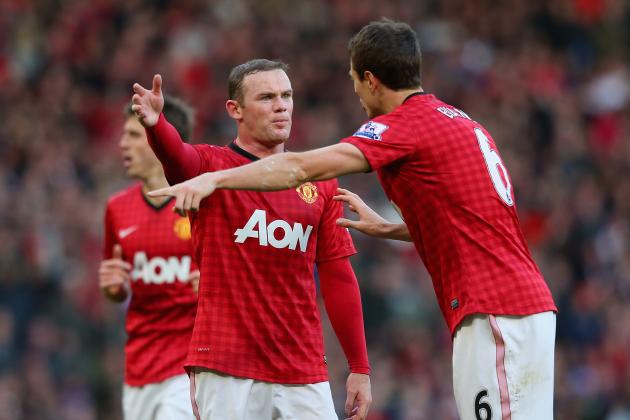 Alex Livesey/Getty Images

For Manchester United, there is no greater concern at the moment than that of their defense, which is allowing soft goals against some of the worst attacking teams in world football and forcing United to come from behind in nearly every single match to win.
The Red Devils have posted just one clean sheet in their last 10 Premier League matches, with the likes of Queens Park Rangers (19th), Reading (20th), Sunderland (16th) and Aston Villa (14th) all finding the back of the net against them.
They might still be winning, but when they meet a brilliant attacking team like Madrid, will they ever be able to stop them from finding the back of the net?
If they can't stop Reading from scoring three, how will they stop a team with the attacking talent of Madrid?
United will have Nemanja Vidic back in defense, which will help, but the likes of Rio Ferdinand and Patrice Evra must step up their performances across the back and not allow the Spanish giants easy opportunities in United's own half.
Madrid are too strong and too talented to give up cheap goals, and if United are to have any chance of holding up in this one, their defense has to be technically sound throughout.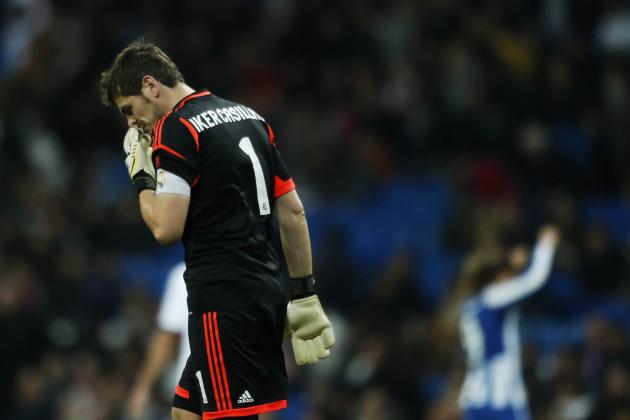 Gonzalo Arroyo Moreno/Getty Images

Real Madrid's Iker Casillas is the best goalkeeper in the world, a man that has so succeeded at the back over the years that he is now simply known as "Saint Iker" to both Madrid and Spanish fans alike.
Through Casillas' 16 La Liga games this season, Madrid have conceded just 14 goals, with the Spanish international making 129 saves during that stretch (per The Score).
And whilst much of that goal-scoring potential is snuffed out by Madrid's defense, Casillas has been strong at the back this season and kept Madrid in games they would otherwise have lost.
So how big will the Madrid shot-stopper be against United?
Rooney and Van Persie will no doubt pepper his goal a great deal in both legs, but who will emerge victorious between the two parties?
After all, one big save or one big miss could be the difference between success or elimination for both teams in this tournament.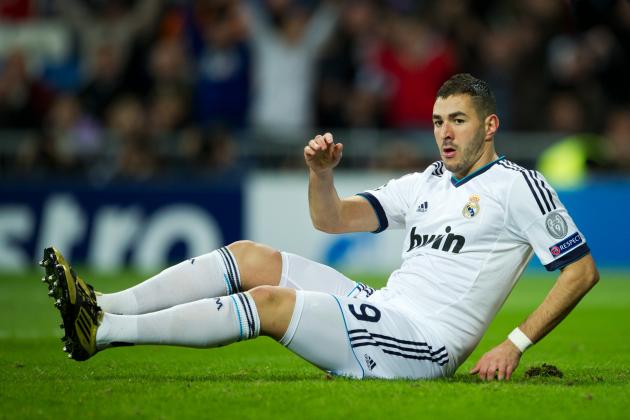 Jasper Juinen/Getty Images

Finally, we must ask who is going to be the X-factor in this matchup—the player that turns the tie on its head with a blistering bit of skill or a game-saving tackle?
The likes of Rooney and Van Persie will thrive, as will Ronaldo. Their ability is not in doubt.
But who will be the unexpected player to swing the match in favor of his club?
Could it be someone like Cleverley in the middle of the field for United? Could it be Javier Hernandez who comes off the bench and nets a huge equalizing goal?
For Madrid, could it be Modric if Mourinho opts for him in the middle? Or Pepe, who can contribute on defense and in attack when required?
Whoever the X-factor is, they will have a huge influence on the final outcome of this Champions League clash.
For now, we'll just have to wait and find out.
What do you make of the Manchester United vs. Real Madrid matchup?
Comment below or hit me up on Twitter: Follow @dantalintyre