Oklahoma Football: Sooners' 5 Biggest Holes in the Roster for 2013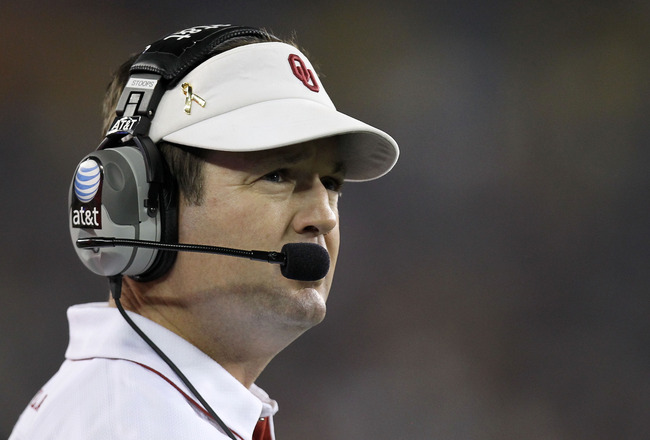 Ronald Martinez/Getty Images
Like any team, the Oklahoma Sooners will have holes to fill after their final game of the season.
Every offseason Bob Stoops and his staff are faced with different challenges. Whether it's graduation, the draft or players that just can't cut it, there are always positions to fill.
This season is no different.
The Sooners are faced with replacing key players offensively and defensively, and a few wrong decisions could be the difference between 11-1 and 8-4 next year.
Here are the five biggest holes the Sooners must fill for 2013.
Quarterback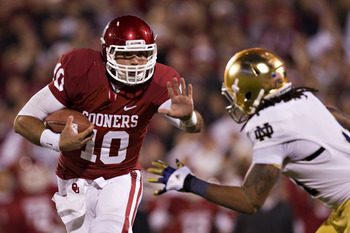 Wesley Hitt/Getty Images
The Sooners' most glaring hole is at quarterback.
With Landry Jones graduating, Bob Stoops must replace his starting quarterback for the first time in three years.
The question, however, is with who?
Blake Bell has the most in-game experience between he and backup Drew Allen. He has spent the past two seasons running Oklahoma's "Bell-dozer" package.
There is also Trevor Knight and Kendall Thompson, two freshmen who can throw their hats into the ring.
Whoever he chooses, Stoops has to make finding a new signal-caller his first priority in the 2013 offseason.
Defensive Tackle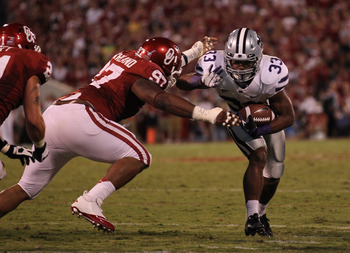 Matthew Emmons-USA TODAY Sports
Oklahoma's deepest hole to fill in the offseason is at defensive tackle.
The Sooners lose five defensive tackles to graduation after the 2013 Cotton Bowl on Jan. 4.
The Stoops brothers will have to hit the recruiting trail hard in Jan. They haven't made much of an impact with their recruiting class, but Stoops is notorious for hitting the trail after Oklahoma's bowl games.
Mike Stoops still hasn't made his mark on Oklahoma's recruiting front either. He's key to bringing in highly rated defensive players and should make his presence felt in the coming months.
There won't be much depth at the position next season, but if Oklahoma can find young talent, it can rid itself of this problem in the coming seasons.
Defensive End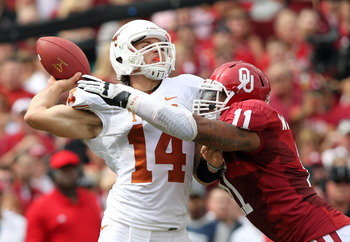 Tim Heitman-USA TODAY Sports
Oklahoma's hole at defensive end isn't as glaring or as deep as the ones at quarterback and defensive tackle, but it still has to be filled in the offseason.
Chuka N'dulue will likely start at one of the end positions; however, the other starting job is up in the air.
David King and Jamarkus McFarland graduate after the Cotton Bowl, leaving Bob and Mike Stoops little depth to work with. Just like at defensive tackle, they will have to hit the recruiting trail hard.
According to ESPN.com's Recruiting Nation, Oklahoma has five defensive end commitments already for the 2013 class.
Pass rush is one of the keys to winning the Big 12. The Sooners must fill the hole at defensive end if they want to contend in 2013.
Middle Linebacker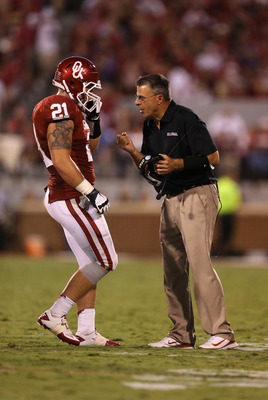 Matthew Emmons-USA TODAY Sports
There may be some depth at middle linebacker, but it's still a hole worth refilling
Tom Wort has started at middle linebacker for three years now, and it's obvious Mike Stoops can make an upgrade at the position.
The Stoops boys have been loyal in the past so it's not likely Wort will lose his job, but they must find players to work in around him. Redshirt freshman Frank Shannon may be the answer, but there isn't much depth.
The defense is full of holes this offseason, but the one that could be the most crucial is at middle linebacker. If the Sooners don't fix the problem, they could be looking at another long season defensively in 2013.
Cornerback
Matthew Holst/Getty Images
The Sooners return Aaron Colvin next season provided he doesn't leave early for the NFL. However, the other corner position needs to be filled this offseason.
Demontre Hurst started all 12 games for Oklahoma, but he graduates after the Cotton Bowl. The Stoops brothers have the luxury of Colvin's return, but will have to either look at transfers or freshmen to fill the second starting corner position.
Keep Reading

Oklahoma Sooners Football: Like this team?