10 People Who Should Never Be Allowed to Talk Sports
deadspin.com
Every day, there are multiple people who make sports entertaining and fun to watch.
They provide valuable insight, commentary, are not biased and rarely say something stupid.
Then, there are certain people who should never be given a mic. What comes out of their mouth speaks nothing but biased opinions, dumb commentary and stupid comments.
Here's a look at 10 such people who should never be allowed to talk about sports.
Begin Slideshow

»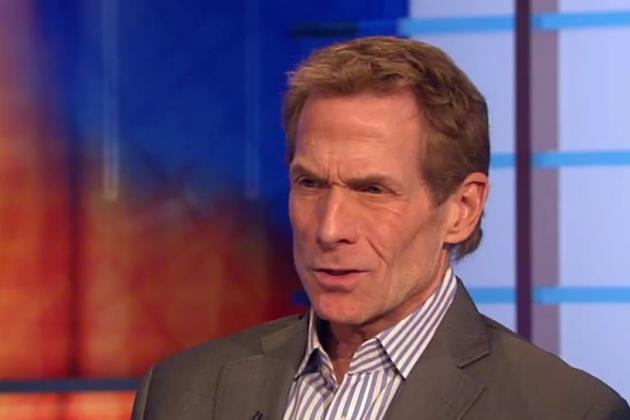 deadspin.com
Is there ever a time when Skip Bayless is not saying something dumb?
Bayless is known for his deep support of Tim Tebow.
National Football Post writer Greg Gabriel notes of a conversation Bayless was having with Cris Carter on ESPN's First Take.
In that conversation, Bayless talked stats, but couldn't have been more wrong about what he was saying.
He also stated that all you have to do is look through the game's play by play and you will see most of the pass plays started from under center. When I heard this I knew that he hadn't watched the game and was basing his argument only on what he read. I did watch the game and I watched it again after I saw the discussion.

Bayless says most of Tebow's passes were from under center. That's just wrong. Tebow attempted 28 passes while playing from a shotgun and 12 passes from under center.
Or how about Bayless accusing Derek Jeter of using performance-enhancing drugs? Taken from the Mark Feinsand of the New York Daily News, Bayless suggested PEDs could be the reason for his renaissance season.
Skip Bayless, one of ESPN's loud-yakking talkies on its "First Take" program, suggested Wednesday morning that Jeter's renaissance season could be the product of some illegal assistance.
Where did he get his facts? Obviously, facts aren't something Bayless cared about in this situation.
When watching Bayless, it's obvious he doesn't do his homework. He tends to just throw information out there, knowing that many people will believe him. Even more, ESPN doesn't hold him accountable for the many times he misspeaks.
His fair and unbiased journalism is on par with that of certain national networks when it came to the presidential election.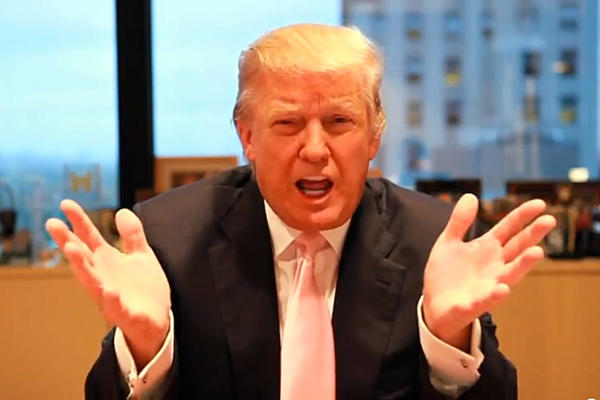 csmonitor.com
The tweet is down now, but Donald Trump wished good luck to New England Patriots' head coach Bob Belichick, among others.
No, it's not a typo.
Trump is a self-proclaimed fan of the Patriots, so how does he not get the coach's name right?
Now, rewind to the 1980s when Trump helped bring down the United States Football League.
A league that was able to garner national-television contracts ended up going out of business because Trump convinced other owners they could compete with the NFL.
Really?
Filmmaker Mike Tollin, who ran the USFL's equivalent of NFL Films, did an email interview with Steve Kornacki or salon.com after his 2009 documentary "Small Potatoes" came out.
In the pantheon of bad team owners, I'd have to rank him just above Donald Sterling and Frank McCourt. Those two have just endeavored to sink their own franchise, while DJT managed to sink an entire league (an honorable mention to Isiah Thomas goes here). One slight problem I discovered early on — he didn't know much about football. And he didn't care much for it either. Despite trading in quarterbacks like he'd later trade in wives (Brian Sipe to Doug Flutie to Jim Kelly), Trump's Generals failed to win a single playoff game during his tenure.
Trump has multiple other instances which have put him on this list, but these two take the cake.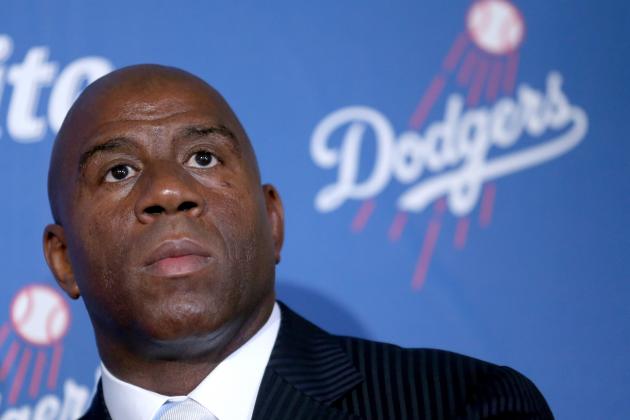 Stephen Dunn/Getty Images

Nothing against Magic Johnson, but his bias reigns supreme when it comes to talking about sports.
Johnson has a lot of valuable insight when it comes to basketball. He's one of the best point guards to ever play the game.
But, when it comes to talking about the Los Angeles Lakers, Johnson is a homer.
Even when he's on the set of TNT basketball, Johnson rarely provides valuable insight and seems to keep things simple. This is especially true when he's talking about teams other than the Lakers.
Then, when it comes to baseball, Johnson has no clue what he's talking about.
For some reason, he and the other owners of the Los Angeles Dodgers think they can just throw a lot of money at players and it's going to bring them a world championship.
I have no problem with owners wanting to win a title. But in the state of the country's economy, when will it be enough?
The Dodgers are going to eventually overtake any amount the New York Yankees had on their payroll.
Johnson can say, "We want to win now," all he wants, but the truth is it takes more than throwing money at players to win a title.
Each player signed or traded for come with their own issues. Some are even thought to be clubhouse cancers.
Until Johnson doesn't have a vested interest in a team, he shouldn't get paid to talk about that team.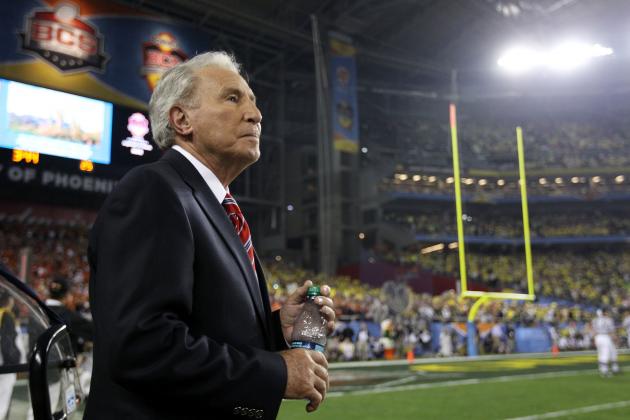 Christian Petersen/Getty Images

Before anyone jumps all over me, I admit that Lee Corso was a great commentator and personality. The key word here is "was."
If you ever watch Corso on ESPN's College Gameday, it's tough to watch him struggle.
From calling Collin Klein, Calvin Klein to the moments where he looks out of it, I think I'm not the only one who thinks it's time for Corso to retire.
Of course, we'll always miss Corso pulling for his headgear at the end of the show or him shooting off the guns when he picks Oklahoma. But, it's time to put this horse out to pasture.
His picks aren't as detailed as they used to be and he doesn't add much to the programming. I almost get the feeling he's there because he's always been there.
Even with that, I can say he was at one time one of the more entertaining commentators in sports.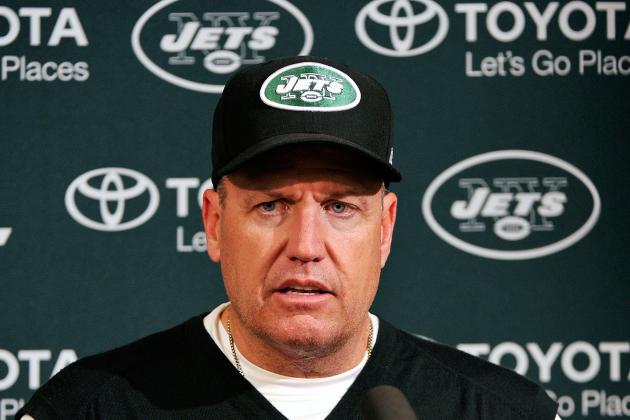 Frederick Breedon/Getty Images

New York Jets head coach (for now) Rex Ryan knows about defense. Unfortunately, he knows nothing about offense as evidenced by his stubbornness all year concerning Mark Sanchez.
In an interview with the New York Post on Oct. 2, Ryan said
"Right now, I think Mark [Sanchez] gives us our best opportunity to win."
Really?
Since then, Sanchez has thrown 13 interceptions as the Jets have gone 4-6. And, the 4-6 is better than the team has actually played with a 7-6 win over the Arizona Cardinals and 17-10 win over the Jacksonville Jaguars.
Enough said. Case closed.
Anyone who thinks Sanchez gives them the best chance to win should have their speaking privileges revoked entirely.
Who knows? Maybe the Jets will take care of that this offseason.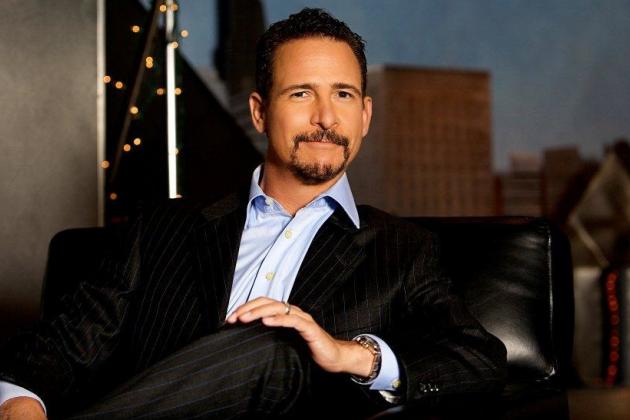 ucsbalum.com
Jim Rome just likes getting under people's skin.
It seems that he comes into work each day just wondering who he can tick off.
Two main instances are his reported beef with Shaquille O'Neal and the infamous segment with Jim Everett in which Rome continually calls him Chris.
Rome crossed the line in both instances in a blatant form of disrespect.
He's not a likeable guy and he just seems ticked off at the world because something didn't go his way during his childhood.
Until he can get those personal issues in order, it's best he doesn't talk sports anymore.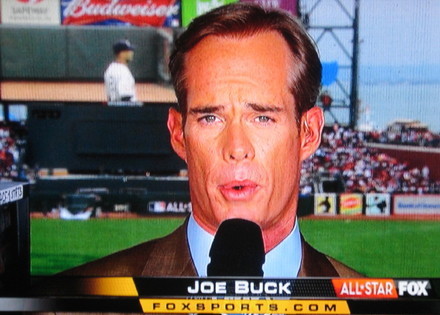 deadspin.com
Joe Buck gets to do the dream job of millions of sports fans and it seems he doesn't get any enjoyment out of it on the air.
Buck can be heard throughout MLB and NFL broadcasts and isn't exciting to listen to.
He comes across as it's just another game that means nothing.
In truth, every game means something to certain fans and they want to hear that emulating from the microphone.
Dick Vitale has been commentating for 33 years and he acts like every game is his first game doing the job. The excitement emulates from Vitale and it is very evident.
While some fans may not like Vitale's over-the-top excitement, I for one think it adds a lot to the broadcast.
Unfortunately, Buck doesn't bring that and should cease until he brings back the excitement.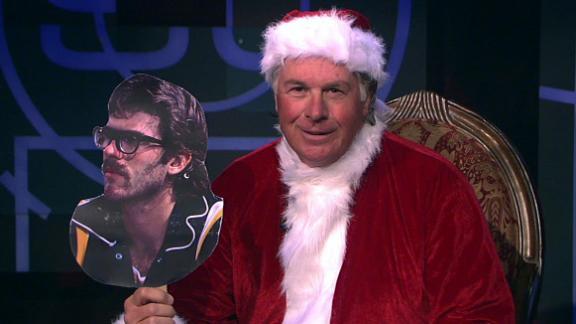 espn.com
When it comes to hockey, Barry Melrose is one of the best in the business in providing analysis.
However, when it comes to the other sports, Melrose should quit while he's ahead.
On Tuesday, Melrose performed a segment on ESPN's Sportscenter, entitled "Barry Claus." The idea behind it all was for Melrose to give gifts to each of the major sports leagues.
It totally failed.
Melrose was lost when talking about the Los Angeles Lakers and how they needed to bring back Kurt Rambis.
Maybe it was all ESPN's doing, but they made Melrose look silly and helped earn him a spot on this list.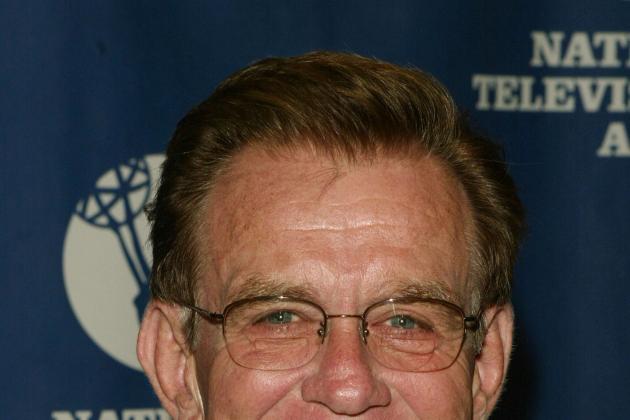 Peter Kramer/Getty Images

Tim McCarver has had his share of incidents with athletes.
One of the most notorious was the one between him and Deion Sanders in 1992.
According to Los Angeles Times writer Larry Stewart, McCarver was doused with water on multiple occasions when the Braves clinched the pennant.
McCarver took exception to it, telling Sanders, "You know, Deion, you're a real man, you are a real man."
The incident stemmed from McCarver criticizing Sanders for playing with the Atlanta Falcons while the Atlanta Braves were in a playoff run.
Sanders' action was in apparent retaliation for critical comments McCarver made last Saturday about Sanders' plans to play for both the Falcons and Braves the next day.
"How can he leave in the playoffs and go play in a football game?" McCarver said. "The way I look at it, that's just flat wrong and I guess could be construed as a breach of contract."
The way I see it, McCarver should have understood how his comments were taken. If he doesn't like the response, maybe he should watch what he says.
And honestly, it was just water.
Then there was the tribute to Barry Manilow.
During a World Series broadcast this year, McCarver made one of the biggest gaffes ever when responding to the fans cheering, "Barry, Barry, Barry."
"They used to say it for somebody else around here," (Joe) Buck said.

To which McCarver replied: "When Barry Manilow was playing in a concert."
Whether he was joking or not, McCarver made a lot of people actually question his knowledge of the game.
There's an old saying that it takes a lifetime to build your reputation, and one stupid things said to ruin it.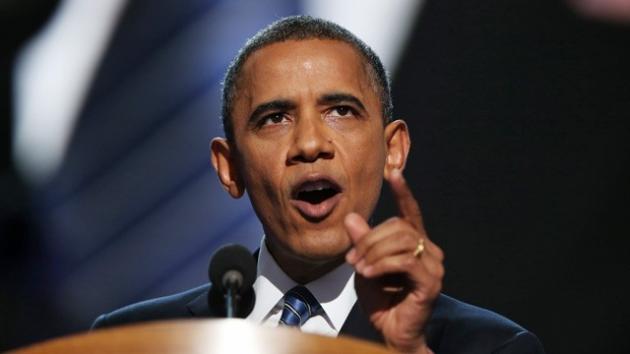 abcnews.com
I know I'll probably get criticized for this one, but whatever.
Our nation's president, Barack Obama, has no business talking about sports or trying to insert himself into any sports discussion.
Recently, Obama was on The Tonight Show with Jay Leno and was asked a question concerning the NHL lockout.
You know, I do have a comment on this. Every time these things happen I just want to remind the owners and the players: you guys make money because you got a whole bunch of fans out there who are working really hard. They buy tickets. They're watching on TV. Ya'll should be able to figure this out. Get this done.
The proper response should have been that he doesn't know the full details, therefore can't comment on the situation.
Then, there's him doing a bracket on ESPN for the NCAA's March Madness.
Really? Is there not something better he can do with his time?
Sure, he's acting like a normal person who fills out a bracket, but he's also the president.
Then, my favorite—from an interview with ESPN's Bill Simmons (via The Los Angeles Times).

Obama told Simmons he has the NBA League Pass on his iPad to watch late NBA games after his wife and daughters have gone to sleep, in between reading briefing memos.
There are so many problems that need addressed in this country (fiscal cliff anyone?) that they need to be addressed. Sports honestly needs to go on the back-burner for our president.