Notre Dame Football: Who Will Replace Every Outgoing Starter in 2013?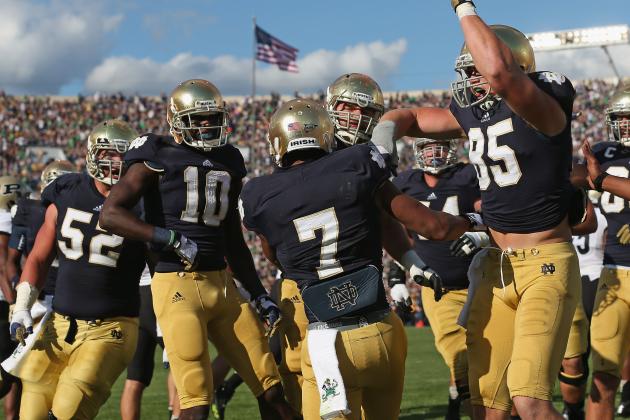 Jonathan Daniel/Getty Images

Notre Dame is relevant again and will be playing in the national championship for the first time in a while. Regardless of what the outcome is in the big game, the fact is that the Irish will have a lot of questions to answer once this season comes to a close.
There are many starters on this year's championship team that will not be around next season. And the coaching staff will have to replace many key guys on both sides of the ball if returning to the championship is at all a possibility.
Who is going to replace Manti Te'o? Who will be the starting running back? How will the offensive line look with a couple of big guys graduating?
The team will have these issues to address in a couple of months.
For now, let's make some very early predictions.
Begin Slideshow

»
Um, I think the video says all you need to know about running back Amir Carlisle. He is a big-play runner who can make people miss in the open field, but he's also a tiny bit of power and can drop the hammer on somebody when he needs to.
Running back Theo Riddick is done with school, and Cierre Wood is leaning heavily towards beginning a professional career.
Carlisle was a transfer from the USC Trojans and then took a redshirt this season due to a broken ankle and nerve damage. He should be ready to go once spring ball kicks off, giving the Irish another explosive running back who can add a spark to an inconsistent offense.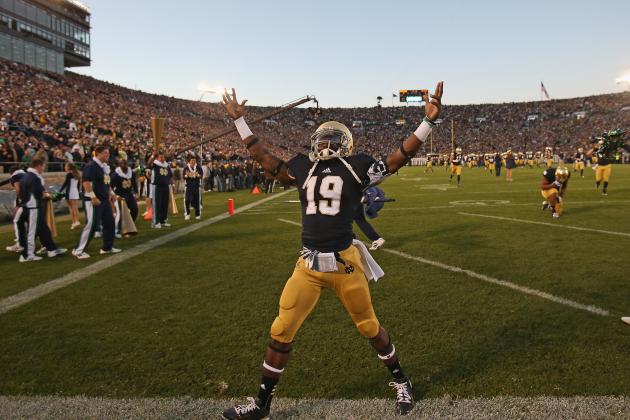 Jonathan Daniel/Getty Images

The slot receiver position has opened up now that Roby Toma is graduating. It is time for young receiver Davonte Neal to step it up and begin showing some of the playmaking ability that made him a 5-star recruit.
Neal was considered one of the top players from the 2012 class, but he hasn't really produced much on the football field, seeing most of his action on special teams.
With a year in the system, Neal should have everything down by now and could become that guy that helps stretch the field.
Neal is a speedster who can help this offense in many different ways. While he hasn't lived up to expectations this year, Brian Kelly should open up the playbook for him and find ways to put the ball in this playmaker's hands.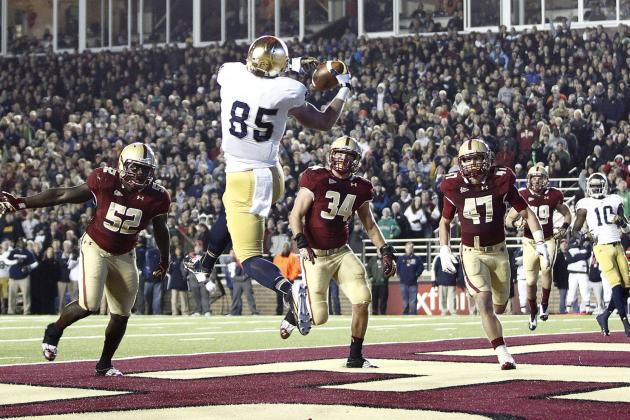 Mark L. Baer-USA TODAY Sports

Tyler Eifert has yet to make a decision on his future, but as a potential first-round pick, it is really only a matter of days before he declares eligible for the NFL draft.
That would then move Troy Niklas to the starting tight end position to replace the best receiving option on the team.
He was a solid recruit back in the 2011 class and already has experience at the position. This year, he hauled in five passes for 75 yards and scored his only touchdown in a game against Boston College.
Niklas is a versatile player who began his career playing outside linebacker.
With his 6'6'', 260-pound frame, he could provide Notre Dame with another solid option at tight end.
Braxston Cave has been one of the more reliable players along the Notre Dame offensive line, but he will be forced to move on after the national championship. Good news is that Matt Hegarty was one of the top offensive linemen recruits back in the 2011 class and should be good to go next season.
The former 4-star recruit did have a medical issue that kept him from practicing with the team for a good portion of the season, but the coaching staff didn't seem too concerned about it.
Hegarty is an athletic player who moves around well and will finish his blocks. He was considered an offensive tackle coming out of high school, but will likely become a starting center, as he was the third-string player at the position behind Mike Golic Jr.
Another offensive lineman the Irish will lose to graduation is offensive tackle Mike Golic Jr.
Lucky for them, Brian Kelly has been recruiting top-notch linemen, and Ronnie Stanley is one of those massive players who should be ready to step in. He was a top recruit in the 2012 class, and his 6'6", 304-pound frame is just one of the things to like about this kid.
Stanley can move surprisingly well for his size and is terrific in run blocking. He is somebody who plays hard, is quick off the ball and has a great combination of size and strength.
Golic may be another quality player leaving from the offensive line, but Notre Dame should be in good hands due to solid recruiting at the position.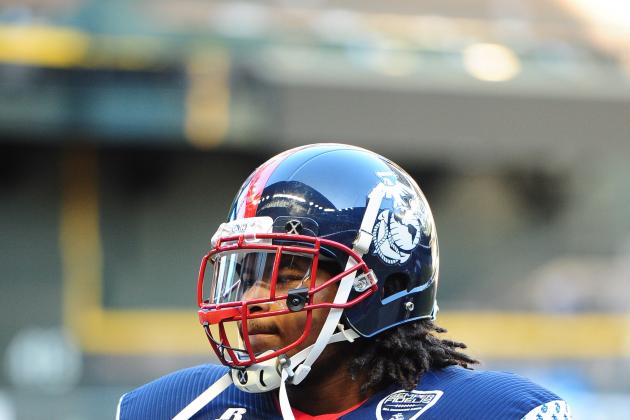 Mark J. Rebilas-USA TODAY Sports

Unlike some of the other guys on this list, Sheldon Day has significant playing time under his belt, which will help with an easy transition into the starting lineup. Despite being a true freshman, Day has played in every game this year and picked up 20 tackles and two sacks.
With Kapron Lewis-Moore graduating, Irish fans will soon see the potential of the former 4-star recruit. Day was already great against the run, but having playing time under his belt, he should soon develop into a better pass-rusher as early as next season.
It will be exciting to watch this young man mature during the offseason, as his potential is through the roof.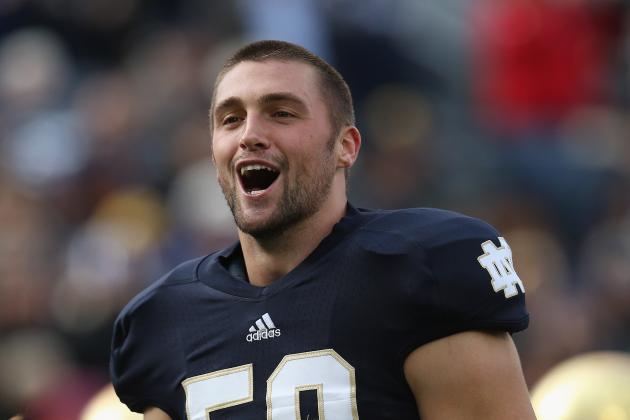 Jonathan Daniel/Getty Images

Jarett Grace has spent the last two seasons in South Bend under Manti Te'o's wing. Now, he will be the guy replacing the Heisman finalist once he takes his talents to the next level.
In practice, Grace has focused on everything Te'o does at the linebacker position, knowing that his time was going to come sooner or later, according to Dan Murphy of 247Sports.com:
When it comes to actual game play, going against the offense, [Te'o] has done it for so long. He knows everything. It's almost as if he can predict what the offense is going to do. Sometimes he'll give me a little pointer saying scoot this way because they're going to do this or that. I try to mimic that.
Grace has played a little bit this season and picked up 12 tackles in his first year on the field. He is a tough-nosed player who is terrific against the run. With two seasons playing under the best inside linebacker in college football, Grace should be ready to roll next year.
Nicky Baratti is a versatile player who played the quarterback position and linebacker when he was in high school. As Notre Dame likes to do with many players, the coaching staff decided to switch his position and moved him over to safety.
He was a true freshman this year and had eight tackles. He also had an interception in the victory over Michigan.
With his playmaking ability, Baratti will likely end up replacing senior leader Zeke Motta.
The former 3-star recruit is a natural athlete, who has great ball skills and could become that difference-maker on the defense with Manti Te'o gone.