WWE Opinion: 5 MMA Stars Vince McMahon Would Love to Have in WWE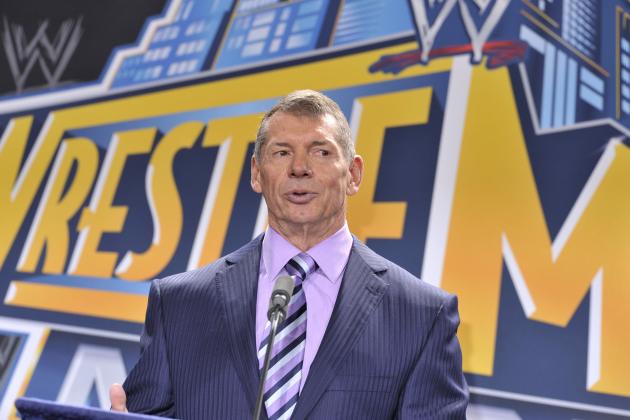 Michael N. Todaro/Getty Images

Discussing pro wrestling and mixed martial arts in the same conversation is liable to create screams of uproar from both camps in this day and age.
From my own experiences with chums who share my passion for MMA, when pro wrestling is introduced into the fold it can turn the closest of friendships into the messiest of divorces.
The UFC and WWE are comprehensively different companies in terms of the action they offer, but that doesn't mean there aren't WWE superstars or mixed martial artists who haven't attempted careers in both the Octagon and the wrestling ring.
Earlier this year, both companies made the headlines when Brock Lesnar left the Zuffa promotion and returned to Vince McMahon's organisation after eight years away.
While Lesnar is the most high-profile name to switch between the UFC and WWE; Ken Shamrock, Bobby Lashley, Dave Bautista, Kurt Angle and Dan Severn are all names that have had success of varying degree in both companies.
Here, I'll take a look at the stars of the MMA World who WWE chairman Vince McMahon would surely love to have in his company.
For the record, I'm not doolally and I realise the chances of these slides coming to fruition are impossible at best, but I hope you'll see the potential in the transferable skills of these fighters who I believe could shine in WWE.
Begin Slideshow

»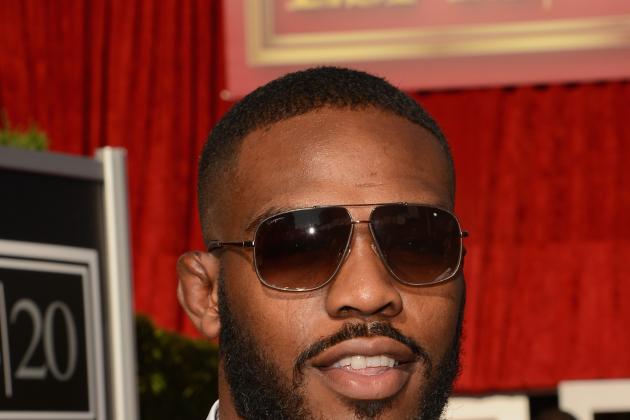 Jason Merritt/Getty Images

Jon "Bones" Jones, the UFC Light Heavyweight champion, is listed in numerous publications' top three pound-for-pound fighters in MMA.
While his accomplishments inside the Octagon are incredible for a 25-year-old, the youngest UFC titleholder's exploits out of the cage are equally as impressive.
Marketing is a core aspect of every business, and while WWE plucks talents from its ranks intermittently to feature on chat shows or in motion pictures, the arrival of Jones would boost their options immensely.
In August, Jones became the global face of MMA, signing a sweeping, worldwide sponsorship deal with sports apparel giant Nike.
Jones' deal made him the first mixed martial artist to be sponsored by Nike on an international scale, and his success, charisma and star power would surely make him a priceless commodity in and out of the ring in WWE.
"I want to be the Michael Jordan or Tiger Woods of this sport," Jones told ESPN in September, and rumours have escalated over recent months that "Bones" fancies a stint in acting at some point in his career.
All things considered, if Jones was a feasible purchase for McMahon, he would be snapped up quicker than a Brodus Clay squash match circa March 2012.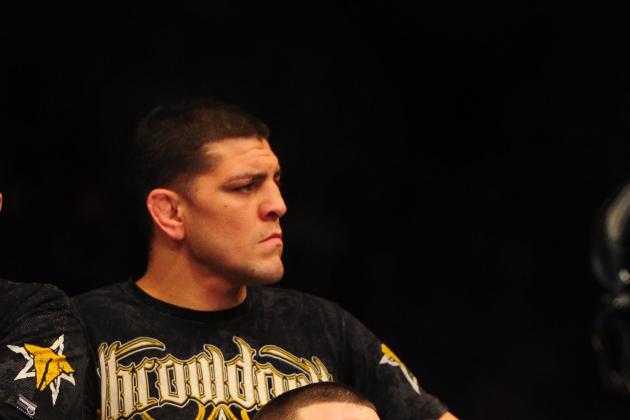 Mark J. Rebilas-USA TODAY Sports

The Diaz brothers, Nick and Nate, are amongst the best trash-talkers that MMA has to offer, and with the resurgence of the WWE's tag team division in full flow, they could easily be one of the company's greatest ever duos.
Due to the incredible lengths I have gone to envisaging all the fighters in these slides as actual WWE superstars, I apologise if it appears I am losing touch with reality, but in regards to generating reactions, few are better than the Diaz brothers.
Nick Diaz is that antagonising while being an exceptionally talented fighter, his knack for provocation has made his UFC Welterweight championship match with Georges St-Pierre at the upcoming UFC 158 one the most anticipated fights in UFC history.
The long running feud between the two has seen Diaz throw several barbs St-Pierre's way, and his controversial antics have naturally ruffled a few feathers along the way.
Initially, their title fight was scheduled for UFC 137, but as Diaz failed to show up for any event related press appearances, he was pulled from the bout.
According to UFC President Dana White shortly afterwards, St-Pierre said: "[Nick Diaz] is the most disrespectful human being I've ever met and I'm going to put the worst beating you've ever seen on him in the UFC."
Nick's brother Nate on the other hand, is hardly timid in comparison.
At UFC on Fox 5, Diaz challenged Benson Henderson for the UFC Lightweight championship and was comprehensively outclassed.
This didn't stop him from provoking Henderson verbally throughout, nor stop him squaring up to the champion moments after the ends of the first three rounds.
Together in WWE, they would possibly grow a cult following amongst those with a fondness for confrontational heels, and the younger members of the WWE Universe would truly despise them.
Just imagine if they became WWE Tag Team Champions.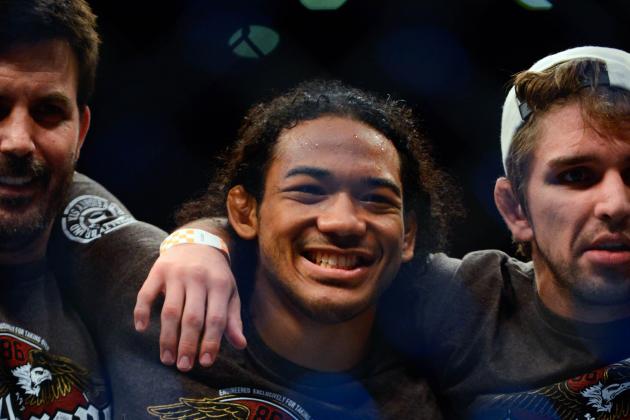 Ron Chenoy-USA TODAY Sports

UFC Lightweight champion Benson Henderson is one of the most impressive athletes in the company, and a man who is constantly producing stunning moves in his fights to delight his fans and perplex his opponents.
Comparisons are quite easily made to the likes of John Morrison and Kofi Kingston, but whereas the two noted have failed to impress during promos throughout their career, Henderson is an articulate, driven man who has no qualms saying what he wants to say.
A proud Christian, Henderson is known to quote scripture after bouts, and being straight edge naturally invites the comparisons to WWE champion CM Punk, who infamously created the Straight Edge Society.
Twice named an NAIA All-American, Henderson's amateur wrestling and thorough composure as a fighter would surely see him ingratiate well into the WWE style.
His fights are rarely dull, and he has already scooped two "Fight of the Night" awards during his six matches in the UFC.
The possibilities are magical as to what he could achieve in the gimmick matches designed for high-flyers such as TLC and Elimination Chamber bouts and he would certainly be a thrilling addition to the WWE roster.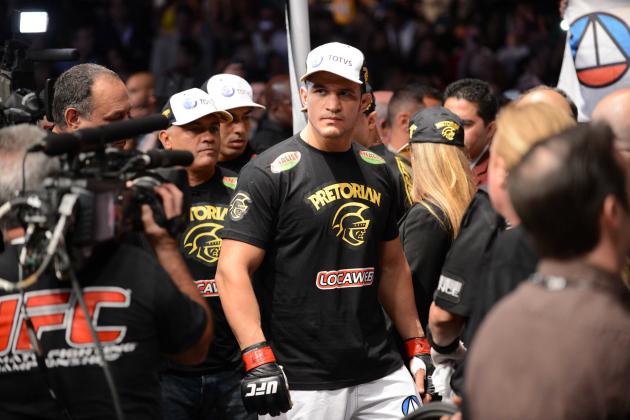 Ron Chenoy-USA TODAY Sports

UFC Heavyweight champion Junior Dos Santos' character can be best demonstrated by the fact that he has anointed himself the moniker of being "the baddest man on the planet."
The Brazilian's dominance of the UFC's heavyweight division has been spectacular, and his height, physique, intensity and confidence are credentials that would certainly fit within WWE.
Dos Santos is a black belt in Brazilian Jiu-Jitsu and his boxing style may not integrate well with the WWE style, but as proven by The Great Khali, David Otunga and Vladimir Kozlov in the past, that probably wouldn't matter.
Vince McMahon is notoriously known for his fondness of large, muscular superstars, and in Dos Santos he has the perfect package.
His intimidating, commanding presence is similar to that of Brock Lesnar's, and if given a manager in the vein of Paul Heyman he would become a big time player in WWE.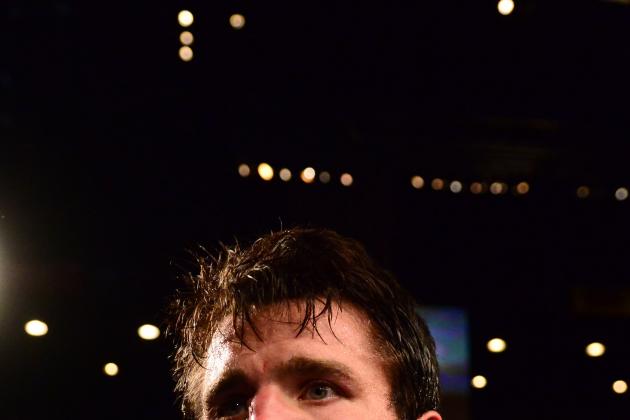 Mark J. Rebilas-USA TODAY Sports

While the Diaz brothers' remarkable brashness offers terrific entertainment, few can throw down in a verbal battle better than Chael Sonnen.
"The American Gangster" is arguably the greatest trash-talker in MMA history, and he has developed into one of the top box office draws for the UFC.
On the microphone, he is controversial, unpredictable and unwavering, but he is also an immensely talented wrestler, and out of all of the stars in the MMA world, few would probably adapt to WWE life better than Sonnen.
He came as close as anyone to ending Anderson Silva's six-year UFC Middleweight championship reign at UFC 117, and he is now preparing for a UFC Light Heavyweight title showdown with Jon Jones in 2013.
I believe even the most devout of MMA fans would struggle to deny that Sonnen would thrive in WWE, such is his composure and wit on the mic, which is at a level that few current WWE superstars are anywhere near.
In many ways, he is the UFC's mirror image of CM Punk, and his technical ability would theoretically make for one heck of a feud with the current WWE champion.
His history of amateur wrestling is spectacular, and while there are sadly no remote signs on the horizon that he has the faintest of interest in a switch to the pro wrestling world, a move would inevitably revolutionise the WWE as we know it.
At the risk of repeating myself, again these slides are merely opinions on who I believe could make the switch between MMA and WWE and I am by no means acting as an agent to engineer any moves. I certainly don't have that kind of power. Not just yet anyway.
For those that stuck around, thank you very much for reading my opinions. I welcome your thoughts and comments below and I am on that Twitter thing @JWoodfield365.