Chicago Bears: 5 Players to Watch in Week 16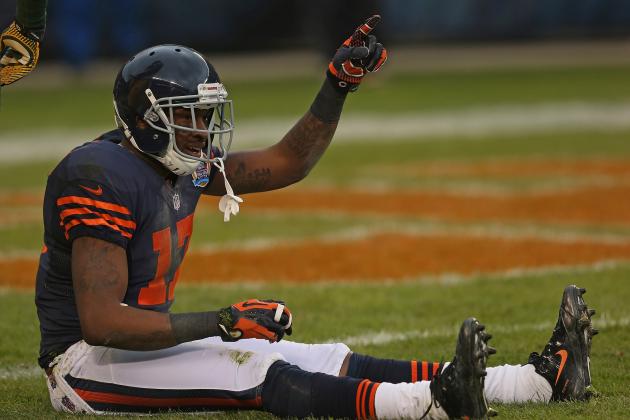 Jonathan Daniel/Getty Images

After starting the season 7-1, the Chicago Bears have been in a free fall, winning just one game in their last six.
The offense has continued to sputter while, not as dominate as it was earlier in the season, the defense continues to put the team in a position to win. With just two games left, the Bears will likely need to win out and have some help along the way if they want to get in to the playoffs.
The Arizona Cardinals were once 4-0 but also started to free fall, losing nine straight games before defeating the Detroit Lions last Sunday. This will be the first matchup between these teams since 2009, where the Kurt Warner-led Cardinals beat the Bears, 41-21.
Here is my list of five players to watch this Sunday:
Begin Slideshow

»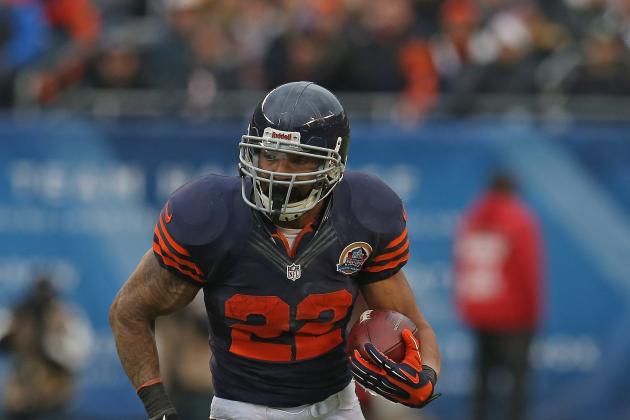 Jonathan Daniel/Getty Images

Despite being one of the best pass defense teams in the league, the Arizona Cardinals have struggled against the run. They currently sit 28th in the league in rushing yards allowed per game with 136.5.
The Bears have struggled to get the running game going this season, but through his 13 games played this season, Matt Forte has 903 yards rushing on 212 attempts (4.3 yards/attempt) and three touchdowns.
With backup Michael Bush placed on injured reserve and the re-signing of Kahlil Bell (h/t ESPN), much of the workload in these final two weeks will be placed on Forte's shoulders.
Forte has struggled at getting to the outside, and some of that can be attributed to the poor play along the offensive line, but he will need to do better at that this Sunday if the Bears want a chance to win. The Cardinals front seven has loads of talent, but they have struggled to take control of the line of scrimmage in the running game.
Expect the Bears to feed Forte the ball early and often in order to set a tempo and to allow quarterback Jay Cutler to take chances with the ball downfield out of play action.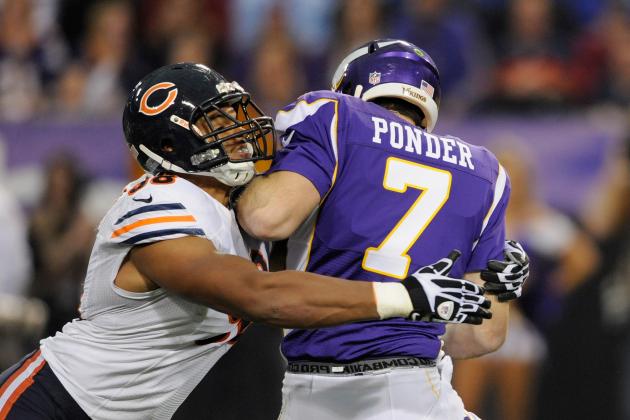 Hannah Foslien/Getty Images

Once only known for being the guy whose sack virtually ended Brett Favre's career, Corey Wootton has shown he has the tools to be an effective starting defensive end.
In the previous two seasons, he had been hampered by injuries that only allowed him to play in 13 games, registering just that one sack.
He has been healthy this season, and through the team's 14 games, he has registered seven sacks, including one and half of Aaron Rodgers last Sunday.
The Cardinals offensive line is beat up, and Wootton will likely face rookie Bobbie Massie, who has surrendered 13.5 sacks this season. Their offensive line has allowed the most sacks this season, and it should be a field day for the Bears front seven.
Wootton still has a lot to work on but has improved in stopping the run. He will have to try to not to be overaggressive against Massie, as he has a tendency to rush too far up field, allowing plays to happen behind him.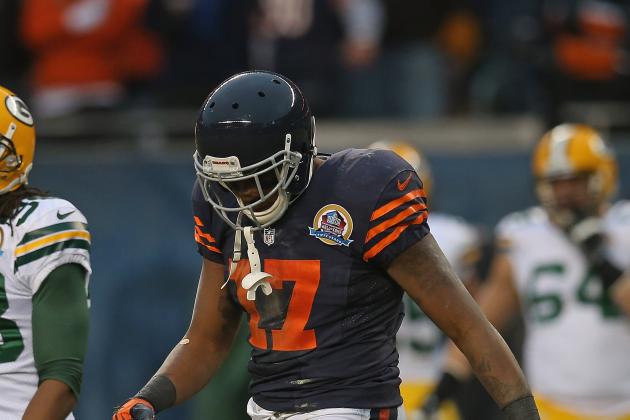 Jonathan Daniel/Getty Images

This past Sunday, with the Green Bay Packers blanketing top receiver Brandon Marshall, rookie Alshon Jeffery got his opportunity to be a game changer.
He was targeted four times by quarterback Jay Cutler, had no catches and was called for three offensive pass interference calls. Jeffery struggled to get separation from cornerback Sam Shields, and his physical play and shoves resulted in the penalties.
The Cardinals pass defense this year has been stout, allowing just under 200 yards per game, good enough for fourth best in the league. Pro Bowler Patrick Peterson will get the tough assignment against Brandon Marshall, leaving William Gay to match up against Jeffery.
Gay has had his share of ups and downs this season but has hauled in two interceptions as well as two pass deflections. Jeffery's biggest problem last week was his inability to create separation, and he will have to be more physical at the line of attack to help him create separation. If he needs to create more separation when downfield, he will need to limit the length of his push off and to not overextend his arms.
The Cardinals will do their best to shut down Marshall, which should open up an opportunity for Jeffery to once again get single coverage, and with so much riding on this game, he will need to come up big.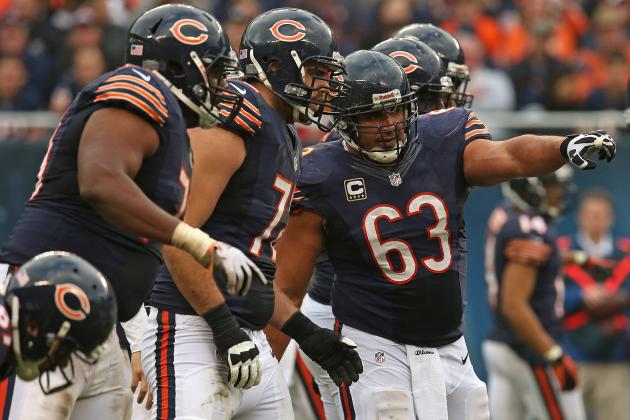 Jonathan Daniel/Getty Images

The Bears offensive line has been like a game of musical chairs this season with various parts moving in and out of the lineup. Gabe Carimi was once the starter at right tackle, benched for veteran Jonathan Scott and then moved to right guard following an injury to Lance Louis.
Sunday against the Packers, Carimi was replaced by Chris Spencer, then an injury to Scott forced Carimi back in at right tackle.
Did you follow all of that?
It is no doubt that this offensive is the weakest group on this team, and it is still unclear who will be starting at right tackle this Sunday against the Cardinals. Whoever does get that opportunity will be matched up against one of the best 3-4 defensive ends in the game, Calais Campbell.
Campbell has the perfect combination of size and speed, does a good job of getting pressure on the quarterback and is even better at setting the edge in the running game.
Scott or Carimi will have to do a good job of sealing the edge on him in the running game, and expect the Bears to help them with either a tight end or a chipping running back in the passing game.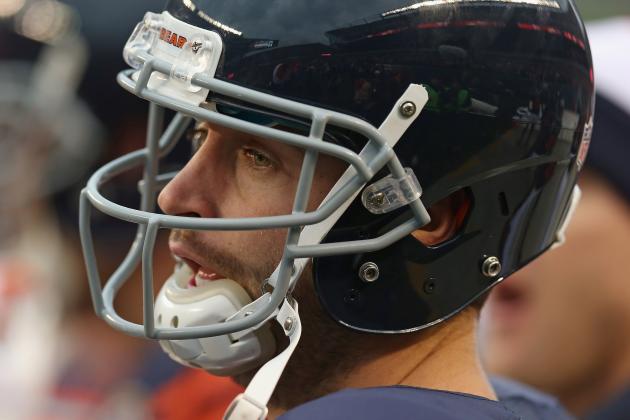 Jonathan Daniel/Getty Images

Week after week, quarterback Jay Cutler continues to get beaten up by opposing defenses, but he generally shakes it off and makes his way back out onto the field.
He has proved he has the ability to make all of the toughest throws on the field but mental lapses and a lack of talent around him makes it hard to truly judge his abilities. With two games left and still a chance to make it to the playoffs, these next two weeks will go a long way in proving what kind of quarterback Cutler really is.
The Cardinals will try and shut down Marshall and force Cutler and his other receivers to beat them. If there was ever a time for him to step up, this Sunday will be it.
The Cardinals are tough against the pass, and he will likely still get his fair share of balls to Marshall but will need to rely more on getting the ball to Matt Forte out of the backfield and Alshon Jeffery on the outside.

Expect them to try to roll Cutler out more, which he appears to be more comfortable in doing, and to use short passes down the field to help open up big plays down the field.