Grading Each of the Philadelphia Phillies' Last 25 Free Agent Classes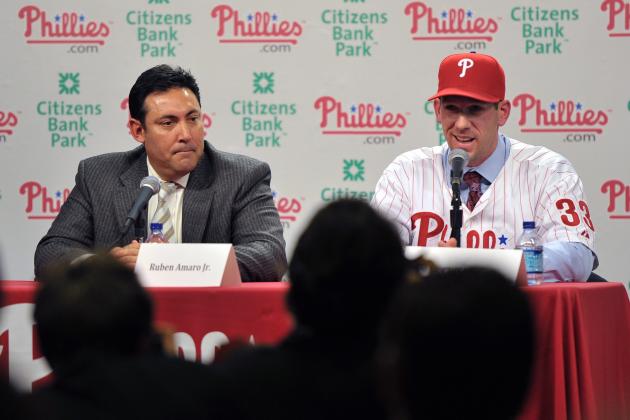 Drew Hallowell/Getty Images

It has been an offseason of going against the grain for Ruben Amaro Jr. and company, leaving fans of the Philadelphia Phillies thinking, "That's a solid move, but there's more, right?" Amaro has made this team look different, but have they improved?
Moreover, has this team improved through free agency the way that we thought it would? After all, when the 2012 regular season came to an end, that was where it seemed as though this club would do its heavy hitting.
They needed a center fielder and there were plenty of free agents available. Instead, they made a trade for Ben Revere. There were a few third basemen available, but they swung a trade with the Texas Rangers for Michael Young.
In fact, this offseason's haul of free agents, though possibly incomplete, is a little underwhelming. It doesn't tell the entire story of their winter by any stretch, but for a team that looked like it was going to fill nearly all of its needs on the free agent market, to walk away with pitchers Mike Adams and John Lannan is intriguing, to say the least.
Then again, the free agent market is a fickle mistress, especially in the history books as told by the Phillies. This is a team that has landed huge free agent hauls (Cliff Lee) and one that has been ridiculed for some of the worst moves of all-time (Adam Eaton).
So how does this free agent haul stack up against the rest? With the Phillies on the verge of making just a couple of free agent signings in a year where they were expected to make a bit of a splash, I thought that now would be a good time to take a look at their last 25 free agent classes.
Each class will be graded as a whole, but players will be analyzed on an individual basis. Players will only be eligible for this list if they were signed as a free agent during the offseason. On a similar note, we will only be analyzing "notable" free agent signings. That is to say that only players who made noticeable contributions at the MLB level will be analyzed, unless otherwise noted.
*Wins Above Replacement statistic is courtesy of FanGraphs, and divided into "batting" and "pitching" accordingly.
Begin Slideshow

»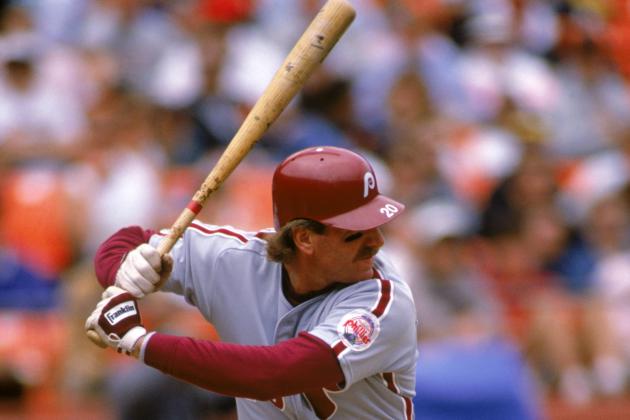 Otto Greule Jr/Getty Images

Grade: C
Notable Free Agents: Tom Herr, Randy O'Neil, Mike Schmidt, Larry McWilliams,
Notable Free Agents' Total WAR This Season: 4.1
Believe it or not, this was a solid haul of free agents. A lot of their production is blurred because the Phillies, as a whole, were just not a good team in the late 1980s and early in the 1990s, as we'll see over the course of the next few slides.
The least productive player of this group was actually Mike Schmidt, who was on his last leg. The Phillies brought him back for one last hoorah, but he couldn't even make it through the regular season.
Tom Herr proved to be one of the club's most reliable position players while Randy O'Neil and Larry McWilliams helped to solidify the bullpen, appearing in a total of 60 games.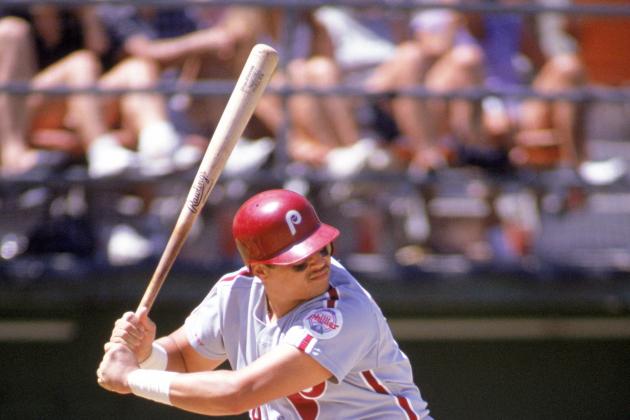 Stephen Dunn/Getty Images

Grade: F
Notable Free Agents: Carmelo Martinez, Rod Booker
Cumulative WAR: 0.2
The 1989 season had made it painfully obvious that the Phillies were not going to be competing any time soon, complete with the retirement of the greatest player in the history of this franchise, Mike Schmidt.
The following offseason was addressed accordingly. The Phillies' only notable free agent signings were a pair of bench players, Carmelo Martinez and Rod Booker.
Martinez, a first baseman, actually had a solid season, hitting eight home runs. Any free agent value was nearly negated by Booker, however, who struggled terribly offensively.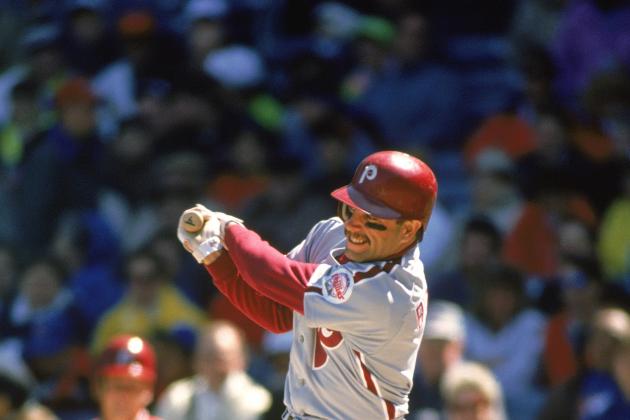 Jonathan Daniel/Getty Images

Grade: F
Notable Free Agents: Danny Cox, Wally Backman
Notable Free Agents' Total WAR This Season: 0.5
After another dead-end season the year before, the Phillies once again spent very little money in free agency the following winter, addressing a pair of small holes.
Danny Cox was the bigger name. He stepped into the starting rotation and emerged as the club's fourth starter, though he won a total of just four games in '91.
Wally Backman, meanwhile, was somewhat of a utility player for the Phillies, spending a majority of the '91 season at second base. He posted a strong on-base percentage but struggled in most other areas, resulting in a below replacement level (-0.1) season.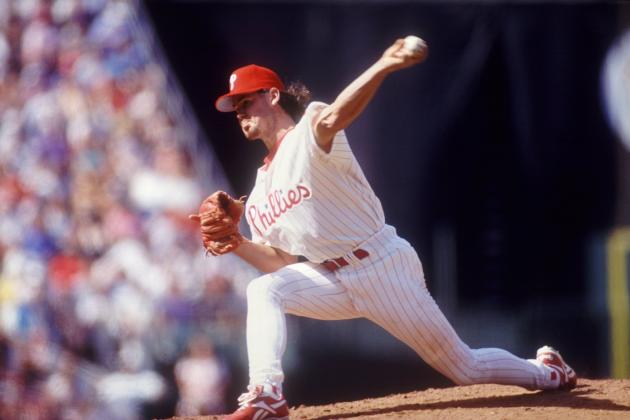 Getty Images/Getty Images

Grade: D
Notable Free Agents: Mariano Duncan, Mitch Williams, Greg Mathews
Notable Free Agents' Total WAR This Season: 0.5
Mitch Williams, who re-signed with the Phillies as a free agent during the 1992 offseason following a trade in a previous winter, did not have the best season of his career in '92 by any stretch of the imagination. In fact, both he and Greg Mathews were below replacement level players this season.
The man that kind of single-handedly saved this free agent class was Mariano Duncan, who became the starting left fielder. He did not have a spectacular season, but he was a solid defender and hit eight home runs for a bad club.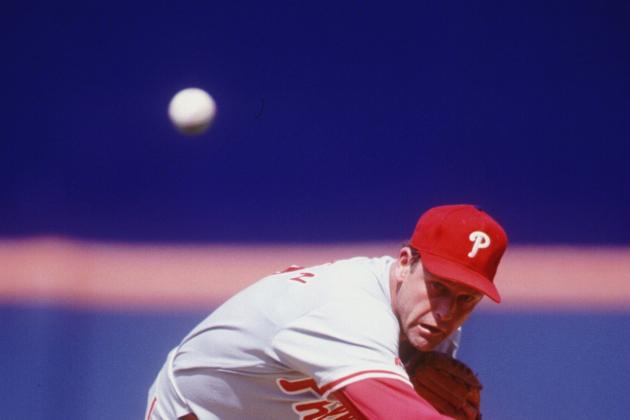 Gary Newkirk/Getty Images

Grade: B+
Notable Free Agents: Pete Incaviglia, Milt Thompson, Larry Andersen, Jim Eisenreich
Notable Free Agents' Total WAR This Season: 7.1
This was the first free agent haul that worked out well for the Phillies in quite a long time and it should come as no surprise that they would be heading back to the postseason as a result. What was once thought of as a bunch of scrubs became National League Champions.
Jim Eisenreich, Milt Thompson and Pete Incaviglia played no small role in that. Thompson and Incaviglia formed a strong platoon in left field that provided quite a bit of offense while Eisenreich was a signing firing on all cylinders in right field.
Larry Andersen, now in his second tour of duty with the Phillies, gave the bullpen some depth and a bit of veteran experience (as well as a practical joker).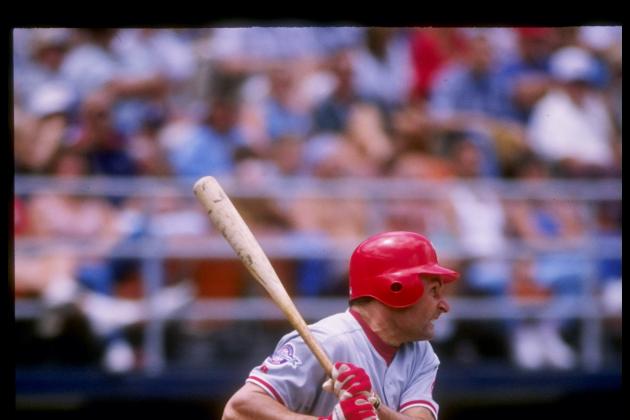 Stephen Dunn/Getty Images

Grade: C
Notable Free Agents: Jim Eisenreich
Notable Free Agents' Total WAR This Season: 1.3
After a storybook run at a World Series title for the Phillies in 1993, the following year was stained by a labor strike that cut into a large portion of the regular season. As a result, the Phillies did not complete many offseason transactions.
The one notable move that the club did make was to re-sign outfielder Jim Eisenreich, who had been an offensive force for them in '93. While he wasn't as good in '94, it was still a quality transaction for the Phils.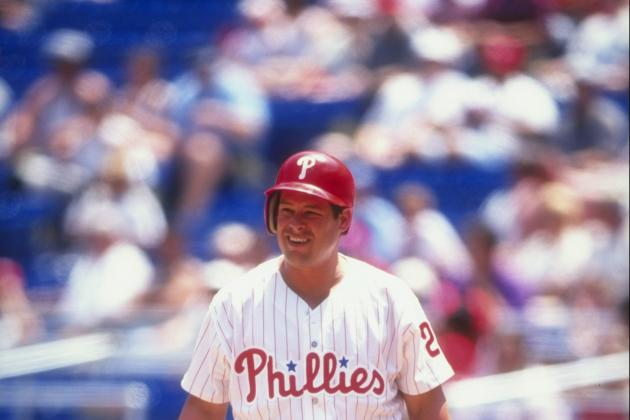 David Seelig/Getty Images

Grade: D
Notable Free Agents: Kyle Abbott, Gregg Jefferies, Norm Charlton
Cumulative WAR: 1.3
During the 1995 offseason, the Phillies swung and missed on a pair of pitchers, and some would argue that they swung and missed on the offseason as a whole.
Kyle Abbott and Norm Charlton were a pair of relievers who made little impact on the bullpen. The pair won a total of four games and combined, were below replacement level. They didn't cost much, but they didn't produce much either.
The big signing from this offseason was the four-year deal that the club shelled out to Gregg Jefferies. He was solid at the plate in '95, but was clearly never going to live up to the lofty potential they created for him. He would be traded before his contract with the Phils expired.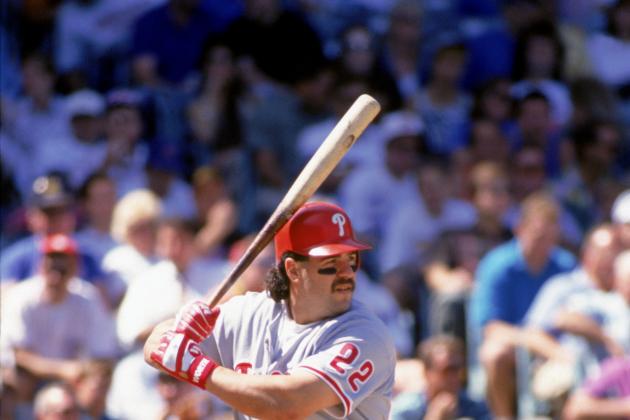 Jonathan Daniel/Getty Images

Grade: B+
Notable Free Agents: Sid Fernandez, Jim Eisenreich, Pete Incaviglia, Curt Schilling, Todd Zeile, Dave Leiper, Benito Santiago, Steve Frey, Terry Mulholland
Notable Free Agents' Total WAR This Season: 14.5
Admittedly, I am probably a bit more positive about this offseason than I should be. The first few seasons following the 1993 campaign were downright depressing for most Phillies fans and 1996 would eventually become the proverbial "nail in the coffin."
But I'm an eternal optimist. The Phillies added a ton of value in this class, especially in re-signing Curt Schilling. He, Sid Fernandez and Terry Mulholland would be the three most valuable pitchers on the roster in '96, while Dave Leiper and Steve Frey were below replacement level.
On the other side of the ball, Jim Eisenreich was the most valuable offensive player and Benito Santiago was right behind him. Todd Zeile and Pete Incaviglia were both everyday players with positive impacts on the lineup as well.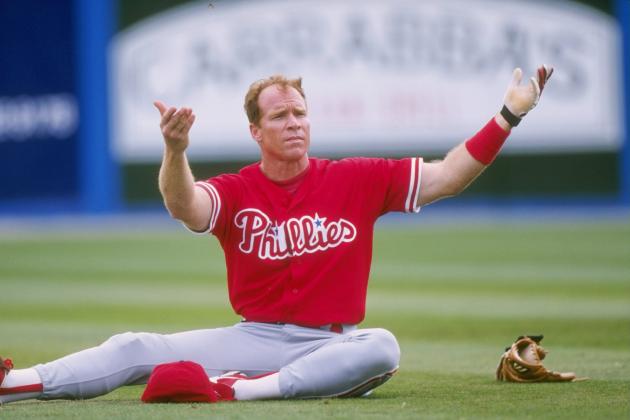 Rick Stewart/Getty Images

Grade: D-
Notable Free Agents: Tony Barron, Erik Plantenberg, Rex Hudler, Jerry Spradlin, Mark Parent, Mark Leiter, Reggie Harris, Derrick May, Danny Tartabull
Notable Free Agents' Total WAR This Season: 3.1
1997 was the year where the you-know-what kind of hit the fan for the Phillies. Now, 1993 was a distant memory and a barren farm system coupled with an ownership group unwilling to spend money spelled disaster for this club.
During the '97 offseason, the front office made a bunch of moves that backfired, the biggest of whom was Danny Tartabull, paid about $3 million to play three games. Mark Parent and Derrick May were also players below replacement level.
The saving grace for this free agent class, if there was one, was that a few pitchers really helped to "solidify" what was a bad pitching staff. Erik Plantenberg, Jerry Spradlin, Mark Leiter and Reggie Harris all contributed a bit.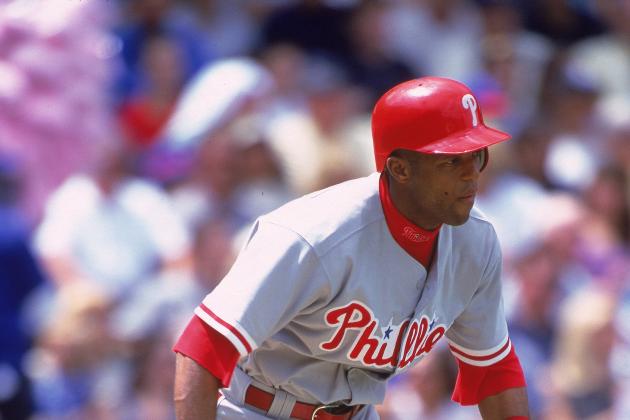 Jonathan Daniel/Getty Images

Grade: F
Notable Free Agents: Mark Lewis, Alex Arias, Yorkis Perez
Notable Free Agents' Total WAR This Season: 0.0
Even with players like Bobby Abreu and Scott Rolen in place, the Phillies were not going to be competitive in 1998 and their approach to the offseason certainly shows that.
The club's biggest free agent deal this offseason was with Mark Lewis, who would become the club's starting second baseman but provide negative value. Alex Arias was a more valuable player, but he spent most of the season riding the bench.
Of the trio with any measurable impact, Yorkis Perez was the most valuable. He was a left-handed specialist who had one of the best years of his career in '98.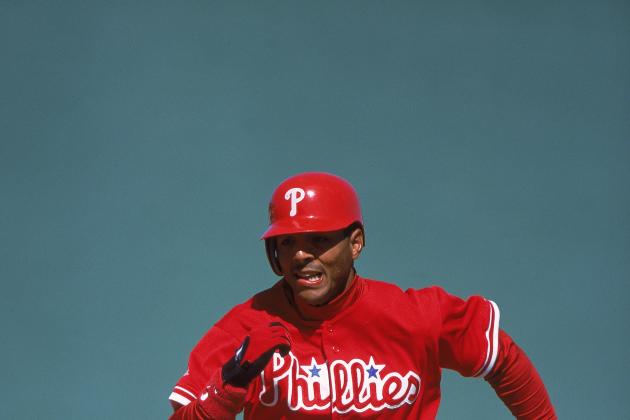 Scott Halleran/Getty Images

Grade: D+
Notable Free Agents: Steve Montgomery, Steve Schrenk, Billy Brewer, Jim Poole, Rob Ducey
Notable Free Agents' Total WAR This Season: 2.6
Finding pitching at the MLB level isn't easy and the Phillies helped prove that in 1999. During that offseason, the club made four agreements with pitchers—Steve Montgomery, Steve Schrenk, Billy Brewer and Jim Poole—none of whom had any kind of significant impact.
The best player signed that offseason was Rob Ducey, who received plenty of at-bats as a part-time player. He hit eight home runs that season and was easily the club's best bench player.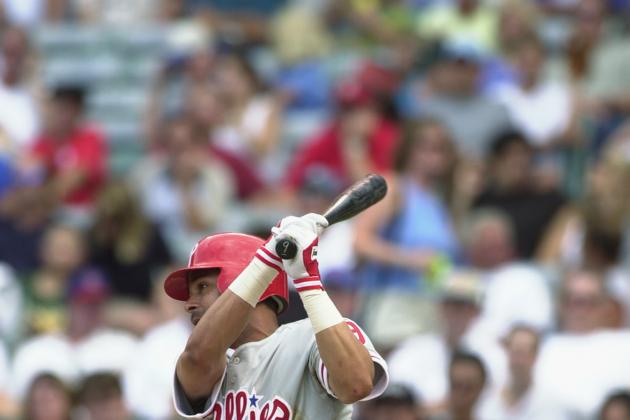 Jonathan Daniel/Getty Images

Grade: F
Notable Free Agents: Bryan Ward, Mark Holzemer, Jeff Brantley, Tomas Perez
Notable Free Agents' Total WAR This Season: -1.5
The turn of the century did not usher in a new era of free agent efficiency for the Phillies. In fact, it was just the opposite. The Phils continued their attempt to patch large holes with small fixes, which is not a recipe for success.
The club made three attempts to bolster their pitching staff with names like Bryan Ward, Mark Holzemer and Jeff Brantley, who believe it or not, was this team's closer. None of these pitchers had much of an impact on the club.
In the future, Tomas Perez would become a solid utility player for the Phillies, but in this first season, he was dreadful.
All in all, not a strong crop of free agents.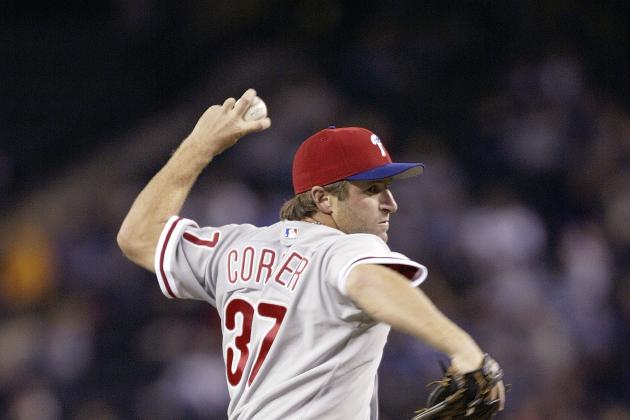 Otto Greule Jr/Getty Images

Grade: D
Notable Free Agents: Eddie Oropesa, Jose Mesa, Brian Hunter, Rheal Cormier, Ricky Botallico, Kevin Jordan
Notable Free Agents' Total WAR This Season: 2.3
Eventually, some of the moves that the Phillies made during the 2001 offseason would help out the club quite a bit, but the results were hard to see at first glance.
One of the areas of the club that the front office really tried to strengthen here was the bullpen. They went out and made a small splash by signing Jose Mesa to become the closer, and he would eventually become the club's all-time leader in saves.
Rheal Cormier, Ricky Botallico and Eddie Oropesa all had a small, if insignificant impact on the bullpen as well.
The club also signed Kevin Jordan and Brian Hunter to bolster their bench a bit. Jordan hit 13 home runs while Hunter put up a solid, all-around slash line.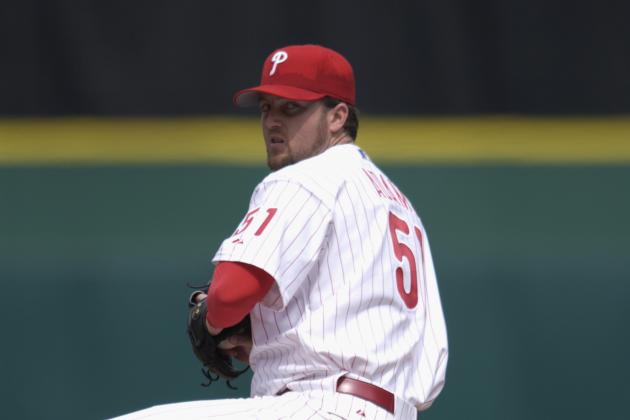 Ezra Shaw/Getty Images

Grade: C
Notable Free Agents: Todd Pratt, Ricky Bottalico, Terry Adams, Ricky Ledee
Notable Free Agents' Total WAR This Season: 3.9
Another year, another underwhelming free agent haul for the bottom feeding Phillies. At least, that's what you would think reading that group of names, but these players were all solid signings in 2002.
The most valuable player of the group was relief pitcher Terry Adams, who along with Ricky Bottalico, helped to bring some consistency to the Phils' bullpen. Adams also made 19 starts for the Phillies in '02.
Todd Pratt, who had signed with the Phillies in the offseason, would become the club's backup catcher for quite a few seasons while Ricky Ledee would prove to be one of the team's more consistent bench players.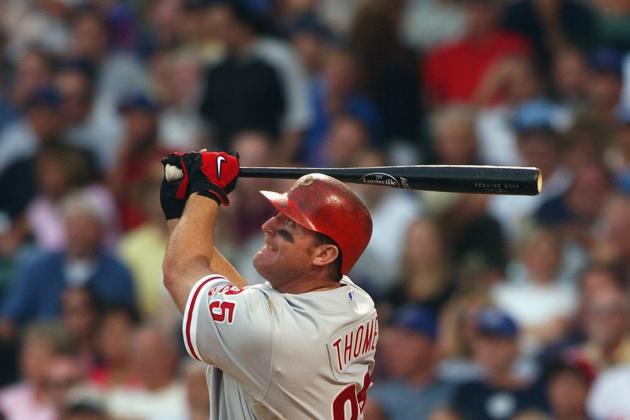 Jonathan Daniel/Getty Images

Grade: B-
Notable Free Agents: David Bell, Jim Thome, Dan Plesac, Terry Adams, Amaury Telemaco, Todd Pratt
Notable Free Agents' Total WAR This Season: 8.5
Hello, relevancy.
With a brand new ballpark less than a year away and a whole slew of top prospects pushing through the minor league system, the Phillies made one of their biggest free agent splashes in 2003 when they signed a pair of offensive threats in Jim Thome and David Bell.
Of course, Thome was a game-changer. The Phillies threw a ton of money at him in hopes that he would bring fans back to the park, and he did. Bell was a disappointment, especially in '03, and the Phillies overpaid for him, but he had his moments.
The rest of this winter's free agent signings were valuable additions, albeit in a smaller way. After the way he had pitched out of the bullpen in 2002, the Phils made it a priority to bring back Terry Adams and he was good again. Dan Plesac joined him in the bullpen.
Amaury Telemaco made a handful of starts for the Phillies while Todd Pratt returned as the backup catcher.
I'm giving this haul a B- here and frankly, I think I'm being generous. While the Thome contract was a good thing in the long run, it was a risky business move that crippled the Phils' payroll for a while, and Bell was a bust.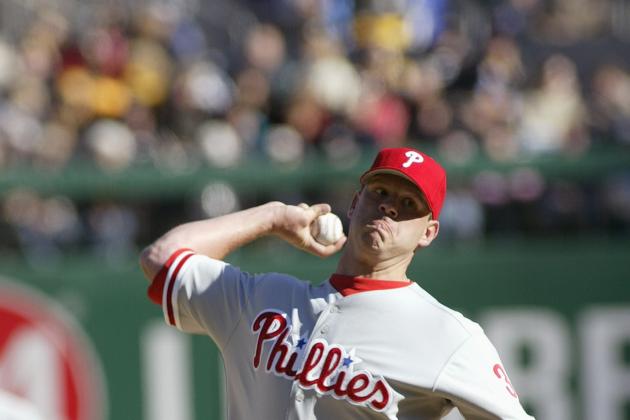 Rick Stewart/Getty Images

Grade: C
Notable Free Agents: Kevin Millwood, Todd Pratt, Tim Worrell, Roberto Hernandez, Doug Glanville
Notable Free Agents' Total WAR This Season: 3.2
The 2004 offseason turned out to be an interesting one for the Phillies because the most valuable player they signed during it—Kevin Millwood—wasn't even in their plans moving forward. Super agent Scott Boras represented the pitcher and was expected to have him seek a big payday. When that market never developed, Boras advised him to accept the Phillies' offer of salary arbitration, which he did.
So the Phillies wound up losing out on a compensatory draft pick and instead received a quality middle of the rotation pitcher at what, at the time, was considered a steep price.
But even then, Millwood's contributions make up the largest portion of this "C" grade. Doug Glanville had one of the worst seasons of his career and Todd Pratt was a backup catcher.
Tim Worrell and Roberto Hernandez helped out in the bullpen, but neither made much of a significant impact. In fact, Hernandez's contributions were considered below replacement level.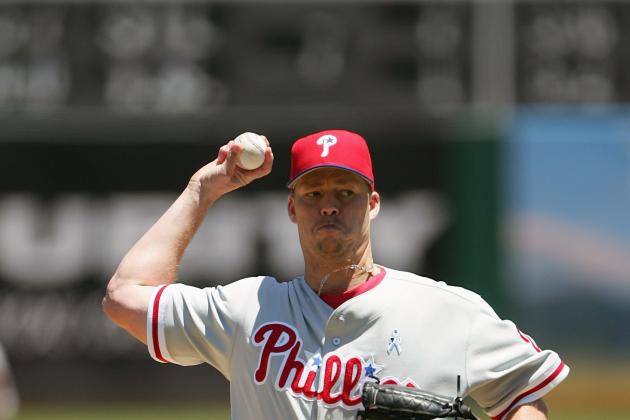 Jed Jacobsohn/Getty Images

Grade: B+
Notable Free Agents: Corey Lidle, Rheal Cormier, Todd Pratt, Jon Lieber, Placido Polanco, Geoff Geary
Notable Free Agents' Total WAR This Season: 9
This list doesn't have many free agent crops where the Phillies don't make some kind of ridiculous deal with a free agent and suffer the consequences because of it. This is one of the rare occasions where they made a bunch of fair deals and benefited from them.
The Phillies bolstered their pitching staff by agreeing to terms with Corey Lidle and signing Jon Lieber as a free agent. That duo combined for 30 wins in the starting rotation. While Rheal Cormier had a down year in the bullpen, Geoff Geary was a solid addition.
Todd Pratt agreed to another one-year deal as the club's backup catcher and the Phillies and Placido Polanco worked out their arbitration issues, though they'd eventually deal Polanco to the Detroit Tigers to make way for Chase Utley.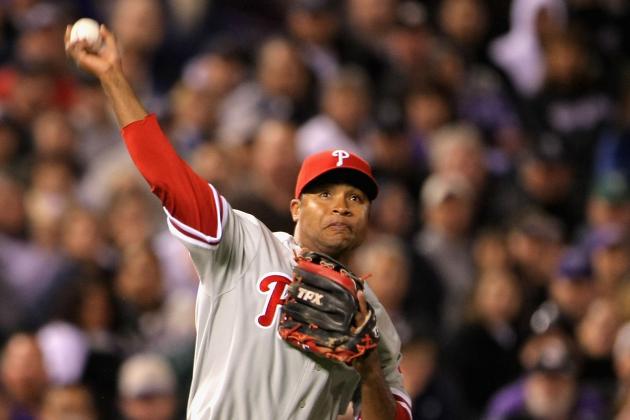 Doug Pensinger/Getty Images

Grade: F
Notable Free Agents: Clay Condrey, Chris Coste, Abraham Nunez, Tom Gordon, Ryan Franklin
Notable Free Agents' Total WAR This Season: 0.5
After making a few quality signings a year earlier, the Phillies turned around and shot themselves in the foot (with a big gun) during the 2006 offseason.
With a solid lineup taking shape, the goal of this offseason was to add to the pitching staff, primarily, the bullpen. The Phillies took shots on guys like Tom Gordon, who signed a three-year deal, and Ryan Franklin, and neither panned out.
Gordon spent a ton of time on the disabled list during his stint with the Phillies and both pitched poorly in Philly. Another addition to the bullpen was Clay Condrey, who didn't have enough of an impact to erase the damage done by guys like Gordon and Franklin.
Offensively, Chris Coste was a pleasant surprise as the "33-year-old rookie," but any value that he provided in this free agent crop was essentially vaporized by Abraham Nunez, who was absolutely dreadful in 2006.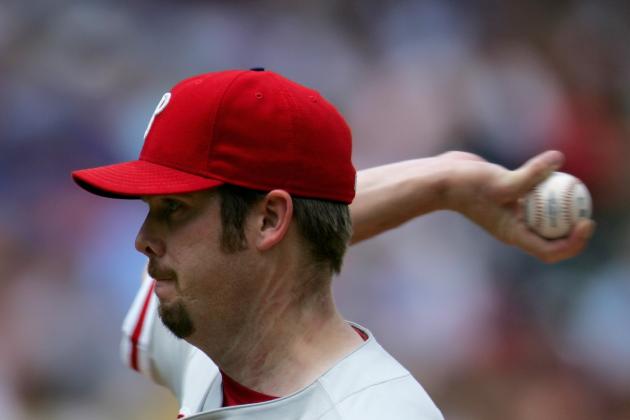 Doug Pensinger/Getty Images

Grade: D-
Notable Free Agents: Wes Helms, Adam Eaton, Jayson Werth, Rod Barajas, Antonio Alfonseca
Notable Free Agents' Total WAR This Season: 3.1
I really wanted to give this offseason a higher grade because I truly believe that plucking Jayson Werth off of the scrap heap was one of the greatest transactions this organization has ever made, but my goodness, the names and wasted dollars from this offseason.
Of course, the elephant in the room is Adam Eaton. He made a career out of being mediocre on the mound before the Phillies—who originally drafted him—threw three-years and $24 million at him. I think we all know how that story ended.
In fact, all of the names on this list that aren't "Jayson Werth" were busts. Wes Helms had a dreadful year at third base while Rod Barajas turned himself into one of the most hated men in the city of Philadelphia.
Antonio Alfonseca was a below average reliever that year and, truth be told, I almost forgot that he even played for the Phillies.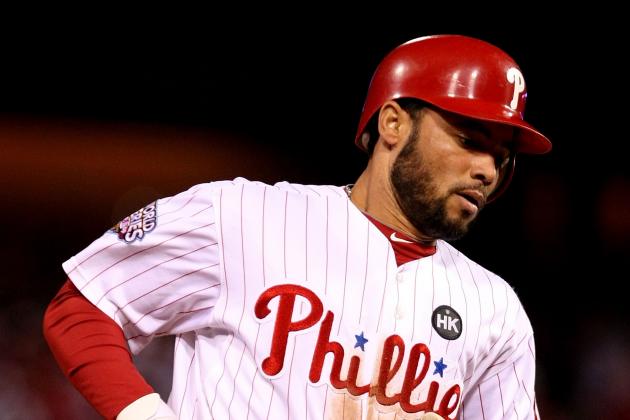 Al Bello/Getty Images

Grade: B-
Notable Free Agents: J.C. Romero, Chad Durbin, Geoff Jenkins, So Taguchi, Pedro Feliz, Rudy Seanez
Notable Free Agents' Total WAR This Season: 3
This offseason's haul of free agents could effectively be categorized under "The Good, the Bad and the Ugly."
The Phillies came into the offseason with a few specific needs that year, the biggest of which was finding a third baseman. Pedro Feliz never lived up to his potential offensively, but did play a Gold Glove-caliber defense for the Phils. Meanwhile, J.C. Romero and Chad Durbin helped form the strong bullpen that would become known as the "Bridge to Lidge." They were the "good."
Geoff Jenkins was the "bad." The Phillies signed him to a two-year deal hoping that he could play every day, but his role quickly devolved into a platoon with Jayson Werth, who eventually stole the job all together.
So Taguchi and Rudy Seanez were the "ugly." The Phillies had signed Taguchi in hopes that he could fill the same role for them as he did with the St. Louis Cardinals—solid defender who could help out off of the bench, but he was dreadful. As was Seanez, a reliever who never really helped out. Both were below replacement level.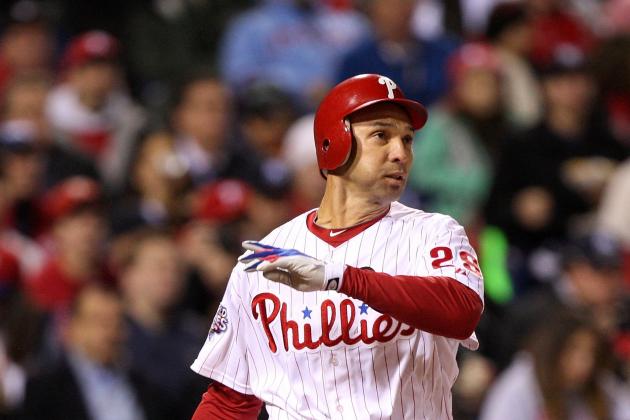 Jed Jacobsohn/Getty Images

Grade: B-
Notable Free Agents: Raul Ibanez, Jamie Moyer, Chan Ho Park, Miguel Cairo
Class WAR This Season: 6
Fresh off of a World Series victory in 2008, the Phillies had some work to do during the 2009 offseason. The biggest fish to fry was finding a replacement for Pat Burrell in left field, and as the options dwindled, new general manager Ruben Amaro Jr. made his choice: Raul Ibanez.
Ibanez was signed to a three-year deal that pundits believed to be for too long and too much. As it turns out, they were right. Ibanez played his best baseball during the first half of the first season of that contract and never really lived up to the rest of it.
It turned out to be a bad deal, but Ibanez was productive during the '09 season.
Another questionable move came when Amaro decided to re-sign Jamie Moyer, who had led the pitching staff in wins in 2008. The aging starting pitcher received a two-year deal and had to have Tommy John surgery in year two. Not one of Amaro's best decisions.
But in his first season as a general manager, Amaro also made a couple of shrewd moves in bringing Chan Ho Park and Miguel Cairo aboard. When he failed as a starter, Park became one of the club's best relievers and Cairo filled a bunch of holes in the infield when regulars started dropping like flies.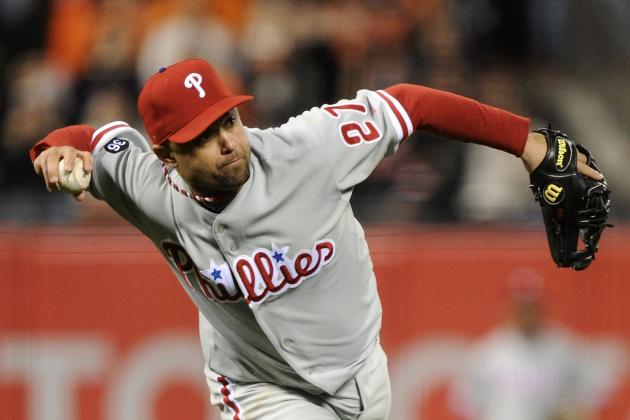 Harry How/Getty Images

Grade: C-
Notable Free Agents: Wilson Valdez, Juan Castro, Brian Schneider, Placido Polanco, Ross Gload, Danys Baez, Jose Contreras
Notable Free Agents' Total WAR This Season: 1.5
Having made most of their big splashes in the trade market, the Phillies' biggest goal to accomplish on the free agent market during the 2010 offseason was to find a third baseman, and that would eventually be Placido Polanco.
Polanco was solid in the first year of his contract and played above average defense throughout, but critics believed that Ruben Amaro Jr. had overpaid for yet another free agent, and he did. Polanco's offense and health declined dramatically in the later years of his deal.
The Phillies' next goal was to strengthen their bench, and they did, adding Wilson Valdez, Brian Schneider and Ross Gload. Schneider became a solid backup catcher and both Valdez and Gload were valuable bench players.
Jose Contreras, who did not have much experience as a reliever, turned out to be one of the club's best relievers while Danys Baez turned out to be one of the worst free agent deals in recent memory for this club.
This offseason was an interest one, and one that I'm not very high on. While both Valdez and Contreras turned out to be very valuable, Castro, Schneider, Polanco, Gload and Baez all declined over the life of their contracts.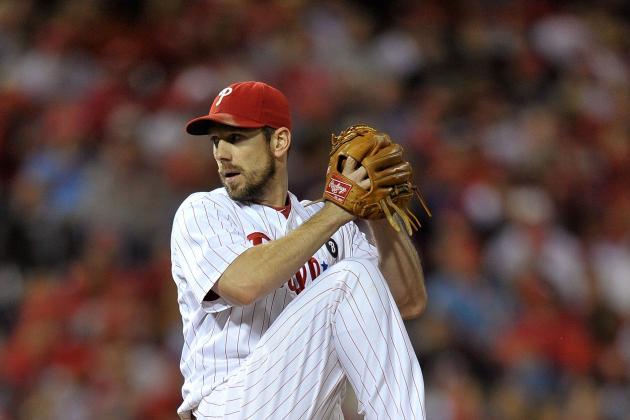 Drew Hallowell/Getty Images

Grade: A-
Notable Free Agents: Pete Orr, Jose Contreras, Juan Perez, Cliff Lee, J.C. Romero
Notable Free Agents' Total WAR This Season: 6.8
The Phillies' 2011 offseason can effectively be described in two words: Cliff Lee.
Even with the knowledge that Roy Halladay was coming to town as a result, trading Lee made Phillies fans miserable. So naturally, when they found out that Lee was not only returning to Philadelphia but leaving money on the table to do it, fans were ecstatic.
Now, was it a sound baseball decision? That's a little more difficult to answer. Through the first two years of his new deal, Lee has been an elite starting pitcher. He is earning a ton of money in order to do so, but early on in his deal, he has lived up to the expectations.
Can he continue to be an elite pitcher through his mid 30s? We'll have to wait and find out.
As for the rest of this class, there isn't much to talk about. Pete Orr and Juan Perez both proved to be quality depth signings while J.C. Romero played out his last days as a member of the Phillies.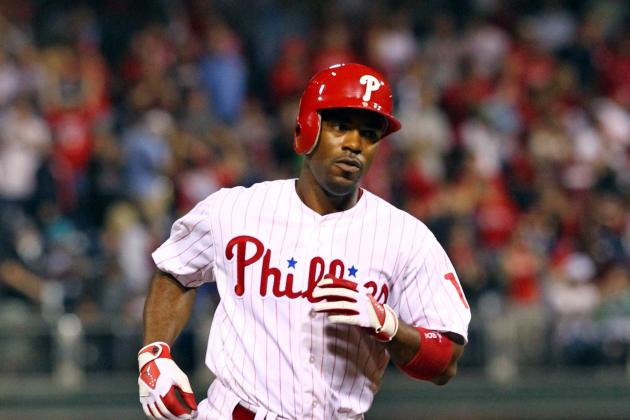 Hunter Martin/Getty Images

Grade: A
Notable Free Agents: Jim Thome, Raul Valdes, Jonathan Papelbon, Brian Schneider, Kevin Frandsen, Pete Orr, Laynce Nix, Jimmy Rollins, Juan Pierre, Chad Qualls
Notable Free Agents' Total WAR This Season: 9.3
Heading into the 2012 offseason, the Phillies had a few specific needs. They needed to replace the train wreck that had become Brad Lidge and determine whether or not to bring back Jimmy Rollins as their shortstop.
Filling that first need happened quickly. The Phillies made a splash by agreeing to a four-year deal with former Boston Red Sox closer Jonathan Papelbon, paying him $50 million. That's a ton of money for some consistency in the ninth inning.
The second need was filled later when the club re-signed Rollins to a three-year deal. It was a strong decision. Rollins plays an elite defense and has provided above average offensive production for a shortstop in the past, including above average power for the position.
The rest of the offseason's transactions were much smaller. Some worked (Raul Valdes, Kevin Frandsen, Juan Pierre) and others didn't (Jim Thome, Brian Schneider, Laynce Nix, Chad Qualls). Regardless, the Phillies had very little money tied up in those players and the ones that did pan out did so in a big way.
All in all, I'm giving this offseason's haul an "A." If you feel that the Phillies overpaid for Papelbon and can't bring yourself to agree, that's fine. After all, they did. But I personally feel as though the youth in the Phillies' bullpen allows them the luxury to splurge on a closer like Papelbon.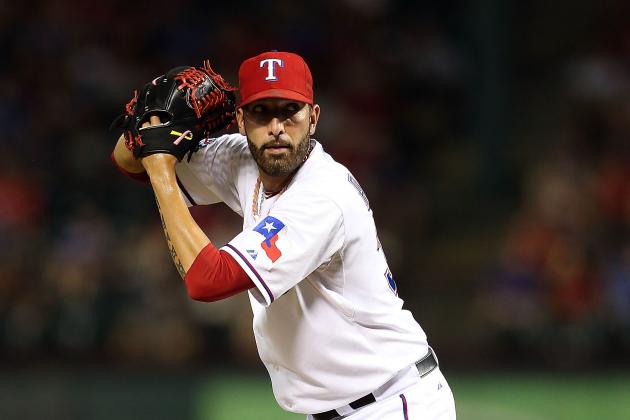 Ronald Martinez/Getty Images

Grade: N/A
Notable Free Agents: Mike Adams, John Lannan
Notable Free Agents' Total WAR This Season: TBD
It's interesting how an MLB offseason can play out. The Phillies were expected to fill all of their big needs this winter through free agency, including a center fielder, third baseman, corner outfielder and setup man. As it turns out, they only filled one of those needs on the free agent market.
After acquiring Ben Revere and Michael Young in trades, the Phillies made their lone "big" splashes on the free agent market by agreeing to sign setup man Mike Adams and starting pitcher John Lannan to deals.
It's obviously too soon to tell how they'll play out, but these are both solid decisions by the Phillies. Adams has been one of the game's top setup men for years and Lannan is a quality fifth starter guaranteed just $2.5 million.
All in all, savvy work by Ruben Amaro Jr.