Assessing Job Security for Every Member of the New Orleans Saints Coaching Staff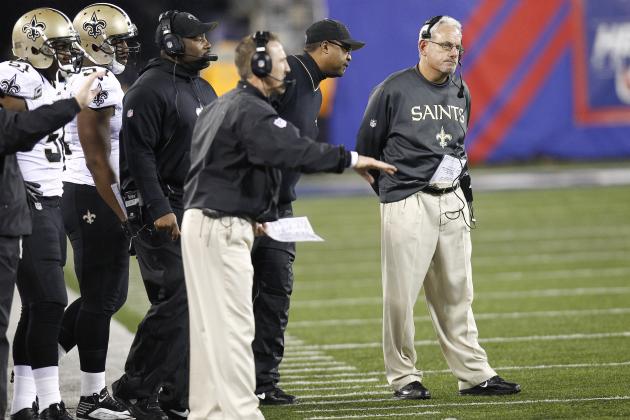 Jeff Zelevansky/Getty Images

It has been a tough year to be a New Orleans Saints coach, especially, if this happened to be your first year there in the "Big Easy."
We all know how difficult this season has been overall, so I won't go into details of why it has been a hard few months in NOLA. Mostly because anytime there is a broadcast featuring the Saints there's mention of the bounty, the four-game losing streak, blah, blah.
I am here to discuss which coaches on this current Saints staff should be gone, on the hot seat or safe in their suburban home.
Let's dive in, shall we?
Begin Slideshow

»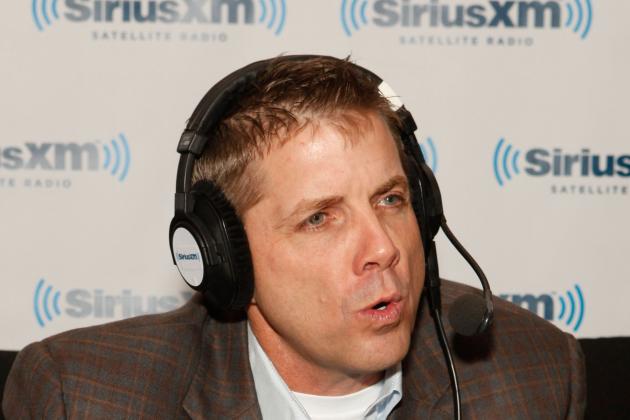 Cindy Ord/Getty Images

There is not much to write on Payton's "job security," so I won't waste too much of your time, but he still had to be included on this list.
Payton's security is what he wants it to be. If he wanted to make people panic in New Orleans, he would meet with Jerry Jones or some other owner, but if he was planning on staying in NOLA for a while, I don't know why he would even put that in the mind of Who Dat Nation.
So, Coach Payton will be safe, but he might have to part with some long-standing members of his staff.
Chris Graythen/Getty Images

I am going to make this analogy that I hope no one has thought of yet.
Joe Vitt is the Tim Tebow of NFL coaches.
He doesn't have the right mechanics to be a full-time head coach, but he makes it work and wins games—and, I mean, come on, who wouldn't want to play for this guy?
Sounds like someone justifying Tebow as their starting quarterback, huh?
Vitt might not be in your typical mold of coaches, but he gets things done and holds people accountable.
He shouldn't be going anywhere.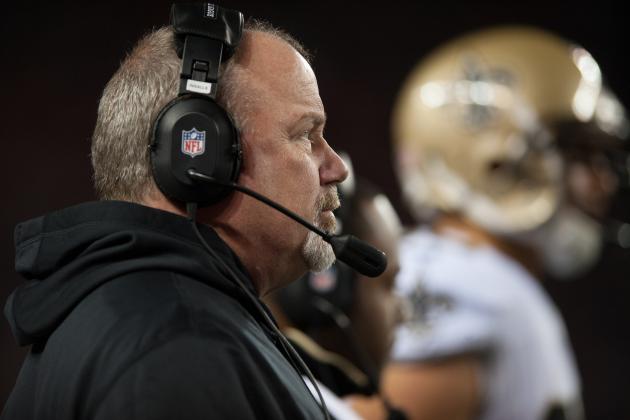 Dustin Bradford/Getty Images

When you're putting assistant coaches on the hot seat, you have to look at which positional groups, as a whole, have been disappointing and/or awful.
And this "lost" year might be just the opportunity to cut ties with some underperforming heads of units.
The secondary, defensive line and wide receivers have been among the units that have been on my crap list all season long, and I guess you can add special teams to that.
Greg McMahon, the team's ST coordinator, has to go. His unit has rarely put points up on the board, but is not afraid to give them up or big chunks of yardage. Every once in a while, a player will break one, but that is mostly on the player and less on McMahon's scheme.
Ken Flajole, who Steve Spagnuolo brought with him from St. Louis, has not made a positive influence on his unit. But since he was Spags' defensive coordinator with the Rams, I don't see him on the firing range. His unit has made strides recently, but he should work on getting more out of the talent he has there.
Bill Johnson, the team's defensive line coach, had been with Coach Payton and co. for years, but longevity should not dismiss the fact the Saints constantly rank in the bottom third of sack leaders and quarterback hurries. He should be shown the door with a guy he has kind of been joined at the hip with, Sedrick Ellis.
Last, but not least, we get to the great Henry Ellard, who is the head guy in charge of the receivers. Ellard might be a Hall of Fame receiver in his own right, but Curtis Johnson had this unit running like a finely tuned machine and not the drop factory it has become. Ellard won't be going anywhere, but he needs to be put on notice that his job is on the line if those guys don't improve.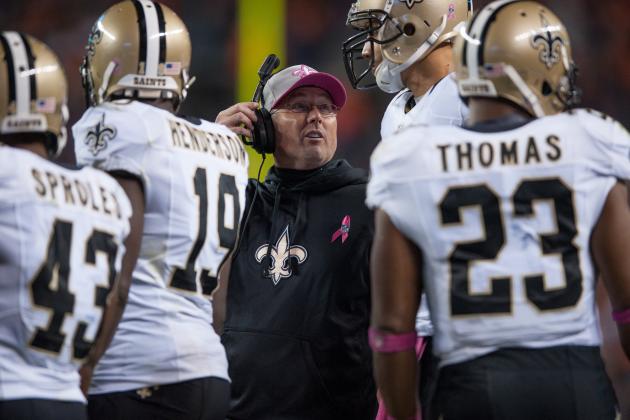 Dustin Bradford/Getty Images

This is a happier list, give or take, depending on what scowl is on Aaron Kromer's face right now.
You guys know what I am talking about.
Can someone please get Mr. Kromer some Pepto? Thanks, because he should not be worried about his job.
Now that he is focused on just the offensive line, they have improved increasingly with every passing week. There have been rumors of college head coaching possibilities for him, but I see him staying. I can't account for Pete Carmichael's mindset, though.
Carmichael has been a bit of hotter candidate to leave the team. His experience calling the plays on offense for the last year-and-a-half as well as his development of Drew Brees will all but sew him up a new opportunity somewhere, unless Payton talks him out of it.
Spagnuolo, on the other hand, is just glad to withstand the heat of having such a historically bad defense for much of the year to get another season in New Orleans. His schemes took a little longer to grasp for players than he would have liked, but, now that they have, wow, look out.
He has the players in the right positions to make plays, but now it's up to those guys making plays.