5 Reasons Radamel Falcao Will Not Be Joining Manchester City in January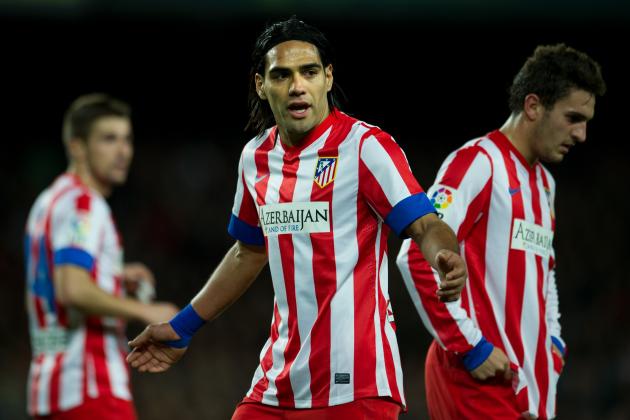 Jasper Juinen/Getty Images

Establishing a firm reputation as transfer market heavy hitters over the past four years, there's few players on this Earth considered to be out of Manchester City's far and expansive reach.
With the January opening just around the corner, now is the time where speculation hits boiling point and one of the particularly frequent talents to be linked with an Etihad switch is Radamel Falcao.
The Colombian star has carried on the scoring form he once enjoyed at Porto, carving out a successful story so far in his Atletico Madrid career, leading many to be interested in his services.
However, for all the pull in the world, Manchester City won't land the La Liga hitman this New Year, regardless of how hard they may try.
Begin Slideshow

»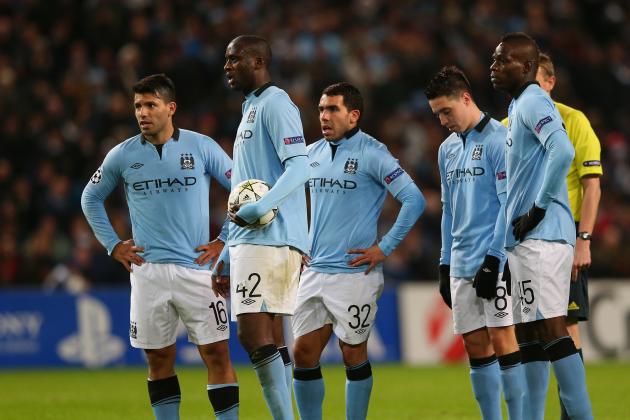 Alex Livesey/Getty Images

So far in his career, Falcao has had little to compete with in terms of squad ranks and has always found that his skill set means tactics being shifted to suit his style of play.
During his days at Porto, the focus was very much on getting the ball to their Colombian attacker through the avenues of Hulk, Alvaro Pereira, Raul Meireles and later Joao Moutinho and also Mariano Gonzalez.
With Atletico Madrid, the story is very much of a similar kind, except now it's Adrian Lopez, Arda Turan and Diego pulling the strings as potential supply routes.
In short, Falcao has always been "The Man" wherever he has played. If he were to move to moneybags Manchester City, Falcao would still be a talisman but more of a man playing amongst other focal points.
With Sergio Aguero, Carlos Tevez, Mario Balotelli, Edin Dzeko and not to mention the emerging ranks of John Guidetti and Denis Suarez at the Etihad Stadium, it's difficult to see where Falcao fits in.
Of course, should the Citizens sign the South American, Roberto Mancini would give him all the playing time he should desire, but the slightest dip in form would eventually be rewarded with omission.
Should he fail to acclimate to the English game, the striker could be out in the cold, something he's never experienced before.
As things stand, Radamel Falcao is the focus of his current side's attack and will continue to be so for some time, a sense of importance that every forward longs for.
While it may sound a tad drastic, to say a move to Eastlands is putting Falcao's career on the line is no overstatement.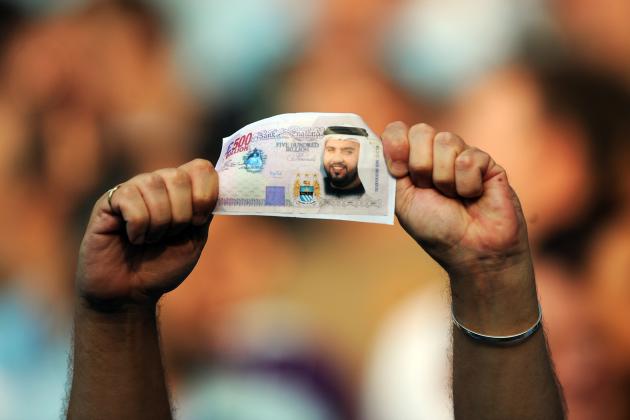 Shaun Botterill/Getty Images

Much like the title-referenced Notorious B.I.G once did, Arab-owned Manchester City have money—and lots of it at that.
That being said, the times they are a-changin', and the days of jaw-dropping expenditure at the Etihad could be numbered.
According to a recent BBC Sport report, 18 of 20 Premier League clubs (City and Fulham being the odd ones out) are in favour of new cost control policies in the English top flight.
Seeing as how only 14 clubs are required to approve of the revolutionary changes, it would certainly seem that a shift in how the English elite spend money is soon to take effect.
While such changes will be telling for "the little guy," clubs such as Manchester City—a club built largely on its spending structure—will undoubtedly feel this metamorphosis the most.
With Financial Fair Play looking likely to be implemented in the next two years or so, now is the time for clubs to begin preparation for a possible "break even policy," with City perhaps needing more attentiveness than others.
As Jeremy Wilson and Pete Jenson of the Telegraph detail, Falcao's sale is likely to only come about when a side triggers the Colombian's staggering release clause of £48 million.
Add on to that sum a likely salary of at least £200,000 a week, and the numbers swiftly start to amount to a transfer that perhaps doesn't fit in with the incoming sanctions.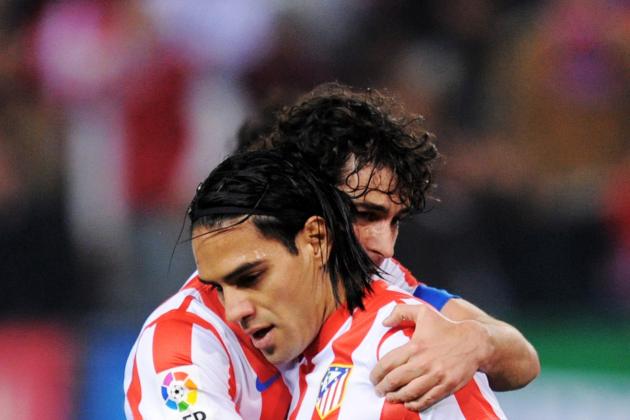 Denis Doyle/Getty Images

While I write this piece, Atletico Madrid sit second in the La Liga rankings, four points ahead of bitter rivals, Real Madrid, and nine points behind league leaders, Barcelona.
Given that we are yet to even pass Christmas, it's of course too early to start counting any chickens, but if all goes their way, Atleti will claim a top-two finish this season, the first time they will have done so since winning the division back in 1996.
Considering the iron grip upon the power distribution in Spain undertaken by Barça and Real in recent years, such an achievement is not to be underestimated and forms a major aspect of the way Spanish football is evolving should it come about.
It's without a shadow of a doubt that one can say Falcao has been a massive part of that movement, even going as far as to argue that without him such rapid growth would not have been possible at all.
It's this kind of overcoming of the odds that bands a group together, and for Falcao to be so utterly adored by a club fraternity is something that thousands of players go their whole careers without finding.
With Los Rojiblancos, Falcao is loved, Falcao is needed and perhaps most importantly of all, Falcao is happy (via talkSPORT).
If recent seasons have shown us anything, it's that Atleti—much like Manchester City—are going places, but a move to Eastlands would be putting all that work to risk once more.
In his current surroundings, the 26-year-old has a very good chance of going on to become a legend like no other before him. At City, Falcao would be in danger of becoming a shade like dozens before him.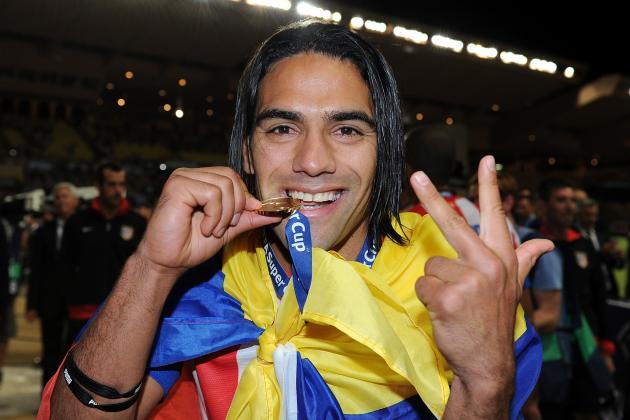 Chris Brunskill/Getty Images

It's fairly safe to say that given his goal exploits in recent years, Manchester City aren't the only club keeping track of Falcao's situation in the Spanish capital.
As talkSPORT alleges, Chelsea are just one of those outfits interested in acquiring the strike sensation's supreme scoring ability and you can almost guarantee that there are a host of unforeseen vultures looking to pounce from the shadows when they feel the time is right.
Although all the interested parties hoping to sign Falcao will be offering their own set of what they feel are superior circumstances, it's ultimately the player's choice as to where he ends up.
Directly as a result of the hard graft committed in the last six years or so, just where Falcao goes next is completely his choice and the harsh reality for Manchester City is that a club with more prestige, history and a greater chance of winning titles will be the Colombian international's choice.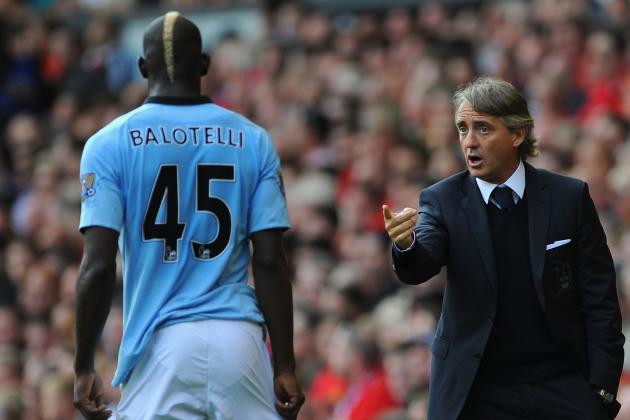 Michael Regan/Getty Images

Transfer windows—and the January transfer window in particular—are a chance to strengthen a club's squad as they see as completely necessary.
During the season, it becomes apparent just what part of a team's roster is lacking—where they are lacking depth and where money needs to be invested if they are to improve as a unit.
Although the topic of City offloading forwards is undoubtedly one that will arise in the coming weeks, the truth is that the forward line is the last area of Manchester City's squad in need of refurbishment, even with all the splurging in the world at their disposal.
In Sergio Aguero, Carlos Tevez, Mario Balotelli and Edin Dzeko, Roberto Mancini has a batch of strikers that many a manager would have killed for 10 years ago.
That being said, the selection on offer to the Italian remains amazingly strong, and one I'm sure more than a few managers would still do just that for in the present day.
Sweeping that morbid sense of sacrifice to one side, the Citizens would still need to conduct some major shedding of the fat before they could even think about drafting in another world-class forward, never mind one as talented and expensive as Falcao.
With such first-class skill at hand, Manchester City almost abolish any opportunity they may have at breeding homegrown talent, something they have been majorly criticised for of late.
After all, if the club are to keep recycling world-class forwards as they currently are, where does that leave the likes of John Guidetti and Denis Suarez except with the choice of continuous loan spells or permanent departure?
You can follow me on Twitter @TomSunderland