Los Angeles Dodgers: Best/Worst-Case Scenario for Each Player's Season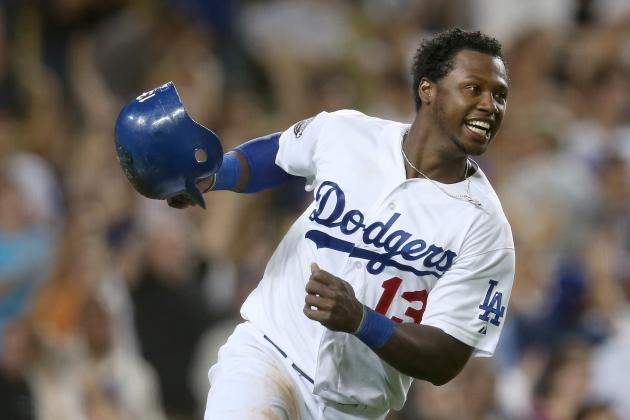 Stephen Dunn/Getty Images

The Los Angeles Dodgers head into the 2013 season with high hopes after emptying the bank on the likes of Zack Greinke, Brandon League and others. On paper, the Dodgers are the team to beat in the National League.
That being said, the Giants, Reds, Cardinals, Braves and Nationals return exceptionally talented teams that will aim to keep their playoff crowns away from L.A. In order for the Dodgers to put it all together and make a playoff run, they will need big seasons from their biggest names.
With Matt Kemp's injuries last year, Hanley Ramirez's spotty attitude and uncertainty surrounding the back of the rotation, things will still have to go the right way for the Dodgers to do what everyone expects them to do.
Here is a breakdown of the starting lineup and most important pitchers' best- and worst-case scenarios for the 2013 season.
Begin Slideshow

»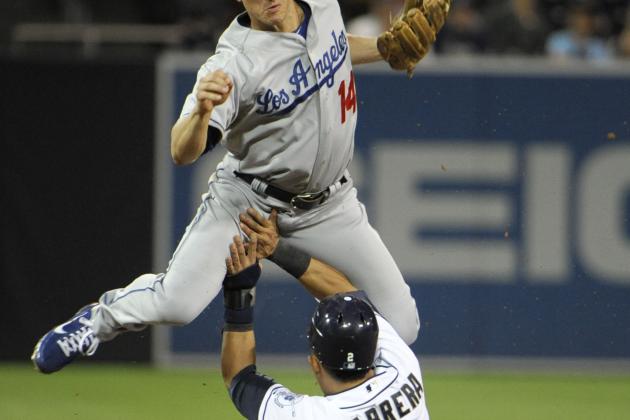 Denis Poroy/Getty Images

Best-case scenario: .270 average, 10 homers, 50 RBI, healthy season
Mark Ellis was a solid bat with the flexibility to hit in any spot in the order last year. Then he went down with a lengthy leg injury and missed out on a full third of the season. His averages hover right around those listed above, so if he can play 145-150 games and stay relatively healthy, the 35-year-old defensive whiz will find himself with a decent final contract in 2014.
Worst-case scenario: Age catches up to him, average plummets
You can't expect a ton of power from Ellis anyway, so if he only hits five homers and drives in 30 runs as the leadoff or No. 8 hitter next year, nobody should panic. If his body starts to break down and he misses more time and fails to keep that consistent approach at the plate that made him so valuable to the Dodgers in 2012, it's a lost season for him. Anything below .250 on the year would be trouble.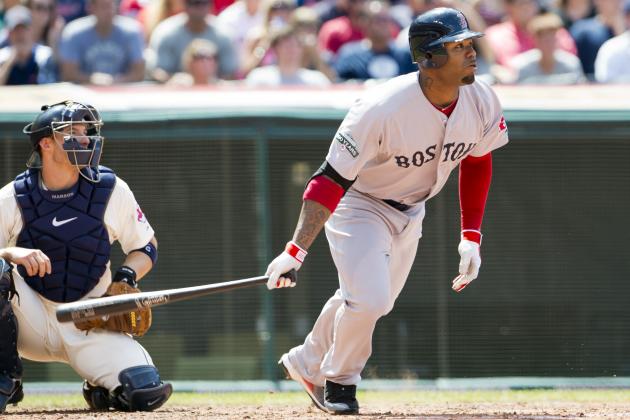 Jason Miller/Getty Images

Best-case scenario: Returns to Tampa Bay form, steals 30-plus bases
Oh, how glorious this would be. If Carl Crawford comes into spring training fully healthy and reverts back to the kind of player he was as a Ray, I might actually cry with joy. Tampa Bay-esque Crawford hits .285 with 12 homers and 95 runs scored—and of course swipes a ton of bags. That would be some beautiful production out of the two-hole.
Worst-case scenario: Stays in Boston form, not fully healthy
The issue of health crops up again with Crawford, who will be coming off of Tommy John surgery and hasn't really played in almost a full year. If his speed has slackened, and he's chasing bad pitches like he was in Boston, you may well see Yasiel Puig in left field before the season ends. It was a very high-risk, low-reward pickup in the first place, so most Dodgers fans likely aren't expecting much out of Crawford.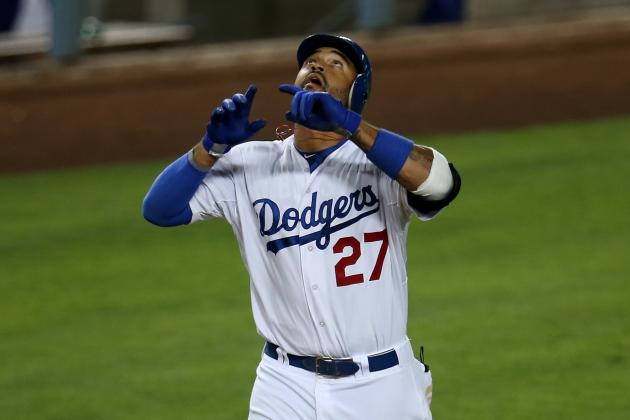 Stephen Dunn/Getty Images

Best-case scenario: No injuries, contends for the Triple Crown (again)
Don't laugh—this is the type of season baseball fans have come to expect out of Matt Kemp when he plays a full, healthy season. As they should. At age 28, Kemp could very well approach a 40/40 season like he did in 2011. With the added bats around him, .330 with 40 homers, 125 RBI and 40 stolen bases is not out of the question (very slight improvement on 2011 stats).
Worst-case scenario: More injuries
I see a theme developing. This one is different, though. If Kemp is healthy, there is no doubt he's going to produce in the power category, steal bases and play a solid defense. I'd be hard-pressed to believe he won't be an MVP candidate if he plays in 150 or more games. If, God forbid, he is shelved again, the Dodgers may have a major issue on their hands.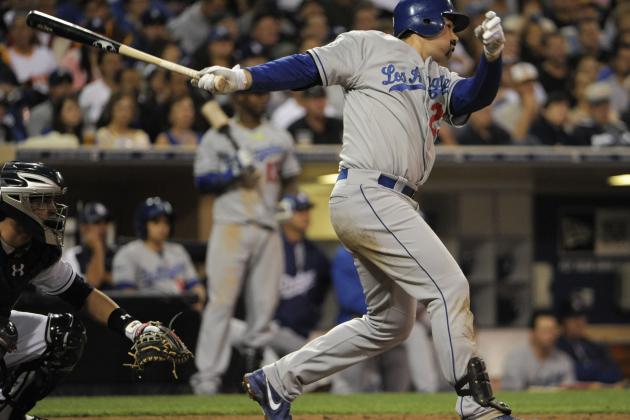 Denis Poroy/Getty Images

Best-case scenario: .300 average, 35 homers, 110 RBI
Depending on how the lineup as a whole reacts, those numbers could be a little low. But I'm taking into account that Adrian Gonzalez averages numbers just below these over 162 games. He is rarely on the DL and will play a solid first base. Chances are, settled into his new digs, that Gonzo will go off in 2013. You never know for sure, but I'd put money on it.
Worst-case scenario: .265 average, 20 homers, 85 RBI
Gonzalez is a very consistent player, and by his standard, this would be a pretty bad line. Of course, the Dodgers wouldn't complain having a guy putting up those kinds of power numbers. But they are paying Gonzalez to be a big upgrade over the other big lefty bopper in the lineup (Andre Ethier), and these numbers just wouldn't cut it.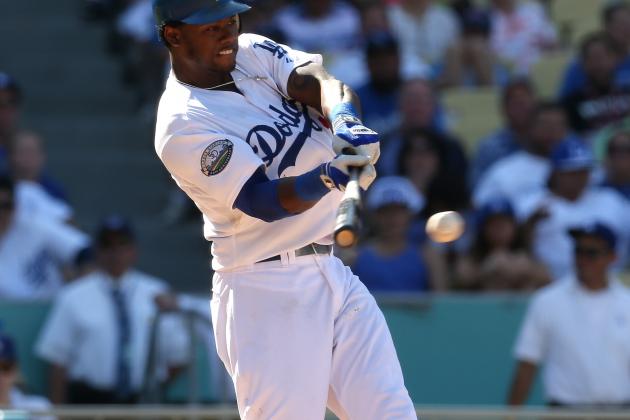 Stephen Dunn/Getty Images

Best-case scenario: .315, 30 homers, 115 RB, 30 steals
This is a fun one for me—Hanley Ramirez has won an NL batting title (.342 in 2009), hit 30 homers, driven in 100 runs and stolen over 50 bases (twice) in his career. And he's never been in a non-pressure situation surrounded by a bunch of classy, veteran, hard-hitting teammates. If he can't break out again in a situation like the one he's in as a Dodger, he might never live up to that bar he set as a youngster.
Worst-case scenario: Numbers drop, attitude rises
We do know one thing for sure; Ramirez has an ego. I don't necessarily blame him. He's never been on a winning team, and never experienced real postseason success. Again, in this clubhouse, he is hardly even a top-five talent, and there won't be any room for his nonsense if it comes to that. If the attitude does become a problem and the production goes with it, Ramirez may be looking for a new home, come 2014.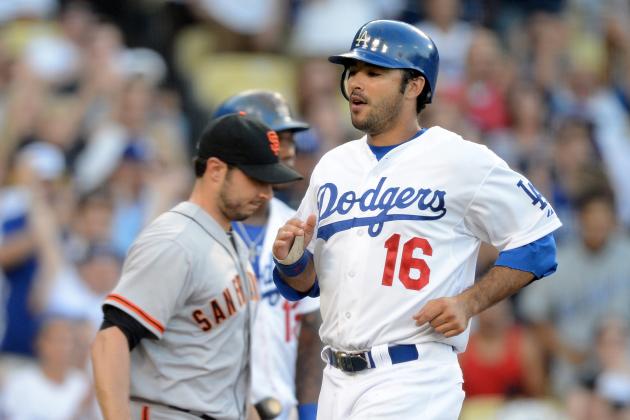 Harry How/Getty Images

Best-case scenario: Learns to hit lefties, .300 average, 30 homers, 105 RBI
We've seen Andre Ethier accomplish all the above except for the first one. He notoriously struggles versus left-handed hurlers, but this could be the season he turns it all around. Why? First, he's been in trade rumors all winter long and his spot on the team could very well be at stake, regardless of the extension he received last season. Second, Gonzalez mashes lefties and could teach Ethier a thing or two.
Worst-case scenario: Still can't hit lefties, numbers drop, gets traded
In 2012, Ethier had his worst statistical offensive season since 2009, even though the numbers were still decent. The problem in recent years has been that opposing teams save up lefty relievers for later in games, and more often than not, that makes Ethier an automatic out. If his numbers drop again because of this, those trade rumors could become trade recaps.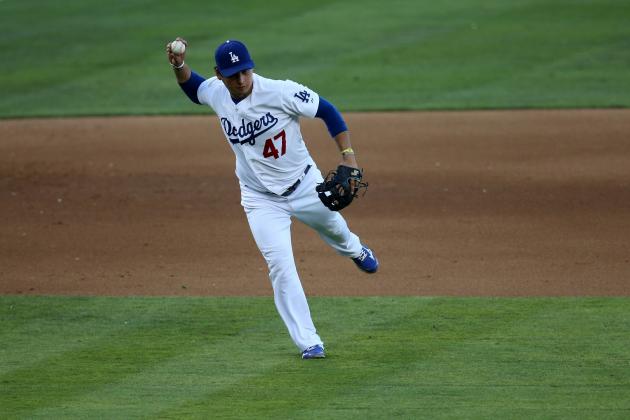 Stephen Dunn/Getty Images

Best-case scenario: Hits .300, plays good defense, keeps his spot
There may be no more beloved player in Dodger land right now than Luis Cruz, who has inspired his own cheer ("CRUUUZ"), much like Kevin Youkilis did in Boston. Cruz earned his way to a starting spot in 2013 by playing spectacular defense and hitting consistently enough. He also has a clutch gene that can't be ignored. The best case for Cruz is he plays just as well as 2012 and stays the starter at the hot corner.
Worst-case scenario: Comes back down to Earth, becomes next Elian Herrera
We saw something like this early in 2012 when Herrera came up and tore opposing pitchers up for a few weeks. Then his average plummeted, and he went back to Triple-A. Cruz has more plate discipline and plays better defense, so I doubt this will happen, but it would certainly be the worst-case scenario. If it did happen, would Dee Gordon get another shot at starting in the infield? Or would it be Skip Schumaker?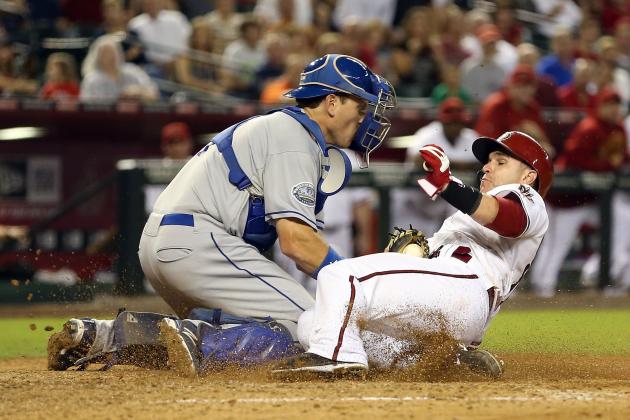 Christian Petersen/Getty Images

Best-case scenario: Improves durability, among league leaders in OBP and defense
We know A.J. Ellis has a nose for getting on base. We know he can handle a good pitching staff and play a solid defense behind the plate. We also know that last year was his first full season starting and that the wear and tear of a summer began to show down the stretch. Best-case scenario for the Dodgers is that they get the Ellis of the first three months of the 2012 season for all of 2013.
Worst-case scenario: Pitchers figure him out, OBP drops, loses playing time
Ellis is an on-base percentage machine. That's why he's in the lineup and why his bat is so valuable to this lineup. He's not going to hit for a ton of power or a superior average, but if he gets on base at an above-average clip, he will stick. Hopefully the end of last year was more a case of him getting tired than pitchers figuring him out. Otherwise, Tim Federowicz might get his shot at some point.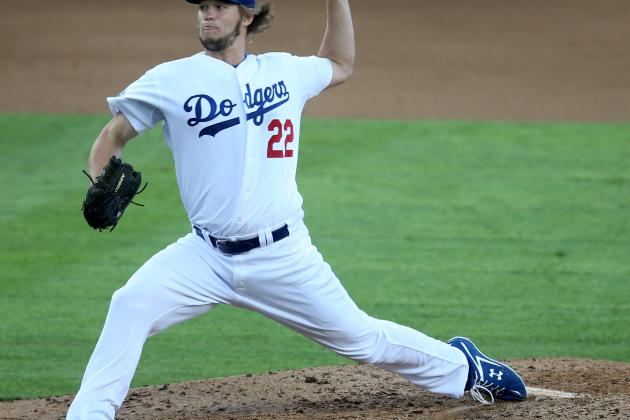 Stephen Dunn/Getty Images

Best-case scenario: Cy Young front-runner, 20 wins, low 2's ERA, low 1's WHIP, 230 K
Your 2011 Cy Young award winner and 2012 Cy Young runner-up is not yet 25 years old and plans to improve on his past two seasons. With so much assumed run support in 2013, it's not out of the realm of possibility that Clayton Kershaw wins another pitching Triple Crown with 20 or more wins, the best ERA in the league and the most strikeouts in the league.
Worst-case scenario: Down year, injuries, force a weak stat line
Stats aren't everything, but when you've become accustomed to being expected to hold the opposition to two runs or fewer in every start, anything worse becomes cause for concern. Kershaw will be rehabbing from a hip injury that kept him out of a few starts last year. If that crops up again, or he just pitches poorly, the Dodgers will have to rely on a shaky rest of the rotation to get them through the season.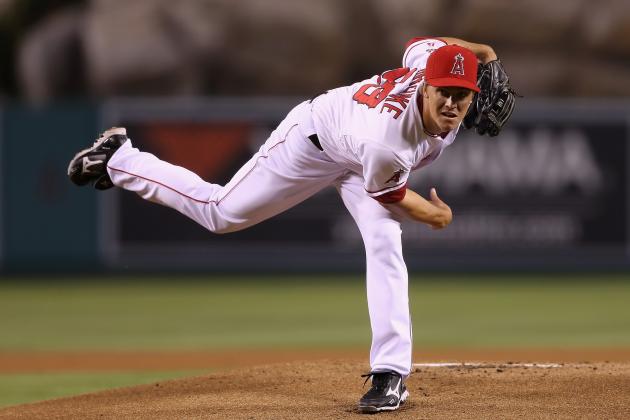 Jeff Gross/Getty Images

Best-case scenario: 20 wins, 3.00 ERA, 1.15 WHIP, 200 K
This would be a fantastic season from Zack Greinke. With the pressure of being the ace of the rotation off of him, is he capable of putting up ace-like numbers? The NL West, especially Dodger Stadium, is a haven for pitchers to excel, so this is definitely a best-case scenario with some legitimacy. Wins will be on the offense, but if Greinke keeps his ERA and WHIP low and gets a ton of whiffs, this Dodgers team will be primed for a deep playoff run.
Worst-case scenario: We get strangely underwhelming Greinke
It always amazes me when Greinke has a season or stretch of games where he just plain sucks. With the arsenal of pitches he has and the tough demeanor on the mound, it doesn't make sense sometimes when he pitches below expectation. In a worst-case scenario, I imagine Greinke only getting 12-13 wins with an ERA closer to 4.00 and a WHIP closer to 1.30.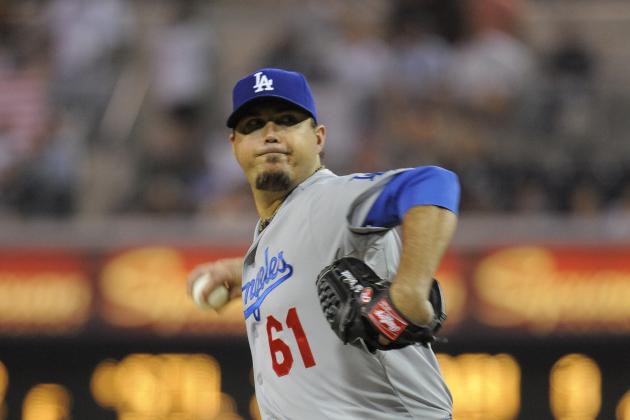 Denis Poroy/Getty Images

Best-case scenario: Beckett pitches exactly like he did after coming to L.A. in 2012
People tend to forget just how good Josh Beckett was with the Dodgers after being acquired in mid-August. He formed a formidable 1-2 punch with Kershaw and had an ERA under 3.00 in seven starts. If Beckett puts up an ERA around 3.00 in a full season and continues to keep his strikeout numbers up, the top three of the Dodgers' rotation would just be unfair—in theory.
Worst-case scenario: 2010 Beckett's ugly return
In 2010 with Boston, Beckett posted an ERA over 5.00 in 21 starts and never really improved through the course of the season. He's only one season removed from a 2.89 ERA and 175 K's, which he accomplished in 2011. You'd think in Dodger Stadium it would be tough to duplicate those numbers, but given Beckett's on-and-off career numbers and that he will be turning 33 in May, we could see it happen.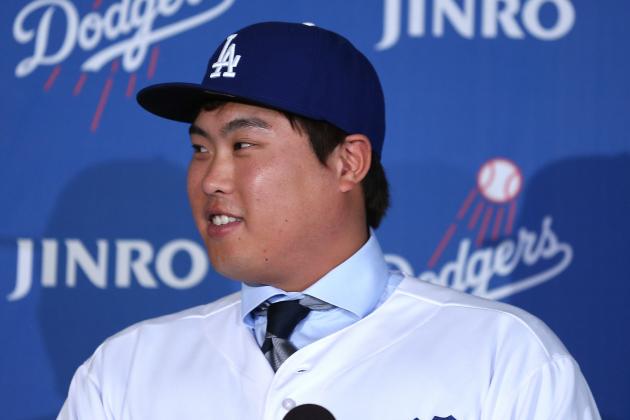 Stephen Dunn/Getty Images

Best-case scenario: Ryu's prediction comes true
The Dodgers' new ownership promised to spend aggressively in foreign markets, and they came through by winning the bid on South Korean southpaw Hyun-Jin Ryu. If early indications are true, Ryu is quite a character who will fit in well in the clubhouse and the community. Will his 2013 prediction of double-digit wins, an ERA between 2.00 and 3.00, and his prediction of ultimately breaking Chan Ho Park's Korean record of 124 wins ring true? Dodger fans sure hope so.
Worst-case scenario: He is what everyone says he is
Back-end starter. Long relief pitcher. Overrated. Overpaid. Just some of the words and phrases used to describe the Dodgers' newest pitcher and how he will fit in as a major league player. His numbers in Korea weren't overwhelming, but the Dodgers saw enough in him to secure a spot in the rotation for him. So will he exceed his spot as a fourth starter? Or hold it down like the best expectations have him doing?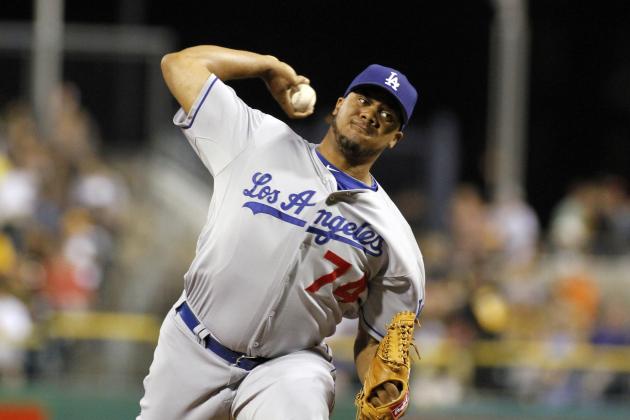 Justin K. Aller/Getty Images

Best-case scenario: Heart problem is fixed, dominant set-up man
Personally, I still prefer Kenley Jansen as the closer, but that's not my decision to make. He has a filthy cutter and a lot of heat on his pitches, but he may still lack the mental fortitude to be that full-time shutdown guy the Dodgers need. So the best-case scenario for Jansen is that he stays on the field all year and does a dominant job in the eighth inning, getting the ball to Brandon League.
Worst-case scenario: Heart problem isn't fixed
Forget about what this might do to the Dodgers bullpen, or to Jansen's numbers over the course of a season. If the offseason procedure Jansen had to fix an irregular heartbeat didn't work, how long will the kid even continue to play baseball? Jansen is well-liked among teammates and fans and possesses unlimited potential in this league. The worst-case scenario for him is bigger than baseball.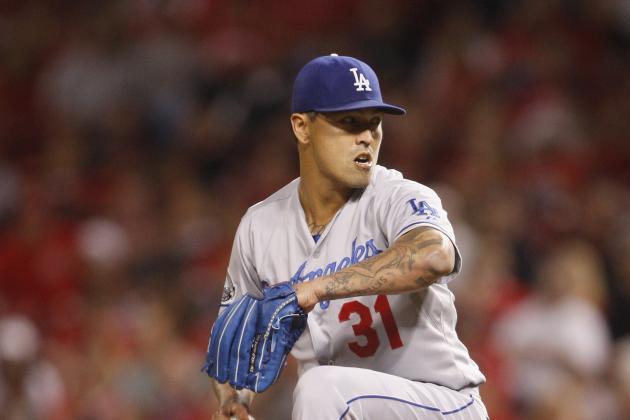 John Grieshop/Getty Images

Best-case scenario: League actually justifies his contract
Despite the numbers not being as eye-popping as his teammates' contracts, I am most worried about the money the Dodgers gave to Brandon League. He has a very checkered history of success as a closer, and they have invested a ton of cash into the hope that he will continue to pitch like he did after being acquired last season. If League puts up a 2011-esque season (when he was with Seattle: 37 saves in 42 chances, 2.79 ERA and 1.08 WHIP), the money was well worth it.
Worst-case scenario: The real Brandon League stands up, replaced at closer
In his career, League has saved 60 games out of 84 chances, though some of those blown saves have come in hold situations. That's still hardly a great figure, especially given that he's blown at least five in the last three seasons. When he's "on," League has one of the best sinkers in baseball and can get anyone out. But sometimes he struggles to keep the ball down, which leads to lots of baseballs being hit very, very far against him. And the margin for error on a contending team is razor-thin at that position.