Assessing Job Security for Every Member of Pittsburgh Steelers' Coaching Staff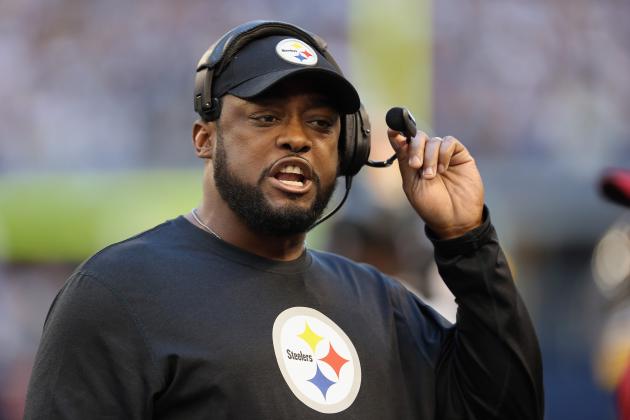 Ronald Martinez/Getty Images

With the Pittsburgh Steelers sitting at a very disappointing 7-7 on the 2012 season, the pressure is on the coaching staff to find a way to get this team back on track and hopefully into the playoffs. It will all come down to this week's game against the Cincinnati Bengals.
If the coaching staff fails to turn things around, and perhaps even if they do, General Manager Kevin Colbert and the Rooney family may decide to make some changes.
Here's a look at the job security of each of the coaches as we head into the final, crucial two weeks of the 2012 regular season.
Begin Slideshow

»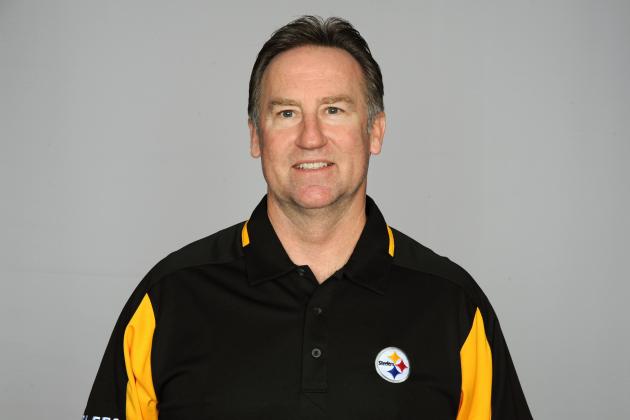 Handout/Getty Images

You usually don't see strength and conditioning coaches mentioned much unless they retire or leave for some reason. In fact, many Steelers fans probably don't know Garrett Giemont from an average guy on the street.
But his job is very important to this team. He is the coach that makes sure the players are properly conditioned and maintaining their workout programs.
Giemont has done a fine job at this. The rash of injuries the last two years don't seem to be the fault of conditioning—something Mike Tomlin puts a great emphasis on as the head coach—and the players don't seem to fall off or break down as the season goes on.
Giemont is as safe as could be unless the team would purge the entire coaching staff. That's not going to happen.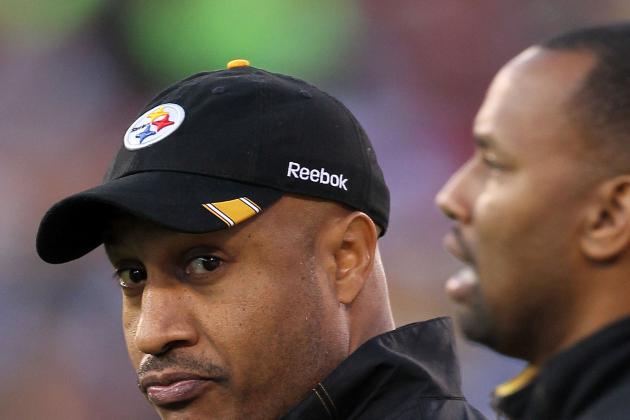 Karl Walter/Getty Images

Carnell Lake, Defensive Backs
Lake is in his second year with the Steelers and he's done a good job overall of getting this secondary to be productive. He hasn't been given many marquee players to work with, so it's hard to judge his ability to develop raw talent.
He has done a wonderful job with Keenan Lewis, who's grown up the last two years under his watchful eye. That work alone makes him a safe bet to return in 2012 unless he'd move up somewhere else.
Keith Butler, Linebackers
Butler's job security is legendary. He's the heir to Dick LeBeau as the team's defensive coordinator and the Steelers have gone to great lengths to keep him in Pittsburgh the past few years as other jobs have been opened up to him.
The Steelers have some of the best linebackers in the NFL, but Butler does get a lowered mark for failing to develop Chris Carter or Stevenson Sylvester. He has done a great job with everyone else, however. He'll be back in this role unless LeBeau finally calls it a career.
John Mitchell, Defensive Line/Assistant Head Coach
Mitchell has been a staple of the Steelers since 1994. In 2007, Mike Tomlin elevated him to assistant head coach and still left him in charge of the defensive linemen.
Mitchell is responsible for such players as Aaron Smith, Casey Hampton and Brett Keisel. He's done an amazing job creating a brilliant defensive line without a ton of household names. He hasn't been able to replicate that with Ziggy Hood, however.
Mitchell is likely to be safe. The defensive staff needs consistency, especially if LeBeau steps down. He does, however, need to get more out of young players like Hood, Cameron Heyward and Steve McLendon. If he can't do that, his job security likelihood will dwindle.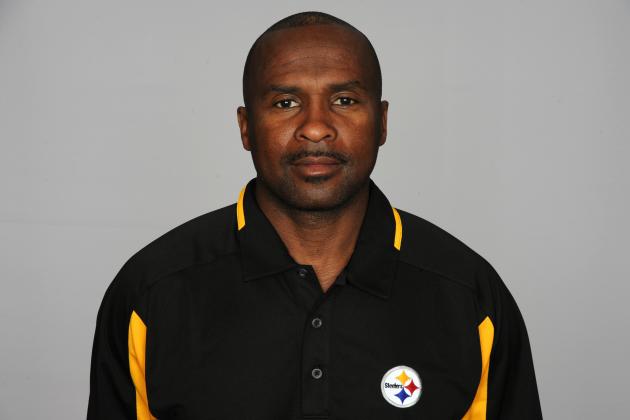 Handout/Getty Images

Sean Kugler, Offensive Line
There's not much point in talking about Kugler's job security since he's leaving the Steelers to take the head coaching job at UTEP, but if he were staying Kugler couldn't be questioned. He's done more with less than any position coach on the team.
The Steelers will have to put a high premium on finding another line coach that is as resourceful and talented as Kugler. His loss might be felt more than anyone else who may or may not return next season.
James Daniel, Tight Ends
Daniel has been with the Steelers since 2004 and has presided over Heath Miller's rise to be one of the top tight ends in the NFL. He's also worked to develop guys like Weslye Saunders and David Paulson.
Daniel's job is safe. There's no reason to make a change at a position that is the most consistently productive and steady on the offensive side of the ball. I could see him eventually moving up to a bigger role, but I don't think that will happen this season.
Scottie Montgomery, Wide Receivers
The way the wide receivers have collectively hit a wall this season is just not impressive. Mike Wallace returned from his holdout to become one of the most maddeningly inconsistent receivers in the league. Antonio Brown has followed him down the slippery slope too.
Even Emmanuel Sanders has lost his previously impressive consistency and steady play.
This position is a mess. Part of the blame lies with the coordinator, but much of it will fall at Montgomery's feet. Without a lot of ties to this staff, I wouldn't be surprised to see the Steelers make a move here.
Randy Fichtner, Quarterbacks
Fichtner was originally the team's receivers coach but moved over to quarterbacks in 2010 when Ken Anderson retired.
The Steelers may want to move him back to receivers. During the past three seasons, the play at quarterback and receiver have been choppy. The Steelers were not able to effectively replace an injured Ben Roethlisberger in 2011 or 2012.
I would say that the best way for this to go is that Fichtner goes back to coaching the receivers and the Steelers find a quarterbacks coach that is adept at both handling a star and developing younger passers.
Kirby Wilson, Running Backs
Wilson replaced Pittsburgh legend Dick Hoak in 2007. Since then, the Pittsburgh rushing attack has steadily lost steam. Originally, the blame seemed to lie with former offensive coordinator Bruce Arians. Arians abandoned the team's rushing identity in favor of a pass-heavy attack.
Under Todd Haley, the Steelers were to devote more effort to running the ball. They have definitely put running plays on the field more often than under Arians, but the effectiveness is still missing.
It's hard to beat up on Wilson too much, but he never developed Rashard Mendenhall and hasn't gotten much out of Isaac Redman or Jonathan Dwyer either. At some point, the lack of an effective running back is going to fall back on him. It could be this year.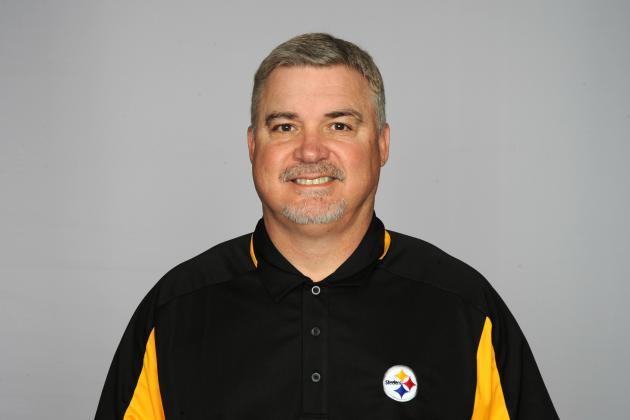 Handout/Getty Images

If there's one coach this is already packing his office, it has to be Jones. He's been a part of the Pittsburgh special teams unit since Mike Tomlin arrived. He took over the coordination of the unit after the Steelers fired Al Everest during the preseason.
The special teams, unbelievably, have actually gotten worse.
Punt returners can't hang onto the ball or get yardage with their legs. The coverage units allow long returns several times a game. There are blocks in the back on almost every Pittsburgh return. There's no cohesiveness or discipline.
It's a mess.
Jones won't be back. The Steelers need to focus hard on improving this area, and that will require a complete shakeup of the staff involved in it.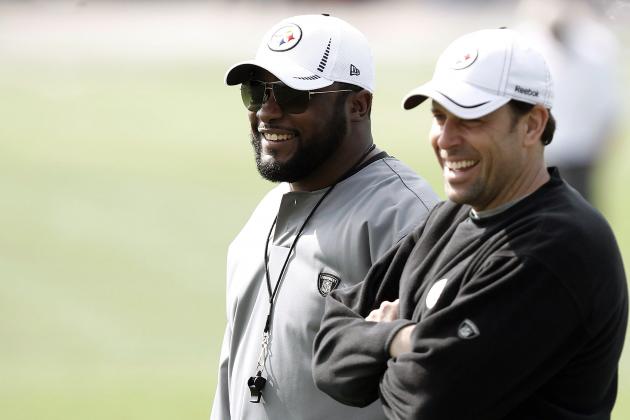 Jared Wickerham/Getty Images

The impression that Todd Haley has made on this team has gone from cautious to excellent to awful in one season.
At the beginning there were jitters because he wasn't Ben Roethlisberger-favorite Bruce Arians and because he said he would run the ball more. Ticking off a star quarterback is a bad idea. But the two seemed to bond over the media-created outrage.
Early in the season, as the defense fell to pieces game after game, Haley's dink and dunk offense allowed the Steelers to stay on the field offensively for gobs of time. That kept their suspect defense out of the equation. He was hailed as a hero for allowing Dick LeBeau time to sort out the problems.
Now, he's the goat.
The Steelers offense couldn't overcome Ben Roethlisberger's absence and has been mediocre since his return. The Steelers, with two games to go, have made nothing but extremely modest and tiny gains in offensive categories over where Bruce Arians had them.
Heath Miller is getting ignored again. Scoring has suffered again. It's a repeat of last year.
Haley might break into the head coaching conversation elsewhere, but I'm not sure Mike Tomlin can afford to bring him back for a second tour here. The results are ridiculously bad.
And those results are getting worse.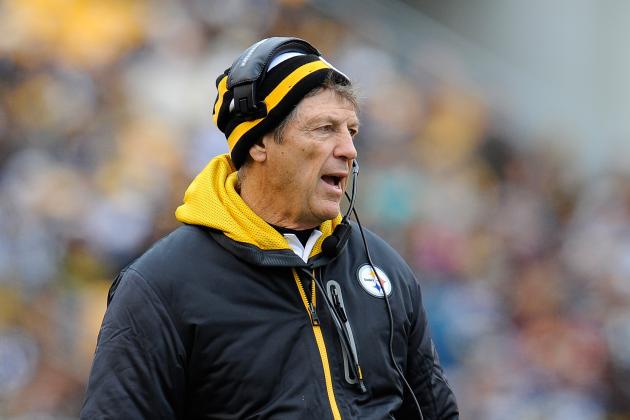 Joe Sargent/Getty Images

Early in the season, several people (including this writer) asked for LeBeau to be sent away. Force him to retire. Do something to fix the awful defense.
But, as LeBeau has done before, he resurrected this unit by mid-year. The defense was the top unit in the NFL once again. Defying everyone, LeBeau was once again the hero.
But the painful truth is that this defensive scheme is outdated. It is effective against rookies and mediocre passers. It won't beat the good quarterbacks and offenses of the NFL, however. Tony Romo torched Pittsburgh on Sunday.
The Steelers don't force turnovers anymore. They don't surprise anyone. They're running the same scheme they did in 2003. Heck they're practically running the same scheme as 1995.
It's 2012. It's time to get with modern defense.
That's going to mean changes to the teams aging personnel. Unfortunately, it might also be time to say goodbye to the aging coordinator on defense. LeBeau has done all he can do. Now he has to step aside graciously and let someone new bring new ideas and blood to this group.
The Steelers won't force their legendary coach to do anything. But LeBeau might get some requests to step aside. They'll be secret and quiet. But I wouldn't be secure in the thinking he'd be coming back in 2013.
Rob Carr/Getty Images

There are few head coaching positions in the NFL more stable than the Pittsburgh Steelers. They have had three head coaches since 1969.
There are teams that have had three head coaches since 2009.
Pittsburgh doesn't fire a struggling coach. Bill Cowher could easily have been let go after the Steelers went 7-9, 6-10 and 9-7 without a playoff appearance from 1998-2000, but they stuck with him and he delivered them to 13-3 in 2001 and a Super Bowl in 2005.
Mike Tomlin has never had a losing year in Pittsburgh. He still has a chance to be a winner this year too.
But these Steelers are far from acceptable. They've not played like a 9-7 team. They've played like a 5-11 team and gotten pretty lucky.
That's surprisingly insane because this team, if they played to their talent level and potential, would be 13-1 right now or 12-2 at the worst.
Motivation, preparation and other intangibles are the responsibility of the head coach. He is the man who gets his team ready to play. The coordinators take care of the game plan, which he approves. The front office assists him in putting the roster together.
It's fair to say Tomlin has failed this year to motivate the Steelers, who've looked absolutely listless since an overtime victory against Kansas City. In fact, you could argue that the Steelers have only shown up for a few games all year.
This is bad and getting worse. This was an argument last year and in 2009 as well. This team is far too good to be missing the playoffs.
Tomlin's job is secure, but he may face some heat after this season to change the way he does things. He may also face something much hotter if the Steelers repeat this flop in 2013.
The Steelers haven't fired a coach since Lyndon Johnson was in the White House. They may have to fire one finally if this doesn't get any better.