5 Milestones a Healthy Derek Jeter Can Reach in 2013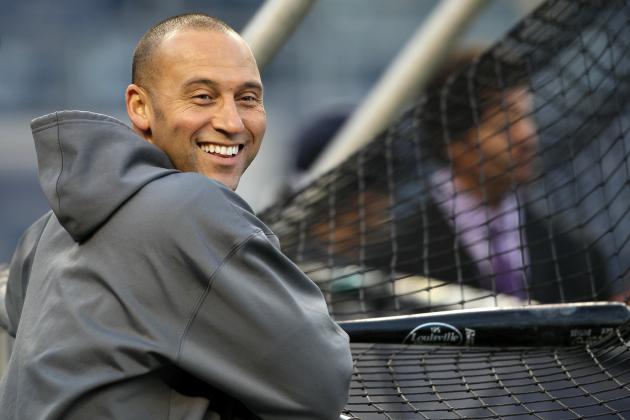 Alex Trautwig/Getty Images
Derek Jeter has plenty to smile about entering the 2013 season.
Derek Jeter has already accomplished enough in his first 18 seasons in baseball to make him a lock for the Hall of Fame the moment he decides to hang up the spikes.
Before that day comes, Jeter will finish his career passing some of the greatest players in Yankee and MLB history in many significant statistical categories.
Jeter is no stranger to reaching a career milestone as he has achieved several over the past few seasons.
In 2011, Jeter reached 3,000 hits. In 2012, he got his 1,000th walk and 500th double of his career.
2013 should be no different if the Yankees shortstop can stay healthy. According to a recent report, Jeter's recovery from a broken left ankle is going well and he should be ready for Opening Day.
Another full season of play will allow Jeter to reach several team and league milestones along the way.
Begin Slideshow

»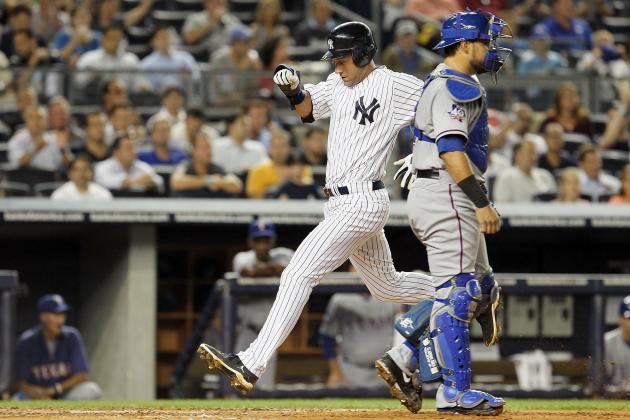 Jim McIsaac/Getty Images
Jeter will touch home more than any Yankee ever.
Jeter has been a run-scoring machine for the New York Yankees.
Hitting at the top of the lineup and having great base-running instincts his entire career has put Jeter only 92 runs away from passing Babe Ruth for first on the all-time Yankee list.
Only three times has Jeter not reached 92 runs in a season.
Another 100-run season will move Jeter into eighth on the all-time list passing Stan Musial and more than likely teammate Alex Rodriguez along the way.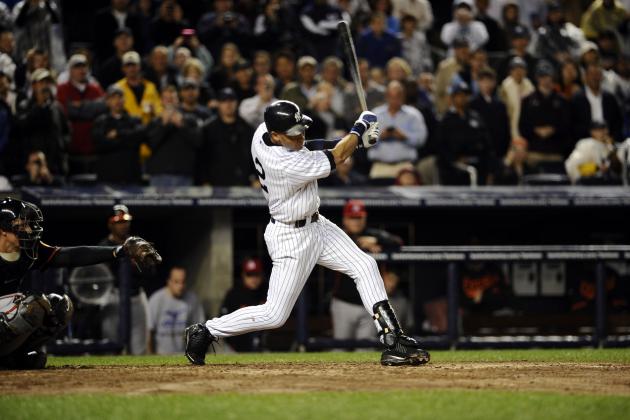 Jeff Zelevansky/Getty Images
Move over Gehrig, there is a new doubles king in town.
Back in 2009, Derek Jeter passed Lou Gehrig to become the new Yankees hit leader.
In 2013, Jeter should easily surpass Gehrig for most doubles ever in a Yankees uniform.
Jeter needs only 11 doubles this season to take another record away from a Yankee legend, cementing his place in history.
Jeter has never had a season under 20 doubles, and if he can at least reach his average of 33 per season, then that would move him into the top 25 of all of MLB.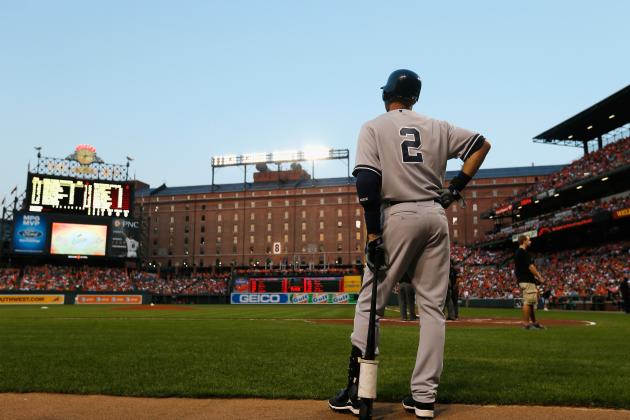 Rob Carr/Getty Images
Every at-bat Jeter has brings him closer to the top.
Last season in a May 10 game against the Tampa Bay Rays, Jeter reached the 10,000 at-bat mark of his career.
Only 24 other players have ever reached that mark. This season Jeter has a chance to really climb that leaderboard.
Jeter only needs 411 at-bats to move into the top 10 all-time, passing greats like Ricky Henderson and Willie Mays.
If Jeter can make it to the plate 458 times this season he will pass Robin Yount and take sole possession of seventh place.
Jeter has never finished a season with under 458 at-bats and for his career has averaged 661 at-bats a year.
Jeff Zelevansky/Getty Images
As the hits keep coming so do the total bases.
Baseball is a game about numbers: 3,000 hits, 500 home runs, .300 batting average.
If Derek Jeter can get 277 total bases this season, he will reach 5,000 for his entire career.
Only 19 players in MLB history have ever reached 5,000 total bases for their career.
Last season, Jeter finished the year with 293 total bases. For his career, he has averaged 296 per season.
This won't be an easy one to achieve in 2013 as prior to last season Jeter had failed to reach 250 totals bases for two straight years.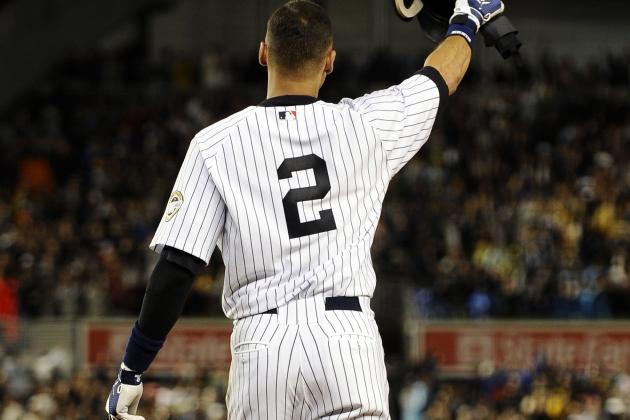 Jeff Zelevansky/Getty Images
Will Jeter ever be able to beat Pete Rose's hits record?
Pete Rose is a firm believer the Jeter will not break his all-time hits record. He could very well be right about that.
The same can't be said for the former players in between him and the top five of all time.
Jeter currently is 10th all time with 3,304 hits. He needs 212 next season to move him all the way into the top five, passing greats like Honus Wagner and Carl Yastrzemski.
This milestone requires him to not only stay healthy for the entire season, but to repeat a performance he has only done four times prior.
Coming off an injury at age 38 and getting over 200 hits won't be easy. If successful, he will trail only Ty Cobb for most hits by an American League player.