Michigan vs. South Carolina: What Suspensions Mean for the Wolverines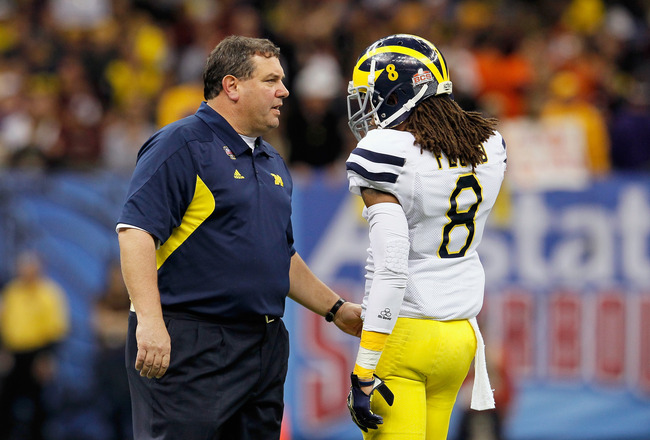 Kevin C. Cox/Getty Images
How big of an impact will the absence of the suspended players have on Michigan's performance in the Outback Bowl?
Which of the suspended players will be missed most? These are questions that have been asked over the last few days, and for good reason.
Here's a look at what the three suspensions really mean for this team and the effects they will have.
Inexperience at Punter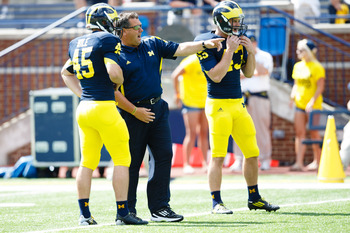 Rick Osentoski-USA TODAY Sports
Will Hagerup, although frustrating at times, did lead the Big Ten this season with an impressive 45 yards per punt.
Matt Wile will be punting in his place, and although he has punted some before, he is still pretty inexperienced.
He does have 26 career punts, but he is only averaging a dismal 36 yards per punt in his career. Wile is only a sophomore, though, and should certainly get better with time.
Having Hagerup out isn't a huge loss, but it is one that has the potential to be felt. If Wile shanks a punt or boots a few bad ones, people are going to immediately be talking about the impact Hagerup's suspension had.
The Loss of a Key Specials Teams Player in Hawthorne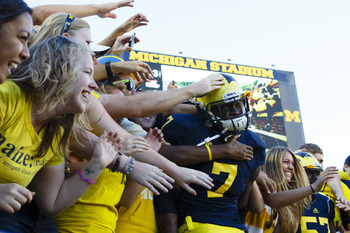 Rick Osentoski-USA TODAY Sports
How much will Hawthorne's presence be missed on defense? Honestly, none. After starting much of the first half of last year at linebacker, he literally almost never saw the field on defense this season.
In fact, after getting benched in favor of Morgan in the middle of 2011, Hawthorne almost never saw the field after that either. It makes you wonder if there was something going on behind the scenes that we didn't know about.
Either way, he is a key contributor on special teams, though. Regardless, it shouldn't be too hard to find a replacement to help on kickoff coverages.
Being a senior, it's just a shame that he had to end his career this way.
Potentially Major Issues in the Secondary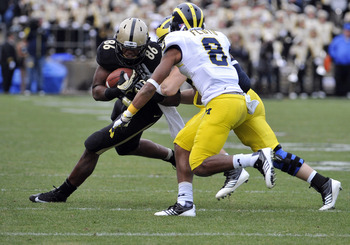 Sandra Dukes-USA TODAY Sports
Without a doubt, the absence of J.T. Floyd will be the biggest loss. Not only did he and Raymon Taylor form a very solid corner duo, but both of them literally almost never came out of the game.
Courtney Avery will start in Floyd's place, and even though he isn't too bad, it's still a noticeable drop-off. What if Avery struggles? Would Dennis Norfleet possibly be brought in?
If Avery does need to be replaced, his replacement would be a player with absolutely no experience on defense, whether that be Norfleet, Hollowell or Richardson.
Before the year, cornerback was one of the strongest and deepest positions on the team; that's certainly not the case anymore. So what happened? Terrence Talbott quit the team before the season started, Blake Countess went down in the season opener and now we have Floyd's suspension.
Amazing how fast things can take a turn for the worse.
A Big Disappointment from the Senior Leadership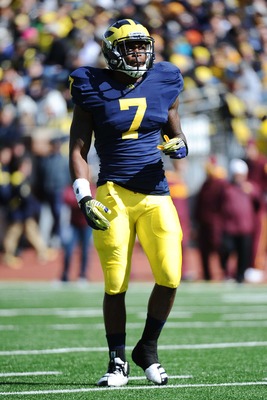 Tim Fuller-USA TODAY Sports
Sure, no Michigan player should ever get into much trouble off the field, but the seniors especially shouldn't. Instead, we see two senior leaders have their careers cut short by way of poor decisions.
Will Hagerup has no excuse either, as he is a junior and has been in the program a while now. In fact, this is already his third suspension during his time at Michigan.
Whether he even returns next year remains to be seen.
Even though all three of these men messed up, let's not bash them too hard like so much of the media loves to do. Most of us do not know the situation each of the three were in, so we obviously don't know the whole story (if any of it).
Maybe it was a case of "wrong place at the wrong time" for one of them, seeing as how that can happen to the best of us.
Am I extremely disappointed in all three of them? Absolutely. Am I going to criticize them and call into question their character? Not a chance.
It Is an Honor and a Privilege to Play for Michigan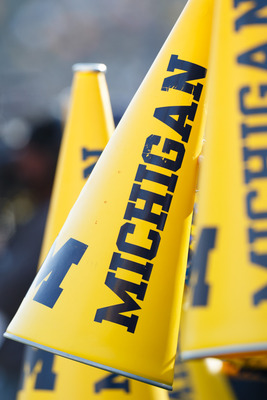 Rick Osentoski-USA TODAY Sports
Like the title says, it is an honor to play at Michigan. That may have slipped the trios' minds when they chose to do what they did.
However, Brady Hoke gave them a sharp reminder. Even though it will hurt Michigan's secondary not having Floyd in it, that is a price that has to be paid.
No single player is above the team, nor will they ever will be. Hoke understands this, evidenced by these suspensions, Toussaint's suspension against Alabama, the Darryl Stonum situation last year, etc.
Yes, not having these players hurts Michigan's chances to beat South Carolina.
The standards and expectations for student athletes at this University have been set over time and simply can't be adjusted, nor should they be. This is Michigan...fergodsakes.
Keep Reading

Michigan Wolverines Football: Like this team?