Tennessee Football: 4 Biggest Holes in the Roster Vols Must Fill for 2013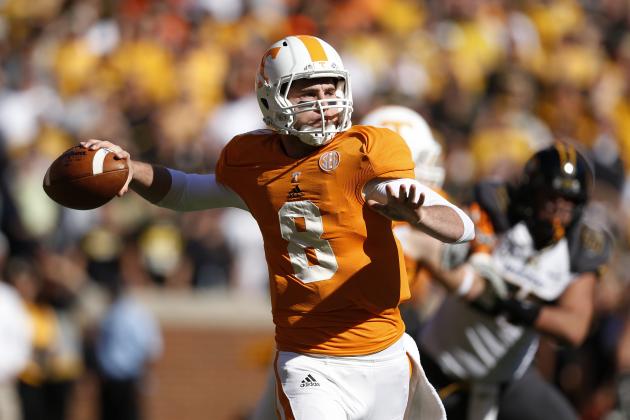 Joe Robbins/Getty Images

The Tennessee Volunteers are already prepping for the 2013 season. They need to fill holes in their roster to make sure an unprecedented fourth consecutive losing season doesn't become a reality.
Besides never having four losing seasons in a row, the Vols are also the only FBS team to never lose eight games in a season. At least that record wasn't broken this past year.
Butch Jones' staff has already hit the ground recruiting, but rarely does recruiting fill a roster hole until a couple years down the line. The roster of the 2013 team will be comprised primarily of guys already on the team.
So what positions and units need to be further developed for a successful 2013?
Begin Slideshow

»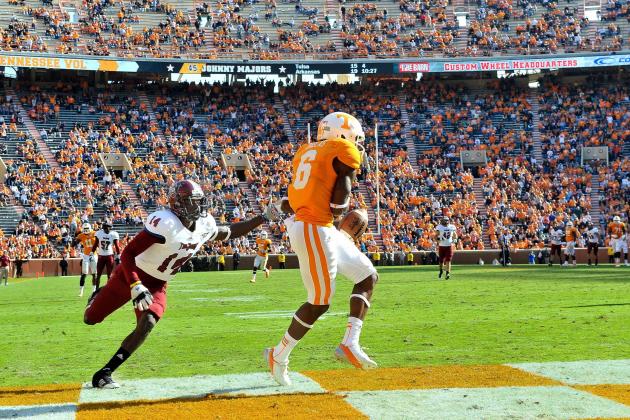 Jim Brown-USA TODAY Sports

The wide receiver position is without question the biggest hole the Volunteers must fill for next season.
Justin Hunter announced that he's leaving early for the 2013 NFL draft:
*Declared*

— Braylon J. Hunter (@justinhunter_11) December 17, 2012
I've little doubt that Cordarrelle Patterson will follow suit.
There have been many objections to this seemingly obvious prediction, mostly revolving around the fact that Patterson isn't a great route-runner. That's true. But Patterson has made his mark on NFL scouts and draft expert Mel Kiper already, who last week projected him to go No. 11 overall.
Can he improve with another year in college? Absolutely. But if Kiper is even remotely right, as he often is, Patterson has limited upside in terms of draft position and a ton of downside. Thank him for an exciting year and wish him well on Sundays.
That leaves Vincent Dallas as the most experienced wide receiver. Joining him are Alton "Pig" Howard and Jacob Carter, both who saw pretty significant playing time as freshmen. Drae Bowles, the third-best Tennessee recruit from the 2012 class, is coming off a redshirt season.
There is plenty of talent to fill in the holes but not much experience. Of course, it's almost impossible to improve after losing receivers like Hunter and Patterson, so it's not a huge indictment on the 2013 unit's potential.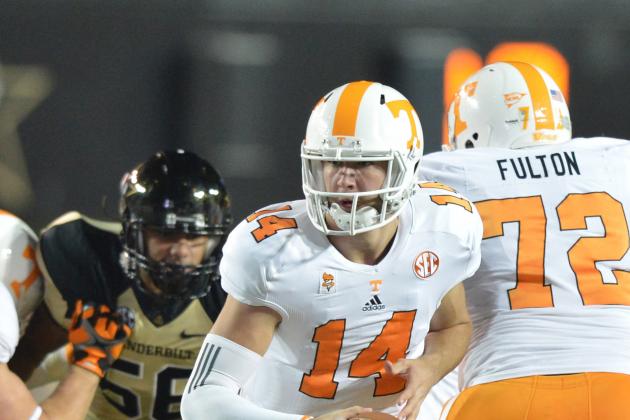 Don McPeak-USA TODAY Sports

Along with Cordarrelle Patterson, Tyler Bray is the biggest underclassman name that Tennessee is keeping track of in terms of leaving for the NFL early.
Initially, it would be logical to want Bray to return for his senior season in Knoxville. His 3,612 passing yards in 2012 were the second-most in school history behind Peyton Manning's 1997 season.
But I'm not sold that Justin Worley or Nathan Peterman couldn't be better. Better throwers? No. Better quarterbacks? Very possible.
The most important skill for a quarterback is a high football IQ, which includes leadership and work ethic. The second-most important skill is passing accuracy. The third is arm strength.
Bray's football IQ has been questioned ad nauseam. He's finished below average in completion percentage in the SEC for three straight years. Bray does, however, get a big check mark for being able to hurl the ball a long way.
If he comes back, that's great, but moving on might be best for both parties, especially if Bray is going to be without his favorite targets, Patterson and Justin Hunter.
Worley has performed well in limited action as a freshman and sophomore, and Peterman is a guy who Butch Jones was hot after in Cincinnati.
The quarterback hole needs to be filled, but I'm not convinced it's going to be an automatic step down if Bray leaves.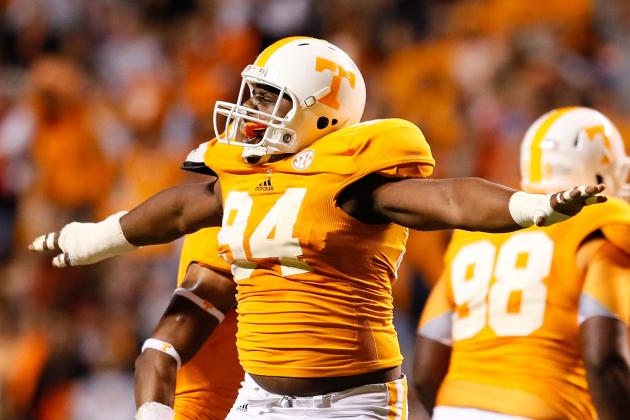 Kevin C. Cox/Getty Images

After a miserable season in Sal Sunseri's 3-4 defense, the Tennessee Volunteers are returning to the traditional 4-3 approach under John Jancek.
Truthfully, the 3-4 defense is a perfectly capable formation if you have the proper athletes and good coaching, but the 2012 Vols were devoid of both. Meanwhile, Jancek turned the nation's 44th-ranked scoring defense into the 20th-ranked in two years and 12th-ranked in three years at Cincinnati.
With quality players, it's clear that Jancek and Butch Jones can put together a respectable defense. But getting the front seven back to the familiar 4-3 front is going to be a challenge.
Big Daniel McCullers was brought in to be a prototypical nose tackle in the 3-4 scheme. Maurice Couch and Darrington Sentimore are 4-3 defensive tackles that fit well as defensive ends in the 3-4.
Transforming these three players into a four-down front will be tough but can be done. Jacques Smith is likely to see a lot of time at defensive end, too.
Sentimore and Smith at either end with McCullers and Couch manning the middle is a good start and a lineup that could work.
I've little doubt that A.J. Johnson will continue producing at a high level. Jancek, who has coached linebackers previously, will also be graded on his ability to develop Curt Maggitt, who had a disappointing 2012.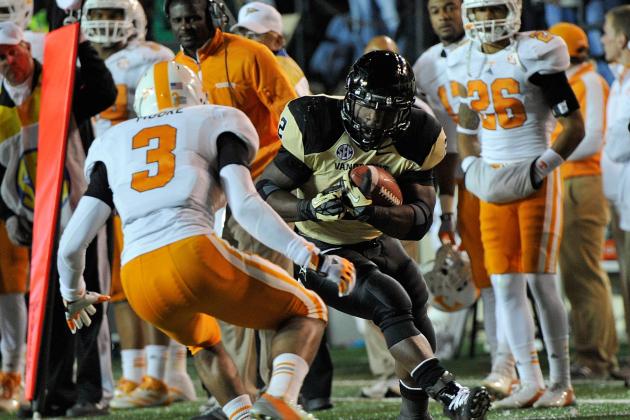 Frederick Breedon/Getty Images

The 2012 Volunteer secondary was badly embarrassed at times. It's difficult to grade its fall campaign, though, because it was often completely confused with the 3-4 alignment and received little to no direction from the sideline.
Prentiss Waggner, under-appreciated in his time on Rocky Top, is the most notable departure. Rod Wilks and Marsalis Teague are two other seniors that are moving on.
LaDarrell McNeil got to see the field a lot this season, but he wasn't as electric as we had hoped. I'm chalking that and most problems in the defensive backfield to the ineptness of the previous coaching staff.
Byron Moore and Brian Randolph were becoming one of the best safety duos in the conference until Randolph's season-ending knee injury. If he can come back healthy, they ought to pick up right where they left off.
Justin Coleman, Eric Gordon and Brent Brewer are veteran players that could relocate past success under a new regime.
Daniel Gray, Deion Bonner and Geraldo Orta are young, talented players that are still developing into contributors. They could all be busts, but then again, they could also all be All-SEC talents.
As you can see, there are plenty of defensive backs for Butch Jones to work with for 2013. It's a matter of coaching them up and developing their skills.