Why Pittsburgh Penguins Captain Sidney Crosby Should Just Go Overseas Already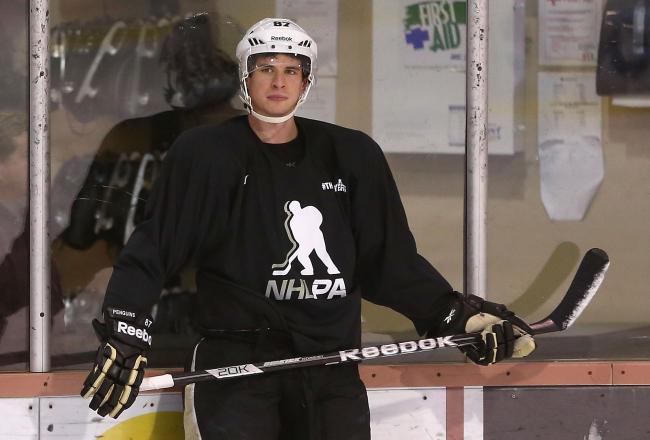 Crosby working out during the lockout.
Christian Petersen/Getty Images
With the latest turn in the labor negotiations heading to the courts, there doesn't seem to be an end in sight for the NHL lockout. Pittsburgh Penguins captain should pack his bags and head for Europe already.
Crosby is a hockey player. It's surprising that, three months into the lockout, Crosby hasn't already gotten up and left.
At the same time, he's also taken the responsibility of acting as the face of the players' association. He has been on hand for the majority of meetings and has helped the union try to reach a deal with the league.
Crosby told ESPN, "I just want to play hockey. As far as whatever option is best there, I'll start thinking of it a lot more because this stuff is getting ridiculous."
That was earlier this month after the CBA talks broke down again. Like many fans, Crosby hoped the two sides were getting close to an agreement and was "disappointed" when NHL commissioner Gary Bettman told the press they weren't close to a deal.
Crosby did everything in his power to help save the 2012-13 season, but it's out of his hands now.
Now that the two sides have decided to seek outside help in the form of federal mediators and courts, it doesn't appear the issue will be resolved any time soon.
With the courts getting involved, everyone will have to wait for each side to try its hand at miscellaneous legal tactics.
Finally, Crosby should look into playing abroad so as to stay in professional shape. He's been practicing, but nothing can replicate the experience he's missing out on by not being able to compete in the NHL.
With that point comes the question of which league to play in.
Crosby's teammate Evgeni Malkin is having great success in the KHL.
Crosby would find himself right at home in Sweden's Elitserien. For the most part, the hockey played in Sweden is heavily focused on play in front of the goal.
His speed and crisp passing abilities would fit in perfectly in Sweden. While the nation may not host the most talented hockey players in the world, there are plenty of skaters that could still pose a threat to Crosby.
The place to go for the best competition would be Russia's Kontinental Hockey League. The KHL boasts some of Europe's best players, in addition to plenty of locked out NHLers.
It might not be worth the risk, though. With Crosby's concussion history, he's one bad hit away from hanging up his skates.
Also, the league is very spread apart. The trip from Pittsburgh to Anaheim is a long one, but it's nothing compared to some of the cross-country trips KHL players have to make.
Regardless of where he ends up playing, Crosby simply needs to get on European ice.
Should Crosby just head overseas already?
He's too good to not be competing. If and when the lockout ends, the Penguins will likely be in the hunt for the Stanley Cup. That is, unless Crosby has to spend a season catching up to the players that spent the lockout competing.
There hasn't been much progress made in the three months of the lockout. It's simply time for Crosby to cut his losses and do what he does best—play hockey.
Michael Prunka is a Bleacher Report Featured Columnist. Stay up to date with him by liking his Facebook page and following him on Twitter.
This article is
What is the duplicate article?
Why is this article offensive?
Where is this article plagiarized from?
Why is this article poorly edited?

Pittsburgh Penguins: Like this team?