5 Reasons Kevin Love's Best Title Shot Is Staying with Minnesota Timberwolves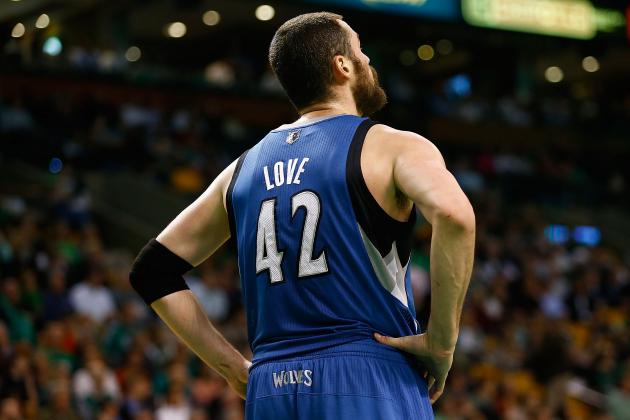 Jared Wickerham/Getty Images

Kevin Love's best chance at winning an NBA championship will come by remaining with the Minnesota Timberwolves.
Speculation surrounding Love's future with the Timberwolves began circulating after an interview with Marc J. Spears of Yahoo! Sports. Love did not state that he was interested in leaving Minnesota, but he did touch upon his desire to win—a desire which Minnesota hasn't yet met:
My patience is not high...Would yours be, especially when I'm a big proponent of greatness surrounding itself with greatness? All these [Team USA] guys seem to have great players around them.

It's tough seeing all these guys that are young and older who have all played in the playoffs. When they start talking about that, I have nothing to talk about. If I don't make the playoffs next year I don't know what will happen.

I would say it's coming down to it for sure [next season]. It's no secret I was willing to commit to Minnesota for five years. I'm very happy with my contract. I'd love to be in Minnesota. But like anybody else, I want to win.
Fortunately for Love and the Timberwolves, optimism is beginning to mount.
The T-Wolves have surrounded Love with the caliber of players and coaches to create a push for the postseason. Such a truth only scratches the surface of why Love is most likely to realize his championship aspirations in Minnesota.
Begin Slideshow

»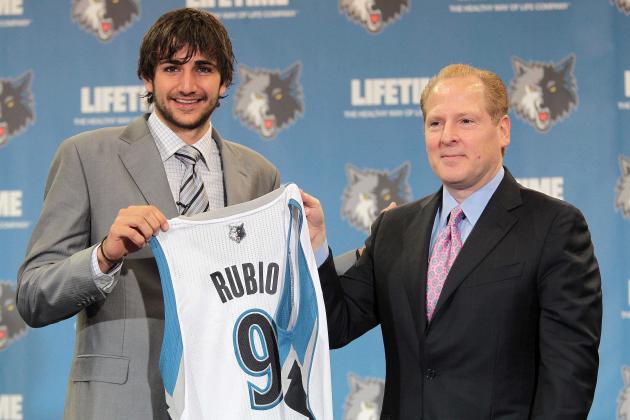 Jesse Johnson-USA TODAY Sports

It may have taken him a painfully long time to do so, but it appears as if general manager David Kahn has finally discovered a way to piece together a contender.
Kahn drafted three point guards during the first round of the 2009 NBA draft. He proceeded to trade Ty Lawson, wait two calendar years for Ricky Rubio and sign Johnny Flynn.
Perhaps Kahn's selection of Nikola Pekovic in 2008.
Up until last season, many considered that to be the worst move in NBA draft history. While that belief may still persist, Rubio has saved Kahn's reputation.
His recent moves to improve Kevin Love's supporting cast have done the same.
It all started when Kahn decided to hire Hall of Fame-bound head coach Rick Adelman (via ESPN). A slew of offseason moves in 2012 sealed the T-Wolves fate as a legitimate postseason contender.
Veterans such as Andrei Kirilenko and Josh Howard have helped bolster their perimeter defense. Youngsters such as Dante Cunningham and Greg Stiemsma add much-needed interior depth.
Throw in young hybrid guard Alexey Shved and you have yourself an organization that is dedicated to winning. Signing former NBA champion J.J. Barea proves that.
Completing a trade for Pau Gasol would be the icing on the cake (via ESPN Los Angeles).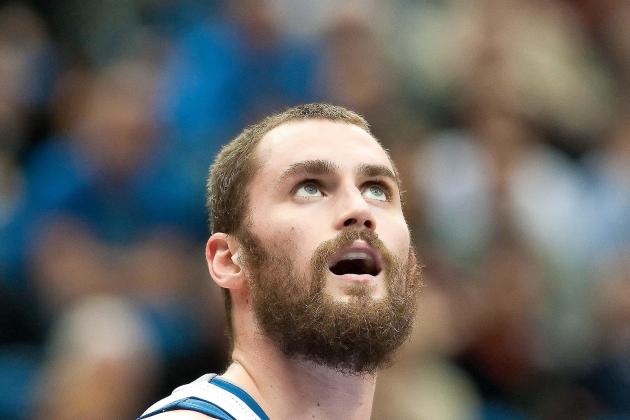 Greg Smith-USA TODAY Sports

Kevin Love has developed a reputation as one of the best individual players in the NBA. His career averages of 17.4 points and 12.1 rebounds per game offer evidence for that claim.
Should Love sign in a major market, however, he will quickly learn how meaningless statistics can be if the wins don't follow.
Playing in Minnesota, Love has the benefit of playing for a franchise that is not exposed to the bright lights of the national media. Should he suddenly make his way to a city such as New York or Los Angeles, however, Love will regret the day he left obscurity.
Come the postseason, Love will also learn the benefits of being an under-the-radar opponent.
When no one sees you coming, it becomes that much easier to secure a victory. The 2010-11 Memphis Grizzlies can attest to that.
Fortunately for Love, becoming established and maintaining success is all the more manageable when Rick Adelman is the head coach.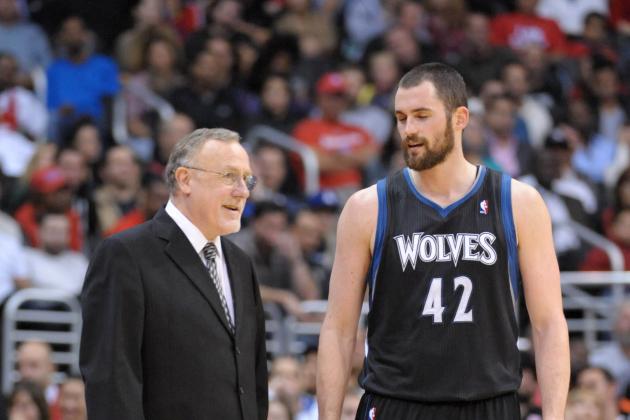 Kirby Lee-USA TODAY Sports

When the Minnesota Timberwolves hired Rick Adelman as their head coach, they made a statement. No longer were they interested merely in bringing in a respectable name—they instead wanted a proven commodity.
A Hall of Fame-caliber coach, to be specific.
With Adelman at the helm, the Timberwolves are a virtual lock to be in contention for the postseason on an annual basis. Kevin Love, specifically, will be further bolstered by a coach who has the second most wins of any active head coach in the league. (Only George Karl ranks higher.)
In fact, Adelman ranks eighth all time in terms of career wins. Most important of all, Adelman ranks ninth all time in career postseason wins.
If Love wants postseason success, who better than Adelman to give him that?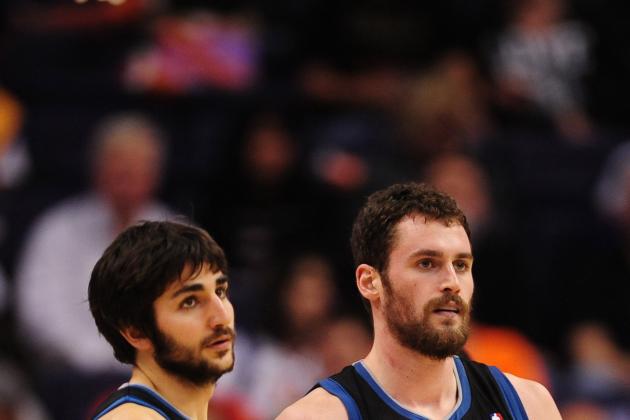 Mark J. Rebilas-USA TODAY Sports

Allow me to go on the record and state the following.
Of all the up-and-coming point guards in the NBA, Ricky Rubio is the most likely to lead his team to multiple championships. Playing alongside Kevin Love would certainly expedite that process.
The same can be said for Love with Rubio.
Not only is Rubio one of the league's top facilitators, but he's a fundamentally sound defender. His average of 2.2 steals per game during his rookie season offers numerical evidence for such a claim.
Having such a well-rounded weapon at point guard certainly makes life easier for Love, one of the game's premier offensive forces.
Although Rubio may not be as popular a name as Kyrie Irving or John Wall, he's a championship-style point guard. What that means is that Rubio is constantly looking to involve his teammates and commit 100 percent to defense.
Find me a team that has won a title with a score-first point guard as their best player, and I'll rescind my statement.
Furthermore, Rubio is a master at drawing defenders on dribble penetration. This opens up scoring opportunities for Love and company to finish with relative ease.
Who could be better than Rubio?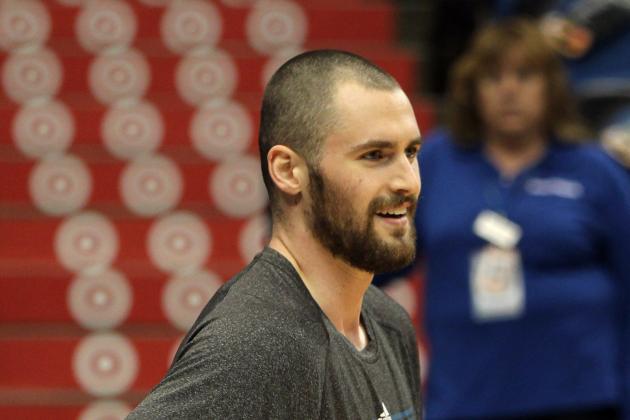 Brace Hemmelgarn-USA TODAY Sports
The Minnesota Timberwolves are 6-4 when Kevin Love isn't in the rotation. This team is legitimate.
They may not be viewed as a championship contender, but the Minnesota Timberwolves are built to win now. Right now.
Minny has a Hall of Fame coach in Rick Adelman. They have as much position-by-position depth as any team in the NBA.
The T-Wolves also possess All-Star caliber talent in Kevin Love, Ricky Rubio and Andrei Kirilenko.
Tack on the presence of the interior offensive presence named Nikola Pekovic and you have yourself a powerful core. Minnesota is legitimate.
The key for the T-Wolves will be developing team chemistry before the postseason rolls around. As the Western Conference presently stands, competing for a spot within the top four is a legitimate possibility.
From there on out, it's all about matchups.
Even if Minnesota was unable to secure a title in 2012-13, the Wolves are in an aging Western Conference. They will be joining the Oklahoma City Thunder, Los Angeles Clippers and Memphis Grizzlies as young teams on the rise.
The difference between Memphis and Minnesota is that the Grizzlies are not quite as young as we make them out to be.
As long as Love is committed to building something in Minnesota, this team has the upside to make noise in the Western Conference for years to come.