Red Sox Rumors: Fact or Fiction on All the Hottest Rumors in Boston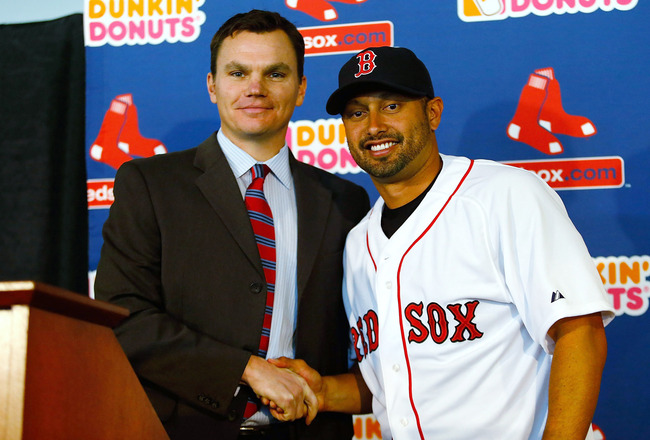 Expect several more of these introductory press conferences before the offseason is through.
Jared Wickerham/Getty Images
The Boston Red Sox have been extremely active in free agency during the 2012-13 MLB offseason, and with all the new players they've acquired, it seems unlikely that they'll continue at this pace for much longer.
However, significant intrigue still surrounds the team. Potential trades are being bandied about, final free-agent pieces still may be coming in, and everyday, it seems like a new name pops up on the team's radar.
While the Red Sox may sometimes be quiet, they are never dormant. Here's a look at some of the most interesting rumors currently surrounding the team.
Mike Napoli Contract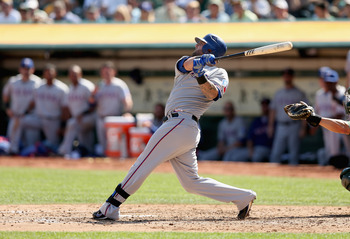 Ezra Shaw/Getty Images
Rumor: The Mike Napoli signing, which is now being held up due to his physical, may not happen.
Fiction
The Sox's first big signing of the free-agent period still isn't official, and fans are growing restless.
ESPN Boston's Gordon Edes has reported that "issues raised" during a physical have precluded the Sox from finalizing their three year, $39 million agreement with catcher-first baseman Mike Napoli, who has battled multiple injury problems in the past.
While the health-related holdup is certainly cause for concern, this deal will get done. The Sox have been down this road before, first with J.D. Drew in 2006-07 and then with John Lackey in 2009, and each time, they found a way to work around the snags and come to an agreement that protected both the player and team.
There's no reason to think the Sox would pull the plug now, and no reports suggest Napoli has begun to shop his services elsewhere. While it may not be their strong suit, Sox fans will simply need to remain patient as the player and organization slog through the slow process of rewording the contract.
Stephen Drew Signing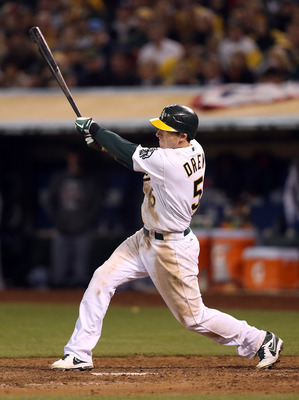 Ezra Shaw/Getty Images
Rumor: The Stephen Drew signing means that the Sox are not committed to Jose Iglesias as the everyday shortstop.
Fact
Just when Sox fans thought they had put the Drew family behind them forever, this happened.
CBS Sports' Jon Heyman reported via Twitter on Sunday night that the Sox had come to terms on a one year, $9.5 million deal with the free-agent shortstop, and at that kind of money, it is reasonable to expect that Drew is going to get a lot of playing time.
But what about Jose Iglesias? ESPN's Jayson Stark has termed Drew as a "one-year stopgap," which is fine, except this is the last year of Iglesias' contract. If the Sox believe that top-prospect Xander Bogaerts will be ready next year (and most do), where does that leave them with Iglesias this year?
If last season's performance at the plate is any indication (.118 BA, .391 OPS), the concerns over Iglesias' bat are certainly legitimate, and the Sox don't seem to have any desire to go all in on the slick-fielding shortstop.
Ryan Dempster and the Rotation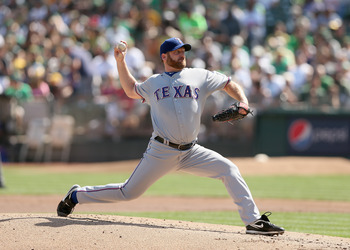 Ezra Shaw/Getty Images
Rumor: With Ryan Dempster signed, the Sox are done chasing starting pitching.
Fiction
While Dempster is a nice piece to add to the Sox's rotation, he is not the be-all and end-all of free-agent signings. He is a pitcher with all of 43 career starts against American League competition, and a man who will turn 36 years old about a month into the season.
If that is the last move the Sox make to bolster their pitching staff, they could see it backfire in a big way.
While few marquee free agents remain unsigned, there are some low-risk options (Shawn Marcum, Joe Saunders, Kevin Millwood) that could be appealing to the Sox as they look to protect themselves from injury, regression, or both.
They also could pursue a trade, particularly one involving their most viable trade chip, Jacoby Ellsbury. The Sox don't want to enter spring training counting on 200-plus innings from John Lackey and Felix Doubront, so expect one more small "insurance" deal.
Nick Swisher Still in the Mix?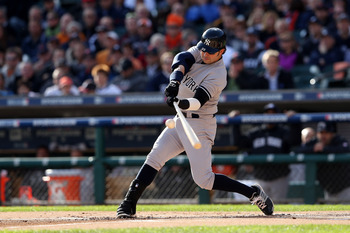 Leon Halip/Getty Images
Rumor: The Red Sox are still interested in pursuing Nick Swisher.
Fact
ESPN Boston's Gordon Edes reported last Tuesday that the Sox were interested in Nick Swisher, and it seemed odd given that the team had already come to terms with Jonny Gomes, Mike Napoli and Shane Victorino, seemingly leaving Swisher without a place to play were he to come to Boston.
However, with the Napoli deal hitting a snag due to the veteran's health, Swisher is very much still in play. There's a reason, after all, that he hasn't signed yet despite several teams expressing serious interest (according to Edes).
As NESN's Mike Cole reports, Swisher represents a fallback plan should the Sox's other moves not pan out. While the commitment he would likely require (five or six years, according to Cole) might be a deal-breaker, the Sox will continue to remain active in the bidding for the affable player's services.
Jacoby Ellsbury Trade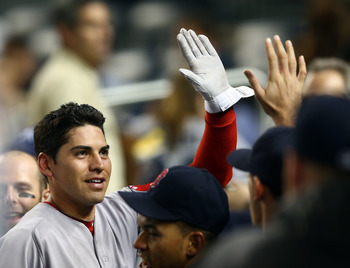 Elsa/Getty Images
Rumor: Jacoby Ellsbury will be traded before the season.
Fiction
It seems that every single trade rumor involving the Red Sox starts and ends with Ellsbury, an upcoming free agent who is by far the Sox's best trade piece. He is barely a year removed from a near-MVP season, and is by far the most dynamic player on the team's roster.
While these traits would seemingly make him a highly sought-after trade commodity, he has a major factor working against him: his agent, Scott Boras.
Any team that acquires Ellsbury knows full well that Boras is going to have his client test the free-agent market, where—if this past offseason is any indication—Ellsbury is in for an absolute bonanza.
The Sox, rightly, want top-quality prospects in exchange for their starting center fielder. Other teams, rightly, want assurances that they are not mortgaging their future for a one-year rental of a player who has battled injury problems in the past.
This combination of needs just isn't going to work, and as a result, Ellsbury will be back in a Red Sox uniform come next season.
Keep Reading

Boston Red Sox: Like this team?