UCLA Football: Why 2013 Will Be the Year of Defense for the Bruins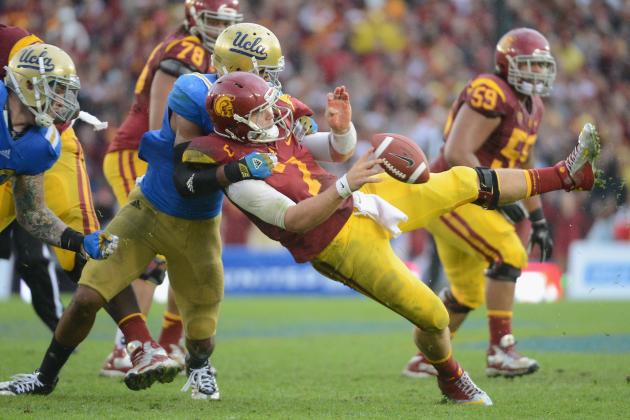 Harry How/Getty Images

Under first-year head coach Jim L. Mora, the UCLA football program has progressed immensely, improving from a perennial underachiever to a legitimate contender.
The Bruins' future looks bright in the hands of QB Brett Hundley and a talented offensive line, but what really has UCLA fans excited is the development of the defense.
Led by defensive coordinator Lou Spanos, the UCLA defense has evolved into a ferocious blitzing machine that ranks No. 7 in the nation in sacks and No. 15 in tackles for loss.
Spanos boasts 17 years of NFL coaching experience, including two championship seasons with the Pittsburgh Steelers. During his time in Pittsburgh, the new-age Steel Curtain ranked No. 1 in the NFL four times.
The results of the regime change have been telling, as UCLA jumped from No. 11 to No. 3 in the Pac-12 in sacks, en route to a South Division title and a berth in the Holiday Bowl.
Needless to say, the strides made in Spanos' first year have gotten the Bruin faithful yearning to see just how far the Bruins defense can go.
Mora and Co. may have found the formula for continued success in Westwood, but we won't know for sure until the 2013 season unfolds.
There are a number of questions left unanswered, from NFL Draft decisions to recruiting results, that will affect the progress of the defense. But still, 2013 is shaping up to be the year of the defense for UCLA.
Read on for more information about the Bruins defense and the key issues to watch for as we attempt to gauge our expectations for the unit next season.
Begin Slideshow

»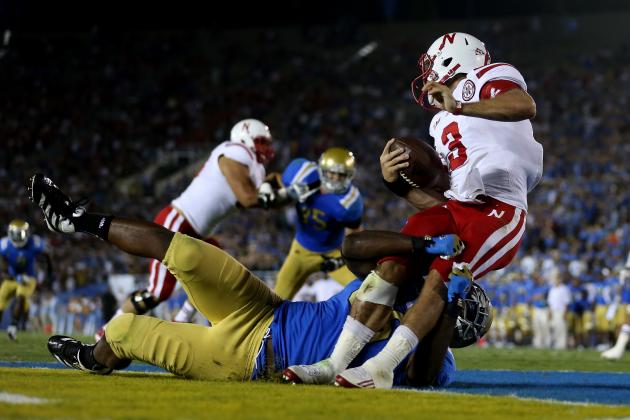 Stephen Dunn/Getty Images
DE Datone Jones sacks Nebraska QB Taylor Martinez for a safety
As is always the case in college football, graduation is set to have a significant impact on the roster and depth chart for next season.
UCLA's offense looks to take the brunt of the hit, as Johnathan Franklin and Joseph Fauria are on their way out, but the defense will be losing some key components as well.
The biggest loss for the UCLA defense is senior DE Datone Jones, a multi-year starter who has locked down the Bruins' defensive trenches for quite some time.
Jones, a 6'4", 275-pound power rusher, has had an exceptional senior year, entering the bowl game with five sacks and 55 total tackles.
Without Jones clogging up the middle, the Bruins will need to find another source of production if they hope to replicate their insane sack and tackle for loss numbers from 2012.
Blitzing right next to Jones all season has been senior LB Damien Holmes, a 6'2", 250-pound playmaker with 5.5 sacks and 52 tackles on the year.
Holmes has been an emotional leader for UCLA this season, often leading the charge against the opposing team's best offensive weapons. His energy will be sorely missed next season, unless Mora and Spanos can find a younger player to carry the torch.
The other graduating seniors are all in the secondary, as safety Andrew Abbott and cornerbacks Sheldon Price and Aaron Hester are soon to exhaust their eligibility.
Abbott will be the most missed of the bunch, as the defensive captain was one of the few consistent parts of the Bruins' pass defense.
Price and Hester have both had up-and-down UCLA careers, struggling with penalties and one-on-one coverage. Both senior corners showed flashes during their time in Westwood, but neither established himself as a lockdown defender that the Bruins could rely on.
In a way, the graduation of the veteran cornerbacks will be a net positive for UCLA, as it will allow younger prospects to work their way into the rotation and develop. There will be more on that paradoxical situation later.
But the task of replacing Jones, Holmes and Abbott will be key to the Bruins' success in 2013, a reality that Mora and his staff have been very cognizant of on the recruiting trail.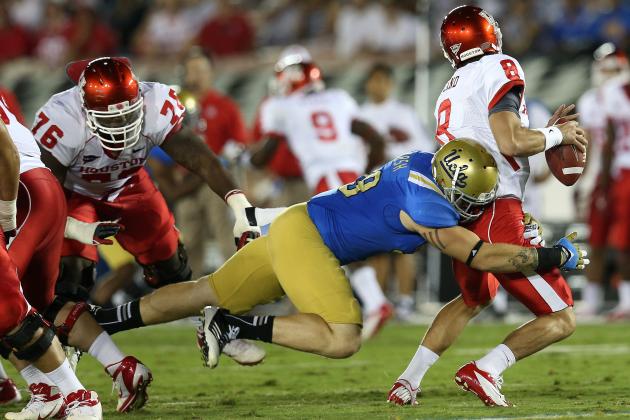 Stephen Dunn/Getty Images

There are a number of UCLA defenders that are eligible for the NFL draft, but still have a year of NCAA eligibility on the table.
Five starters in UCLA's front seven fall into this category, and their decision to declare or not will be a major factor in determining the Bruins' expectations in 2013.
Right at the top of that list is junior LB Anthony Barr, a converted tight end that has skyrocketed up the draft boards since switching to defense.
Barr leads the nation in sacks with 13.5 and sits No. 4 in the country in tackles for loss with 20.5, gaudy stats that have led some pundits to peg Barr as a first-round pick this year.
If Barr chooses to return to Westwood, it could sway some of his peers to come back for another season as well.
In a recent interview, Coach Mora was confident that most, if not all, of the players would return, citing his staff's NFL experience as an important factor in their decision.
If Mora's hunch turns out to be reality, the 2013 UCLA defense will be a very scary group and could lead the Bruins right back to the Pac-12 Championship Game.
Below is a complete list of UCLA's draft-eligible starting defenders that have not declared yet.
LB Anthony Barr, Junior
LB Jordan Zumwalt, Junior
LB Eric Kendricks, RS Sophomore
DE Owamagbe Odighizuwa, Junior
DE Cassius Marsh, Junior
NT Seali'i Epenesa, Junior
S Tevin McDonald, RS Sophomore
Stephen Dunn/Getty Images

Assuming a good number of the draft-eligible players return for their senior campaigns, the UCLA defense will be stacked in 2013.
But even if key players like Barr, Eric Kendricks and Cassius Marsh bolt for the NFL, the Bruins will have plenty of talent on defense.
In the secondary, starting safety Tevin McDonald is expected to return, which will provide crucial experience for what figures to be a very young group next season.
The projected starting secondary, alongside McDonald, will be rising sophomores Randall Goforth, Marcus Rios and Ishmael Adams.
All three defensive backs were highly-touted prospects out of high school, but only Goforth saw significant playing time in 2012.
Adams and Rios were both buried behind seniors Price and Hester at cornerback, despite playing a small amount at the beginning of the season. Adams injured his shoulder in September and was ruled out for the remainder of the season.
If Adams and Rios nab the starting spots at corner, the Bruins' secondary could quickly become the most talented group on the team. The youngsters, despite some unavoidable blunders of inexperience, will certainly be an upgrade over the incumbent starters from 2012.
If the young group can play up to its potential, the penciled-in starting secondary looks to be an extremely strong unit in 2013. That would be a welcomed relief for UCLA fans, as the Bruins' pass defense has been a major liability in recent years.
In addition, the return of junior safety Dietrich Riley, who is expected to be ready for action in spring practices, will upgrade the physicality in the secondary immediately.
Riley was a hard-hitter with a heck of a motor, but he went down with a neck injury on a scary tackle in October 2011. He hasn't been able to suit up since, but has had a lot of time to get comfortable with the new coaching staff and new schemes.
Look for Riley to reassert himself as a premier college safety, though the transition back to game-speed and full contact may take some time.
Another reason for UCLA to be optimistic in 2013 is the emergence of Ellis McCarthy, the prized gem of Mora's No. 13 ranked recruiting class, who most expected to explode onto the scene as a true freshman.
But a logjam in the depth chart and a nagging knee injury limited McCarthy's time on the field, as the 6'5", 330-pound youngster only notched 10 tackles in 2012.
Nonetheless, the beastly pass rusher is primed to return with a vengeance next season, competing with junior Seali'i Epenesa for the lone starting tackle spot in UCLA's 3-4 defense.
Whether or not the ultra-talented McCarthy surpasses Epenesa remains to be seen, but he will be a massive contributor on the Bruins' D-line either way.
And based on the sheer dominance of his high school highlights, it looks like McCarthy could become a household name sooner rather than later.
In addition to Goforth, Adams, Rios and McCarthy, UCLA has a plethora of talented freshman on the defensive side of the ball that should have the Bruins set for years to come.
From the 2012 class, 4-star LB Aaron Porter and 4-star DE Jeremy Castro figure to compete for starting roles, especially considering the losses of Holmes and Jones to graduation.
Porter is a relentless pass rusher with a high football IQ, while Castro is a run-stopping monster with great speed, size and athleticism.
Both Porter and Castro redshirted in 2012, which gives them ample time to learn Coach Spanos' defensive playbook and prepare for the physical demand of college football.
In the current recruiting cycle, Mora and the Bruins have landed a few top defensive prospects and still have their eyes on some others.
DT Kenneth Clark and LB Deon Hollins, Jr., both 4-star prospects that committed to the Bruins, come to UCLA with high expectations, though they may not contribute immediately.
Other undeclared recruits, like safeties Tahaan Goodman and Priest Willis and LB Isaac Savaiinaea, could also provide talented depth for the Bruins should they come to Westwood.
Assuming the large group of juniors returns for another year, these 2013 recruits will likely take a redshirt to preserve their eligibility, but they will be major components of the UCLA defense soon enough.
For more information about the recruitment of these defenders, follow this link.