Lions vs. Cardinals: Detroit's Biggest Winners and Losers from NFL Week 15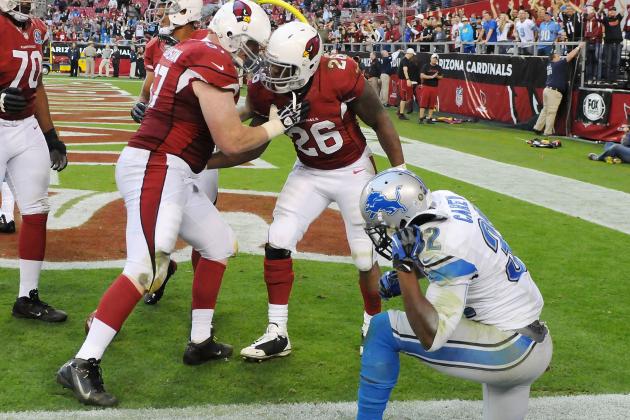 Norm Hall/Getty Images

When a team loses by four touchdowns to a team that lost their last game by 58 points, it's hard to spin a positive out of it.
Especially when that team just snapped a nine-game losing streak.
Without question, this is a more humiliating beating than any the Detroit Lions have suffered in the last two seasons, and maybe in the entire Jim Schwartz era.
There was almost nobody who played well in this game. Picking winners and losers at this point is about attrition. Who played less bad than the rest of the team, and who led the charge in getting outscored 38-3 after the first score of the game?
As always, we'll start with a bright spot and perhaps the only legitimate one from this game.
Begin Slideshow

»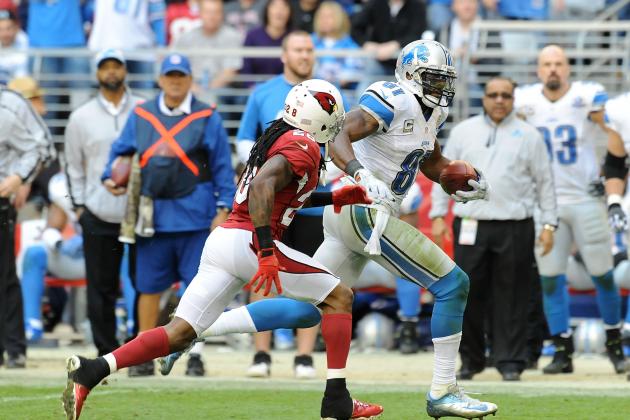 Norm Hall/Getty Images

Quietly, Calvin Johnson once again improved on his pace to break Jerry Rice's single-season receiving yards record.
With 10 catches for 121 yards, Johnson brought himself to within under 200 yards of the record, and with two games left to go.
Johnson also caught another pass at the 1-yard line, He has now been tackled at the 1-yard line more times (six) than he has touchdown catches (five). The Lions have scored every time Johnson gets them within that range.
Of course, Johnson would likely trade that record-book immortality for a playoff run in an instant, but the situation isn't kind enough to allow that right now, so he may as well shoot for whatever small success he can here.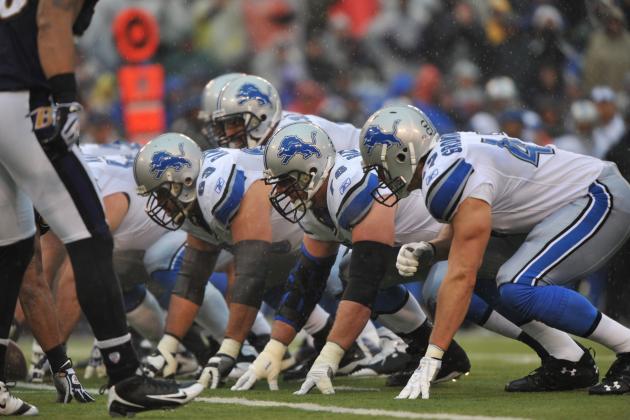 Larry French/Getty Images

Matthew Stafford had one of the worst games of his young career, and we'll get to that later.
For now, let's take a look at the group that had Stafford peeling himself up off the ground on just about every play.
I'm not going to single out anybody here as the worst performer, because it was a pretty atrocious performance altogether.
I will say that the tackles may have the most to answer for. Much of the pressure that came Stafford's way was off the edges, and Gosder Cherilus made his free-agent case an awful lot tougher with three penalties in the first half alone.
The Cardinals are not known for one of the more dangerous defensive fronts or pass rushes in football, but they let Calais Campbell disrupt the offense all game long.
This game might make some of the Lions' upcoming personnel decisions a whole lot easier in the offseason. And that is not a good thing for the incumbents along the starting line.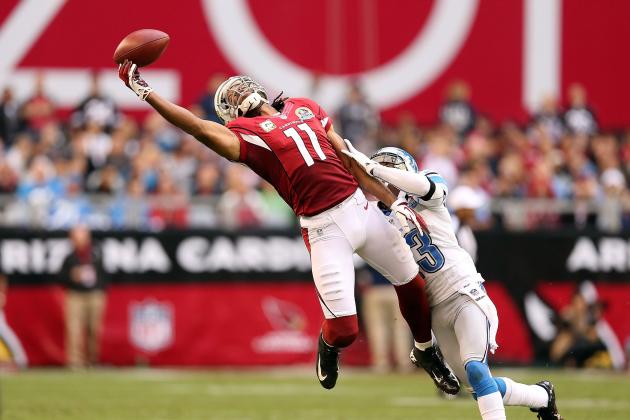 Christian Petersen/Getty Images

One of the keys to winning this game should have been shutting down Larry Fitzgerald.
Had you told me that Fitzgerald would be held to four catches for 22 yards in this game and the Cardinals would still win by 28, I would have assumed Kurt Warner came out of retirement and Kellen Moore started for the Lions.
But still, if there's one guy who can't be blamed for this loss, it's Chris Houston. Houston drew the asssignment on Fitzgerald for four quarters, and as a result, the biggest thing Fitzgerald did all game was draw the phantom pass interference call pictured here.
Houston has been playing himself into a major payday all season, and he seems to be finishing with some of his best work. He's not forcing turnovers at the rate he did last year, but he is silencing the opponent's top threat as well as any corner in the league this year, and he continued that by effectively taking Fitzgerald out of the game.
It's too bad that didn't have an effect on the game's end result, but it's not for a lack of effort on Houston's part.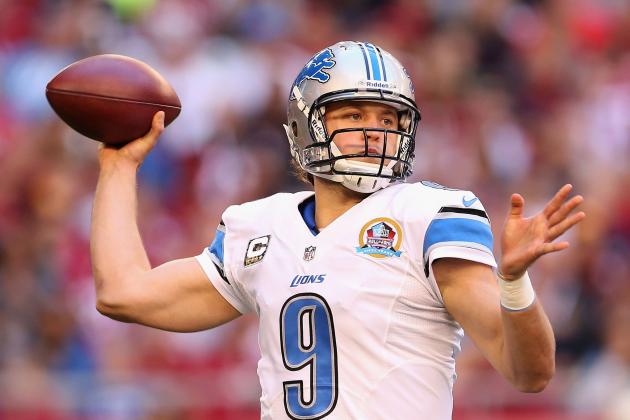 Christian Petersen/Getty Images

I'm not going to jump on the mechanics-criticizing bandwagon, but there's no denying that Matthew Stafford had a bad, bad game in Arizona.
I don't know if it's a lack of trust in his receivers, since he barely knows most of them, or if it's an overconfidence in his arm.
My personal hypothesis is that we'll find out in two weeks that he's been playing through a myriad of injuries and may need some sort of surgery in the offseason.
Because no matter what Stafford is doing in terms of yardage, he doesn't look sharp at all. He threw away more points in pick-sixes than his team scored on offense, and not one of his interceptions was justified. Every one of them was a "why would you do that?" kind of throw.
Now, bad quarterbacks don't throw for over 9,000 yards in two years, no matter how many dropbacks they have. Stafford is a good quarterback, but there's no excusing his performance today. Stafford was, likely, the biggest difference between winning and losing today.
All three of Stafford's picks ended up as Cardinals touchdowns, and he threw one of them into his own end zone. That's effectively a 28-point swing. The Lions lost by 28 points.
Questions?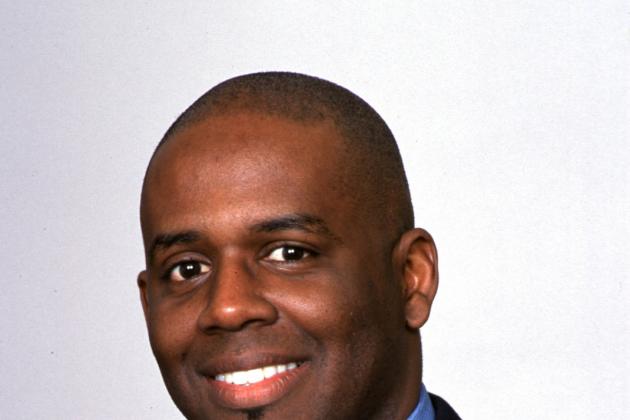 Handout/Getty Images

Let's first assume that Martin Mayhew will be around at this time next year.
That's a very safe assumption, considering how long his predecessor(s) was given in Detroit with notably less success to back his case.
Considering the Lions are still having trouble with the salary cap, this season is actually making some of Mayhew's tough personnel decisions a lot easier—and cheaper.
For instance, after this season, is anybody really going to be throwing sacks of money at Justin Durant or Gosder Cherilus? Would anybody complain that much if the Lions drafted a defensive end?
Even Cliff Avril, who sits at 9.5 sacks on the season, looks an awful lot less impressive now than he did a year ago.
No team is going to perform like this for the sake of saving salary or making things easier on the GM, but Mayhew has a golden opportunity here and in the next two games to make some difficult decisions in personnel.
And given the way this season has gone, his decisions will be an awful lot easier to justify, whatever they may be.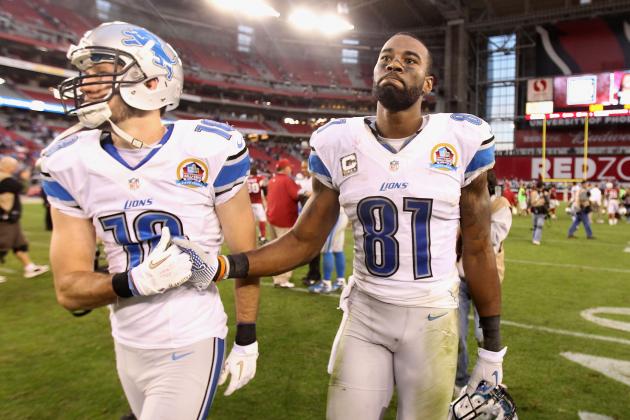 Christian Petersen/Getty Images

There was a time in Lions history when a 4-10 record was routine, and the pain of it had dulled.
Now is not one of those times.
With franchise-caliber players in place at a number of positions and a playoff run (albeit a short one) in the books, this was supposed to be a fun season.
Sure, there were calls that the Lions would regress this year, and many were hard to deny, given the charmed nature of some of last season's victories.
Still, going from a 10-win season to a 10-loss (likely more) season isn't the kind of regression typical of a young team coming off its first taste of success. It's a full-on disappointment.
Surely, this team still has a lot of potential, and most of the pieces that made it successful in 2011 will still be around in 2013. Additionally, the Lions are missing a cavalcade of players due to injury.
But what this season shows, unequivocally, is that the Lions still have a lot of problems to clear, and most of them are not intangible things like "maturity" or "discipline" or "experience." There is clearly still work to be done on the roster.
That's not a bad thing, of course. Every year, 31 teams will go into the offseason with "what ifs," and this season, the Lions will be one of them.
But that doesn't mean the Lions haven't disappointed this year. The Lions went from playing a playoff game in January to playing meaningless games in December in the span of one season.
Now all that's left is to spoil the Bears' playoff run.