TUF 16 Finale, UFC on FX 6: The 6 Best Stoppages from This Weekend's Fights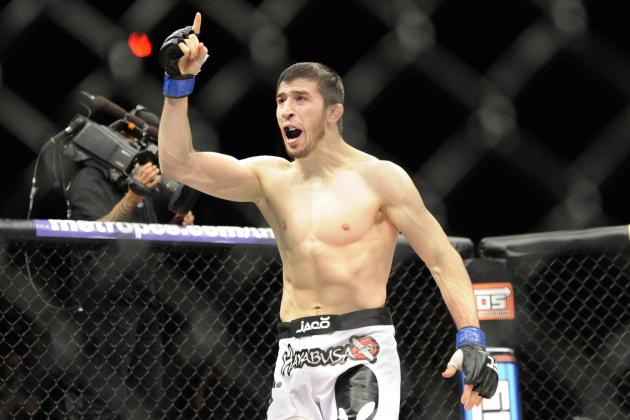 Josh Holmberg-USA TODAY Sports
UFC fighter Rustam Khabilov shocked MMA fans with one of the year's best knockouts.
Here are a few statistics that make the UFC's busy weekend look even better in retrospect.
Between the TUF 16 Finale in Las Vegas and UFC on FX 6 in Australia, 14 out of 21 fights ended in a knockout or submission. And out of those 14 bouts, nine of them didn't even make it past the first round.
That's an impressive trend in a busy weekend for the UFC.
But while all the stoppages were entertaining, six of them elevated themselves above the rest due to a mix of violence and happenstance, cementing the past two days as a long, but entertaining MMA weekend. Read along as we recap the six best stoppages from both events.
Begin Slideshow

»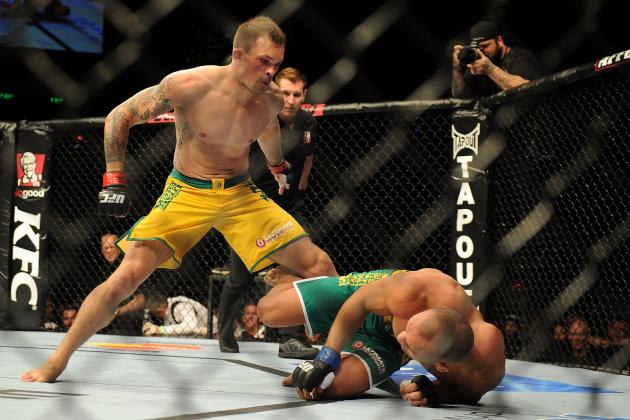 Matt Roberts/Getty Images

It's a shame to think that referee Steve Percival almost robbed Alloway out of his KO finish against Manuel Rodriguez, but Alloway's persistence paid off.
After a temporary stoppage on a groin shot suffered by Rodriguez, Percival paused the action but seemed visibly confused on whether to end the match or give a timeout on the foul.
Thankfully, it didn't matter.
After a quick consultation with cageside officials and a brief break, the match continued right where Alloway left off, blitzing Rodriguez with kicks and punches en route to an exciting KO victory.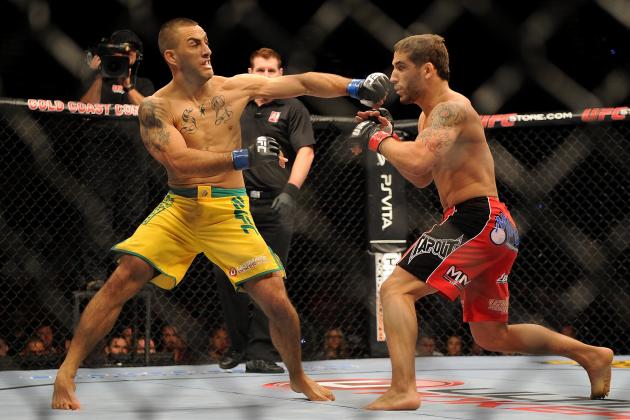 Matt Roberts/Getty Images

Sometimes, it's not the knockout that's exciting all by itself, but knowing that it's coming.
That was the case in the Mendes vs. Meza bout, another mismatch that overwhelmingly favored Mendes and his one-punch stopping power.
It was just a matter of time.
Meza did his best with leg kicks and jabs, but Mendes' spectacular timing once again proved to be the difference-maker, as he landed a home run overhand right to shut off Meza's lights.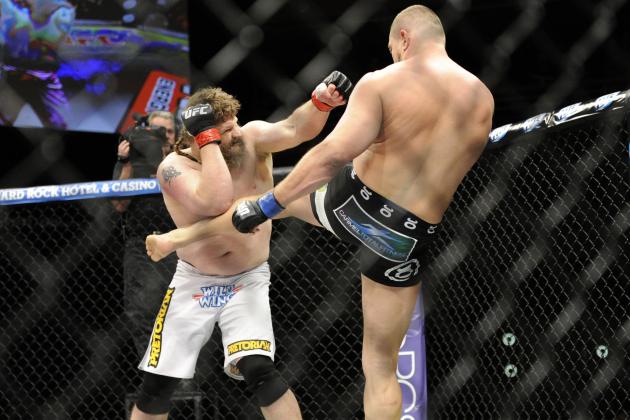 Josh Holmberg-USA TODAY Sports

"Big Country" was certainly the favorite going into his main event bout with Mitrione, but one had to wonder if the Blackzilians had given the former NFL star a secret weapon.
That proved to be a stinging kicking game, as Mitrione immediately welted up Nelson with sharp, hard high kicks early on. But instead of single-shot overhand swings, Nelson put together a solid uppercut-and-hook combination that shut down his fellow TUF 10 competitor.
And let's not forget referee Herb Dean.
Once again, MMA's best in-ring official made a good call by not diving in the middle of the end-fight exchange even though Mitrione had lost his mouthpiece. Dean visibly waited for a moment where he wouldn't change the outcome of the fight, but Nelson's big TKO rendered the issue moot.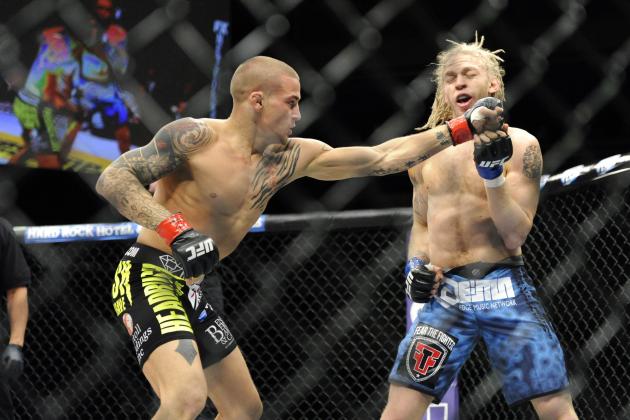 Josh Holmberg-USA TODAY Sports

During the opening fight of the TUF 16 Finale's main card, Poirier found himself in deep trouble early, as massive featherweight Brookins pinned him against the cage.
But amid a firestorm of heavy punches, "The Diamond" used remarkable head movement and will to gut his way out of danger and turn the tide.
Both fighters would repeat the sequence again, but amazingly, things didn't end in a knockout.
Picking his shots more wisely than Brookins, Poirier managed to drop and finish his foe in a split-second tactical adjustment with a picture-perfect D'arce choke submission—easily one of the year's best single-round brawls.
He may not have won himself a post-fight bonus, but Hugo Viana orchestrated one of the best knockouts on the TUF 16 Finale in Las Vegas.
Throughout his entire one-round fight against King of the Cage veteran Reuben Duran, Viana slammed his opponent to the mat with monster punch after monster punch. Duran gamely held on, though, even taunting his foe to bring it on.
But Viana eventually got his finish.
With less than a minute left, "Wolverine" hit the mark with a haymaker that spun Duran around in a half-circle with his face crashing against the cage. Absolutely brutal.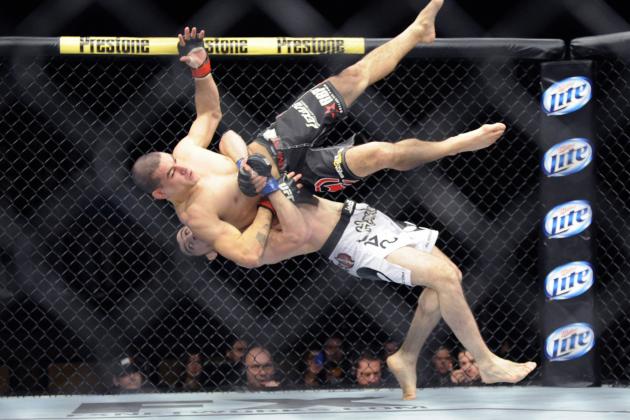 Josh Holmberg-USA TODAY Sports

M-1 Challenge veteran Khabilov made a remarkable UFC debut at the expense of TUF: Live competitor Pichel in a fight that inspired memories of Rory MacDonald vs. Nate Diaz.
Belly-to-back suplex slams were the only thing that happened during all two minutes of the fight, as Khabilov floored Pichel over and over again, eventually knocking him out with one last definitive drop to the Octagon floor.
Now that's what a Sambo master should look like.
Maybe Khabilov won't repeat that type of dominance against another UFC lightweight, but in a field crowded with wrestlers, it'll be interesting to anticipate.