Houston Rockets vs. Toronto Raptors: Postgame Grades and Analysis for Houston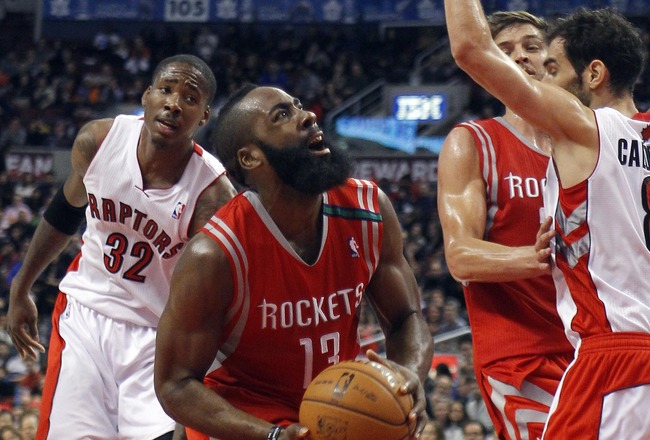 USA TODAY Sports
The Houston Rockets traveled north Sunday afternoon where they took on the Toronto Raptors for the second time this season. The first time around saw the Rockets take care of business 117-101, but they couldn't get it done in the rematch, as they fell 103-96.
Coming into this contest, Houston had momentum from its victory against the Boston Celtics, but had also lost its last six road games. Something had to give, and early in the game, the road troubles were on full display.
The Rockets looked to push the tempo, but sloppy play made it difficult for them to get on the board. More than four minutes into the game, Houston still hadn't scored, and Toronto had jumped out to an 8-0 lead.
The Raptors played a much more efficient game to start, but it didn't take long for the Rockets to take over. They went on a 20-6 run to end the first quarter, and they took a two-point lead with them into the second.
The rest of the half proved to be back and forth, but neither team truly stole momentum. A few mini runs each way made it interesting, and the game was tied 49-49 heading into the third.
The second half began similarly to how the first quarter started. Houston was playing careless basketball, and turnovers and missed opportunities led to the Raptors taking control. But in familiar fashion, James Harden and the Rockets turned things around and kept it close heading into the final period.
This game became Toronto's to lose as the final minutes trickled down. It became a free-throw contest late, and it was an uphill battle that the Rockets simply couldn't overcome.
Houston has now lost six straight games at Air Canada Centre, and it won't get any easier as it now prepares to take on the Eastern Conference-leading New York Knicks Monday night.
Point Guard: Jeremy Lin
In the 2011-12 season, Jeremy Lin took his Linsanity Tour to Air Canada Centre and put up 27 points and 11 assists. It's safe to say, though, that Linsanity has gone into hibernation, and that his performance this time around wasn't nearly as impressive.
Lin was completely invisible in the first quarter. He had zero points, zero assists and zero rebounds. He was 0-of-1 from the floor, and he made numerous mistakes, which led to three turnovers.
The 24-year-old point guard never quite got his game going, but his aggressiveness certainly improved upon the start of the third quarter. He was getting to the rim and he was finding his teammates, but those things rarely resulted in legitimate production.
On defense, Lin had moments where he was able to contain Jose Calderon, but his fellow point guard had the clear-cut advantage from start to finish. Calderon finished with 18 points, 14 assists and 10 rebounds, while Lin was held to just seven points and two assists on 3-of-9 shooting.
Grade: D
Shooting Guard: James Harden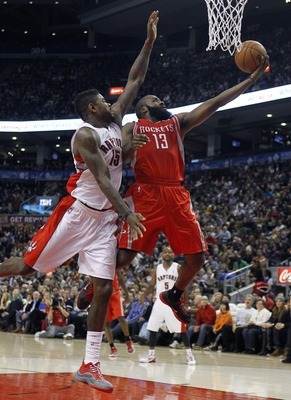 USA TODAY Sports
Multiple times throughout this season, we've seen the Houston Rockets starters come out stagnant, and it's almost always James Harden who rallies the troops with his spectacular isolation play. Sunday afternoon was no exception, as he and Marcus Morris were the only Rockets making shots in the first quarter.
Where Harden found success in this one was attacking the basket. We all know that the 2-guard has an uncanny ability to get to the rim, and when he puts his head down, he's virtually unstoppable.
Unfortunately for the Rockets, Harden's jump shot was completely atrocious outside of the painted area. His mid-range shot was off, as the ball oftentimes hit the backboard before anything else, and he finished the game just 7-of-18 from the field.
Efficiency was a major problem, as he was also 0-of-3 from the three-point line, but his aggressive play earned him 15 free throws. He made 14 of them, and he finished the game with 28 points.
Grade: B
Small Forward: Chandler Parsons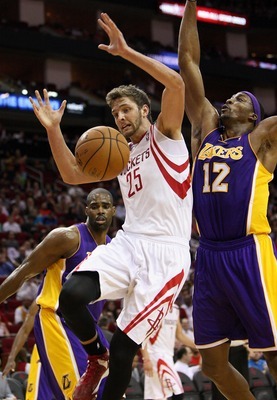 USA TODAY Sports
Chandler Parsons had a quiet start to this game, but the same can't be said about his defensive assignment, DeMar DeRozan.
DeRozan was scoring from all over the floor early. He was attacking the rim, shooting well in the mid-range game and he even showed that he can be a threat from deep when Parsons gave him too much space.
Parsons would be switched to Mickael Pietrus throughout the game, which was a matchup that was much more favorable for the 6'9" forward.
On offense, Parsons never appeared to get a feel for this one. He had averaged nearly 18 points in his last four contests, but he finished this one with just 12 points. His five rebounds are good to see, but the fact that he was a team-worst minus-17 in the plus-minus category shows just how little of an impact he had while on the floor.
Grade: C-
Power Forward: Marcus Morris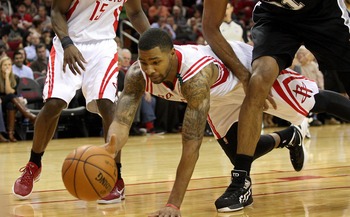 USA TODAY Sports
Marcus Morris earned the start against the Toronto Raptors in place of the injured Patrick Patterson. It was just the second start of his career, but he came out and played an extremely productive game in the first quarter.
When the Houston Rockets were struggling to score, it was Morris and James Harden who helped the team gain momentum. The forward scored a team-high nine points in the opening period, as he shot 3-of-4 from the field.
Morris was efficient from every spot on the floor, but the area where he struggled was on the defensive end. The Toronto Raptors don't play a regular back-to-the-basket style, but Ed Davis was taking advantage of his fellow power forward.
The most promising thing from Morris in this one is that he was aggressive the entire 37 minutes he was on the court. He was willing to fight for loose balls, he earned six shots from the free-throw line and he pulled down six rebounds to go with his career-high 19 points.
Grade: B+
Center: Omer Asik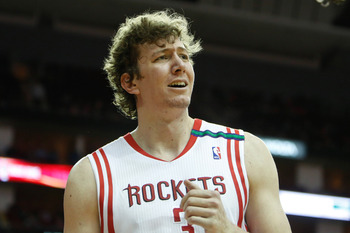 Thomas Campbell-USA TODAY Sports
Omer Asik has had some surprisingly good offensive performances in his first season with the Houston Rockets—this was not one of them.
The big man in the middle took seven shots and scored just seven points. He was also just 1-of-4 from the foul line, but the bigger problem was that he had trouble simply catching passes.
There were a number of times when entry passes and pick-and-roll situations resulted in turnovers because the seven-footer couldn't handle the ball, which ultimately led to Toronto taking advantage in the fast-break game.
On the glass, Asik did what he is supposed to do. He pulled down 13 boards and he won the 50-50 balls more times than not. You'd like to see the center block at least one shot, but rebounding is expected, and he showed on Sunday that he can make his living doing the dirty work.
Grade: B-
Sixth Man: Carlos Delfino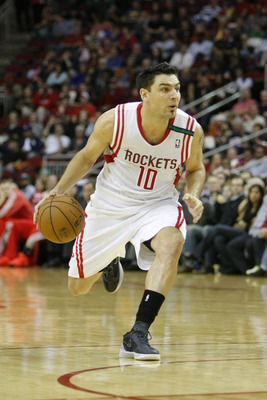 USA TODAY Sports
Carlos Delfino never stood out as a big part of this contest, but his three-point shooting in the first half helped the team make up for a sloppy start, and he had two huge buckets to keep this one close late.
Unfortunately for Delfino and the Houston Rockets, he finished the game just 2-of-7 from the three-point line. You'd like to see more from your perimeter-oriented sixth man, but a double-digit showing off the bench is always a welcomed performance.
Delfino played the most minutes of any Houston player off the bench. He scored 10 points in 22 minutes, and he managed to pull down four rebounds. His game isn't going to be remembered by most casual fans, but he had a few key moments that almost make up for all the missed shots.
Grade: C
Bench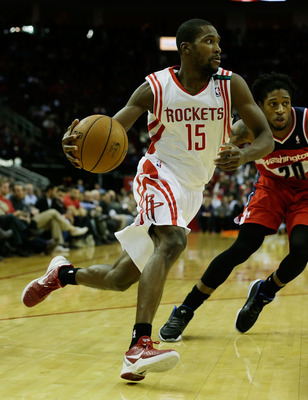 Scott Halleran/Getty Images
The Houston Rockets played just four players off their bench in Sunday's matchup, and while they combined for solid minutes in the first half, they seemed to disappear as the game progressed.
Terrence Jones didn't have any sort of impact in this game. He is still a young forward trying to figure out how to play at the NBA level, and once Patrick Patterson comes back, don't be surprised if he finds himself back in the D-League.
Carlos Delfino may have been the sixth man in this contest, but Greg Smith was the player who had the biggest impact off the bench. He finished the game was eight points and seven rebounds, and his 4-of-7 shooting shows that he was taking smart shots throughout the contest.
The Rockets' key reserves combined for 23 points and 13 rebounds, but there's no denying that the team lost momentum to begin the second quarter with them on the floor. With James Harden and Marcus Morris resting, the team struggled to establish a go-to scorer, and as a result, their production was inconsistent from start to finish.
Grade: B-
Keep Reading

Houston Rockets: Like this team?