NHL Lockout: 11 Biggest NHL Contracts Coming off the Books If Season Is Lost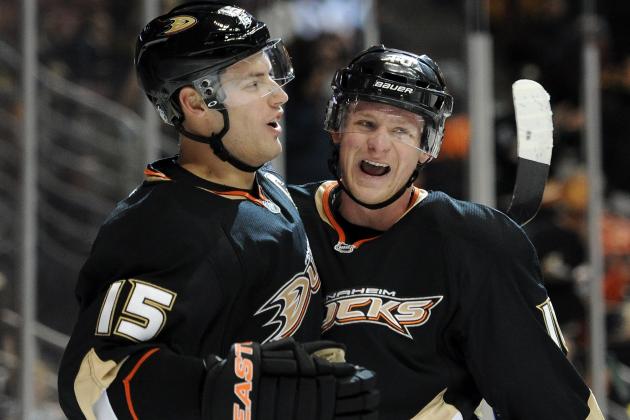 Harry How/Getty Images
Ryan Getzlaf (left) and Corey Perry of the Anaheim Ducks.
With no end to the National Hockey League lockout in sight, some teams and their fans can be forgiven for looking toward the end of this season as a more realistic target date for a new collective bargaining agreement to be signed.
Admittedly "more realistic" doesn't necessarily mean "realistic," but it's important to leave the semantics to the likes of Gary Bettman and Donald Fehr, and instead focus on the hockey, which is kind of a weird thing to say, but these are far from normal times…were this any other sport, of course.
Here are the 11 biggest NHL contracts coming off the books if the season is lost:
Begin Slideshow

»
While Boston Bruins forward Nathan Horton could have theoretically made this list (salary cap hit of $4 million, but a salary of $5.5 million), goalie Tim Thomas slips into the No. 11 spot instead, but he does so with a bang.
Set to make just $3 million this season, Thomas has a salary cap hit of $5 million. Now Thomas wasn't going to play, opting instead to take the year off anyway, but without the lockout Boston would have still been on the hook for the salary cap (but not needing to pay him).
Of course, the Bruins weren't going to be all that handcuffed by that fact, as Marc Savard was being put on long-term injured reserve, unburdening them of his $4,007,143 hit.
Still, the Bruins must be sitting somewhat pretty, knowing they're going to be cutting all ties to Thomas after he refused to show at the White House last year as a member of the 2011 Stanley Cup-winning team and then continued to stir the pot the rest of the season, speaking out against a variety of issues better left discussed by political pundits.
Ownership must also be smirking somewhat at the notion that at least one young fan out there blames him for the lockout (see accompanying video at around the 2:40 mark). Funnily enough, you'd think Thomas, who is a noted Republican, theoretically would be against the redistribution of wealth just like the owners.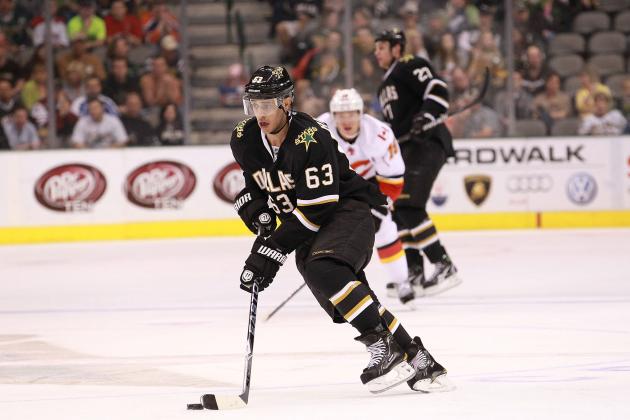 Ronald Martinez/Getty Images
Mike Ribeiro, formerly of the Dallas Stars.
When the Dallas Stars traded Mike Ribeiro to the Washington Capitals for Cody Eakin and a second-round pick, most rational hockey fans believed they had just gotten fleeced.
Here they were giving up a proven top-six forward, one who has scored over 60 points five times in his career, for a prospect projected to be a third-liner, and a player who had yet to be drafted and might only be ready to compete for a roster spot three-four years down the road, if at all.
Needless to say, Washington won the deal hands down.
That was then, though. With Ribeiro set to become an unrestricted free agent at the end of this non-hockey season, the Capitals will potentially have given away two assets for nothing.
The Stars must be among the luckiest in the universe, as in 2006 they got Ribeiro from the Montreal Canadiens for a great-big nothing by the name of Janne Niinimaa.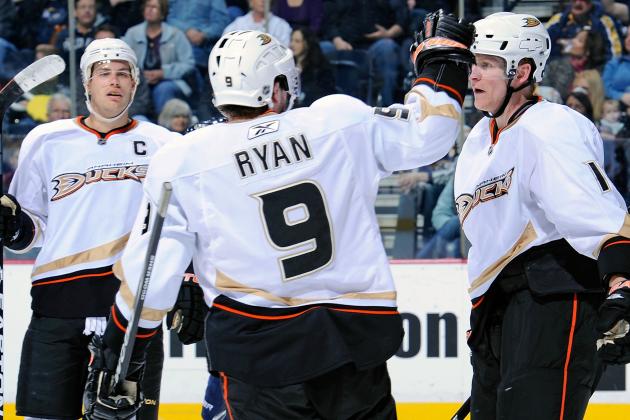 Frederick Breedon/Getty Images
Getzlaf (left), Bobby Ryan and Corey Perry of the Anaheim Ducks.
Most might question the decision to include both Ryan Getzlaf and Corey Perry in one slide, but they do carry the same salary cap hit of $5.325 million—Getzlaf was slated to make $6.125 million this year and Perry $4.875 million.
It will be undeniably difficult to picture either one of these home-grown superstars with a team other than the Anaheim Ducks, but that's exactly the situation hockey fans face, with both destined to become UFAs on July 1.
General manager Bob Murray will have his work cut out for him, especially considering Saku Koivu and Teemu Selanne will theoretically become UFAs as well if they don't just up and retire instead.
With only Bobby Ryan remaining from the team's projected top-six for this season, consider Murray's workload that much greater seeing as it also should include a review of first-grade math (five does not equal six).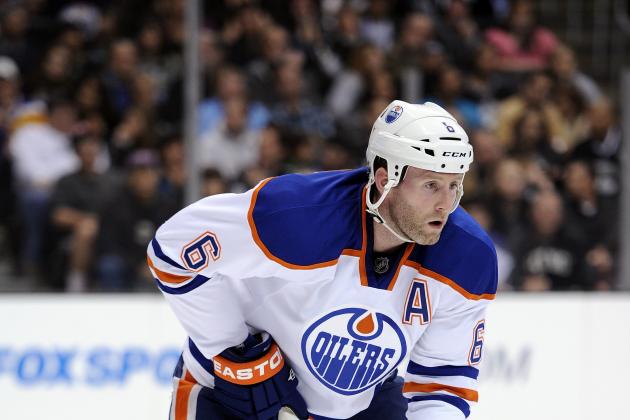 Harry How/Getty Images
Ryan Whitney of the Edmonton Oilers.
The Edmonton Oilers aren't likely to miss Ryan Whitney that much once he becomes an unrestricted free agent at season's end.
That's admittedly in large part because of recent signee Justin Schultz, who continues to light up the American Hockey League like his own personal Christmas tree with 37 points in 25 games.
So, Whitney and his $5.5 million salary ($4 million salary cap hit) may not be all that welcome once play resumes, especially seeing as it's quite possible no one will be able to even recognize the dude (78 games missed due to injury over the last two seasons).
Richard Wolowicz/Getty Images
Sergei Gonchar of the Ottawa Senators.
Ottawa Senators general manager Bryan Murray has made a lot of bad signings over the last few years in an attempt to turn his team into a winner.
Defenseman Sergei Gonchar may have provided the offensive punch needed on paper to close the gap between Erik Karlsson's rookie season and his James Norris Memorial Trophy-winning one, but in practice, he just hasn't panned out.
Shocking, I know, that a 36-year-old defenseman with a history of injuries being signed to a three-year deal would blow up in the Senators' faces, but in Murray's ironclad defense, at least he didn't pull a Pierre Gauthier and re-sign an injured Andrei Markov for $5.75 million per season.
Nope, all he did was not break something and then buy it….for just $5.5 million per season.
Of course, it didn't work out that badly for Ottawa. The Senators did make the playoffs last season, and if the lockout were to last the entire season, they would be free and clear of any obligation to take back Gonchar—that is if he even wants to come back from the Kontinental Hockey League (via ESPN):
"I still have one more year in Ottawa," Gonchar said. "So if it's going to be this year [that the lockout ends], I'm definitely coming back. And next year I would like to come back and play if I'm healthy and if there's interest in the NHL for me. I would definitely want to play over there. But at the same time, the KHL is better now than it was and I'm not taking that option off the table either."
Knowing Murray, no one can really rule it out unfortunately.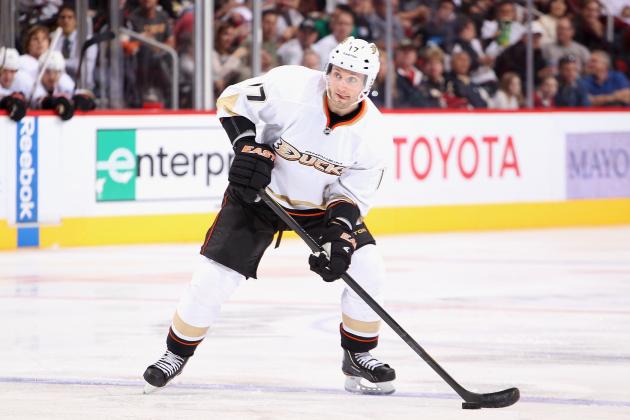 Christian Petersen/Getty Images
Lubomir Visnovsky, formerly of the Anaheim Ducks.
New York Islander defenseman Lubomir Visnovsky may get his wish yet.
After being dealt to the Islanders by the Ducks for a second-round pick, Visnovsky filed a grievance through the Players' Association, claiming the no-trade clause in his contract was still valid despite the fact he waived it in 2010 to go to Anaheim from Edmonton.
The trade was ultimately upheld by an arbitrator, but now one has to think Visnovsky is just as content playing out this year in his native Slovakia for Slovan Bratislava in the KHL, where he has all the comforts of home, namely a lack of eccentric owner Charles Wang.
Of course, the lockout results in the same net affect as if Visnovsky refused to report to the Islanders, but now he doesn't have to look like as big of a jerk while not being paid his $3 million this season ($5.6 million salary cap hit).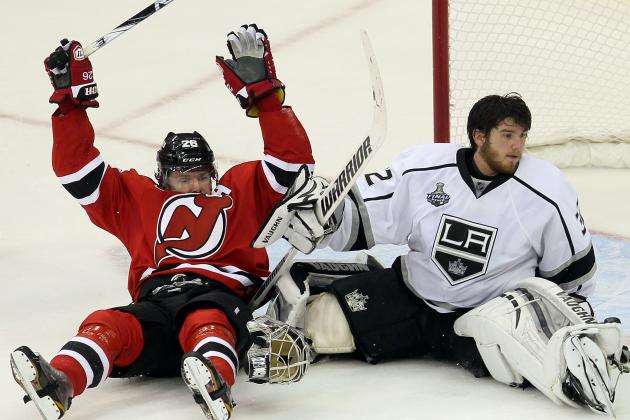 Jim McIsaac/Getty Images
Patrik Elias (left) of the New Jersey Devils and Jonathan Quick of the Los Angeles Kings.
The New Jersey Devils can't get a break. First they lost the Stanley Cup in relatively humiliating fashion, and then they lost their captain, Zach Parise, to free agency. Now, they might lose their best player in Patrik Elias, who will become a UFA in 2013.
Elias, who was slated to make $5 million ($6 million salary cap hit), has consistently been a top-line player for the Devils ever since the turn of the century, and sure, he will be 37 at the start of next season, but his loss is one from which the Devils won't be able to survive.
Sure, the team's defense is rock solid, but to win you need to score, and Ilya Kovalchuk can't do it by himself. Just look to the now-non-existent Atlanta Thrashers as proof.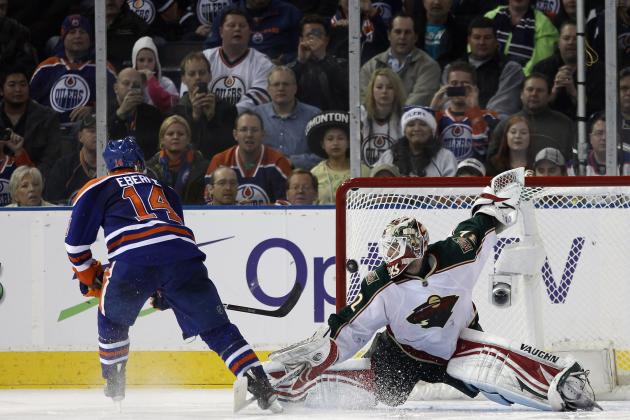 Bruce Bennett/Getty Images
Niklas Backstrom (right) of the Minnesota Wild and Jordan Eberle of the Edmonton Oilers.
Forward Pierre-Marc Bouchard just narrowly missed making this list, as he, his $4,080,000 salary cap hit and $4,300,000 salary are clearly destined for free agency next summer, as his concussion history should make him too much of a risk for the Minnesota Wild (not to mention any other team) to consider re-signing.
However, it's goalie Niklas Backstrom who makes an appearance instead, and who oddly enough just a few weeks ago would have been just as worthy a candidate for free agency as far as Minnesota was concerned—no longer though.
I mean, if someone had told owner Craig Leipold a few weeks ago that his team would risk losing the services of Backstrom if the lockout were to last longer than one season, he probably wouldn't have been all that down in the dumps.
After all, his in-the-red team had just signed insane twin $98-million deals to Parise and defenseman Ryan Suter. A $6-million goalie (same salary cap hit) was a luxury the Wild could no longer afford, especially not with Josh Harding ready to take the reins behind the crease.
And then Harding tragically got diagnosed with multiple sclerosis. Now, Harding has two years left on his current deal after this season, and few know what the future holds in regard to his career.
Seeing as next on the depth chart is a 22-year-old Matt Hackett, Minnesota is all of a sudden looking at both a suspect defensive corps and goaltending tandem. On the plus side, Jimmy Howard will potentially be available, but something tells me another $98-million just isn't in the cards.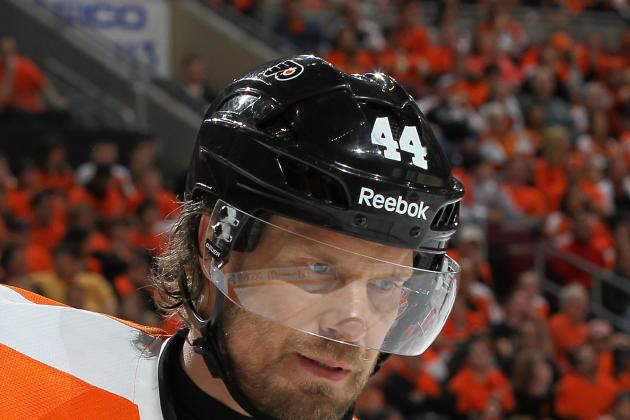 Jim McIsaac/Getty Images
Kimmo Timonen of the Philadelphia Flyers.
If Philadelphia Flyers fans thought Shea Weber looked good this summer, he's going to look positively godlike this upcoming one when Kimmo Timonen becomes a UFA. Sure, the team's defense corps will look holy as well, but in the same way a Holy Bartender is a refreshing cocktail.
Assuming Chris Pronger doesn't make a miraculous recovery from his current back and concussion problems, the Flyers will be out a No. 1 defenseman, a No. 2 defenseman and Matt Carle, whatever he is.
Indeed, without Timonen, who will make just $3 million (but with a salary cap hit of $6.33 million), the Flyers have just four legitimate defensemen under contract: Braydon Coburn, Nicklas Grossman, Andrej Meszaros and Luke Schenn (Andreas Lilja will be a UFA too and Bruno Gervais? Meh).
Needless to say, an offer sheet to Montreal Canadiens' P.K. Subban is looking like a pretty good option right now isn't it?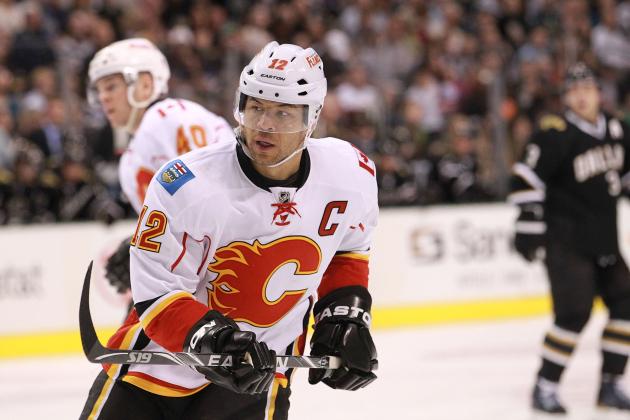 Ronald Martinez/Getty Images
Jarome Iginla of the Calgary Flames.
The man whose middle name is Elvis may finally be leaving the building never to return.
Jarome Iginla, whose full name is Jarome Arthur-Leigh Adekunle Tig Junior Elvis Iginla (he's named Elvis after his father), will become an unrestricted free agent at the end of the season, and if he decides to go that route, it will bring to an end a very long, at-times exciting, but overwhelmingly negative chapter in Calgary Flames history.
Iginla joined the Flames in 1995 following the Joe Nieuwendyk trade with the Dallas Stars and quickly established himself as a key component of the team.
Sure, he has been plagued by consistency issues, but anyone whose point totals have varied from 67 to 98 since the last lockout should have no problem finding a new home, even if he will be 36 years old at the end of this season.
Also, those consistency issues are in large part due to management's inability to find him someone decent with whom to play.
Ironically, now that the general manager has gotten him both Michael Cammalleri and Alex Tanguay (but admittedly few other players of consequence), he may end up taking his one-man show elsewhere.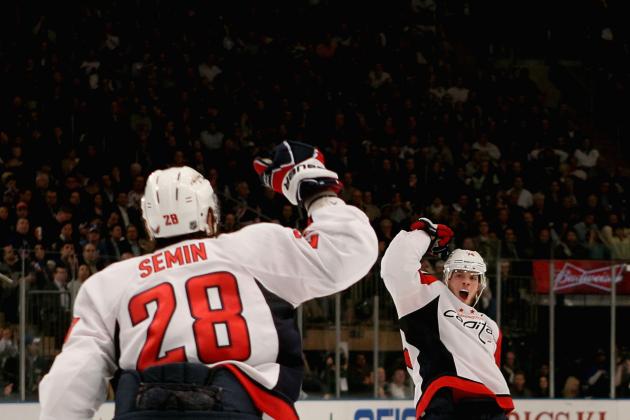 Bruce Bennett/Getty Images
Alexander Semin (left), formerly of the Washington Capitals and John Carlson.
The Carolina Hurricanes were set to make a whole lot of noise this year, after trading for Jordan Staal and signing Alexander Semin. Not too shabby for a team who had penciled in Jiri Tlusty as a top-six forward heading into this season prior to the moves for lack of any other viable alternative.
All of a sudden, the Hurricanes found themselves with an embarrassment of riches up front…well, two full top-two lines anyway, which admittedly makes the division-rival Tampa Bay Lightning look positively poverty-stricken by comparison.
However, there's just no telling how Semin, who signed a one-year, $7-million deal in the summer, would have performed in Carolina as the enigmatic Russian had just come off two disappointing seasons with the Capitals.
Consider this one a potential mulligan by general manager Jim Rutherford, who just might have regretted making the deal in the first place.
Considering the wealth of talent potentially available next summer (see preceding 10 entries), he just may find someone better in what clearly amounts to a quite impressive free-agency class.