Roy Nelson vs Matt Mitrione: 5 Fights for Matt Mitrione to Take Next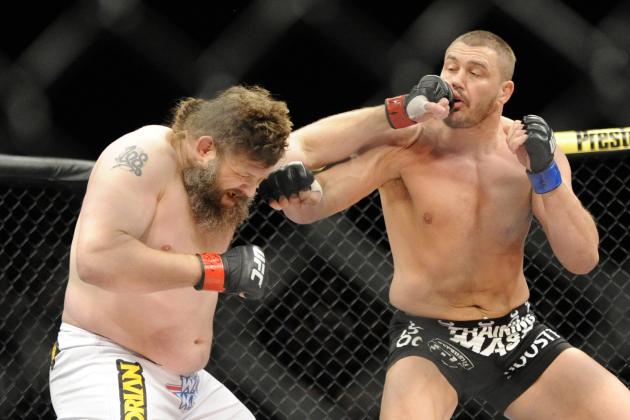 Josh Holmberg-USA TODAY Sports

If last year's loss to Cheick Kongo was a speed bump in Matt Mitrione's road to the top of the heavyweight ladder, Saturday night's knockout loss to Roy Nelson may have been the proverbial brick wall.
Initially, Mitrione looked good in the early goings of the fight, landing punches and elbows from the inside. However, standing inside the pocket too long proved to be "Meathead's" undoing as his poor decision ended up costing him a face full of fists.
Now riding a two-fight losing streak after going a perfect 5-0 to kick off his MMA career, like the show that landed him a spot in the UFC, it's win or go home for the TUF alum in his next outing. Mitrione needs to take home a victory in his next fight in order to stave off the often pink slip-inducing three-fight losing streak.
Here are five fights that Mitrione should consider to take next in order to better his chances at a return to the win column.
Begin Slideshow

»
Jon Kopaloff/Getty Images

Originally, Mitrione was slated to face heavyweight prospect Phil De Fries later this month at UFC 155, but when "Meathead" was asked to replace an injured Shane Carwin for the TUF 16 finale, the UFC called back Todd Duffee to take his spot.
While two vastly different fighters when it comes to their styles, both are on Mitrione's level in terms of their standing within the heavyweight rankings, and I believe that he matches up well with both fighters.
Mitrione's never been submitted, so it would be interesting to see him against a submission ace like De Fries. Duffee would be an interesting striking battle that I honestly think the TUF alum could win. It's really a matter of preference, but both would be exciting, winnable matches for Mitrione.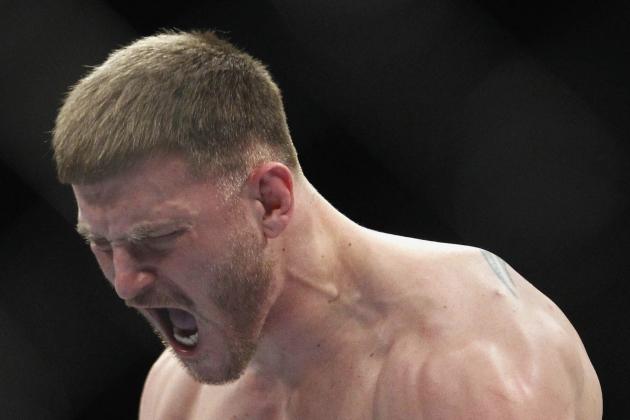 Matt Ryerson-USA TODAY Sports

I was actually hesitant to put Stipe Miocic on this list because, honestly, I think he's one of the scariest heavyweight prospects in the division.
A powerful wrestler who knows how to finish fights, Miocic is a rising star that Mitrione may think twice about testing. There are plus sides to this matchup, though, for "Meathead."
In Miocic's last bout, the Croatian-American showed some waning cardio against Stefan Struve. Despite a good first round, "The Skyscraper" turned the tides in the second frame, finishing Miocic with punches.
This bout showed that Miocic can be finished and Mitrione has the power to duplicate that.
The real prize, though, is that a win over this caliber of a prospect could get Mitrione right back into the middle of the pack in the division.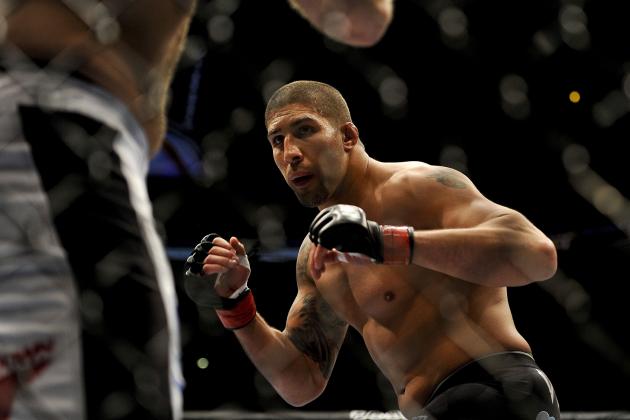 Paul Abell-USA TODAY Sports

Another good matchup for Mitrione would be to take on the loser of the UFC 157 bout between Brendan Schaub and Lavar Johnson.
Both guys are heavy-handed strikers who would make for a great striking war with Mitrione. Schaub, if he lost, would be riding a three-fight losing streak. But the lure of another battle of TUF alums might still make it a viable contest.
Johnson's a KO artist so Mitrione would have to be careful, but "Big" has weaknesses on the ground that he could exploit.
Either fight would be an exciting battle for fans.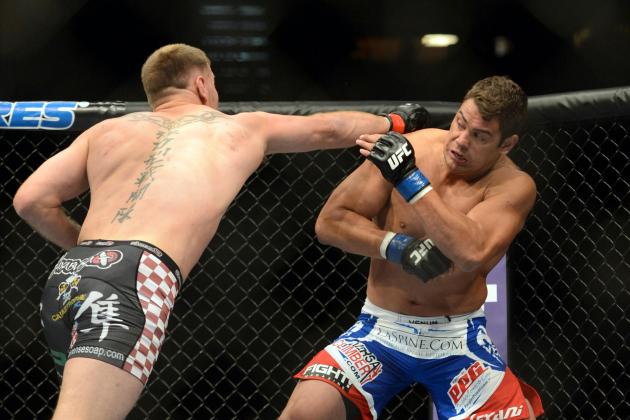 Ron Chenoy-USA TODAY Sports

Another heavyweight leaving last night's finale a little dazed with a second straight defeat is Strikeforce import Shane Del Rosario.
Having been finished in his last fight by Stipe Miocic, Del Rosario suffered a similarly painful defeat on Saturday when Pat Barry emphatically knocked out his fellow former kickboxer.
With two straight defeats, Del Rosario is in a similar position to Mitrione, so it'd be win or go home for both guys. Stylistically, however, I feel that the TUF alum has the edge and could reverse his fortunes against Del Rosario.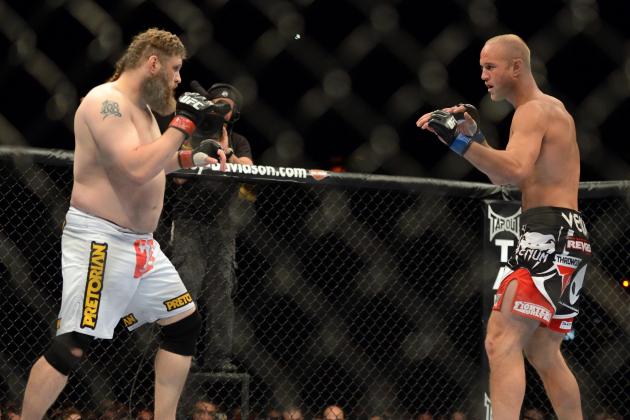 Ron Chenoy-USA TODAY Sports

All around, the best possible matchup for Matt Mitrione, the UFC and the fans would be a heavyweight showdown with fellow odd-ball Dave Herman.
Both guys are quirky personalities that aren't afraid to share their views, so this could be a real fun fight. Herman is also riding a three-fight losing streak so the stakes are the same for both guys.
Unfortunately, "Pee-Wee" is serving another suspension for failing a post-fight drug test for marijuana a second time and won't be available for at least six months. However, I think this fight would be worth the wait as both these characters would be fun to watch inside the Octagon.
Be sure to like me on Facebook or follow @MattJuulMMA