Butch Jones Must Win These 7 Games in His First Season at Tennessee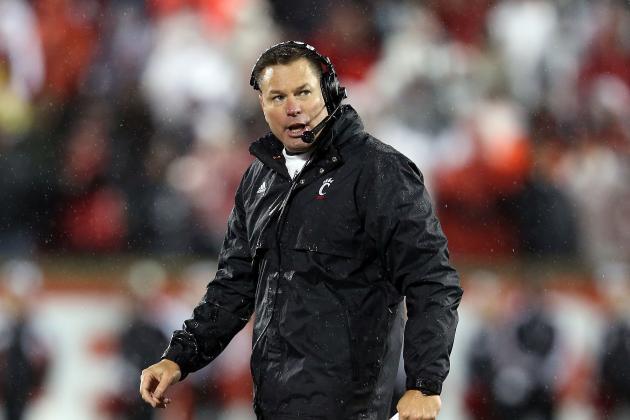 Andy Lyons/Getty Images
Butch Jones will face one of the toughest CFB schedules in America
By all accounts, Butch Jones wanted the head coaching job at the University of Tennessee. He even went so far as to call it his "dream job" shortly after being hired. However, he has walked into a situation in which a restless fan base will want to see the Volunteers win immediately under their new leader. And to add to the difficulty of that, the schedule that lies ahead in 2013 will almost certainly rank as one of the most difficult in all of America.
One look at the Volunteers list of opponents in the coming season reveals that the dream could turn into a nightmare very quickly.
After opening with Austin Peay and Western Kentucky, the Vols will then head on the road to face Oregon and Florida on back-to-back weekends in mid-September. And as tough as that sounds, it only gets more difficult. A non-conference game with South Alabama will be followed by contests with Georgia, South Carolina and Alabama. From there it is off to face Missouri before finishing up the home portion of the schedule against SEC foes Auburn and Vanderbilt. Then the Vols will play at Kentucky in the season finale.
For a first year head coach, this has to be one of the toughest assignments one could imagine. But even with the difficulty, there are seven games the new coach can and must win in his first season to prove that he has his team on the right track.
2013 Tennessee Volunteers Football Schedule:


| | | | |
| --- | --- | --- | --- |
| 08/31/13 | vs. Austin Peay | Neyland Stadium (Knoxville, Tenn.) | TBA |
| 09/07/13 | vs. Western Kentucky | Neyland Stadium (Knoxville, Tenn.) | TBA |
| 09/14/13 | at Oregon | Autzen Stadium (Eugene, Ore.) | TBA |
| 09/21/13 | at Florida * | Ben Hill Griffin Stadium (Gainesville, Fla.) | TBA |
| 09/28/13 | vs. South Alabama | Neyland Stadium (Knoxville, Tenn.) | TBA |
| 10/05/13 | vs. Georgia * | Neyland Stadium (Knoxville, Tenn.) | TBA |
| 10/19/13 | vs. South Carolina * | Neyland Stadium (Knoxville, Tenn.) | TBA |
| 10/26/13 | at Alabama * | Bryant-Denny Stadium (Tuscaloosa, Ala.) | TBA |
| 11/02/13 | at Missouri * | Faurot Field (Columbia, Mo.) | TBA |
| 11/09/13 | vs. Auburn * | Neyland Stadium (Knoxville, Tenn.) | TBA |
| 11/23/13 | vs. Vanderbilt * | Neyland Stadium (Knoxville, Tenn.) | TBA |
| 11/30/13 | at Kentucky * | Commonwealth Stadium (Lexington, Ky.) | TBA |
Begin Slideshow

»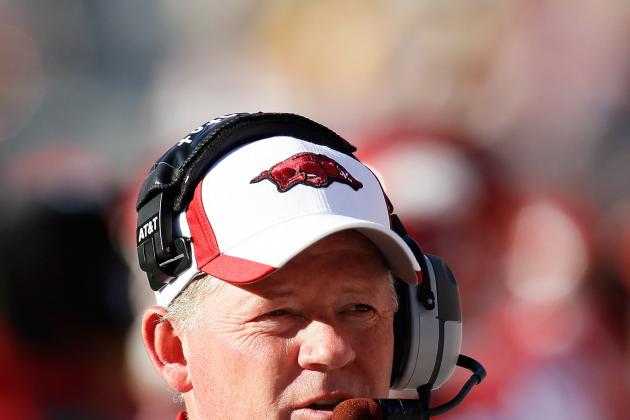 Kevin C. Cox/Getty Images
Bobby Petrino will lead Western Kentucky into Neyland Stadium on September 7.
The pressure for Butch Jones will begin immediately as the first two games on the Tennessee football schedule are must wins. The new head coach will have an angry fan base on his hands should he lose to either Austin Peay or Western Kentucky.
The reality is, Tennessee should never lose to a school such as Austin Peay. The Governors posted a record of 2-9 last season and finished 1-7 in Ohio Valley Conference play. The team lost one of their top players in quarterback Jake Ryan to graduation after 2012.
The Vols first game should not even be a contest.
However, the stakes have been raised for the second week of the season. The Hilltoppers recently introduced Bobby Petrino as the school's head coach after the departure of previous leader Willie Taggert, who moved on to take the job at South Florida.
There were some on Rocky Top who wanted the embattled Petrino as their head coach. Should WKU come into Neyland Stadium and beat the Vols, it will not only be a hard pill to swallow but it will also give those critics of the Jones hiring a voice on talk radio and the message boards.
So early in his tenure, Jones cannot afford such a setback. Tennessee must beat Western Kentucky but it certainly will not be easy with the accomplished Petrino at the helm. WKU went 7-5 in 2012 and earned a bid to the Little Caesar's Pizza Bowl.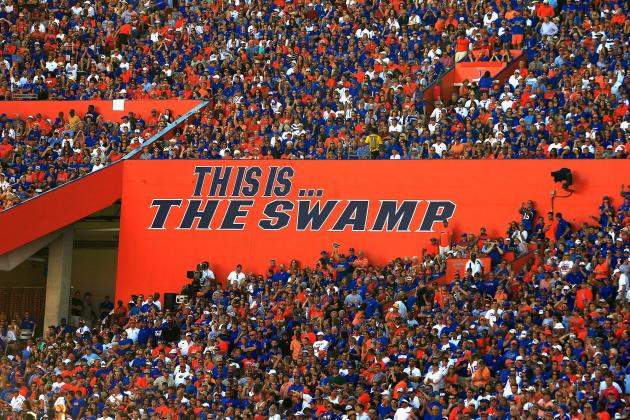 Chris Trotman/Getty Images
Butch Jones will face a hostile environment in his first SEC game as the Vols coach.
Just like Butch Jones will fall out of favor with his fan base should he lose one of his first two games, he will experience a meteoric rise in the hearts of the faithful should he pull off a win in either of his next two outings. After the must win games against Austin Peay and Western Kentucky in the earliest portion of the schedule, the Vols will go on the road to face Oregon and Florida on back-to-back weekends in September.
To expect Jones and his squad to win one or both of those games would be regarded as somewhat unrealistic. A power house program at the top of the rankings would consider that a difficult chore, let alone a beleaguered program in the midst of rebuilding.
But after those games, Tennessee will return home to face South Alabama. If the Vols have lost either of their first two and then been blown out by Oregon and Florida, the crowd in Neyland Stadium for this game could be a sparse one. However, if things go the way they should in the first two and the team has put up a fight in the road games, excitement could be building by the time of this fifth contest.
The Jaguars were 2-9 last year and 1-6 in their first effort within the Sun Belt Conference. At the end of the day on Sept. 28, Butch Jones and the Vols have to be counting this as at least their third victory of the 2013 campaign.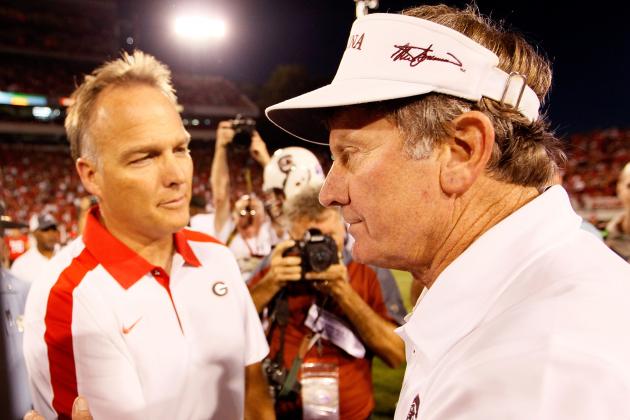 Kevin C. Cox/Getty Images
A win over either Mark Richt or Steve Spurrier would lift Butch Jones' status on Rocky Top.
The fall season in east Tennessee can be spectacular as the leaves on the trees burst into a full array of colors. But autumn, especially October, also brings about a portion of the Vols schedule that traditionally offers each season's greatest challenge.
Georgia and South Carolina will come to Knoxville during October for games that will provide difficult contests but also potential opportunities for Jones and his team to pull off an upset that would lift the status of the first year coach. Even in last year's losing season under Derek Dooley, the Vols took these two teams right to the wire on the road. Playing at home could benefit Tennessee just enough to gain them a big win.
Alabama, however, presents a different challenge. The Crimson Tide handled the Vols decisively last year in Neyland Stadium. This will be a road game for the Vols in 2013 and a very unlikely chance to win.
Neither of these three games should be considered a must win for Jones. Instead, these contests, like those against Oregon and Florida, offer the opportunity for unlikely chances. Any victory in October would be a bonus for Vol Nation.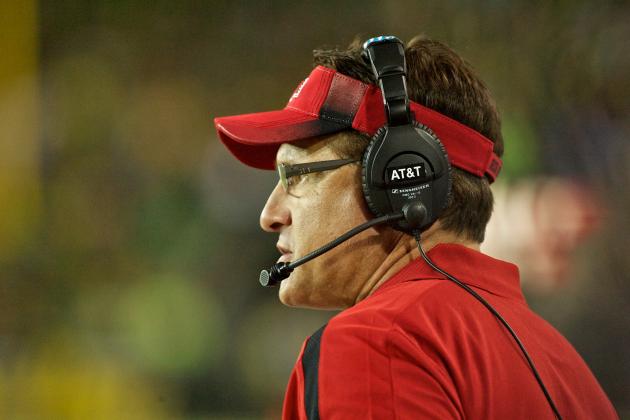 Craig Mitchelldyer/Getty Images
Gus Malzahn will lead Auburn into Neyland Stadium in November
Both Tennessee and Auburn fired their head coaches and initiated new rebuilding plans after the 2012 season. So, considering these are two programs essentially on equal footing and with Tennessee having the home field advantage, this should rank as a must win for Jones and the Vols as well.
Just two years removed from a national championship, coach Gene Chizik was sent away from the east Alabama plains after his Tigers could only manage a 3-9 record in 2012. That losing record included a 49-0 pounding by arch-rival Alabama. Auburn lost its final three games by a combined score of 150-21.
Gus Malzahn was brought in from Arkansas State to replace Chizik at Auburn. The former offensive coordinator for the Tigers will be back on familiar turf in Jordan-Hare Stadium as he sets about the task of rebuilding.
Tennessee suffered similar humiliation at the hands of an old rival when Vanderbilt took the Vols down in Nashville at the end of last season.
All in all, these are two programs in somewhat similar circumstances. With the game between the two being played in Knoxville, the Vols need to come away with a win.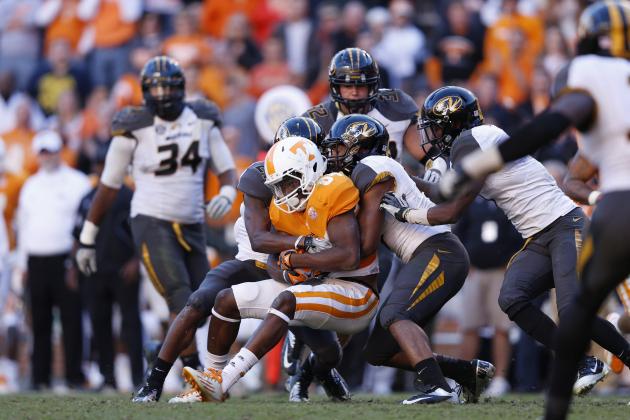 Joe Robbins/Getty Images
Missouri ganged up on the Vols in Neyland Stadium last year.
The Missouri Tigers made their maiden voyage through the rough waters of the SEC in 2012. For the most part, they found the sailing to be quite difficult. However, a trip to Knoxville in November provided a much needed win for the newcomers.
Under a new coach, Tennessee must make amends in 2013. To return to the status of an SEC elite power, the Vols cannot lose in consecutive years to an upstart that has far less football tradition to speak of.
This game is one Jones and his team must win. Not only would it reassert the Volunteers place over a secondary power but it would prove they can win the games they are supposed to win on the road.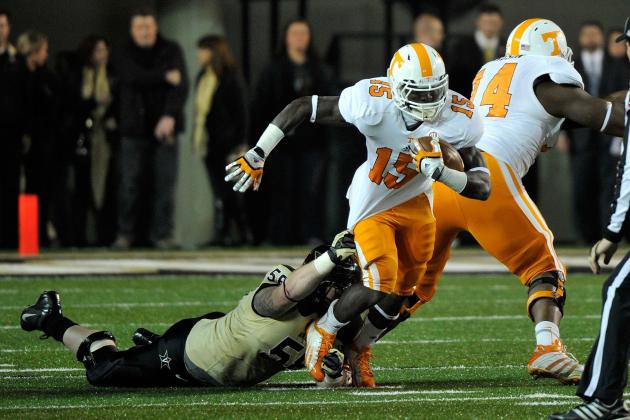 Frederick Breedon/Getty Images
Tennessee has to pull away from Vanderbilt in the SEC East
In recent years, Tennessee's football status has not only slipped within the SEC, but last year, they fell to the ranking of second best in their own state with a loss to Vanderbilt. That came only one year after having seen a 26 game winning streak against longtime rival Kentucky fall by the wayside.
This cannot continue to happen if Jones wants to win over Vol Nation.
Perhaps the most damaging losses of Derek Dooley's entire tenure with the Vols were these two. The 2011 defeat at the hands of a poor Kentucky squad gave his team an overall losing record and provided his detractors with fodder that would last throughout the entire football off season. And ultimately, the much maligned coach was dismissed after his team lost to Vanderbilt in 2012.
Kentucky, like Tennessee, will be under the direction of a new coach in 2013. Former Florida State defensive coordinator Mark Stoops has taken the place of fired Wildcat head coach Joker Phillips. The game between the Vols and Wildcats will be played in Lexington, but no matter where to location, Tennessee should always beat Kentucky.
Vanderbilt, on the other hand, offers a more difficult proposition. Coach James Franklin has the Commodores rising toward the unfamiliar status of true SEC contender. This past season, the private school posted its best record in 30 years and tallied five conference wins.
But even with the emergence of a legitimate threat from its once weak in-state rival, Tennessee has to win this game. If the Vols are to recover their status a serious player in the SEC, beating Vanderbilt at home has to be a given on their schedule.
Under Derek Dooley, Tennessee lost to each of these teams over the course of his last two season. These were games previously considered guaranteed wins. Jones needs to return that mindset to Rocky Top.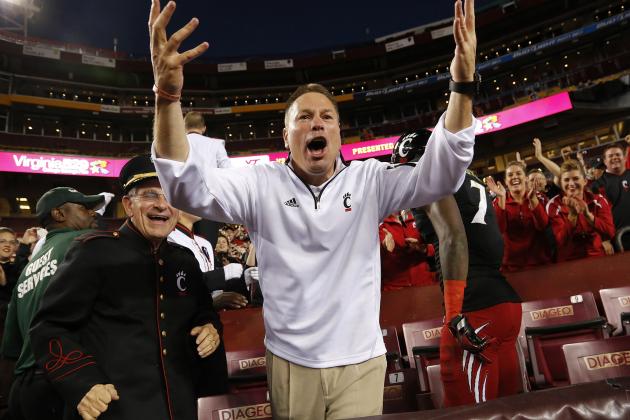 Jonathan Ernst/Getty Images
If Butch Jones is to orchestrate a resurgence of the Tennessee program, he needs to win these seven games.
Jones' job is likely not on the line in 2013. But, he does need to prove that the Volunteers football program is headed toward recovery. Winning games against Austin Peay, Western Kentucky, South Alabama, Missouri, Auburn, Kentucky and Vanderbilt would do that.
Additionally, beating any of the other opponents on the Vols schedule would gain the new coach a great deal of credibility within the Vol Nation.
While the term "must win" may be an exaggeration, the term "need to win" certainly is not. The Tennessee football program needs the attitudes of all in involved to turn positive after years of negativity. The first winning season in three years on Rocky Top would go a long toward doing that.