WWE TLC 2012 Live Results, Coverage and Analysis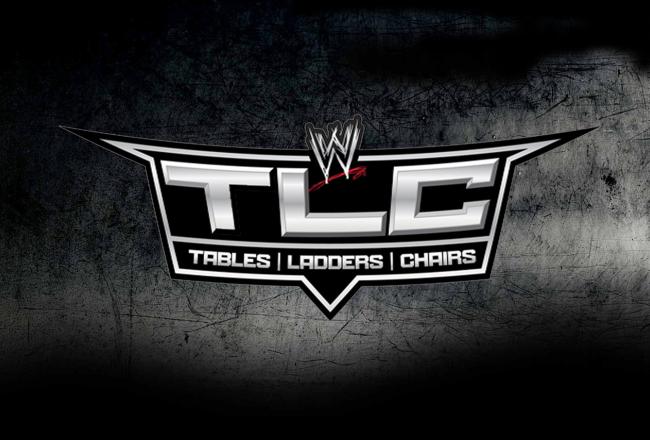 Photo: WWE.com

Welcome, WWE fans, to your Bleacher Report destination for live coverage of WWE Tables, Ladders & Chairs 2012 from the Barclays Center in Brooklyn, New York.
The pay-per-view is set to be one of the more exciting cards of the year with four matches having major stipulations and at least three titles on the line in singles matches.
The highly anticipated PPV wrestling debut for Seth Rollins, Roman Reigns and Dean Ambrose will undoubtedly be one of the highlights of the night.
R-Truth vs. Antonio Cesaro and Kofi Kingston vs. Wade Barrett should be solid singles matches for the US and IC titles, respectively.
Sheamus and Big Show will face off one more time in a chairs match that has the likelihood to be their most brutal encounter in this feud.
A tables match to decide the No. 1 contenders for the tag titles between Sin Cara, Rey Mysterio and Rhodes Scholars should be highly entertaining.
One of the more interesting matches heading into the PPV has to be Dolph Ziggler vs. John Cena in a ladder match for Ziggler's Money in the Bank briefcase.
Considering the pre-show will be a Divas Battle Royal for a shot at Eve's title, we will probably see a Divas title match at some point during the evening.
This show has the potential to be one of the best PPVs of the year, and if WWE pulls out any shocking appearances, it could lead to a great road to WrestleMania.
During the show, readers enjoy engaging in discussion and debate in the comments section, so if you are not already a Bleacher Report member, make sure to sign up and join the fun.
Bookmark this page and come back Sunday at 7:30 p.m. Eastern/4:30 Pacific when we go live at the start of the pre-show for live coverage of all the action as it unfolds in PPV.
Follow me on Twitter @BR_Doctor.
Make sure to come back tomorrow for live coverage of the Slammy edition of Monday Night Raw.
Upon seeing the replay I realize Ziggler hit the superkick after AJ pushed the ladder over. Cena tries to gather himself in the ring while Ziggler celebrates up the aisle.
I said this night would have some kind of a surprise, and it turns out we got two. Del Rio may have started a face turn and AJ turned on Cena.
No titles changed hands tonight, but we did get a new No.1 contender for the tag titles in Rhodes Scholars.
Overall I would say this was a very solid PPV and one I am glad to have seen. All the matches had some decent action, with the TLC and Ladder matches being a tough draw for match of the night.
Ziggler and Cena had more of the crowd's attention since they didn't have to focus on six guys at once so I think that is why the crowd was so into it.
Well, that and it was an awesome match. The AJ swerve was somewhat surprising, but I have actually been thinking she would turn on Cena for some time now.
I wanted Ziggler to have the chance to cash in after keeping his case, but maybe Raw will be when he decides to do it.
Naomi gave a surprisingly good performance in her match with Eve tonight and Rollins easily took the bump of the night.
I hope everyone enjoyed TLC as much as I did. Have a good night, everyone.
Dolph Ziggler vs. John Cena Money in the Bank Ladder Match Part 4
Ziggler watches as AJ smiles at him and skips up the ramp. Ziggler climbs up the ladder and pulls down his briefcase to win the match.
Winner: Dolph Ziggler
That was an outstanding match, but I wish Ziggler won without controversy.
Dolph Ziggler vs. John Cena Money in the Bank Ladder Match Part 3
Ziggler grabs another table from under the ring and sets it up in the corner. Cena grabs Ziggler and hits a slam and the five-knuckle shuffle.
Ziggler counters another AA and hits the jumping DDT. JBL is really putting over Ziggler well on commentary.
Ziggler grabs a taller ladder from the aisle and brings it to the ring. Zggler starts the climb up the ladder and Cena goes up the other side.
Ziggler gets his hand on it but Cena hits him in the gut. The trade shots on the top of the ladder. Cena ends up pushing Ziggler off the ladder but he is slow to go for the case as he is beat up.
Ziggler pops up and climbs up the same side as Cena so he can pull him down. Ziggler runs Cena into the ladder and then lines up for something.
Cena ends up hitting a jumping headscissor to put Ziggler through the table in the corner. It was sloppy, but at least he is trying and I give him credit.
Ziggler kicks Cena with the ladder in his hands and it goes to the outside while Cena goes down. Ziggler tries to run Cena into a chair in the corner but Cena reverses it.
He gets Ziggler on the top rope but Ziggler pushes him off the ropes. Cena catches Ziggler off the top rope and rolls through.
Ziggler grabs a chair when Cena has him up for the AA and he breaks out of the hold. Ziggler clears the ring of all the broken weapons while Cena struggles.
Ziggler tries for a superkick and Cena grabs him and hits an AA. Vickie comes out of nowhere with a chair and AJ comes out and takes Vickie out.
AJ uses some of Cena's moves on Vickie while Cena grabs the ladder and brings it back in the ring. He sets is up and starts climbing, but AJ pushes the ladder over while he is climbing and he goes down to the mat.
The crowd goes wild as Ziggler looks at her with a stunned look on his face.
Dolph Ziggler vs. John Cena Money in the Bank Ladder Match Part 2
Ziggler takes a hard shot from the ladder right to the face and Cena brings Ziggler outside the ring and slams him into the announce table before grabbing the steel steps.
Ziggler takes a shot from the steps that looks as nasty as I have ever seen. Nobody sells like Dolph Ziggler. NOBODY!
Cena grabs a table and puts it in the ring. This just turned into a TLC match, I guess.
Cena sets up the table in the ring and Ziggler ends up pulling his neck down on the top rope to take him down. He grabs a ladder and tries to climb it while Cena gets back up and pulls him down.
They start trading shots and it turns into a fist fight. Ziggler avoids a punch and locks in a sleeper hold on Cena. This is a great match so far.
Cena is down to one knee and he tries to climb up the ladder with Ziggler on his back. He actually gets up most of the way and almost reaches the case but Ziggler keeps the hold locks in and they both fall off the ladder into a table.
Both men are down in the wreckage of the table and Ziggler is the first one to starts getting up. Cena begins to move as Ziggler tries to get to the ladder again.
Cena ends up grabbing the ladder with Ziggler on it and he almost gives the ladder and Ziggler and AA. Ziggler gets out of it but Cena still puts him through the signatures.
Ziggler comes back with a Fame-asser to put Cena back down. Duelling Cena chants break out as Ziggler gets another ladder from under the ring.
Cena ends up putting Ziggler in the STF when he gets back in the ring and Ziggler taps, but it doesn't matter in this match.
Cena lets off the hold and grabs a ladder to go for the case. Ziggler ends up turning an AA into a Zig Zag.
Dolph Ziggler vs. John Cena Money in the Bank Ladder Match Part 1
Ziggler is out ina new hoodie modeled after his shirt and he looks amped up. He looks up at his case hanging over the ring before getting in the ring.
Cena comes out to a mostly negative response. I can't believe Cole is defending John Cena to JBL right now. Am I in the Twilight Zone?
The bell rings an the crowd seems like they are Pro Ziggler. They lock up and Cena hits a shoulder block to some big heat from the crowd.
Ziggler locks in a headlock and after and exchange he ends up doing a little strut to a pop from the crowd, who starts chanting his name.
Ziggler and Cena hold off for a moment so the chant can build before they lock up again. This is great!
Cena reverses a hip toss into hsi own hip toss and then he takes Ziggler over with a headlock takeover. The crowd tells him he can't wrestle.
Cena and Ziggler chain wrestle into a suplex from Cena. Cena hits a monkey flip in the corner and then throws Ziggler out of the ring and then he gives the booing crowd a big smile.
Ziggler hits Cena in the gut with a chair on the outside and the he rolls Cena back in the ring. He brings the chair with him and sets it up in the corner.
Cena flapjacks Ziggler and then rolls to the outside to grab the first ladder of the match.
We get another recap of the Ziggler/Cena feud before the entrances for the final match of the night. I am rooting for Ziggler.
3MB vs. Miz, Alberto Del Rio and...
Ricardo Rodriguez brings out Del Rio with an amazing introduction and Del Rio comes out to what sounds like a mixed response.
Miz is out next and he has a mic in his hand. When he meets Del Rio near the ring he introduces their partner.
Holy Cow! The Brooklyn Brawler is here! Steve Lombardi runs out to the ring and he has a new jersey.
Del Rio and Slater start things off and Del Rio hits some kicks to get the upper hand. Brawler gets the tag and he locks Slater in a headlock.
Brawler takes out Mahal with a hip toss but it allows Slater to hit a kick to the head and take him down. D-Mac gets the tag and keeps the pressure on Brawler.
Brawler kicks out of a suplex and Slater tags back in. Brawler avoids a knee from the middle rope and Miz tags in to take out everyone.
He pounds Mahal with rights in the corner and then hits his corner clothesline. Miz hits a nice short DDT to Mahal for a near fall that is broken up by D-Mac.
Del Rio comes in and he takes out Mac outside the ring with a dive. Miz hits the Skull Crushing Finale to Mahal and then he tags in Brawler.
Brawler puts Mahal in a Boston Crab and he gets the submission for the win.
Winners: Del Rio, Miz and Brooklyn Brawler
Normally I wouldn't like something like that, but I think Brawler deserved it. That was a nice moment for Lombardi to get a PPV win.
John Cena is warming up backstage and AJ walks up and apologizes for everything that happened.
3MB make their way out for their match with Miz, Del Rio and a third person.
Show vs. Sheamus Part 2
Sheamus hulks up and starts taking Big Show down with hard shots. Big Show grabs Sheamus out of nowhere and hits the Chokeslam for a two count.
Big Show lays a chair on Sheamus and then hits a corner splash for another close two count. Big Show sets up two chairs but Sheamus ends up lifting him up for White Noise through the two chairs for a two count.
Both men are slow to get up but Sheamus is the first one to make it to his feet. Sheamus calls for the Brogue Kick and Big Show moves out of the way and hits the KO punch.
Sheamus kicks out and Big Show just rolls onto his back. Big Show goes under the ring and grabs a giant steel chair.
Big Show hits Sheamus with the giant steel chair and gets the pin and the win.
Winner and still World Champion: Big Show
What was the deal with that big chair? Do they make those or did he have it made special?
What was a pretty good match ended up with a somewhat strange ending. This makes a cash in by Ziggler impossible.
Sheamus vs. Big Show Chairs Match for the World Title Part 1
Sheamus is out first for this match. If I were Sheamus I would already have a chair in my hands.
Sheamus goes right for Big Show after the bell and he gets Show off his feet with a low dropkick. Show gets taken out with a chop block and Sheamus lays in with more offense.
Show throws Sheamus right out of the ring with one hand and Sheamus grabs a chair right away. Show kicks the chair out of his hand and then rolls outside the take a breather.
Show kicks a chair right into Sheamus' face as Sheamus tried to run into him. Sheamus gets a few hard chops to the chest before being rolled back into the ring.
Sheamus gets up and takes a flying leap into Big Show to take him out. Big Show gets back control after a clothesline and Jerry Lawler finally points out how stupid it is to try and Irish Whip Big Show.
Sheamus gets a chair in his hands and hits four shots before hitting a body slam to Big Show for a near fall. JBL and Cole put over Sheamus' strength.
Sheamus takes a flying leap off the top rope with a chair to take out Big Show again. He goes to the top again and Big Show spears him in mid-air this time, with the chair causing damage to both men.
Big Show picks up a chair and hits Sheamus outside the ring. Sheamus is trying to get to his feet when Show levels him with a chair right in the center of the ring.
Sheamus hits some body shots but a knee to the face takes him back down.
Big Show is backstage and Matt Striker asks him if Sheamus has any chance of winning his title back. Big Show says Sheamus should have hit him and taken the easy way out of this match.
Show says he has already knocked Sheamus out with his hands so just think of what a chair shot would do.
Lilian says the World Title match is up next. I think this means Ziggler and Cena are closing the show. I am fine with that.
Naomi vs. Eve Divas Title Match
Naomi is out by herself for the match and we see how she earned the match in the pre-show battle royal in a recap video.
Eve laughs at her and dances a little to mock Naomi. Naomi locks up with her and gets pushed into the corner to take a couple hard elbows.
Clay and Cameron are watching backstage. Naomi gets in some nice moves that lead to a big leaping leg drop. Naomi is showing some very nice athleticism in this match.
Eve is outside the ring in shock at how she is being beaten up by Naomi. Eve ends up pulling Naomi's arm over the top rope and then focuses on the shoulder.
Wow! Naomi hits a running headscissors to Eve out of nowhere. Naomi leaps up to the top rope in one move but misses her cross body.
Eve grabs her and hits her neckbreaker for the pin and the win.
Winner: Eve
Naomi showed some real promise in that match. She clearly has the athleticism. Now she just needs to polish those skills and add some more strikes to her offense.
That Divas match actually kept my attention from beginning to end. I think we can call this a success.
Eve comes out, which must mean the Divas title match is up next.
The Shield celebrate near the entrance as Ryback gets pissed in the ring about losing. Rollins is helped up by his teammates as we go a Slim Jim commercial for the soldiers.
Shield vs. Hell No/Ryback Part 3
Reigns ends up spearing Kane through the barricade into the time keeper's area. They bury Kane under a bunch of chairs and pieces of the barricade.
Bryan puts Ambrose in the Yes Lock while the others are distracted but they realize and he ends up putting all three men in the Yes lock for a moment at a time before they gang up on him.
Bryan avoids a double brainbuster into a chair and he hits a series of kicks to Ambrose and Rollins.
Ryback ends up coming back in the ring and he takes out everyone in The Shield. Ryback presses Ambrose and throws him over the top onto Rollins and he is all alone with Reigns.
Before he can really do anything the other Shield members come back in but Ryback keeps the upperhand.
He takes out Ambrose with the Meat Hook and he puts Ambrose up and hits the Shell Shocked for a close two that The Shield break up.
Ambrose levels Ryback with a chair that goes flying out of his hands. This guy is nuts and I love it.
The Shield triple team Ryback up by the entrance and lay him out on a table below some ladders. The crowd lights up when Rollins starts climbing the biggest ladder they have.
Bryan and Kane are still out near the ring. Ryback ends up getting off the table and he starts climbing Rollins up the ladder before pulling him off the ladder through about four tables.
That was a crazy looking spot.
Ambrose and Reigns don't know what happened since they are in the ring beating on Bryan. Bryan ends up being powerbombed through a table and Reigns covers him for the pin and the win.
Winners: The Shield
That was a very entertaining match. I thought several of the more dangerous spots came off very nicely and Rollins gets the credit or bump of the night with that fall through a bunch of tables off a huge ladder.
They gave this match just enough time to have everyone had at least one memorable spot.
Shield vs. Hell No/Ryback Part 2
Dean Amrbose uses a chair to take everyone out and he plants Kane's head into it with a DDT. Ryback comes in and plants Rollins and Ambrose into different corners.
They get the upperhand and hit Ryback with a ladder. Ryback stops them from doing it a second time and he takes out the whole team again.
He stacks up Ambrose and Rollins on the ladder and hits a running shoulder block to take both en down. He grabs both men and he suplexes both men into the ladder.
That was very impressive.
He tries to do it again and Reigns comes in and starts beating on Ryback. The Shield take Ryback outside and clear off the Spanish announce table. Those guys are taking a lot of crap tonight.
They put Ryback through the table with the triple powerbomb. Bryan ends up coming out of nowhere and taking out everyone with a suicide dive but they team up on him and beat him down.
Kane comes over and joins the fight. Ambrose slams Bryan with a chair on his back and Rollins follows up with a hard shot to the back of Bryan.
Ambrose keeps beating Bryan while Rollins sets up a table in the ring. They set up the table on the top turnbuckle and they run Bryan's face into the edge of the table.
They use the table as a platform and hit a double superplex to Bryan from the top rope. Kane saves his partner from taking the pin after that nice spot.
They team up on Kane and they run him into the table the same way they did to Bryan. They set up Kane to do the double superplex on the table.
Kane fights them off and he leaps off to take out Ambrose with a clothesline. Reigns comes in and takes the brunt of Kane's offense.
Kane ends up chokeslamming Ambrose onto a chair for a two count that Reigns breaks up.
The Shield vs. Team Hell No and Ryback Part 1
I was curious where this match would fall on the card tonight. Kane is out first, followed by Bryan and Ryback.
The Shield come through the crowd for their entrance and they are wearing their usual gear instead of wrestling attire.
As soon as they make it to the ringside area they are attacked by Hell No and Ryback and the bell rings as the babyfaces take on the heels.
Bryan is fighting Rollins. The IWC just shed a single tear of happiness.
Ryback takes out Dean AMbrose with some chops. Ambrose gets hit with a Thesz press as a Goldberg chant echoes throughout the arena.
The whole group attacks Ryback in the ring. Kane and Ryback are down outside the ring as The Shield team up on Bryan, who they run into a ladder.
Ryback comes in and takes out all three with two moves and he hits Ambrose and Rollins with a ladder about six times before Reigns comes in with a chair to even the odds.
Kane comes in and takes out Reigns with hard rights and Bryan joins in with left kicks to Reigns. He hits about 15 kicks before he and Kane throws Reigns into a ladder and then Bryan follows up with a dropkick for a near fall.
Team Hell No are really gelling well in their matches lately. The crowd chants for tables.
We are about an hour in and we have seen three matches and a brawl. WWE is fitting a lot into this PPV, especially given that a Divas title match and the six-man tag they added will take up some more time.
Justin Roberts calls attention to CM Punk in a skybox, who is wearing a shirt that says KNEES 2 FACES.
Punk says nobody needs to know how his knee is doing and it took everything he had to come to Brooklyn.
Punk calls Brooklyn and Ryback dumb. He goes on about how he would have destroyed Ryback in their match if he was able to compete.
Punk puts over his title reign some more. He ends another great CM Punk promo by saying he started the year as champion and he will end it as champion.
I love that JBL just made a reference to Oak Island. That mystery has had me enthralled for years.
The next match is The Shield vs. Team Hell No and Ryback
Wade Barrett vs. Kofi Kingston IC Title Match Part 1
The bell rings and Barrett goes right for a body slam and an early one count. I think the crowd is chanting for Barrett.
Barrett keeps up the offense with a side headlock on Kofi. Kofi hits his usual series of leapfrogs and a back elbow for a near fall.
Kofi hits a hard kick, knee and elbow to Barrett but when he goes to bounce off the ropes Barrett follows him into them and puts him over the top rope with a clothesline.
Kofi ends up hitting a suicide dive on Barrett once he gets back in the ring. Barrett ends up hitting a nasty back kick to Kofi that plants Kofi on the mat.
Barrett hits a backbreaker for a near fall. After some back and forth Barrett gets another near fall after hitting a tilt-a-whirl backbreaker.
Barrett hits an elbow from the middle rope and then locks in a read chinlock. Kofi fights up and hits a side-Russian legsweep.
Kofi builds some momentum and hits all his signatures leading into a Boom Drop. Kofi goes to the corner and calls for the Trouble in Paradise.
Barrett ducks and Kofi ends up hitting an SOS for a two count. Barrett ends up hitting a nice full nelson into a spinning slam for a two count.
Duelling chants break out as Kofi hits a kick to get some breathing room. Kofi goes up top for a cross body and Wade rolls through for a two count to Kofi.
Kofi gets planted with a hard slam for another near fall and Barrett is starting to get mad. He calls for the Bull Hammer as Kofi tries to get up.
Kofi reverses it inot a Trouble in Paradise for the pin and the win.
Winner and still IC Champion: Kofi Kingston
That was a fun match. It could have used a few more minutes, but I enjoyed it nonetheless.
I think if they do it right and have Del Rio maintain his confidence then a face turn could work.
Kane is shown backstage talking to Daniel Bryan about their match. Bryan makes a joke about hating when people repeat themselves and Kane pretty much ignores the irony.
Bryan and Kane pump each other up for the match before we got to Matt Striker with an interview with Wade Barrett.
Barrett says he is totally confident he will win the IC title from the man he has already beaten on several occasions.
The IC title match is up next and Barrett makes his way out first.
Miz brings out 3MB to be his guests. The look on Miz's face during their entrance was great.
Drew McIntyre insults Jay Z to get some cheap Brooklyn heat and Heath Slater says The Rolling Stones wish they could rock out with them.
Slater says 3MB will perform live at the Slammy awards and Miz mocks him. Mahal makes a joke about the Spanish announcers and then they go out and get in their faces.
Slater says we speak American in this country and then the Scottish Drew McIntyre shoves one of them. Ricardo Rodriguez comes to their defense and 3MB corner him by the ring.
Alberto Del Rio comes out and takes out all three members of 3MB to save the announcers and Ricky.
Did we just witness a face turn from Del Rio?
The numbers game gets Del Rio and Miz just watches as the dismantle him for a moment until he grabs Slater and takes him out.
Miz takes Mahal out as well and Del Rio is able to take D-Mac out as well. Slater gets on the mic and says they want a match with these two and a partner later tonight.
The crowd is chanting Si and Miz says they are on. The crowd almost immediately starts chanting for Ryder and Miz sort of brushes it off.
This is a nice little surprise from WWE. An additional match on the card and a possible face turn from Del Rio, which was totally out of left field.
Matt Striker asks Cesaro how it feels to be booed and Cesaro says he is the greatest US Champion in history and by booing him we are booing our own country.
That was a quicker match than I expected. Nothing was surprising about how any of it happened. I think they had a better match recently on free TV.
Michael Cole gives JBL credit for campaigning for WWE to do Tribute to the Troops before we get a few touts from a few members of the armed forces.
Josh Mathews is backstage with Dolph Ziggler. Ziggler is somewhat blaming Vickie Guerrero for having to be in this match.
Miz comes out in his suit and sweater vest to do MizTV...on a PPV.
Antonio Cesaro vs. R-Truth US Title Match Part 1
They lock up after the bell and Truth puts Cesaro down in the corner with a hard right hand. Cesaro comes back quickly with a hard shoulder block.
After a quick exchange Truth hits a pair of rollups for two near falls. Truth takes Cesaro down with a headlock takeover.
JBL makes fun of Michael Cole using a satchel/purse as Cesaro drops Truth with a side suplex.
Cesaro continues to ground Truth. This match needs to pick up the pace a little.
After fighting back, Truth hits a scissor kick and a spinning heel kick for a near fall on Cesaro. Cesaro reverses a suplex attempt and throws Truth into the ref in the corner.
Cesaro grabs Truth for the Neutralizer for the pin and the win after Truth saves himself from hitting the ref and taking him out.
Winner and Still US Champion: Antonio Cesaro
We get some more Blair Witch-style camera work from The Shield where they talk about the TLC match.
Antonio Cesaro comes out first for the US title match.
This article is
What is the duplicate article?
Why is this article offensive?
Where is this article plagiarized from?
Why is this article poorly edited?