7 Reasons Dale Earnhardt Jr. Can Win the 2013 Sprint Cup Title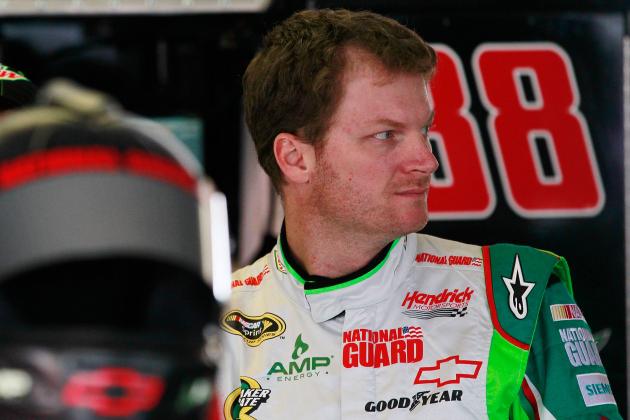 Geoff Burke/Getty Images

Dale Earnhardt Jr. has carried the weight of expectations for many years. His inability to win races consistently and contend for a title has caused some to doubt he can, but all that may change in 2013.
The 2012 season saw the No. 88 Hendrick Motorsports team, led by Steve Letarte, step up its game. Junior broke his 143-race winless streak and made the Chase.
Though performance improved, it is still far from the goals this team hopes to reach. It intends to win multiple races, and Earnhardt nearly did this past season.
He led with the most top-10 finishes much of the preseason.
Many things have changed in the past year for this driver, who tends to be more of an introvert. Letarte helped his wheelman open up to more public adventures, which boosted his confidence and fun level.
Earnhardt has also become much more interactive with his team. He enjoys all aspects of being at the track more than he ever did in the past.
Several factors should impact Earnhardt's level of performance in 2013. If he is ever going to win multiple races and seriously contend for the championship, it will be next season.
This slideshow will highlight the reasons for this bold prediction that he could indeed win the NASCAR Sprint Cup title.
Begin Slideshow

»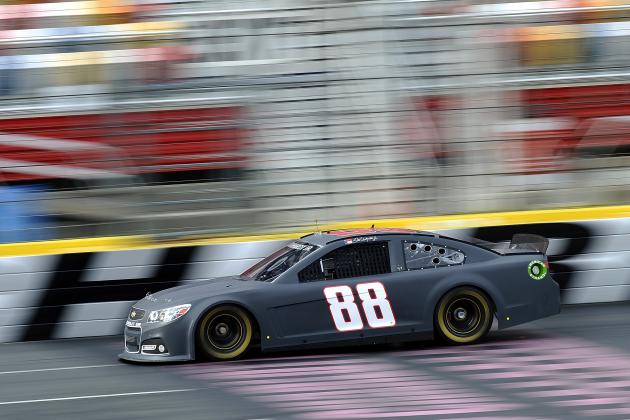 Jared C. Tilton/Getty Images

The newer, safer COT (or Car of Tomorrow) was introduced at Bristol Motor Speedway in March, 2007. It was used on a partial schedule that year and full time during the 2008 season through the 2012 season.
Of the 19 career wins in the Cup Series for Dale Earnhardt Jr., only two came with the COT. Junior was never a fan of the heavy, boxy car that was more aero-dependent than previous cars.
Recently, Earnhardt drove the G6 car for the first time during testing at Charlotte Motor Speedway. Like other drivers who participated, he was pleased with the new race car.
A Speed Channel video on FOX Sports.com reflected Earnhardt's thoughts when he stated the car had "awesome potential."
The driver of the No. 88 added he was "Really impressed with balance and downforce." Earnhardt also said, "I never really connected with the COT."
It is highly likely this driver will find his way to Victory Lane with a car that suits his style of driving, and is comfortable for him.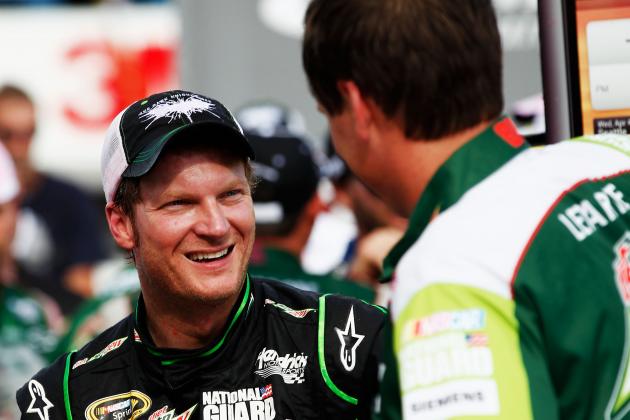 Jeff Zelevansky/Getty Images

Steve Letarte, crew chief for the No. 88 team, not only motivated his driver to get more involved at the track, but broadened his social horizons as well.
Dale Earnhardt Jr. had been one of those drivers who showed up at the track and stayed in his motorcoach—only to leave for mandatory appearances or to drive his race car.
Letarte made it clear to Junior that he would be involved in team meetings, be available around the garage and spend time in the team hauler. To Junior's surprise, he has enjoyed the experience.
Letarte wanted his driver to go out with him for meals at the various towns they visit on the racing circuit. He wanted Earnhardt to be more extroverted, so far as joining activities with others outside the track.
To Junior's surprise, he has enjoyed being more public. He didn't realize he could just be normal with his life like Letarte, though we know the normal for Earnhardt is still much different than the average person because of his notoriety.
These may seem like small things that Letarte motivated Earnhardt to do, but the end result has produced a much happier driver. A happy driver is one who wants to race and win.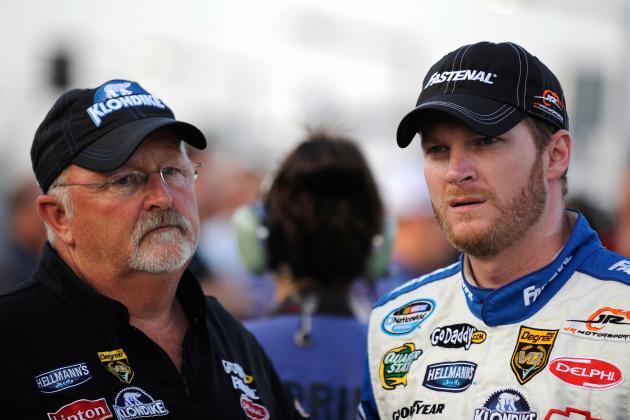 Rusty Jarrett/Getty Images

Sometimes you can love your family, but working with them can become difficult. Such was the case at JR Motorsports, which is co-owned by Dale Earnhardt Jr.
Tony Eury Sr., Earnhardt's uncle, was released as competition director at JRM. He had been a driving force in Junior's early racing years and the 15 Cup victories he scored from 2000 to 2004.
Soon after his father's departure, Tony Eury Jr. also left JRM after being the crew chief for Danica Patrick's Nationwide team. He was replaced by Ryan Pemberton, who is now competition director.
Regan Smith, former Cup driver, will drive the No. 5 Chevrolet with crew chief Greg Ives, formerly with Hendrick Motorsports.
Earnhardt will still drive the No. 88 for several Nationwide races, and Patrick is expected to run some races for them as well.
Though Junior leaves most of the decisions to his sister, Kelley Earnhardt-Miller, he still has to feel that his Nationwide operation is headed in a better, stronger direction, which is less of an issue for him.
The departure of Eury Sr. and Eury Jr. was amicable. Smith is expected to run for the NASCAR Nationwide Series championship.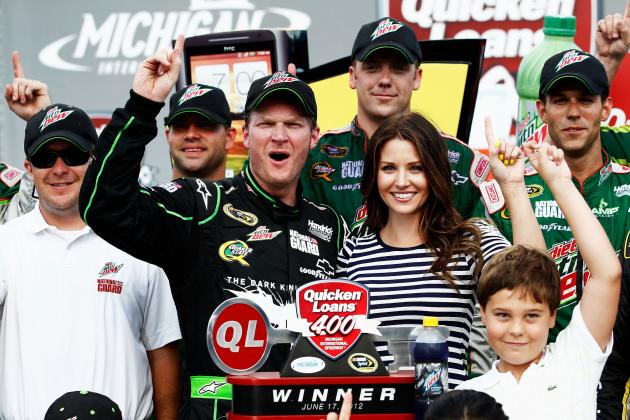 Jeff Zelevansky/Getty Images

Dale Earnhardt Jr. is one to keep his private life just that way, but he unveiled his girlfriend Amy Reimann last year at the NASCAR Sprint Cup Awards banquet.
She has since been seen standing by her man during pre-race activities. Reimann was there for the big kiss when Earnhardt went to Victory Lane at Michigan.
She was by his side at events last month in Las Vegas associated with Champions Week.
The two have been dating for several years, which leads to speculation that perhaps Junior is getting a bit closer to the marriage and kids that we have seen with so many other drivers of his generation.
Regardless of what the future holds for the two, it is obvious they are happy, which is just one more reason Earnhardt's life is coming together, and wins could be around the corner.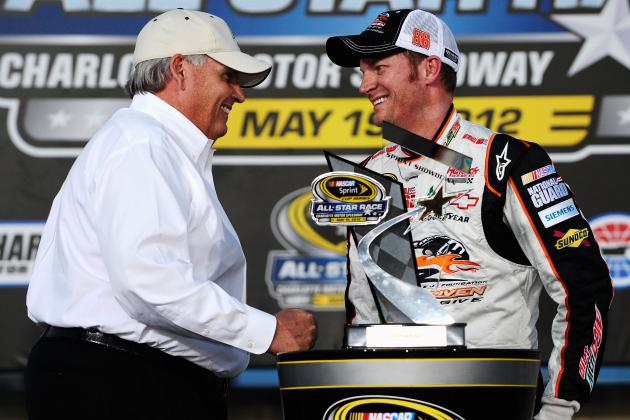 Jared C. Tilton/Getty Images

Dale Earnhardt Jr. made the move to become a driver for Hendrick Motorsports in 2008. Expectations were high for him to win races and perhaps a title or two in the NASCAR Sprint Cup Series.
Things did not go as planned with one win in 2008 followed by his worst seasons yet in 2009 and 2010. Excuses were bantered about that included the COT, crew chiefs and driver talent.
Rick Hendrick made the bold move to partner Earnhardt with Jeff Gordon's former crew chief, Steve Letarte, in 2011. The season brought a turnaround with Junior finishing seventh in the points, but winless.
Hendrick Motorsports is a very cohesive group of some 500 employees who consider Hendrick more than a boss. They consider him a friend and leader.
For Earnhardt, Hendrick is even more. He is somewhat of a father figure for the driver who lost his legendary father at Daytona.
Junior, 38, knows his years of racing are winding down. He will likely race for Hendrick as long as he wants to pilot a race car.
Following a lot of strong runs in 2012, and finding a win, motivates this driver to go for a Cup title perhaps more than ever. He has always wanted to win races, but a title for his boss would be priceless.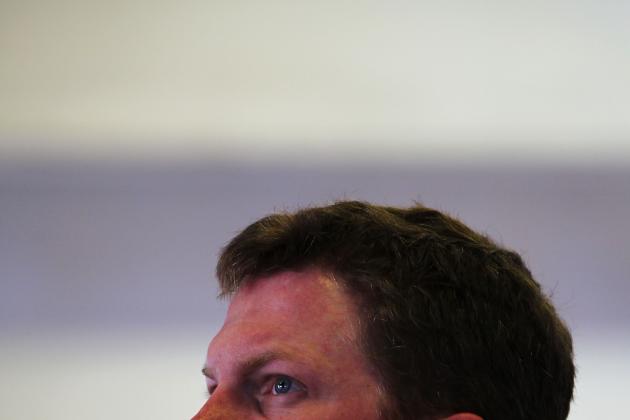 Jonathan Ferrey/Getty Images

The 2012 season was a strong season for Dale Earnhardt Jr. He won a race to break the lengthy winless streak, finished in the top five 10 times with 20 top-10 finishes and an average finish of 10.9.
He was atop the point standings briefly and had the most top-10 finishes of any driver for a good portion of the schedule prior to the Chase.
The accident during a tire test at Kansas and wreck at Talladega injured Earnhardt. He was diagnosed with a concussion from each incident, and that resulted in him sitting out two races during the Chase.
Earnhardt felt confident when he returned to his race car. He knew he had done the right thing for his health and his future.
Junior knows just how potent his team can be, which should motivate them to run strong in 2013. With the driver back in a car, the G6 model, that he is happy with, wins should become more plentiful.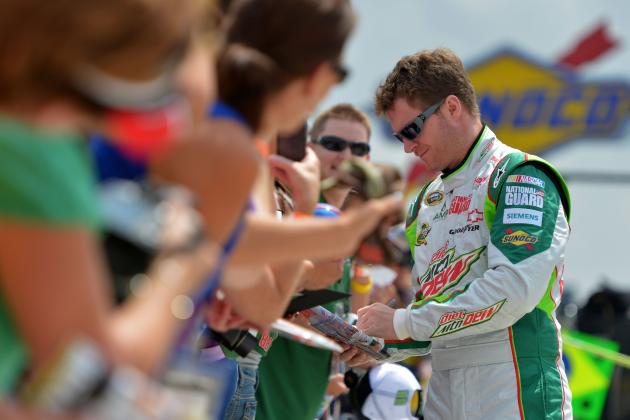 Drew Hallowell/Getty Images

The massive group of fans known as Junior Nation has stood by their driver through the good times and bad. They offer their support, root for him and wear apparel that sports his name and number.
It does not matter whether he wins races or not, the loyalty of his fans doesn't waiver. The massive support of this driver is humbling to him.
During Champions Week in Las Vegas, he was voted NASCAR's Most Popular Driver for the 10th consecutive year.
Earnhardt truly appreciates his fans, and for that reason winning races and a title becomes even more important.