Green Bay Packers vs. Chicago Bears: Live Game Grades and Player Analysis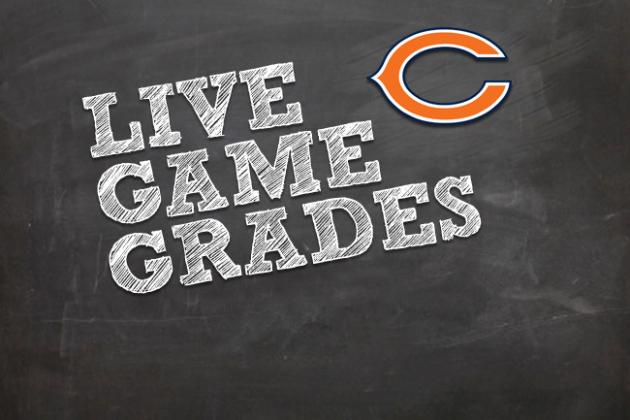 The Bears started 7-1 but have seen their season spiral the last couple of weeks. Their lost to the Packers has put them in a hole with two games left and will likely leave them out of the playoff picture.
Aaron Rodgers threw three touchdown passes, all to James Jones to lead the Packers to a 21-13 victory. Rodgers had 291 yards through the air and finished with no turnovers.
Jay Cutler was not able to match Rodgers' output. He had just 135 yards on only 21 pass attempts. He threw a touchdown to Brandon Marshall but had an interception as well.
After starting with 60 yards on 11 carries, Matt Forte fizzled for the rest of the game and finished with just 69 yards on 20 rushes.
Brandon Marshall had six receptions for 56 yards. Forte led the team with 64 yards through the air but no other receiver had a catch today for the Bears. Armando Allen was the only other player who caught a pass today.
The Bears will finish their season on the road traveling to Arizona and Detroit. They are not eliminated from the playoffs but will certainly need to win out and get some outside help to make it.
The Packers clinched the NFC North with their victory.
Begin Slideshow

»
Matthew Stockman/Getty Images
Jay Cutler
Jay Cutler: D
The poor play against the Packers continued for Cutler. He threw his 17th interception and could not match his counterpart all game long. The difference in the game was the quarterback play. Cutler clearly was out matched.
Jonathan Daniel/Getty Images
Matt Forte
Matt Forte: C-
Forte started off well but really struggled as the game went along. He takes a major grade hit for not getting into the end zone from five yards out on multiple tries. The holes were there and he missed them.
Armando Allen: C-
Two rushes and a catch for Allen. He only got five yards on the ground.
Evan Rodriguez: B
Nice seal blocks for Rodriguez. He was also open a couple of times in the flat but his quarterback didn't throw him the football.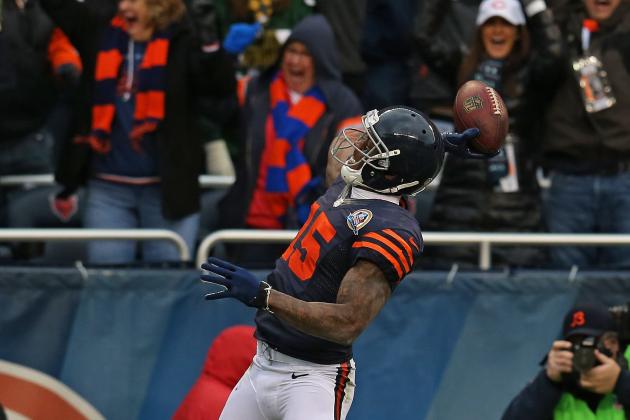 Jonathan Daniel/Getty Images
Brandon Marshall
Brandon Marshall: B
He increased his production from the first matchup and caught a touchdown but there wasn't much he could do when the Packers secondary really keyed in on him in the second half.
Alshon Jeffery: F
Jeffery is not a seasoned veteran who can get away with the push offs. He had more pass interference calls than catches. It's a bad habit he has developed and has to find a better way to get open.
Devin Hester: F
Hester's route running and overall feel for the game is terrible. He never worked back to the ball and was equally responsible for Cutler's interception.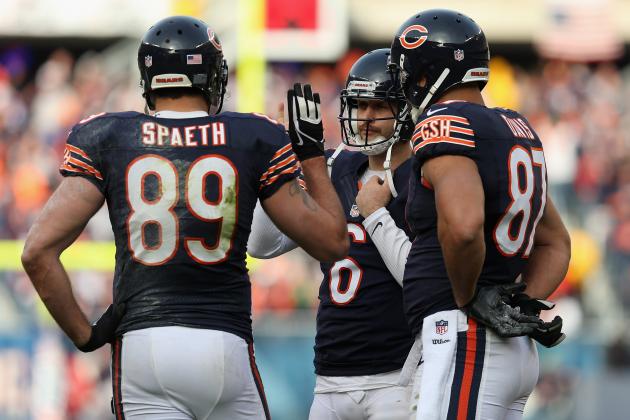 Jonathan Daniel/Getty Images

Kellen Davis: F
Another game Davis was missing in action.
Matt Spaeth: D
Spaeth was getting worked by Clay Matthews all game long.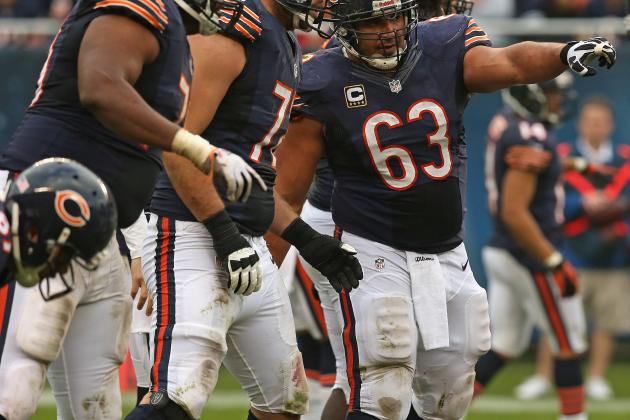 Jonathan Daniel/Getty Images
Roberto Garza
J'Marcus Webb: C
Webb was actually the best lineman on the field for the Bears all game. Now that's scary.
Chris Spencer: D
Spencer was subbed in at times and got no push in the running game.
Roberto Garza: D
Garza struggled and should be the most dependable player on the line. He doesn't recognize the blitzes well and can not get a good enough push off the ball in the running game.
Gabe Carimi: F
Carimi was subbed in and out all game long because he was just brutal. He was pushed around all game no matter where he lined up at.
James Brown: D
Like his fellow linemen, Brown was not good when the Packers adjusted after the first quarter.
Edwin Williams: C
Saw limited action due to some injuries and poor play by others.
Jonathan Scott: C
Courageous effort for Scott despite battling a hamstring issue all game long.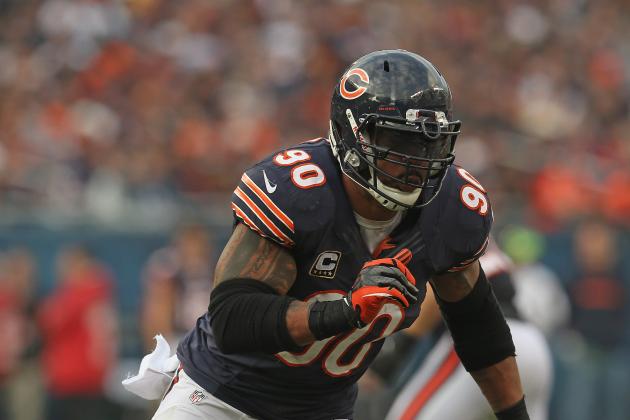 Jonathan Daniel/Getty Images
Julius Peppers
Julius Peppers: B
Good game by Peppers. His best in a couple of weeks. He applied good pressure and was able to get a couple hits on Rodgers.
Corey Wootton: B
Wootton continues to excel as a speed rusher. He and Peppers both had 1.5 sacks for the game.
Israel Idonije: C+
Like you would expect Idonije struggled when playing inside. He just doesn't have the strength to get enough pressure or plug up the middle consistently.
Amobi Okoye: B-
Made a couple of tackles on a rotational role today.
Cheta Ozougwu: C
Struggled to stop the run. The Packers were successful when running the ball right at him.
Stephen Paea: C-
Paea continues to be a player who has a ton of promise but tends to disappear during games.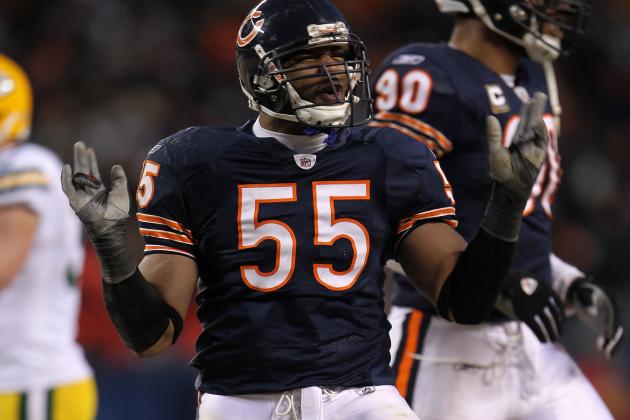 Jamie Squire/Getty Images
Lance Briggs
Lance Briggs: A
Briggs backed up his talk with a strong game. He was physical and overpowering at times on the field.
Nick Roach: C+
Where you see the biggest difference in Roach and Urlacher is Roach's lack of knowledge. He was caught a couple times switching the defense too late especially on third downs.
Blake Costanzo: B-
It was Costanzo's first start of his career and he did a serviceable job filling in for the injured Geno Hayes.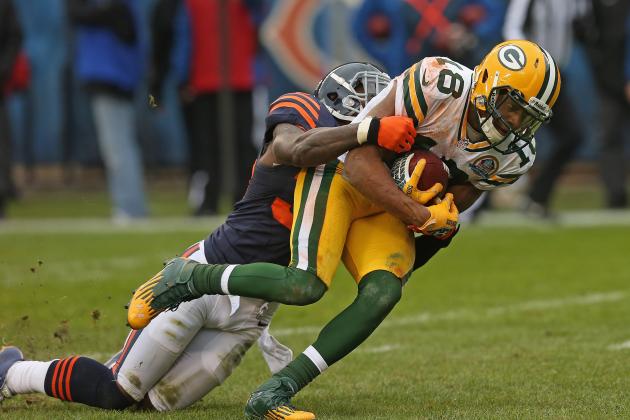 Jonathan Daniel/Getty Images
D.J. Moore
Charles Tillman: B
It was Tillman's signature ball punch that gave the team some life in the fourth quarter.
Kelvin Hayden: D
Hayden could not keep up with the Packers receivers and he is a serious downgrade in trying to stop the run.
D.J. Moore: F
Now you see why Moore was benched earlier in the season. He was torched all game and was often caught peeking in the backfield allowing the football to zip right by him.
Chris Conte: D
It's becoming an all too familiar theme for Conte to have a big penalty. Further more he was beat in coverage a couple times.
Major Wright: B
Wright did a nice job playing around the line of scrimmage and assisting in stopping the run.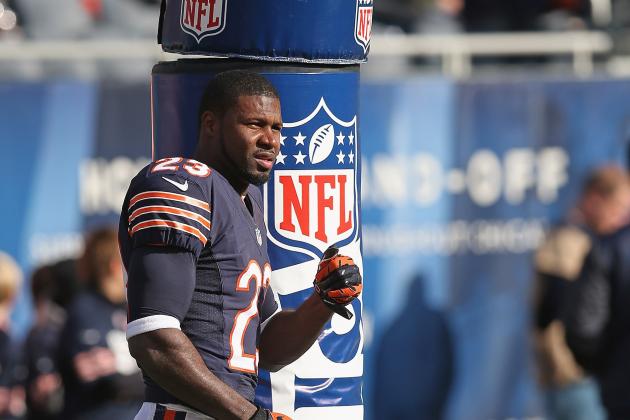 Jonathan Daniel/Getty Images
Devin Hester
Devin Hester: B
Hester provided the Bears with good field position all game long in the return game.
Olindo Mare: A
Mare was solid on kickoffs and nailed both his kicks.
Adam Podlesh: B
Three of Podlesh's six punts went inside the 20.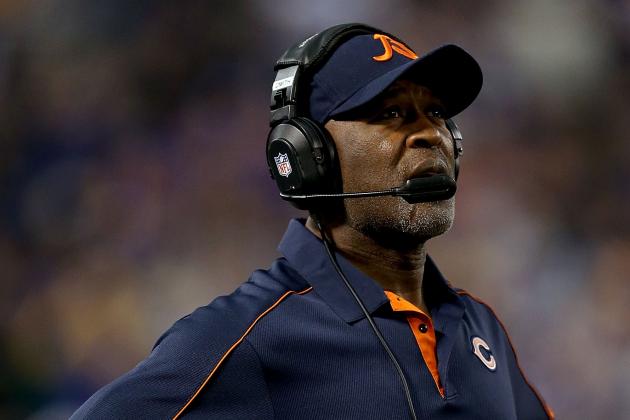 Matthew Stockman/Getty Images
Lovie Smith
Lovie Smith: D
Smith looked deflated going into halftime and for much of the second half. He team played that way. He didn't make the necessary adjustments in the secondary and the time out management was poor.
Mike Tice: F
The offense was given numerous chances to put points on the board and they just didn't get it done. Marshall was the only receiver to catch a pass today.
Rod Marinelli: B-
Given what he had to work with, Marinelli's defense gave the team a chance in the fourth quarter.
Dave Toub: C+
Uncharacteristic for Toub's group to have a miscue like the early one with too many men on the field. The unit rebounded to make some key plays including the recovery on the trick play.