Rob Parker: RGIII Comments on ESPN 'First Take' Warrant Dismissal from Network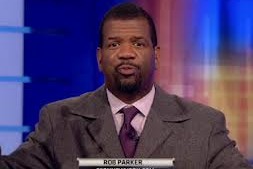 Photo Credit: SportsTalkFlorida.com

Not kicking someone while they're down is typically the proper course of action. In the context of ESPN First Take "analyst" Rob Parker's recent comments about Washington Redskins QB Robert Griffin III, however, such is not the case.
The fate of Parker rests on an internal investigation by the network while he is suspended in the meantime. However, the shocking words and thoughts he expressed justify an immediate dismissal.
The context of the discussion was framed around RGIII intimating he didn't feel he had to be defined by being African-American. That prompted the question of, "What does this say about RGIII?"
Parker proceeded to say the following (h/t Washington Post):
But my question, which is just a straight honest question. Is he a brother, or is he a cornball brother?

Well...he's black, he kind of does his thing, but he's not really down with the cause, he's not one of us. He's kind of black, but he's not really the guy you'd really want to hang out with, because he's off to do something else.

We all know he has a white fiancée. There was all this talk about he's a Republican, which, there's no information [about that] at all. I'm just trying to dig deeper as to why he has an issue.
Stephen A. Smith indicated that he was "uncomfortable" with where the discourse had just gone, and rightfully so.
Why does Griffin have an issue? Tell us, Mr. Parker, what precise issue does Griffin have? It sounds as though RGIII simply doesn't fit Parker's picturesque paragon of what a black athlete should be.
Griffin completed his undergraduate coursework a year early, overcame a major knee injury, won the Heisman Trophy and was drafted No. 2 overall in the 2012 NFL draft all before the age of 23. He is an extremely articulate, honest individual when addressing the press, is as physically talented as any quarterback that has ever lived and appears to have his life very well put together.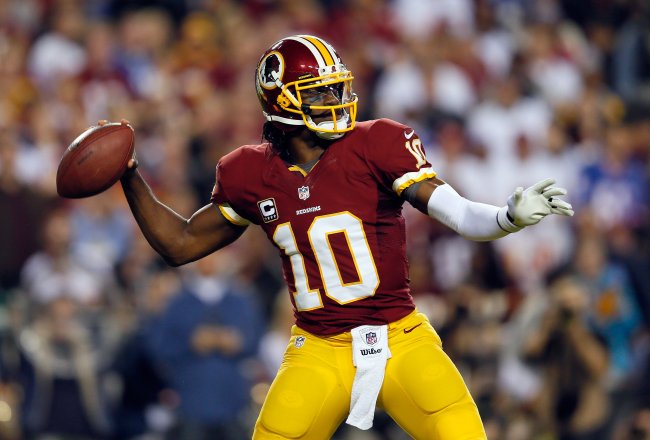 Robert Griffin III is morphing into one of the most exciting, likeable players in the NFL in his first year. Rob Parker wonder why RGIII has an issue.
Rob Carr/Getty Images
That sounds like a young man living a massively successful life to date, and it's likely that Griffin doesn't care about someone's twisted image of what he should be.
The introduction of race into any conversation in terms of ethnicity or pigmentation of one's epidermis is bound to generate controversy, especially in the way that Parker brought it loudly to the forefront on national TV.
First Take capitalized on an opportunity to take a quote by Griffin out of context and allowed Parker to demonize him for not conforming to some sort of stereotype. It was for Parker's selfish personal gain, and to generate buzz for the show.
Sadly, it worked in that regard. But that doesn't mean it's right.
This also isn't the first time the show has used Griffin's race as a talking point. The show's staple commentator Skip Bayless attempted to articulate how the dynamic between RGIII and his white backup Kirk Cousins could damage Griffin's development (h/t Huffington Post):
I'm going to throw it out there. You also have the black-white dynamic and the majority of Redskins fans are white. And it's just human nature; if you're white to root for the white guy. It just happens in sports. Just like the black community will root for the black quarterback. I'm for the black guy. I'm just saying, I don't like the dynamic for RG3. It could stunt his growth in the NFL.
How does that even begin to make sense?
Throw the concept of race out the window for a split second, and this situation ultimately boils down to an exploitation of a human being's words and opinions using only their skin color as a frame of reference for their thoughts.
Last time I checked, human beings are all part of one race. The human race.
That is a whole other issue in and of itself, and although Griffin didn't at all imply that paradigm in the selective quote the show pulled for discussion, he made the point of not wanting to be defined by his skin color.
Misguided sports television personalities like Parker and Bayless have been guilty in multiple instances of projecting an ignorant, individual ideology just to generate a reaction from people and make a buck. That's their job to an extent, but it's also somewhat disturbing.
Sports debate should center around the sport itself, what the players do on the field and not on character judgments or psychoanalysis of a sound bite or a quote using race as a cultural determinant.
There's another saying: if you don't have anything nice to say, don't say it. Why Parker would go on national TV and make assertions about RGIII based on what some of his friends in D.C. have said is beyond comprehension.
It may not be nice to say that Rob Parker deserves to be fired, but that doesn't mean it's wrong.
This article is
What is the duplicate article?
Why is this article offensive?
Where is this article plagiarized from?
Why is this article poorly edited?