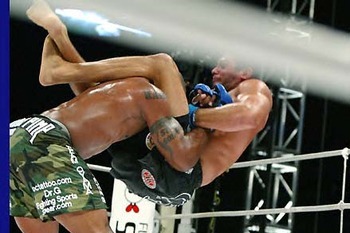 Every fan of MMA loves a good finish.
Whether that is a punch, kick or submission, it doesn't matter.
There is a more rare form of finish though—the slam knockout. These finishes are particularly nasty because of the power being put into the slam.
Slam knockouts are always exciting and unpredictable. They can render your opponent unconscious, and do the same to you if you're not careful.
You'll see an example of that later on.
Here are five fighters who have successfully slammed their opponents into submission.
Begin Slideshow

»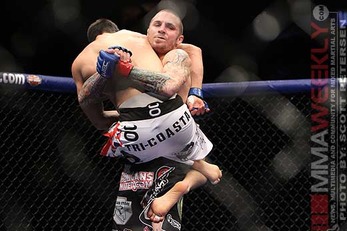 Photo courtesy of bloodyelbow.com
Eddie Wineland was a force when he fought in the WEC.
He finished his last fight there with a wicked slam knockout of his opponent, Ken Stone.
Stone tried to jump guard and go for a choke up against the cage, and Wineland viciously slammed him to the canvas.
He followed up with strikes, but Stone was out cold as soon as he hit the mat.
Wineland had many highlights fighting in the WEC, but the slam knockout definitely stands out.
Photo courtesy of cagepotato.com
Gray Maynard met Rob Emerson at the Ultimate Fight 5 Finale.
The watching fans were treated to a particularly weird finish. Maynard controlled Emerson with his striking and picked him up to go for a big double-leg slam.
As soon as Maynard has slammed Emerson, Emerson tapped out. Many believed Gray Maynard had secured himself the win.
But then the referee noticed that Maynard was unconscious after hitting his head during the slam.
The fight was changed to a no-contest because even though Emerson tapped out, Maynard had knocked himself out at the same time.
Doesn't get much weirder than that.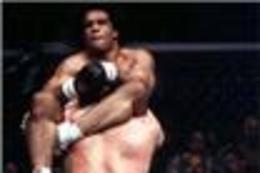 Seconds before the slam occurs
This slide will be a blast from the past.
Matt Hughes was able to defeat Carlos Newton in their first fight courtesy of a massive slam.
Newton had Hughes in his guard when he wrapped his legs around his neck. Hughes, displaying amazing strength, picked Newton up and held him against the cage for a few seconds.
Then he slammed him to the mat, and that was it for Newton's night.
Hughes also won the UFC welterweight belt for the first time with that victory.
Sarah Kaufman makes this list for having one of the most brutal slams in WMMA history.
In her Strikeforce fight against Roxanne Modafferi, Kaufman was in her guard when she lifted her up and power-bombed her.
Modafferi hit her back and head on the way down, and just like that, Kaufman had a highlight-reel win.
She got a technical knockout victory, just not in the way she was expecting it.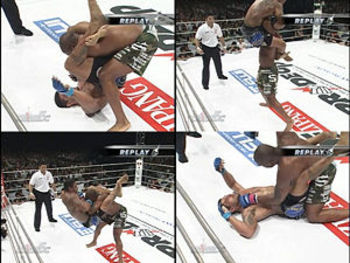 Arguably the most famous slam knockout in MMA history, "Rampage" Jackson created a highlight for the ages when he power-bombed Ricardo Arona.
Arona has his legs around Rampage's head and was looking for a triangle choke. Jackson knew this and brutally put an end to it with the power-bomb to end all power-bombs.
He lifts Arona high off the mat, and smashes him flat on the way down. It is one of the most brutal finishes you'll ever see.
Whatever you do, don't get on Jackson's bad side. Slams are scary, and no one does them better than "Rampage."
Tweet me @FuscoNation16.