Rating the Manchester United Players Against Sunderland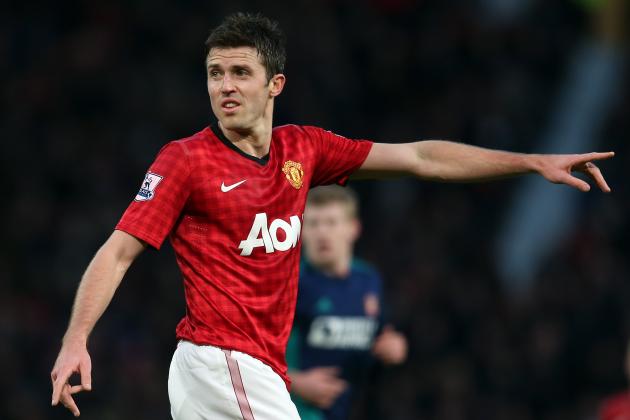 Julian Finney/Getty Images

After seeing Manchester City close the gap at the top of the Premier League table following their early Saturday victory, Manchester United made no mistakes in earning a win of their own to maintain safe distance.
The Red Devils put in a masterful first-half display against Sunderland that ensured the Black Cats weren't able to return, even for all the luck in the world.
Once again six points clear of their closest rivals, Manchester United's 3-1 romp past Sunderland was evidence of a title-winning side, although some stars shone brighter than others.
A 3-1 win tends to point towards an all-round impressive team effort, but that won't stop us from breaking the individuals down on their displays, being graded out of 10.
Begin Slideshow

»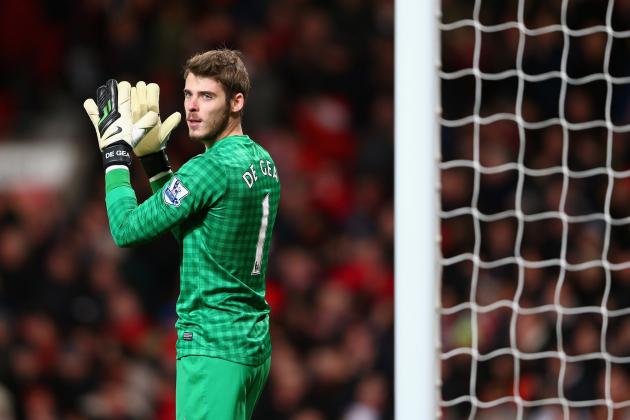 Clive Mason/Getty Images

Unfortunate not to have kept a clean sheet, a lack of creative opportunities from Sunderland meant that David de Gea had a relatively quiet afternoon.
Although the Spaniard is certainly showing signs of improvement, some shortcomings continue to linger on and when he was tested, De Gea was lacklustre at times.
The most evident area in which De Gea wasn't always a reliable figure remains aerial duels, preferring to punch balls away when the opportunity is there to be clinched from the air.
That being said, De Gea continues to thrive in certain aspects and shot-stopping was again a particularly strong part of his game against Sunderland.
Rating: 7.0/10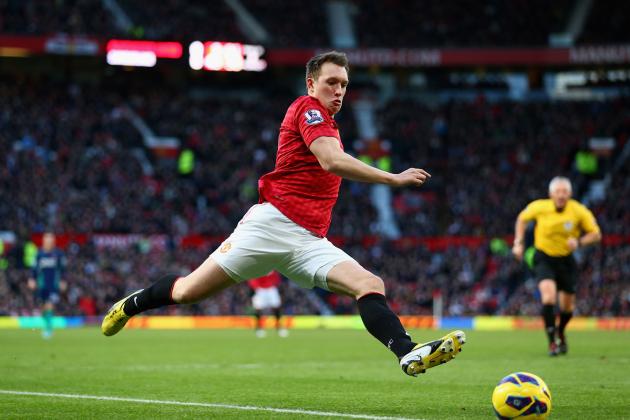 Clive Mason/Getty Images

With Rafael being omitted from the matchday squad, Phil Jones was left to take the Brazilian's place at right-back, earning his first start of the Premier League season.
While he may have been absent for much of the season so far, Jones showed little signs of the injury that has held him back of late, putting in a solid show against Sunderland.
Ironically enough, it would appear that in Jones, United have a defensive outlet of near polar opposite qualities to Rafael whose priorities lie largely in defence.
In comparison, Jones was on hand mostly to restrain the attacking flair of James McClean who contributed very little against his English opponent.
Jones did manage to link up with Antonio Valencia on several occasions but didn't quite show the same offensive instinct as the man he was there to replace.
Rating: 7.5/10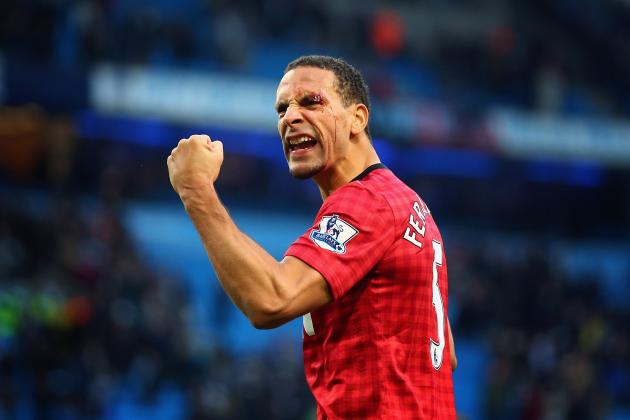 Clive Mason/Getty Images

In a generally classy show from Manchester United, Rio Ferdinand surprisingly looked like one of his side's weaker links on Saturday.
The former England international showed a lack of pace at times and it was up to Chris Smalling to often use his speed to clear some situations up.
James McClean, at one point, exposed this significant gap in ages, robbing Ferdinand of the ball on his left flank and Manchester United's stalwart can consider himself as fortunate that the Irishman didn't go on to score.
However, what Ferdinand lacked in agility, he made up for in mental wit and the veteran was useful in positioning his defence to best deal with Sunderland's probing.
Rating: 6.5/10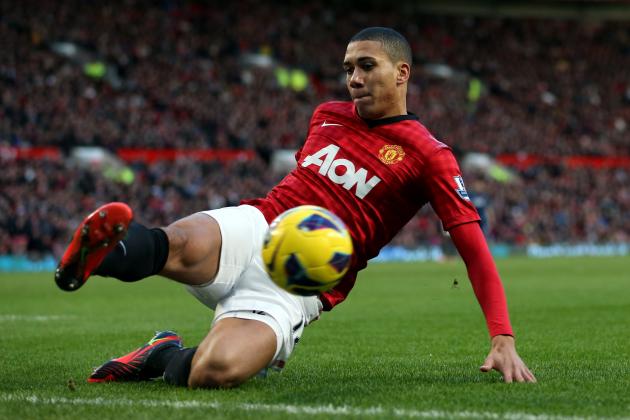 Julian Finney/Getty Images

As mentioned earlier, Smalling was called upon numerous times to clear up the mistakes of others around him and showed the maturity of one far older and more experienced than he.
Steven Fletcher found it difficult to find space around the young Englishman and although Connor Wickham had more fortune later on, Smalling still did brilliantly to cage the Sunderland attack.
One blip for the defender was leaving Fraizer Campbell completely unmarked to score in the second half, although it was not entirely his fault.
Rating: 7.5/10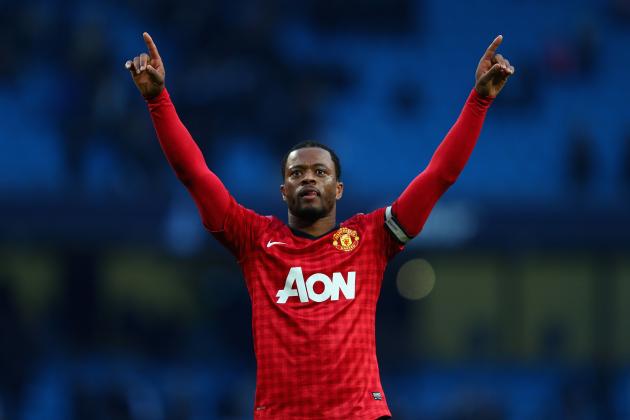 Clive Mason/Getty Images

As has become the case for many full-backs these days, one wouldn't have been absurd to mistake the attacking Evra for a winger at times on Saturday.
The Frenchman ran the inevitable risks that come hand-in-hand with such an approach, and while Adam Johnson didn't test his limits, later substitutes did.
Between Stéphane Sessègnon and Fraizer Campbell, the second period was a far harsher competition for Evra and he was exposed numerous times by Sunderland's replenished attack.
Ashley Young will have been glad of Evra's presence on occasion, linking up well with each other going forward but it's displays such as this that raise the question of where the modern full-back's priorities should really lie.
Rating: 6.5/10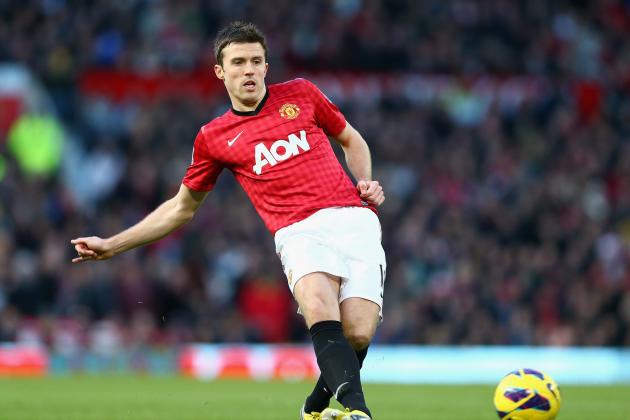 Clive Mason/Getty Images

Not usually the most offensive of playmakers, even Michael Carrick found the opportunity to make a go of things in attack against Martin O'Neill's Sunderland on Saturday.
The 31-year-old was the more defensive of a central partnership with Tom Cleverley, but Seb Larsson and Craig Gardner posed little in terms of opposition, allowing Carrick to express himself to the fullest.
Doing the simple things right, Carrick was a constant outlet in United's midfield and kept momentum going expertly, controlling the pace of the Red Devils' attack with ease.
Rating: 7.5/10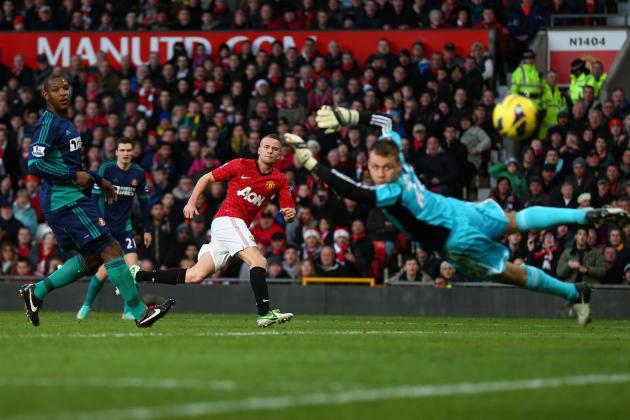 Clive Mason/Getty Images

For those that doubt Tom Cleverley's future as a long-term staple in Manchester United's starting XI, Saturday was an example of just why the youngster can make it as such.
Cleverley was on hand to double his side's lead with a supremely cool finish just before the 20th minute, rounding Simon Mignolet after teaming up well with Carrick.
With his central partner hanging back, the 23-year-old was permitted to push forward alongside his more attacking teammates and proved to be the catalyst on more than one occasion.
Pulled off in place of Ryan Giggs with around 15 minutes to go, Cleverley did enough to make an impression on those who lack faith in his ability.
Rating: 8.0/10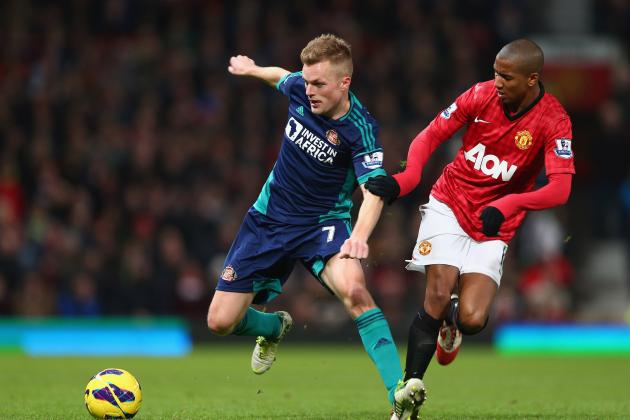 Clive Mason/Getty Images

Another Red Devil to court the doubts of some in recent months, Ashley Young also put in a performance to signal an improvement in form.
It was Young's jinking run that opened up the opportunity for Robin van Persie to open the scoring, and Carlos Cuéllar had a bad day at the office thanks to the United winger's presence.
Unrelenting at times, Young was perhaps fortunate to have a centre-back as his opposite number, but grabbed the opportunity with both hands and punished Sunderland as a result.
Rating: 8.0/10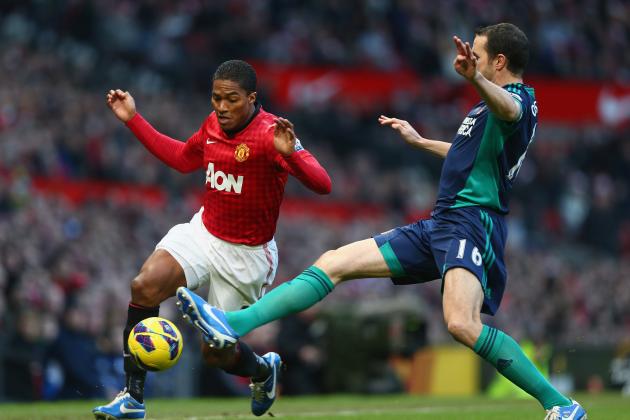 Clive Mason/Getty Images

In recent seasons, Manchester United supporters have become used to Antonio Valencia reaching a certain standard on the club's right wing, especially when playing against lesser opposition.
However, even with Jack Colback as his marker, Valencia failed to make use of all the chances handed to him and could definitely have been more clinical in terms of crossing and dribbling.
With that in mind, the fact that the Ecuadorian had chances to spoil in the first place shows that he's indeed doing something right, if not a little inefficiently against the Black Cats.
Rating: 7.5/10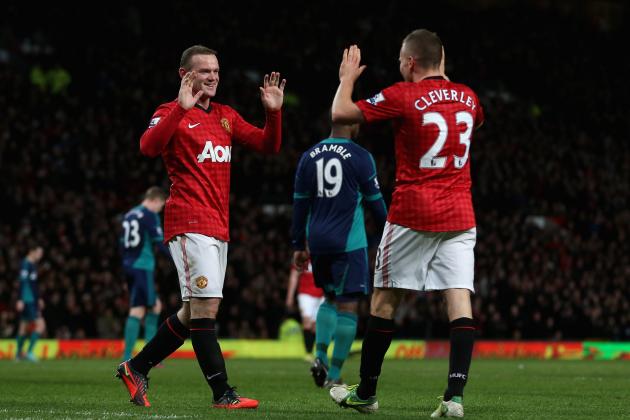 Julian Finney/Getty Images

This season has seen Wayne Rooney grow in maturity, evolving into a multi-faceted player of near limitless versatility.
Saturday's 3-1 demolition of Sunderland was another ideal showing of just how hard it is to place just the one position on Rooney, who moved across the creative line and went up front for periods, as well as even further back.
After launching a personal assault on Mignolet's goal early in the second half, Rooney had to wait until the 60th minute to earn his deserved score, getting on the end of a Van Persie cross.
The longer Rooney exists as a Manchester United player, the more he seems to thrive as a leader figure at the club, with Saturday a prime example.
Rating: 9.0/10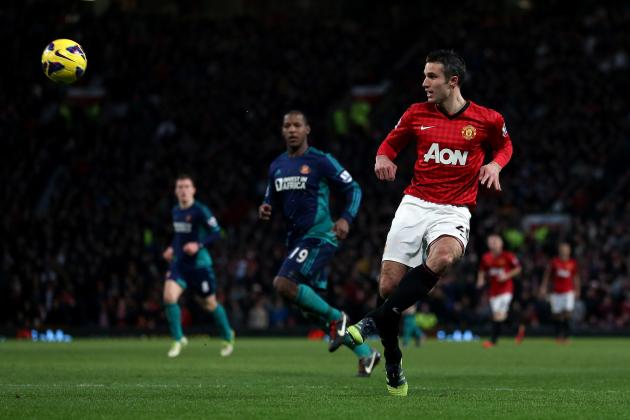 Julian Finney/Getty Images

While the Dutchman may have contributed more in terms of solid statistics than his attacking partner, Van Persie's brilliance relied greatly on foundations first laid by Wayne Rooney.
However, that isn't to detract from the majesty displayed by the former Arsenal man, who put in the kind of game that makes it impossible to argue against United's acquisition of him over the summer.
With men like this on your team, it's no wonder the Red Devils have the best attack in the English top flight, a record exemplified by the forward's cool finish inside 16 minutes.
That first goal set the pace for the remainder of the game and RVP was even on hand to feed Wayne Rooney in for a goal of his own.
Rating 8.5/10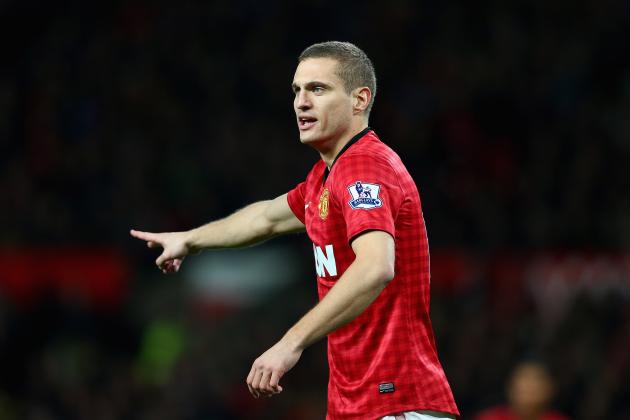 Clive Mason/Getty Images

Paul Scholes
Coming on for Michael Carrick at halftime, Scholes brought the usual metronome-like passing style that many a Manchester United fan know he tends to showcase.
However, Scholes' age was evident at times, falling a step off the pace in certain tackles and failing to last against the physical nature of some players.
Rating: 6.5/10
Ryan Giggs
Despite his best efforts, Giggs was largely unimpressive against Sunderland after coming on 17 minutes from time.
The Welsh legend stepped in to replace the energetic Tom Cleverley but just couldn't produce the same influence that the youngster did, regardless of whether his side were 3-0 up at the time or not.
Rating: 5.5/10
Nemanja Vidic
You would had to have been some distance away to not have heard the Old Trafford faithful roar as soon as Nemanja Vidic emerged from the Manchester United dugout.
The Serbian is still coming back from a lengthy injury layoff and while he may have shown signs of creakiness, Vidic was, for the most part, a safe asset at the back.
Sunderland rallied in the final 15 minutes and looked like scoring on numerous occasions, but Vidic teamed up well with Chris Smalling in defence to restrain the Black Cats' advances.
Rating: 6.0/10