Rating the Liverpool Players Against Aston Villa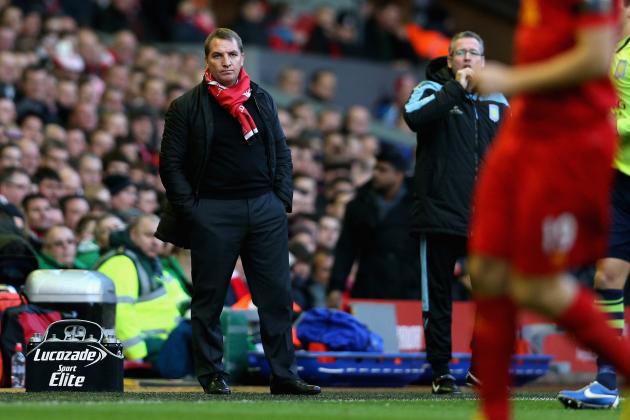 Clive Brunskill/Getty Images

A frustrating day at Anfield saw Liverpool slip to a 3-1 defeat against Paul Lambert's young Aston Villa, who punished the Reds for yet again failing to take their chances.
Brendan Rodgers was left stunned as his side's profligacy in front of goal again came back to haunt them, although this time it was coupled with a poor defensive showing which allowed Villa to score three times before the hour mark.
Steven Gerrard might have pulled a goal back late on, but it could do little to disguise the disappointment inside Anfield.
Here are the ratings out of 10 for the Liverpool players:
Begin Slideshow

»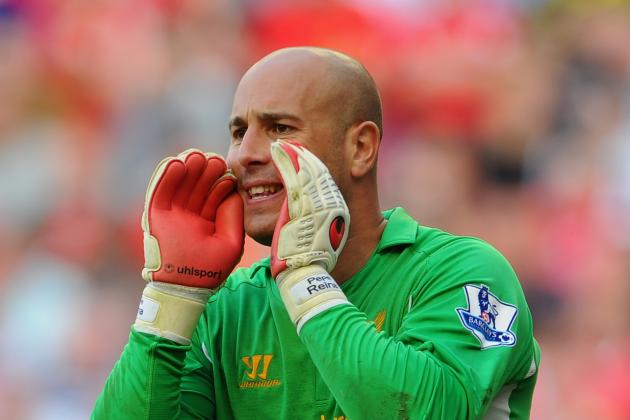 Michael Regan/Getty Images

Reina did well to thwart Andreas Weimann as the Austrian broke through during Villa's only attack before Christian Benteke's opener, but after that, the Spaniard spent most of his time picking the ball out of the back of his net.
The flimsy defending in front of him made it very difficult for the goalkeeper to do anything about Villa's second and third goals, but he will perhaps feel that he should have done better with Benteke's opener, with the shock value that came with it etched all over Reina's face.
As his own harshest critic, he'll be disappointed with his performance, but his teammates didn't help him much.
Rating: 6/10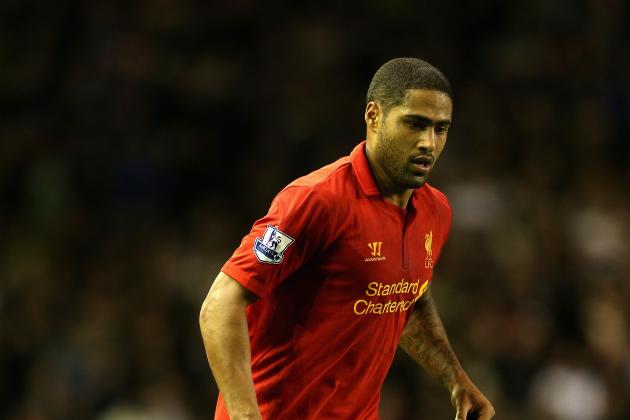 Clive Brunskill/Getty Images

A week on from his stellar performance and goal at West Ham, Johnson wasn't at his best when he returned to home turf.
An error in the first half almost allowed Weimann in to score, and although he was again prominent in an attacking sense, his final ball was lacking in the type of quality we have seen from him all season.
He did redeem himself with the trademark run across the box and shot, which led to Steven Gerrard's consolation, but neither man nor the rest of their teammates will be looking back on anything they did on Saturday with much of a sense of pride.
It was a bad day at the office.
Rating: 5/10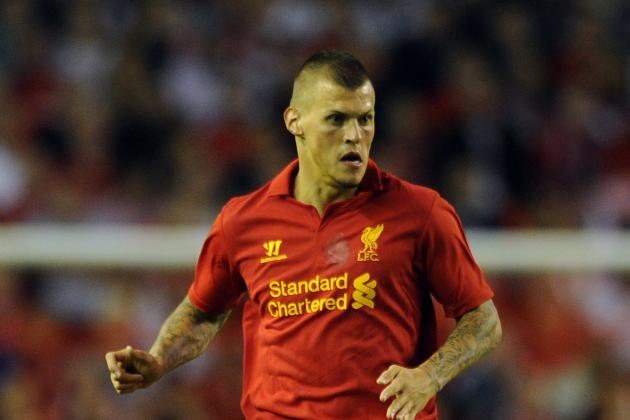 Chris Brunskill/Getty Images

Liverpool's defence has been reasonably solid all season and certainly has in recent home matches, and so there was perhaps a little bit of bad luck involved in the fact that when both centre-backs chose to have their one-off bad game, they did it at the same time.
Too often Skrtel and Daniel Agger were caught out of position due to the strong running and the power of Benteke, and with Liverpool's defence too easily bypassed, you were often left wondering just where Skrtel had disappeared to.
He'll be back obviously, but this was a poor day for him.
Rating: 4/10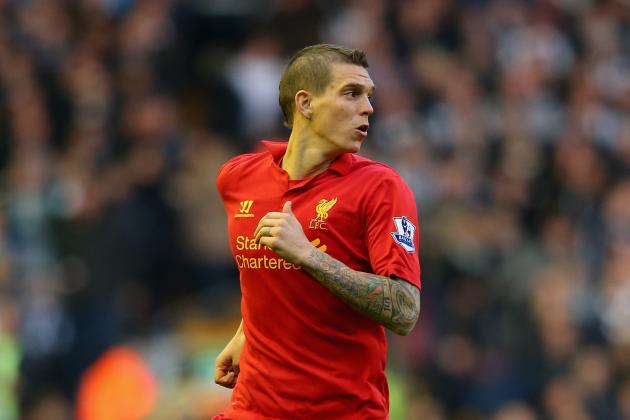 Alex Livesey/Getty Images

As with Skrtel, this just wasn't to be the Dane's day.
The penalty kick that he probably should have been given when Ciaran Clark grabbed his shirt and hauled him to the ground while the score was still 2-0 will be the decision that Rodgers focuses on, but the decision making of his centre-backs simply wasn't up to scratch and was punished by Benteke and Weimann.
Agger is better than this, and he can show that in the coming weeks.
Rating: 4/10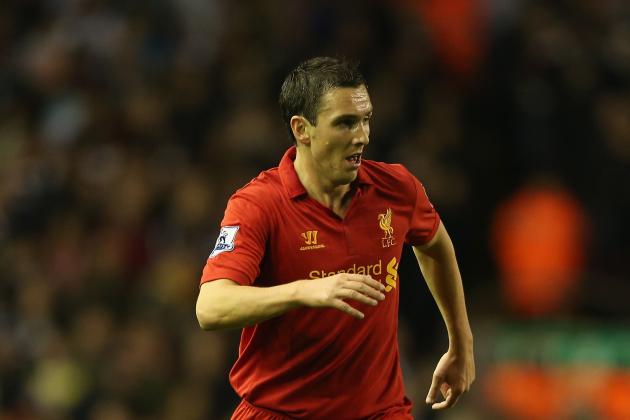 Clive Brunskill/Getty Images

Easily the most impressive member of the back four, it is one of the great ironies of Downing's Liverpool career that one of his more composed displays should come on a day that everyone will want to forget quickly.
Filling in for Jose Enrique, Downing was always available for a pass on the left flank, and he came close to scoring against his former club on a couple of occasions.
Enrique will still be the No. 1 choice for the position and rightly so, but Downing didn't disgrace himself, and on an afternoon when supporters are looking for scapegoats, he shouldn't be one.
Rating: 7/10
Clint Hughes/Getty Images

It is so important that Rodgers gets Lucas fully fit and integrated back into his team at the earliest possible opportunity, and so it wasn't much of a surprise to see him withdraw the Brazilian at 3-0 down with the game looking lost.
In the preceding hour he'd done his typical duties in front of the back four, but Villa's clever pressing too often made him look a little troubled.
He always looked to instigate attacks and play the ball forward―one terrific pass to Gerrard led to one of Luis Suarez's many blocked efforts―but like so many others, this simply wasn't his day.
Rating: 6/10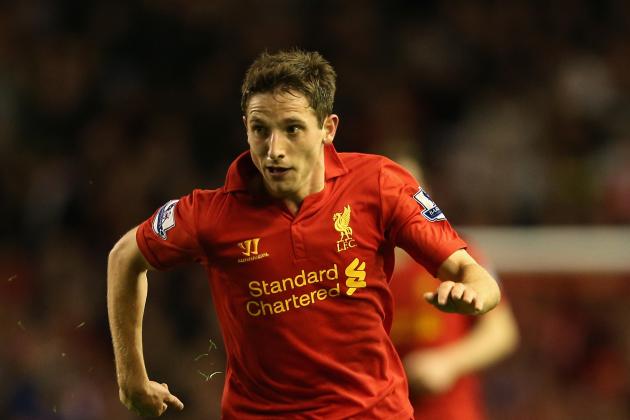 Clive Brunskill/Getty Images

When Liverpool play well Allen plays well, and so conversely, well…you know where this is going, don't you?
This wasn't the Welshman's finest game in the red shirt, but that was largely due to the pressing put on him by Villa's midfielders, who seemed to have earmarked both him and Lucas for special treatment.
With the Brazilian in the side, Allen should be allowed to get forward more and look to get on the end of chances, but he doesn't appear to be fully embracing that role further forward just yet, and he doesn't convince you that he can pop up with a goal.
There were calls for Rodgers to introduce a more attacking force such as Suso to replace the ex-Swansea man, but he completed the 90 minutes and left the field as downhearted as his teammates.
Rating: 5/10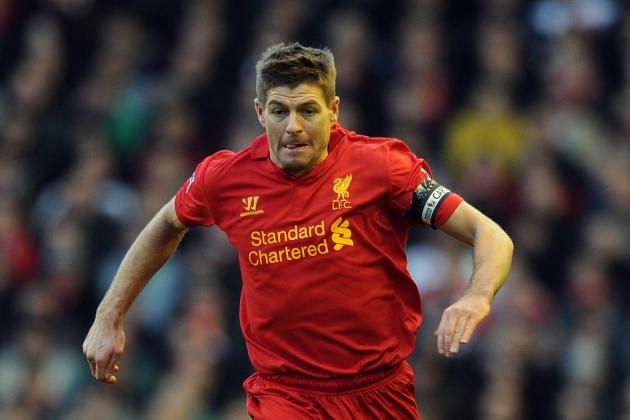 Chris Brunskill/Getty Images

A third goal of the season was barely celebrated by the Liverpool captain when it came just three minutes from time and with his team still two goals behind. However, Gerrard can say that he did more than most to try and force an unlikely turnaround in front of the Kop.
Lucas and Allen's selection allowed him to get even further forward and as close to Suarez as he could, and although the pair were always threatening to cause danger, they were all too often let down by the final ball.
Villa's excellent defence played a part in that too, of course—and it would have been interesting to see what would have happened had Gerrard been awarded the chance to take a penalty at 2-0 when Agger was pulled in the box by Clark—but this will not go down as a game for the skipper's highlight reel, however much effort he put in.
Rating: 7/10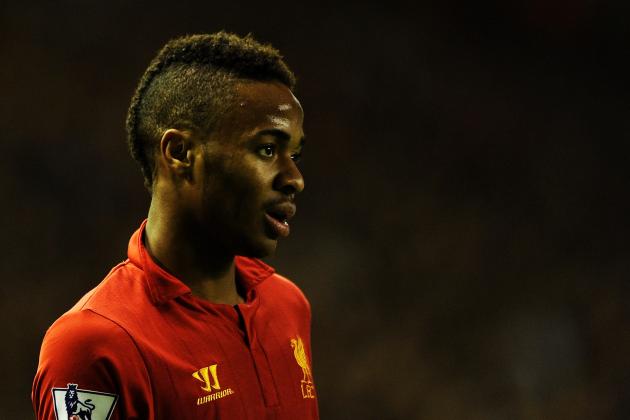 Chris Brunskill/Getty Images

It sounds an odd thing to say, but Liverpool need to tie Sterling down to a long-term contract and get in players who can fill in for him at the same time.
The teenager wasn't at his sparking best against Villa, and he put in a performance which will only add to fears of burnout, given that the youngster has played so much football at such a young age.
He improved as the match went on, and the key thing to take away from the performance was that he didn't go missing when the Reds were struggling. But Sterling―perhaps affected by a hefty early blow he took from Nathan Baker―didn't have a day to remember.
Getting in cover for him is essential in January, since rest will benefit him in the long term.
Rating: 6/10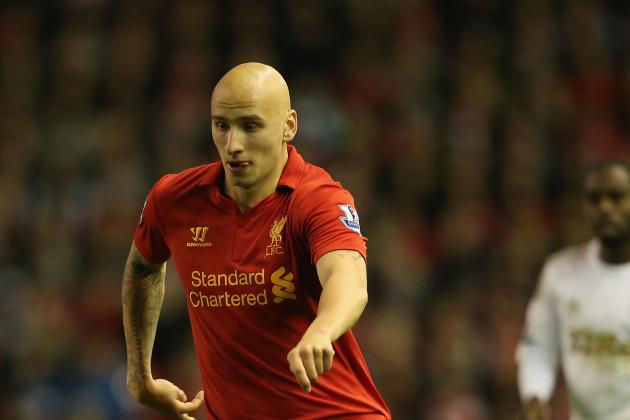 Clive Brunskill/Getty Images

Versatility is a great attribute to have for a player, but it can sometimes come at a cost, and Shelvey looked a little lost on the left-hand side against Villa before being replaced by Joe Cole at half-time.
A superb challenge from Baker denied him what looked a certain goal following fine play from Suarez early on, but too often the youngster―who did so well as a 'False Nine' at West Ham last weekend―simply let the game pass him by.
Downing's work on the left wing was outshining him, and even when Shelvey switched to the right, nothing was coming off.
It was not his day, but he'll recover.
Rating: 4/10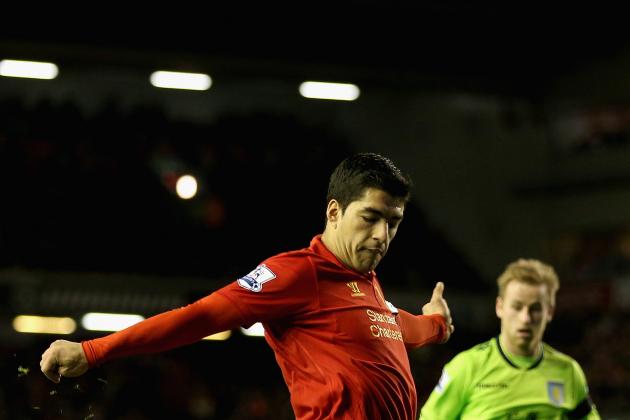 Clive Brunskill/Getty Images

Suarez hasn't scored in his last five matches, and so getting him back on the goal trail will be vital for Liverpool if they are to move back up the table after this setback.
He didn't really miss any gilt-edged chances, but Villa's fine defence often forced him into wide positions on Saturday, and when the attempted nutmegs and the dragbacks weren't quite coming off, he grew more and more frustrated.
If he picked up a booking for arguing with the referee, it wouldn't have come as a surprise to many, but Suarez's frustrations were more with himself than the officials. Things weren't going well for him, and in turn, they didn't go well for Liverpool.
Rating: 6/10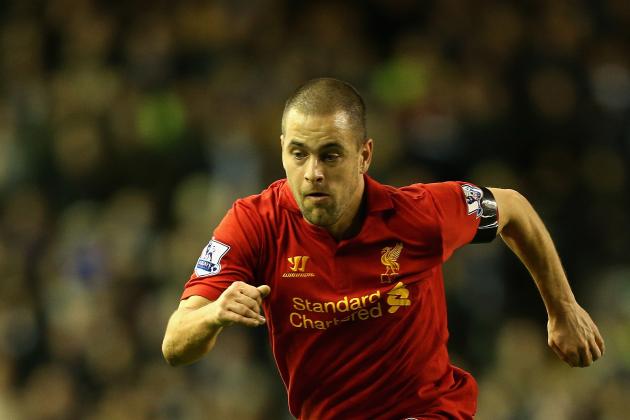 Clive Brunskill/Getty Images

Joe Cole (on for Shelvey, 46mins)
Cole lost possession for Benteke's second goal, which killed off the game, but he was his usual busy self other than that.
One long-range shot flew wide of goal, but Liverpool need to rely on players far more capable of finding the net when they are chasing the game.
Rating: 5/10
Jordan Henderson (on for Lucas, 61 mins)
Henderson kept passing the ball forward, but he couldn't help find a breakthrough. He also had a shot blocked.
Rating: 5/10