WWE TLC 2012: Simulating Every Confirmed Match with WWE 13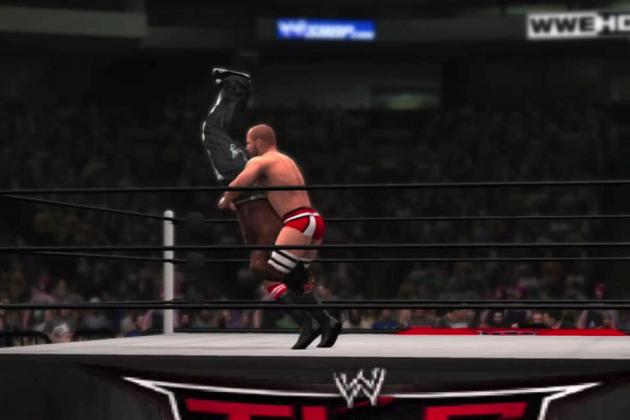 image from WWE 13
The WWE's final pay-per-view event of the year is Sunday and I for one am hoping to see a ton of drama in the story lines to round out the year.
In anticipation of Tables, Ladders and Chairs 2012, I've arranged simulations of all seven confirmed matches on THQ's WWE 13. Due to the ever-changing world of professional wrestling, even a game packed with options like WWE 13 can't account for all the details real wrestling creates in real time.
So there were a few match types that couldn't be recreated perfectly. Nonetheless, the scenarios were setup to the best of my—and the game's—ability.
We know that the real show will be missing an element due to the in-ring absence of WWE champion CM Punk, but hopefully WWE Creative will give fans something to talk about on Monday morning.
For now, take a look at what outcomes WWE 13 predicted for the seven confirmed matches at TLC 2012.
Begin Slideshow

»
A.J. Lee was originally slated to appear in this match, but she was replaced by the Funkadactyls: Cameron and Naomi, per Wrestling Inc. That brought the total to nine for the TLC pre-show feature, and created my first simulation conflict.
WWE 13 allows a maximum of six wrestlers in a battle royal. Because of that, I had to eliminate three Divas. If we're being honest, the three participants that have no chance to win this match are Cameron, Naomi and Rosa Mendes.
None of those three have been in the ring much as wrestlers and they have zero buzz going as in-ring performers.
On the strength of that reasoning, I made it a Six-Diva battle royal with: Layla (created wrestler, she's not yet available through DLC), Aksana (created wrestler), Alicia Fox, Natalya, Tamina (created wrestler) and Kaitlyn (created wrestler, she's not yet available through DLC).
Honestly, the match was about as boring as I expect the real match to be. It produced somewhat of a surprise winner, though.
WWE 13's full DLC schedule per THQ.com.
There were no issues with match type for this one, but Damien Sandow won't officially be available until January through DLC. That said, there are quite a few solid versions of him on WWE 13's community creations.
This was a fairly exciting match to simulate. I'm hoping Sandow and Rhodes come up with the win in the actual match. I'm tired of Mysterio and Sin Cara—at least as a tag team.
Sandow has enormous potential and I'd love to see him continue to rise through the WWE ranks. He was the obvious star of the simulation, as he will be in the real-life match.
Check out the video.
I'm rooting for Kofi Kingston in this one, but I also think Wade Barrett is long overdue for a strong push. This could be a very entertaining match. Kingston has a chance to show his ability to tell a story, as well as his usual in-ring excitement.
I'd like to see Barrett find some more creative ways to land the Bull Hammer. Kofi's springboard attacks and high-flying maneuvers could be a perfect setup.
In the WWE 13 simulation, the ending was quite odd.
My imagination allowed me to conjure up an injury angle to explain the result. Kingston came out on top, but the way he wins is strange.
I doubt he retains the title in real life. I'm even more sure he won't retain it like this.
Cesaro is the best of the newer champions and Superstars in the WWE. He will be available as DLC in early January, but there are some spot-on versions of him on WWE 13's Community Creations.
But those versions sell him short in regards to ratings. One version had him rated a 75 overall. I found it necessary to upgrade Cesaro with a strong concentration on strength.
Even with those changes, it didn't matter.
R-Truth upset Cesaro and took the title in the WWE 13 simulation. I'm almost positive that won't happen on Sunday night, but check out how Truth pulled it off in the video.
I'm not really looking forward to this match. I really like Big Show, but I usually don't enjoy his matches—if that makes any sense.
He's at his best when he's in the ring with smaller wrestlers that he can throw around. This matchup equates to two big guys that don't move well—oh, and they'll have some chairs to hit each other with.
I'm not stoked.
The simulation was a little difficult because you can't actually have a Chairs match. Instead, I made the match an Extreme Rules match and I changed the weapon choices to all chairs.
Somehow, the two big virtual lugs managed to grab a garbage can and a ladder. Go figure.
I do agree with the result. I can't see Big Show losing the strap in this one. He is too close to retirement, this time in his career is like a victory tour and the WWE won't embarrass him.
Despite the fact that I don't really like six-man tag matches, I'm excited to see The Shield in action. I think it's great that these three men have received a push so early in their stay with the WWE.
This match also has a huge place for a run-in or major plot twist.
As far as the simulation, you can't have a six-man TLC match, so I had to make this a no-disqualification match. If I had my way, I would have had Brock Lesnar charge the ring to F5 Ryback. It would be a nice way to setup Ryback vs. Lesnar at WrestleMania—or even the Royal Rumble.
In the video, Kane abused The Shield for a good portion of the match and brought home the victory for his team.
I'm anticipating an exciting match here. Dolph Ziggler is a beast of an athlete and in-ring performer. John Cena is usually great in theme matches as well.
Ziggler has been holding on to the Money in the Bank Briefcase for too long. Something needs to happen with this contract soon. Whoever wins this match needs to cash it in on Monday Night Raw. This angle has dragged on for what seems like 18 months.
In the simulation, Ziggler started quickly and had some moments. In the end, Super Cena was just too much. I wouldn't be disappointed to see that outcome in real life, but only if Ziggler moves on to bigger and better things.
Follow Brian Mazique and Franchiseplay on YouTube and Twitter for reactions, analysis and news from the world of sports and sports video games