Top 10 Highlights from Phoenix Suns' First Quarter of the Season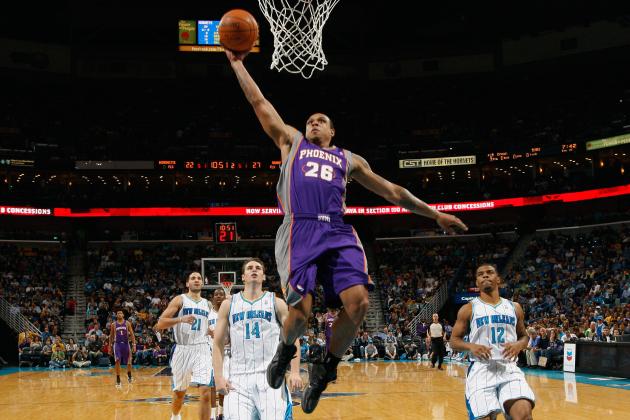 Chris Graythen/Getty Images

Through the first quarter of the season, the Phoenix Suns have struggled a little. The team currently holds a 9-15 record and has already gone through a seven-game losing streak this month.
However, even with the unsightly record, Suns fans still have a lot to cheer about. The players have done their best to entertain the fans, and there are some pretty great highlights so far this season. So while the Suns are not exactly "Lob City," and they don't appear on ESPN top plays nearly as often as they did in the Nash days, they've made some great plays that have to be appreciated.
Here are the Suns' top 10 highlights so far this season.
Begin Slideshow

»
You have to admit, Michael Beasley has been hard to watch this year. In reality, he's been a complete disappointment so far and I couldn't be happier that he's on the bench.
However, this is a nice play. Beasley gets the ball on the wing and is able to muscle his way around Luol Deng to get to the basket for the flush. Not the prettiest, but he got the job done.
It's just nice to see that there is actually visual proof of Beasley accomplishing something this year.
Alright, so Goran Dragic is not Steve Nash. I get that. But he's done a pretty good job as Nash's replacement in Phoenix this season.
Dragic is posting averages of 15 points, 6.4 assists and 1.9 steals a game this season while shooting 46 percent from the field and 35 percent from behind the arc.
Dragic is not really trying to be Steve Nash, but rather trying to just be the best Goran Dragic he can be on the court. But don't think for a second that he can't make a pretty pass, because as this video shows, he can. Dragic takes the ball into the lane with two defenders on him but dishes a no-look pass behind him to Scola when he realizes he has nowhere to go.
Not really assist-of-the-year worthy, but a good play nonetheless.
Sophomore forward Markieff Morris has had a decent season for the Suns. He played well during his short stint of games as a starter, and he still shows promise to be a pretty good player one day.
Morris isn't exactly known as a posterizer, but he has speed and is quicker than a lot of other forwards. In this play, Morris uses that quickness to get into the passing lane and force the turnover. Once he had the ball, he took it all the way to the basket and flushed it down over Terrence Ross while getting a call for a foul.
But the coolest part of this play was definitely seeing Morris land on the Raptors 3D logo, making it appear as if he is actually standing in it on the screen.
Shannon Brown may not be the best talent on the roster, but he is without a doubt very entertaining to watch. Whether's he's draining threes at the end of the fourth quarter to mount a comeback or driving to the basket for a killer flush, he can always provide some much-needed energy and momentum to the team or fans at any point during the game.
This may not be one of his dunks (don't worry, those are still to come), but the play showcases Brown's tremendous athleticism. He gets around his defender on the wing and then drives the baseline. Then he uses a nifty move to avoid Drummond's incoming block attempt and settles for the reverse layup before falling to the ground at the end of the play.
Brown gets off the ground and has a big smile on his face running back on defense seeing the fans cheer for him. Seeing that play, you couldn't help smiling either.
First, allow me to give credit where credit is due. Telfair came up with a great steal on Gallinari to start the play in the first place. A lot of people have criticized Telfair for stealing a rotation spot from Kendall Marshall, but I personally think he's been doing just fine.
The defense was great, and it started the whole play. But the real highlight is, of course, from Shannon Brown. Brown gets the pass from Telfair on the fast break and soars to the rim with a one-handed finish on the other end.
This play is only this low because Brown didn't have any defenders even near him. Had he done that dunk on top of the Manimal, for instance, it would've been much higher. But you still can't ignore a great fast-break play like this one.
P.J Tucker is an amazing defender, as any Suns fan should know by now. But he's definitely not known for his shooting, which is why giving him the ball at the end of the quarter is a questionable move.
But Tucker makes everything work out here. With just about a second left, he launches a contested shot from three-point range that finds its way into the basket to mark the end of the quarter. Considering Tucker has only attempted nine three-point shots in his 39 career games with Phoenix and Toronto, it was kind of a big deal.
Tucker's comeback to the NBA after six years away is becoming more and more intriguing. He's quickly worked his way into playing significant minutes in Alvin Gentry's rotation, and if he keeps performing well he might be able to stay in the NBA long-term.
Markieff Morris is young, but he's not a guy who has questionable decision-making skills. He knows when and when not to shoot, and he usually makes the right pass.
But not here.
To be honest, this was a pretty awful idea from Markieff Morris, and it's the type of play that makes you scratch your head. But because of a little hustle from Jared Dudley, it all worked out.
Dudley gets the ball off the full-court pass from Morris and somehow swings it back to Shannon Brown before losing his balance and stepping on the baseline. And as soon as it is in Brown's hands near the rim, you know it's going in. He would've dunked it if he could, but I'll take the three-point layup any day.
It would have been more interesting to see Dragic use this move on Steve Nash, but this was still a great play. Dragic runs on the fast break, and with nobody to pass to, he goes behind his back to confuse Darius Morris and open up an opportunity for an easy layup. It's hard to tell if those are oohs and aahs coming from Lakers fans or if they are just groaning, but either way Dragic got a reaction out of the opposing crowd.
Dragic is a good ball-handler, and he's great at driving the lane. He may not have the ability to dunk like Rose or Westbrook, but he can get by almost any defender and drive to the basket for the layup. That's what makes him so dangerous as a scorer. He has a good three-point shot and a consistent jumper, but he can drive in and score on even the biggest and best post defenders.
Speaking of dribble moves, I'd like to point out that Dragic starts this whole fast break with a behind-the-back dribble move that gets him around Al-Farouq Aminu. From there, it only gets better.
Dragic runs down the whole court, and despite Ryan Anderson's attempt at drawing a charge, Dragic easily flips the pass over to Brown who finishes with a dunk. Not only that, but Dragic also made the free throw from the blocking foul called on Anderson.
At that point in the game, the Suns already looked finished at the hands of the lowly Hornets. But that play definitely brought some energy to the crowd and the players, and the Suns mounted a comeback that eventually led to a 111-108 win in overtime. Just a fantastic play from Brown and Dragic.
Dragic's turnaround layup is quickly becoming his signature move. He used that move and other nifty moves in the paint to score 23 in the fourth quarter against the Spurs in the playoffs against defenders like Tim Duncan a few years ago, and he used it a couple days ago against Marc Gasol to win the game for the Suns.
Dragic also might be the closer the Suns need late in games. Last season, Dragic shot 60 percent from the field and 46 percent from three-point range in clutch situations, and he averaged 17.4 PPG per 36 minutes in the clutch.
So many of these highlights have included Dragic. We've seen him pass, steal, score, perform great dribbling moves and succeed in the clutch. He's a very well-rounded player, and that's what makes him a special player for the Suns. The team isn't doing very well now, but it has a real opportunity to succeed in the future with Dragic running the point.
Yes, he's not the next Steve Nash. But he's the first Goran Dragic.